Along with Rodrigues in the east and some smaller islands surrounding it, the Republic of Mauritius is only 71 square kilometers big. Mauritius is almost entirely surrounded by a beautiful coral reef, including colorful tropical fish.
This island in the Indian Ocean was once colonized by the Dutch and named after the Dutch prince Maurits. The Dutch were also the first ones to discover the now extinct Dodo on this island. Yes, we've been almost everywhere, us Dutchies! Sorry, didn't mean to brag 😉
The main export products are cotton, sugar and tea. Especially sugarplants are hard to miss, you'll see the green sugarcane fields over the entire island.
A pretty sight of different green colors covering the hills of the most southern country of the African continent. The people here claim that the sugar is why the Mauritians are so sweet… haha! Of course their home made rum helps too.
Another big source of income is tourism. Mauritius has a posh and luxurious reputation with matching prices. There are a lot of expensive resorts and celebrities love this island too. We did have some doubts about why this island is so popular, because in general Mauritius was definitely not the most beautiful island we've visited.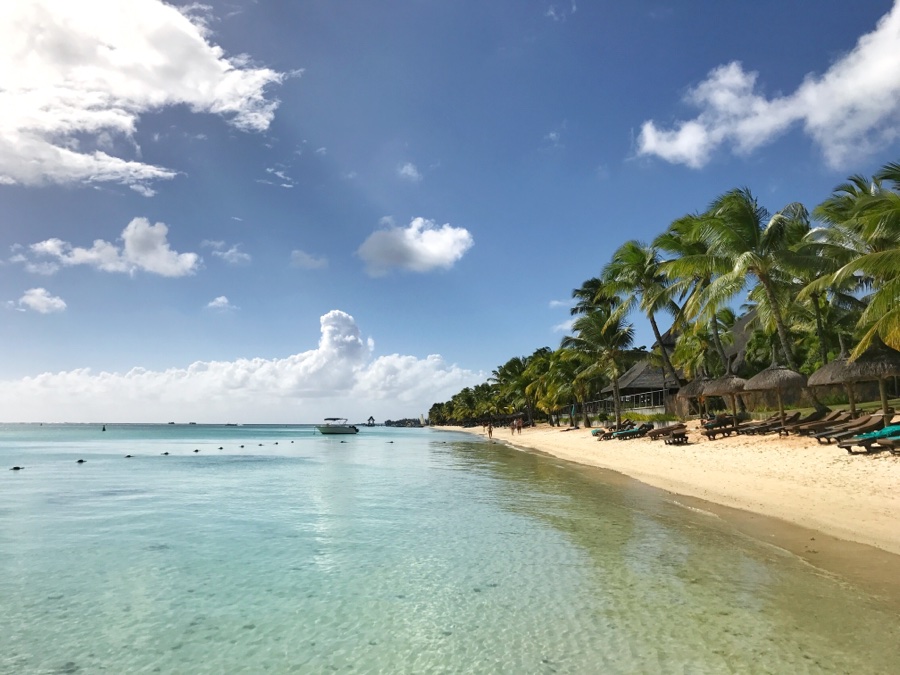 The beaches are great but not that great and the living is quite expensive. Eventhough the water is clear and blue and at some places there are really great looking beaches where the sand floury, soft and pearly white, but it just doesn't have that tropical vibe, we missed the palmtrees, the beachbars and the paradisal ambiance.
There are a lot of grey beaches too, pine needles and little sharp rocks in the sand spoiling the perfect sensation we had in mind.
The inland of this island has got some great timespenders to offer like waterfalls, mountains and a nice botanical garden, but we came to Mauritius just for it's beaches and the underwater beauty.
Visiting Mauritius, we expected to find true paradise and we didn't.
Despite being slightly disappointed we did enjoy our stay here at some amazing beaches and we hope to hear from you if you do not share our opinion…
Airport to Port Louis/Grand Baie
At the airport we were determined to take the bus to Grand Baie, via Port Louis. It will probably take forever but we don't care, it's still early. A taxi driver comes up to us and tells us there are no busses that way anymore today and we should go with him. It's only noon so we decide not to listen to him. His offer starts at € 30.00 but obviously he needs a ride because eventually he takes us to the other side of the island for € 10.00. This is a trip of one hour so good bargain!
On the way we can see a lot of the surroundings, green and flat, a little different from neighboring island La Réunion…
Of course there are a lot of beautiful beaches too on this island… we found some small romantic beaches between capital Port Louis and the charming Grand Baie. Eventhough the distances are too far to walk it's worth your time to rent a scooter and discover some new exiting spots.
We stayed in Grand Baie for three nights at Bano Beach Recidence. The building is only a minute from the public beach. When we arrived we immediately got an upgrade from a double room to a luxurious family apartment with large kitchen, balcony with 'sea view' (somewhere between the trees we could see some blue) and daily cleaning. Even the dishes where done every day! Now here is the best part, we paid € 17.00 per night to stay here.
Grand Baie has some lovely beaches, the public beach is small but great to watch the sunset. It's a small bay with yachts and catamarans very close to the beach. Therefore swimming is not relaxed but perfect for sunbathing and chilling. There are almost no tides here, so you'll have the same beautiful view all day long.
Just a little further northeast there are some other cute beaches where the sand only gets whiter and the sea could not be any clearer…
Slightly to the west there is Mont Choisy beach and Trou Aux Biches, which are definitely not the whitest but the sand is soft as flower and the water is clear an turquoise. Trou Aux Biches has some bars near the beach and an expensive resort. More tourists as well, but in the low season it's more fun for sure.
A local bus from Grand Baie to Trou Aux Biches only cost us € 0.60 pp where we sneaked on one of the resorts beachbeds. If the resort is expensive enough they wont ask you if you're a guest. That is not guest friendly. So, free use of the beds including two XXXX-large hotel towels for free. The guy watching the beds kept walking by, asking if we needed anything and wishing us a pleasant day, hahaha. Had the time of our life.
So, great beaches 🙂
Grand Baie to Flic & Flac/Tamarin
From Grand Baie we take an express bus to Port Louis for about € 0.60 pp. Then in Port Louis we get off at the bus terminal and take another bus at the other end of the terminal to go to Flic and Flac. This bus costs us € 0.80 pp. we then get off at the Cascavelle Shopping Mall and take a bus to Tamarin (or to the beach) for € 0.50 pp.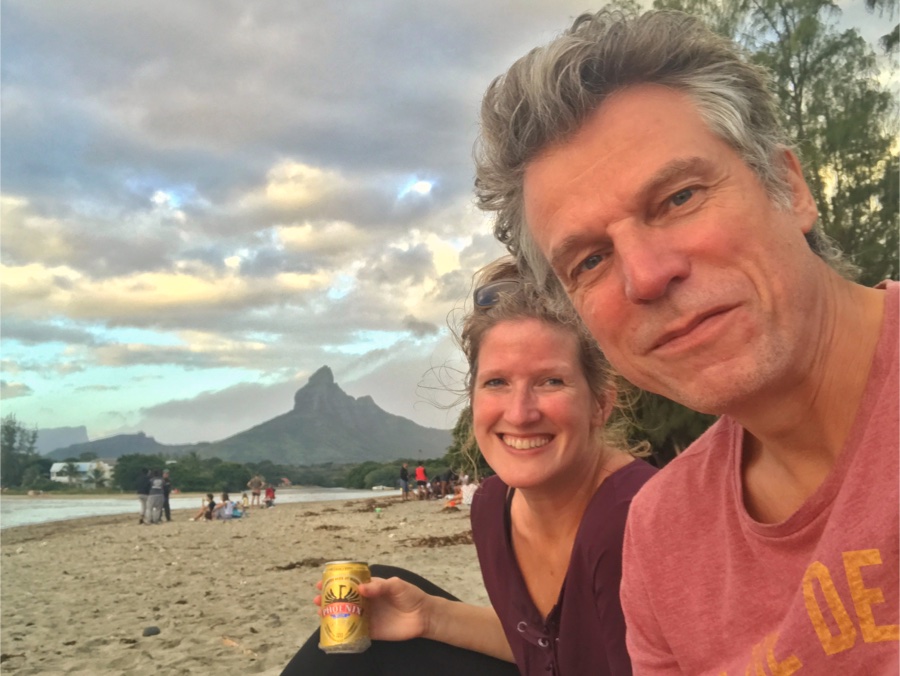 On the west coast there are some long beaches, one of them is Flic and Flac. One of the longest beaches in Mauritius and the most famous one. It's got a few bars, resorts and little food-stalls. There are more tourists here than anywhere else but it's definitely not the best looking one. Yellow coloured sand and lots of sharp rocks as you walk into the water.
We stayed two nights in Tamarin, on the south of Flic and Flac. Our guesthouse Chez Jacques is a nice place, very close to the public beach of Tamarin. The guesthouse is somewhat noisy but it has a great atmosphere and the breakfast is very good.
The beach of Tamarin is especially popular with surfers and at night there are a lot of people around, watching the sunset with a beer and maybe a guitar. During the day this was not our favourite beach, the sand is grey-ish and has a lot of pine needles and sharp stones. So we spend our days in Flic and Flac. It's easy to get there by bus and the beach is about ten kilometres long, so you'll always find the right spot.
We picked a spot in front of Pearl Beach Resort where we confiscated two beds and got the wifi password too. Great day on the beach… again.
Tamarin to the Airport/Blue Bay
Just when we thought the busses in Mauritius were alright, this happens:
from Tamarin we go to our next destination, Blue Bay. The best way would be to go back to Port Louis, and then go to the south, so we do. We don't have to wait long for the bus to the Flic & Flac stopping centre where we take another bus to Port Louis and pass the botanical gardens. We switch busses again and get a nice seat in front in the bus to Mahebourg. The driver was still waiting until it was time to go, and twenty minutes later we left with a full bus. I felt something itching on my arm, thinking it was a mosquito I brushed it off. But it was no mosquito… no sir, it was a cockroach. In fact there was a whole family of cockroaches living inside my seat and inside the windowpane next to my arm. Now and then one comes out to see if there is anything to do makes it's round and goes back in. Sooooo… that is our cockroachbus story. Traumatised for life.
You can't imagine how happy I am to make it to the airport alive, where we switch busses again. 
This time we get into another bus to Mahebourg bus terminal and there we take the bus to Blue Bay. This trip from Tamarin costs us about € 2.50 pp in total.
In Blue Bay in the south the water seems slightly less cold. Here we do some swimming and snorkelling. Amazing fish just a few meters from the nice white beach.
We stay at La Chantauvant for two nights where we pay € 30.00 per night for a luxurious double room with garden view balcony and a kitchenette.
The garden is amazing, lush and green with different kinds of flowers. It's about three minutes walking from the beach. In the morning we decide to have breakfast at the hotel for € 6.00 pp. an amazing breakfast with fresh fruit and great coffee so next morning we do the same thing.
There is no supermarket nearby so for dinner we eat at the Bourgainville, nice but not that great. Our streetfood from the day before at the beach of Blue Bay was much better!
Unfortunately Jos has some ear problems that need to be fixed on Wednesday so off to a doctor we go. In Mahebourg we find a doctor who has a look and prescribes some drops. We pay € 25.00 and € 10.00 for the drops. Hopefully this helps for a painless flight to our next destination: Singapore.
We stayed in Mauritius from june 2th to july 5th, this is the beginning of winter and that's noticeable when you put one toe in the water… freezing. But if you just get in straight away the cold water will feel much warmer after a while, if won't sting anymore and once your limbs get numb you'll feel relaxed. Don't forget to enjoy the fantastic view to the coastline, the sand, trees waving in the wind… 
We've noticed in the south the water was slightly warmer. 
So, this week the temperature was around 26 degrees every day, sometimes windy and we've had some rain. As I said, this is definitely not the right time if you like beach life and swimming. Locals recommend October, when it's warmer, less windy and not high season yet.
Strangely there are no tuktuks or similar on this island, although it's filled with Indians… so a taxi or a bus, a rental car or a bike. The island is very small, so a bustrip from north to south would take about two hours.
Currency: 10 Mauritian Rupee = € 0.25
In total we've spend:
Transportation: € 32.50
Accommodations: € 219.38
Food and drinks: € 216.75
Entrance fees: € 0.00
Other: € 43.50 (medical stuff)
That brings us to a daily budget of: € 73.15 for two persons including everything except international flights. 
We've stayed in big double rooms with private bathroom, had great breakfast and use of a kitchen which we only used one time. Dining in restaurants can be a budget killer, but there are some amazing streetfood stalls at any beach. Don't forget to try the boulettes! 🙂
Here are some examples of products and prices in euro:
Large baguette in supermarket: € 0.50
Pizza in lunchroom: € 8.00
Coffee latte in a lunchroom: € 3.25
Bottle of wine in a supermarket: € 12.00
Beer (250 ml) in a cafe: € 2.50
Bottle of beer (330 ml) supermarket: € 0.80
Coca Cola in restaurant: € 2.50
Main course in restaurant: € 12.00
Liter gasoline: € 1.10
Simcard with 1 gb data: € 10.00