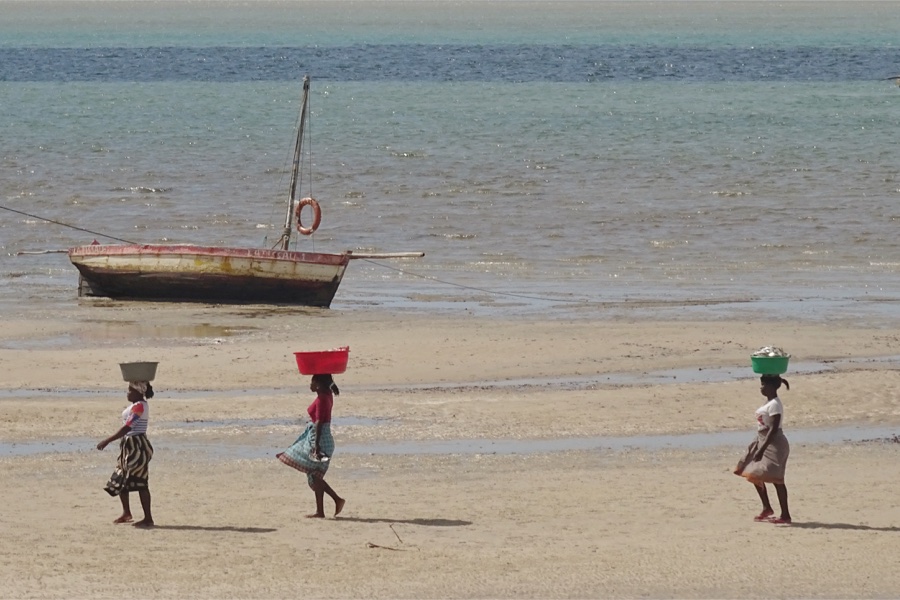 Oh Mozambique with your white beaches, green inland and colorful people. Our first impression as we look outside the bus window, crossing the border is that Mozambique is very similar to South Africa. Same nature, same traffic signs. But we were so wrong, there are so little similarities, once you travel further into Mozambique you'll discover, this is definitely not South Africa! Driving through the southern part we see a flat landscape, palmtrees and primitive Robinson-style huts, the landscape is very monotone but it doesn't bore in any way. Amazing white beaches with cute villages and great locals. The distances are huge and the roads around Maputo are reasonable. Heading north you'll experience a change, more diversity in the landscape… the nature changes, mountains are rising from the ground and the infrastructure gets more and more neglected. Mozambique is divided in two, the political situation is troubling. The sitting party and the opposition bring a lot of commotion. There is a war going on and there is only one victim, the people. While traveling this short period through Mozambique we've seen burned out busses and cars with bullitholes by the side of the road. Many many roadblocks and police officers who will only let you go if you pay. These 8 days where very impressive, but also very complicated. We've seen the beauty and the beast and we loved it. Bem vindo a Mozambique!
We took a chapa (minivan) to Inhambane which is 20 minutes, then at the port we took a boat to Maxixe. There are many people trying to sell you boat tickets or tell you to go by bus, but don't do this. Just stand in line, it's really not that long. The boat takes about 20 minutes too. Try to take the 9:30 boat at the latest to make it to Vilanculos before dark.
In Maxixe you go to the ticket office next to the KFC (yes really) which is next to the port. The bus will go at around 12:00, you can buy tickets to Pambarra for about € 4,50 per person at the office or in the bus.
At first the bus might be full, but be patient, if you're lucky you can sit after about an hour. We couldn't… 
But anyway, in Pembarra you take an open chapa to Vilanculos and yay you are finally there! 
We took the chapa from Tofo at about 8:00 and arrived at 15:00 in Vilanculos. We paid about € 10,- pp for this trip with free amazing view and a lot of locals.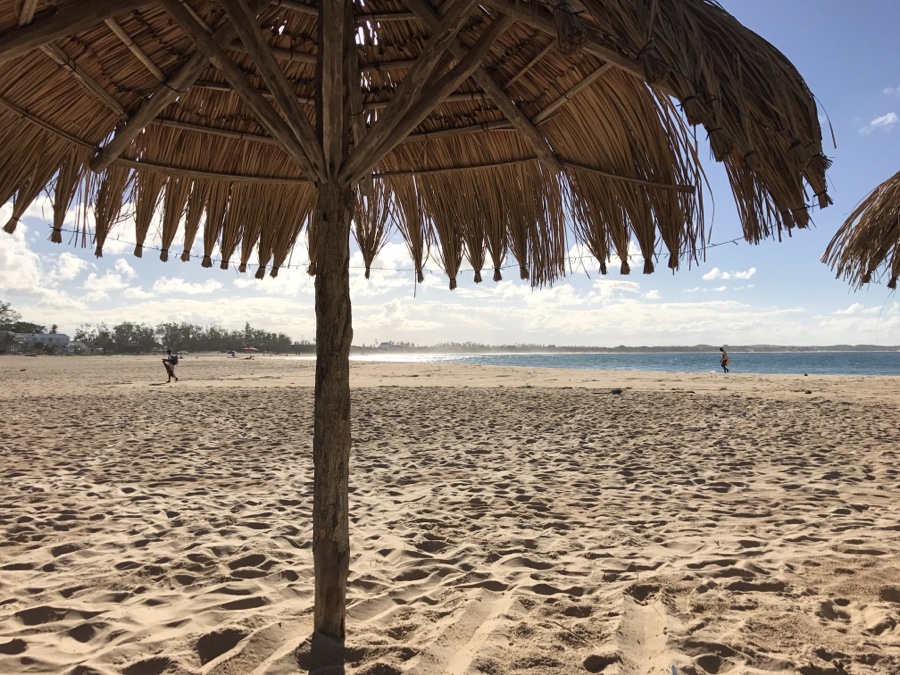 As soon as you cross the Tropic of Capricorn you'll see beautiful baobab trees… makes you feel like you're in a whole other country. The nature changes along the way and so do the roads, getting worse and worse.
Vilanculos is a lot bigger then Tofo, a real African looking town but it hasn't got the same vibe as Tofo. There are a few restaurants but the only one we ended up eating at was at Baobab Beach Backpackers, where we also stayed.
We liked this hostel a lot, great vibe and right on the beach. It's got a bar/restaurant and a pool!
Our first two days in Vilanculos it rained like the sea was upside down. Our cottage flooded and the power went out so it was very cozy under the roof of the open restaurant with all the other guests.
Next day should have been as wet as the others but no, we woke up under a bright blue sky! So we walked into the village looking for a supermarket, nope. Nothing. There was a guy who told us where the supermarket was but because it's sunday it would be closed. Ok, we'll try again tomorrow.
We walked back to our hostel over the beach, meeting different locals. They don't speak English so there is no conversation possible other than hands and feet.
A young boy follows us from a distance and when I take his picture he smiles at us. It takes some time before he understands our question, but then he says his name is Encinio. We walk along the beach together with the boy. It's low tide and the beach is huge, so we look at the stranded boats and take pictures. When we show Encinio a picture of himself, he laughs.
In the afternoon Jos relaxed at the cottage while I went back to the beach to stroll around. A local guy called Serge wants to show me how to find clams, he will teach me he says. We find a big bag full and talk about different subjects, his English is alright so most of the time I understand what he's actually saying. We also find some oysters and a very big crab who was just about to have my toe for dinner.
Back at the cottage we prepare the clams and have them for dinner. They taste amazing with beer and some garlic-bread.
What an amazing day this has been!
Now this is a long way…
The N1 between Vilanculos and Chimoio are terrible, they fulfill all your pothole fantasies, therefore it took us 12 hours to get there.
We took a taxi with four people to Pemberra, which is about 20 minutes. We paid about € 3.75 per person. Then we waited for a big bus, but because that didn't come we decided (after two hours) to take a chapa to Inchope. We paid about € 7.50 each. With too much people in a small van zigzagging through pothole-hell we arrived there 10 hours later. Then again a new chapa brought us to Chimoio, which was another one and a half hour. Ugh… we're dead. In total we paid about € 12.00 per person for this exiting day.
Our two friends we shared a taxi with hitchhiked to Inchope and then took a chapa, they arrived at the same hostel 3,5 hours later than us, for the same money. Just saying.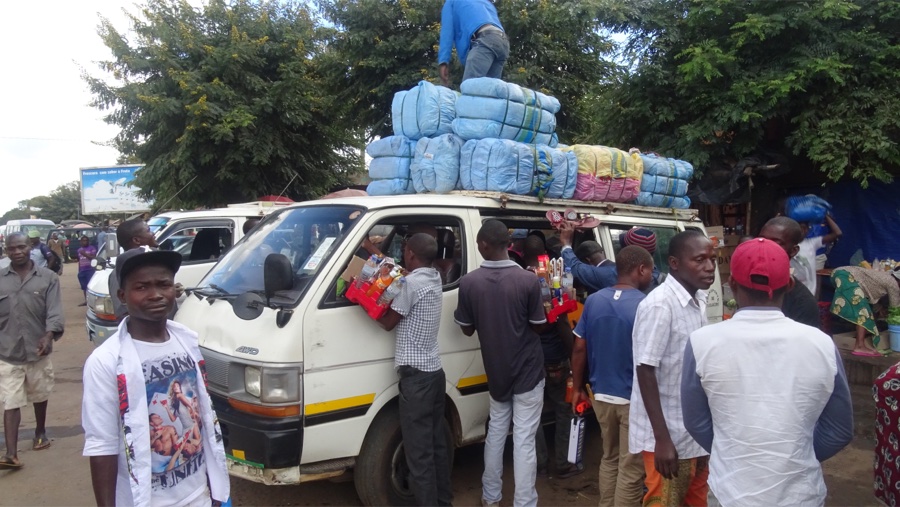 After our 12 hour horror trip from Vilanculos we finally arrive in Chimoio when it's dark. At the bus station we meet a guy who wants to take us to our hostel. For some money of course. We know whereourhostel is and it's only a kilometre away but sure, lead the way.
The guy is very chatty so we learn a lot about Chimoio and his life. When we get to our accommodation we give him a 100 metical (€ 1.30) because we don't have anything smaller, but that's not enough. He wants 500, which is the same as we spend on our 10 hour bus trip, haha. So no.
We sleep at the Pink Papaya Backpackers, it's a great place for one night. A family room, double room and a small dorm. There is a shared bathroom and a kitchen.
Down the street we find a cafeteria so we order a pizza (again) and buy some beer from the fridge at the hostel.
After a night on our old mattress we wake up in a dent. Ugh… sore back, feeling old.
After checking out, we wanted to buy some breakfast at Cafe Chimoio just at the end of the street, but we only have a 1000 metical bill which he can't break. So we walk on to the bus station and immediately get flooded by people selling bus tickets. We try not to get distracted and walk into a small bakery where we buy bread and cookies. We also buy some bananas on the market at the bus station, so we're well provided today.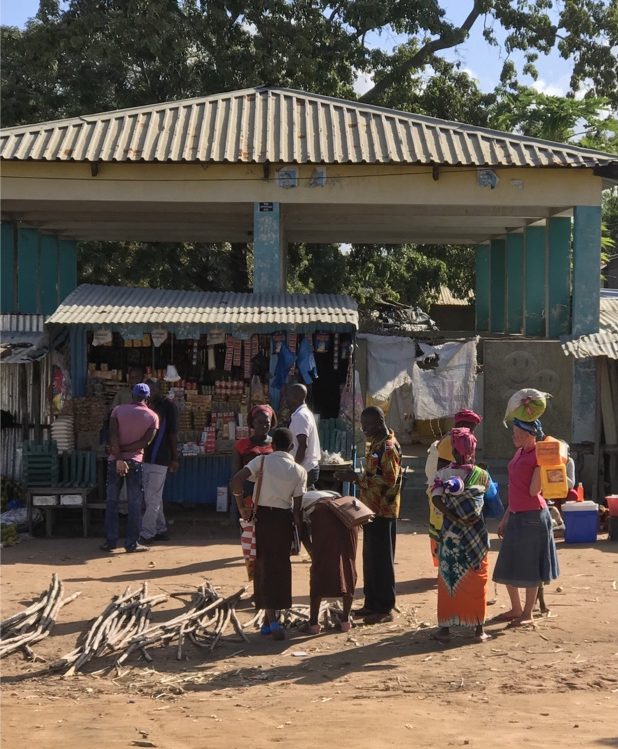 The chapa to the border at Machipanda will leave when it's full, because it's still early and we don't mind the wait, we get into an almost empty chapa. We can choose our seat which is preferably in front or the second row behind the driver. They put people opposite to the first row behind the driver so the most comfort is not to be found there. When we finally leave there are 24 adults and three children on the van… and we are quite happy with our seat choice. Halfway a woman behind us gets dropped of by the roadside near a market, she doesn't want to get out of the bus and yells at the driver (in my ear). The driver and his helper start unloading the big packages that are on top of the bus.
But the lady keeps on yelling at the driver. When she finally gets our she's crying and tears the drivers shirt in two. Oh oh…now it's really escalating. The guy next to us explains that they promised to bring her packages into the market, as they are to big to carry. So she's pissed. After some money back settlement, the lady cools down and the chapa finally drives on to the border. Another hour to go.
At Machipanda we get out and walk to the border with Zimbabwe. We ignore the money changers and buy a bottle of whiskey with our last Meticals just before we pass the border of Mozambique.
We took a chapa at the Chimoio bus station to the border which says Machipanda, the town just before the border. You get out of the bus and walk through the border. Have some US dollars with you for the visa. Ignore everyone without a uniform!
When you've crossed the border you can take a taxi to Mutare centre for 2 dollars per person, of course they'll tell you that is not enough but just act like you've done this trip many times and you know what you're talking about 😉