We fell in love from the moment we arrived… Colourful villages, impressive green mountains and the sweetest people. A muy tranquilo atmosphere and lots of low budget stuff to do. Traveling through this Colombia is just such a delight. The views are breathtaking and the busses are easy and comfortable.
After many many years of having a bad reputation, the dangerous and unpredictable Colombia is now on its way to becoming the easiest and safest country in South America. In the bigger cities the slums are being swept clean and people don't want to be remembered by what has happened in the past. Interested in some history? Check out our summary in the bottom of this page.
From Hawaii we flew to Colombia with United Airlines. Not a quicky because it took us three flights and 23 hours… 
Ah well, as soon as we set foot on Colombian soil we forgot all about the misery and enjoyed our first acquaintance with South America to the fullest. 
With nearly 48 million inhabitants this country in the northern tip of Southern America connects the continent to Central America, Panama to be precise. Our journey starts in Bogotá, the capital and biggest city and leads us back there after our 4 week adventure through this absolutely stunning piece of earth.
We fly from Honolulu to Bogotá with the airline United and have two stopovers in the United States. We are getting ourselves psychologically ready for the next 25 hours…
Honolulu airport is incredibly boring so we are happy to board our flight to Denver. At 8.20 pm we board our plane armed with a full season of Breaking Bad. We've booked these three flights with United and did not expect too much, but actually we are pleasantly surprised. The seats are comfortable and the staff is friendly and helpful.
There is no entertainment system but we can watch movies on the United app which we downloaded before departure and through Netflix. 
We don't have meals on the flights but we knew that when we booked so we've bought snacks and we can dine at one of the airports on our stopovers, Denver or Houston.
At the different US airports we don't need to go through customs again and we don't need to pick up our luggage so it's easy and relaxed. Before we know it we arrive in Bogotá! 
We are incredibly tired and can barely keep our eyes open. For some reason our last flight departed too late and at Bogotá airport we can't immediately exit the plane.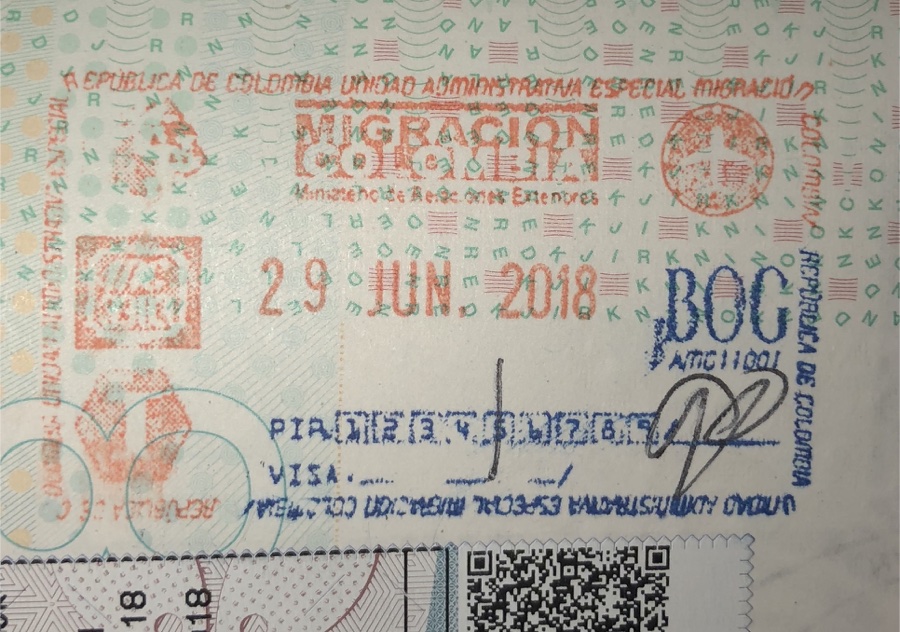 It takes 40 minutes before the doors open and we are eager to get some fresh air because the air conditioning was stopped as soon as we arrived. Phew the air in Bogotá feels good!! It's around 11 pm and the temperatures are about 15 degrees. We get into the bus to the terminal that takes about ten minutes, how big is this airport?! Jeeezzzz… a short walk to the customs but then we enter hell. There must be 500 people waiting in line to get through customs. It takes over an hour before we are finally up. The officer asks us about our reason to visit Colombia and when we answer Tourist, we immediately get a stamp. No onward ticket, no further questions… we are in!
We hurry to the baggage collection and our bags are already there waiting for us. YES! 
Through X-ray is a joke, the guy behind the machine isn't even looking and there is no body X-ray. So, weeeehoooo COLOMBIA!!
Now some money from the ATM and get out of here.
We've arranged a transfer through our hostel but we've been delayed for two hours so we are happy to see he is still here. A 20 minute drive costs us 33.000 Colombian pesos (€ 9.70)
This huge city with 9 million inhabitants doesn't have a great reputation. Violent robberies, drug wars and murder in broad daylight, Bogotá was number one… But now it's on its way up. The streets are swept clean and the slums get more attention from the government.
This means Colombia's capital city has gained a few safe areas that are attracting more and more tourists. Colorful streets, awesome graffiti and chock-full of history. The word is out: Bogotá is cool!
We have decided to stay in Candelaria, the old city centre of Bogotá. Great streets with colourful houses, beautiful graffiti and heaps of history.
Candelaria feels quite safe, there are many charming little streets with beautifully decorated restaurants and little shops. Food and drinks prices can we a bit higher here for its quite a touristic area but we have found some bars that were cheaper. For comparison, we've paid between 3,000 and 9,000 pesos for a typical Colombian Aguila beer in a bar or restaurant. Beer prices are always a good comparison 😉
There is a lot to do here in Candelaria, food tours, bicycle tours, graffiti tours, you name it. Most tours are for free, the guide depends on tips (the average tour tip is usually around 20,000 to 30,000 pesos). Paid tours differ from 30,000 to 90,000 pesos depending on the time, length and transportation.
Furthermore the Gold museum is fantastic to visit and climb up to Monserrate for a gorgeous view over the city. You can also go there by cable cart which is a lot faster 😉
Unfortunately our hostel (Swiss Hostel Martinik), eventhough it looked so great upon arrival, was not what we expected.
Noisy neighbours, arguing, yelling, idiotically loud talking, a big dent in the bed and squeaky floors. The first two days weren't that bad, we had a terrible jetlag and slept at least 40 out of 48 hours. But then, people coming home at 3 am and not bothering to be quiet or having a loud argument at 4.30 in the morning. So… time to change accommodation!
Fatima Hostal Suites is fantastic. Fatima's has two separate hostels, one is for party people, it's got dorms and loud music all day long. The other one has huge two to four bed rooms and a peaceful atmosphere. Just two streets away from Martinik this is a much better option and cheaper too! 
In the area there are two restaurants we've enjoyed a lot:
Pizzeria Madre, in a small shopping center lies this incredibly well decorated Italian restaurant with amazing food.
Pita Wok, small restaurant that actually offers meals with vegetables in them! Wraps filled with grilled veggies and love… 
Barrio Chapinero - Zona Rosa
If we have to change accommodation why not change area… not that we don't like Candelaria, au contraire! No, we are just incredibly curious about the rest of this awesome city. So we choose a accommodation in Zona Rosa in the district Chapinero.
Our accommodation 'Top Tours' is very close to the clinic so we can easily walk back and forth. Because we had to check out of our last hostel at 11 we send Top Tours a message asking if we could check in earlier. No problem, come on over! 
Our senior Uber driver doesn't know the way to Zona Rosa. I think maybe he just started being a driver. We have to explain in our best Spanish where to go while watching our google maps.
In 15 minutes we are there, from Candelaria to Zona Rosa, for 12,000 pesos.
Zona Rosa has a lively centre with shops, bars and restaurants. Although the streets aren't as attractive as Candelaria we love it here because we don't see any other tourists… the locals are incredibly friendly and helpful and we feel right at home. Unfortunately I can't enjoy the restaurant food too much because I'll be spending most of my time at the dentist because of my broken molar. Blegh…
After thorough consideration we have decided to go to Villa de Leyva next. From there the only way is up, but we'll see about that when we get there.
There are different ways to get to Villa de Leyva but we are advised to go the Terminal de Transporte Salitre instead of Terminal del Norte. Most people get on the bus in Terminal del Norte so getting in at Salitre will give you a bigger chance at getting a seat. Salitre isn't very crowded and although it's huge it is easy to find your way.
We check this website and fill in to which town we want to go from the Terminal Salitre. There are different hits for Villa de Leyva at different times. We want to take the bus at 14:00 this is a bus of the company 'Valle de Tenza'.
We order an Uber which costs us about C$14,000 from Zona Rosa.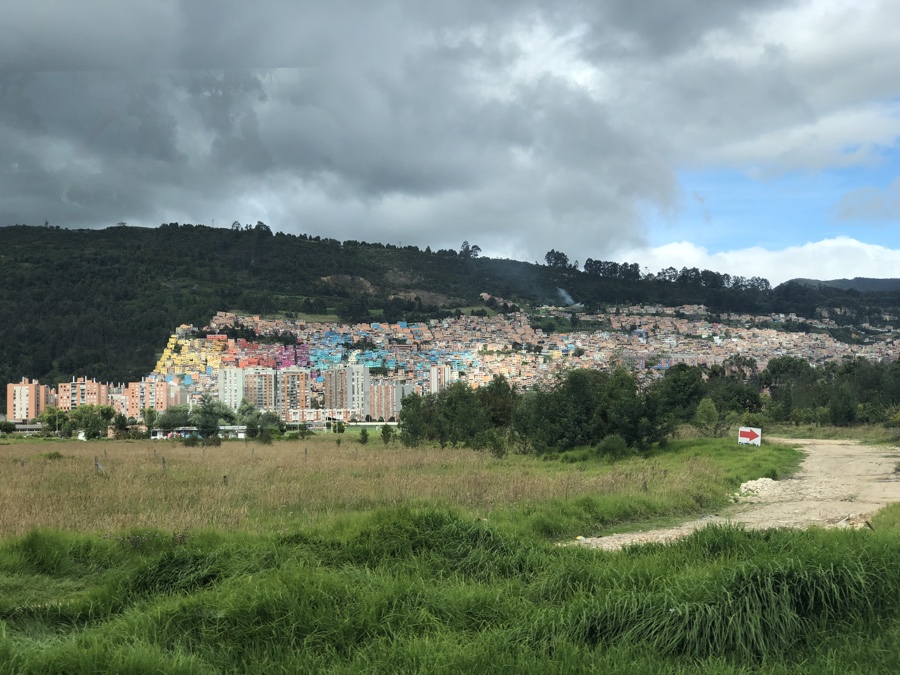 The traffic is terrible and eventhough it's only 11 kilometres it takes us almost an hour to get there.
We have to go to terminal 3, this is the red line. Inside the terminal there are many different counters which show the name of the company. At the right counter we identify our selves and buy a ticket to Villa de Leyva for C$22,000 per person. Behind the counters are the busstops. On the ticket it says the number of the stop and the number of the bus. Can't go wrong.
Traffic in Bogotá is terrible, every hour, every day so it takes one and a half hour before we've left Bogotá, but our bus is quite comfortable and even has a TV, so we can watch the World Cup football match between Brazil and Belgium to kill time.
Villa de Leyva is such a charming little village, so we are instantly in love. The big square Plaza Mayor is one of the largest in South America and while we expected it to lack atmosphere we are surprised to see it to be lively and entertaining. There are many bars and restaurants to be found around the square and in the little streets surrounding it. 
While we relax on one of the public benches around the square there is a wedding ceremony going on. Imagine getting married in a gorgeous place like this! 
On Saturday there is a big fresh market behind the village with the most beautiful and tasty fruits and vegetables. Another thing we didn't expect was to be one of little tourists here. People look and laugh at us, they try to conversate but our Spanish is not good enough to answer. Too bad, we need more practice! Luckily people are incredibly patient so while we try to figure out what to say they help us with some words. Ohh how we adore Colombians! 
We especially love a small bar on the corner opposite of the church. 'De la Cava de Don Fernando' has a few tables inside but sitting on the bench outside right next to the entrance is even better. We enjoy their fantastic retro rock music while we sit there and watch people walk by.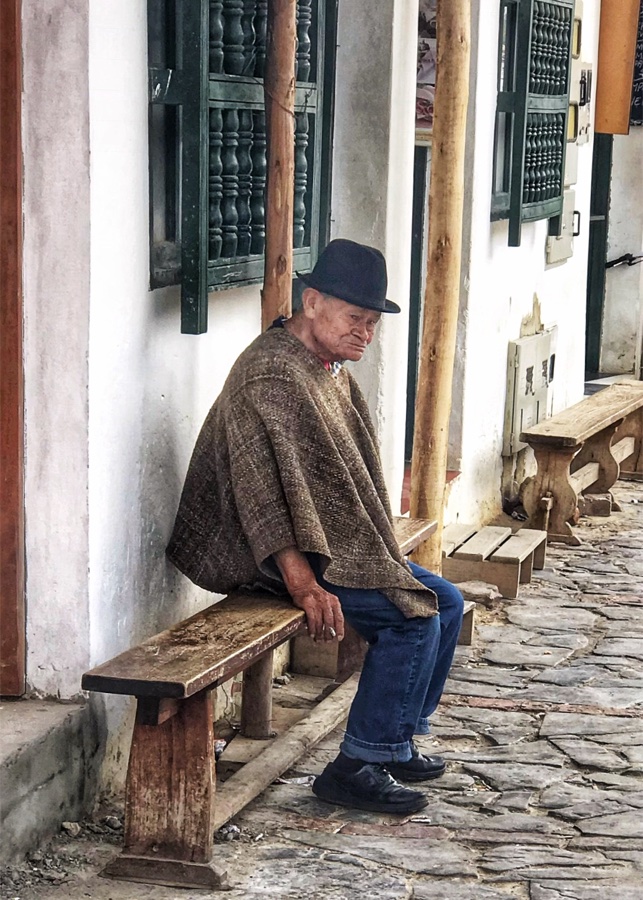 On the other side of the square there are big stone steps where many people sit and enjoy the sun setting while enjoying a drink from the little shop in the corner. Life is good in Villa de Leyva.
Just outside the village is a Terra Cotta house which is open for visitors. Inspired by Gaudí the designer has absolutely thought of everything. A kitchen, a bedroom and a bathroom and lots of little nooks. From the rooftop terrace the views are excellent, we could live here… 😉
After four nights we need to go, although we could stay here for another week we want to see a lot more so we have to keep moving.
We are going back to Bogotá because we want to go to Medellín, which seems impossible from Villa de Leyva. 
The fastest, most comfortable and relatively cheapest way from Villa de Leyva is flying from Bogotá.
At the bus station we check the signs above the small booking offices which bus is going. The company Reina has a bus at 12 directly to Bogotá but the office is closed. A lady says that the girl of the oficina is coming soon. So we wait. When she arrives we buy two tickets to Bogotá for C$23,000 per person and put our luggage in the bus on the other side of the bus station. We receive a baggage label and have another hour to fill before we go. 
It's hard to say goodbye to a place like this…
While in the bus from Villa the Leyva to Bogotá we book two tickets to Medellín with VivaAir. Unfortunately our first attempt fails but when we try it again the tickets are suddenly $10 more expensive… we quickly book and decide to choose 'online check in' which is cheaper than checking in at the counter. But when we try to check in online we are already too late. So when we arrive at the airport we need to pay 66,000 pesos to check in at the counter. The woman behind the desk already has a big NO on her forehead so an attempt to start a discussion is an absolute no go. 
Then… our carry on appears to be too big. VivaAir handles different carry on sizes from what we're used to so we need to rearrange some stuff to make everything fit her demands. Sigh… fortunately we have one bag to check in so we fill it until it almost pops.
We haven't eaten all day so hungry as we are we try our best to keep our temper… ugh. When we finally solved her problem we run upstairs and get a hamburger from MacD. Just in time to catch our flight we arrive at the gate. 
VivaAir flies to Rionegro which is outside of Medellín. When we arrive at the airport we immediately get the last available seats in the bus to El Poblado, Medellín. There are different busses to the different areas outside of the terminal, you'll pay 9,500 pesos per person, baggage included.
Medellín is not very different from Bogotá when it comes to bad reputation, home of Pablo Escobar… (read more about this at the bottom of the page)
But Medellín ís a very clean city, the streets the metro and even public busses are clean and tidy! All the work of the mayor of Medellín, he loves clean and organised and what he's done with the slums is incredible and still an ongoing process. 
There is a lot to do in Medellín, besides checking out the beautiful churches and incredible art, in La Francia, amongst other areas, you can slowly fly over the slums by cable cart and check out the daily life from above. You'll enjoy the graffiti and even the artwork done on rooftops.
In the suburb Comuna 13 you can find huge escalators all the way to the top of the suburbs. This area is filled with cool graffiti and colourful houses. 
The most popular and definitely the most touristic part of Medellín is El Poblado, right in the middle of the city. We've booked two nights at Maloka Hostel just outside the busiest area. The hostel looks nice and we have a huge room with private bathroom but there's loud music all day.
The hostel is quite large and we believe it's almost fully booked, but we barely see any people and still the music is pumping on full volume. Maybe this is the reason why nobody's here… on the other end of the street there is the Buddha hostel, this is a real party place and we expected to be far enough but their music easily reaches to here so there seems to be some kind of music war going on.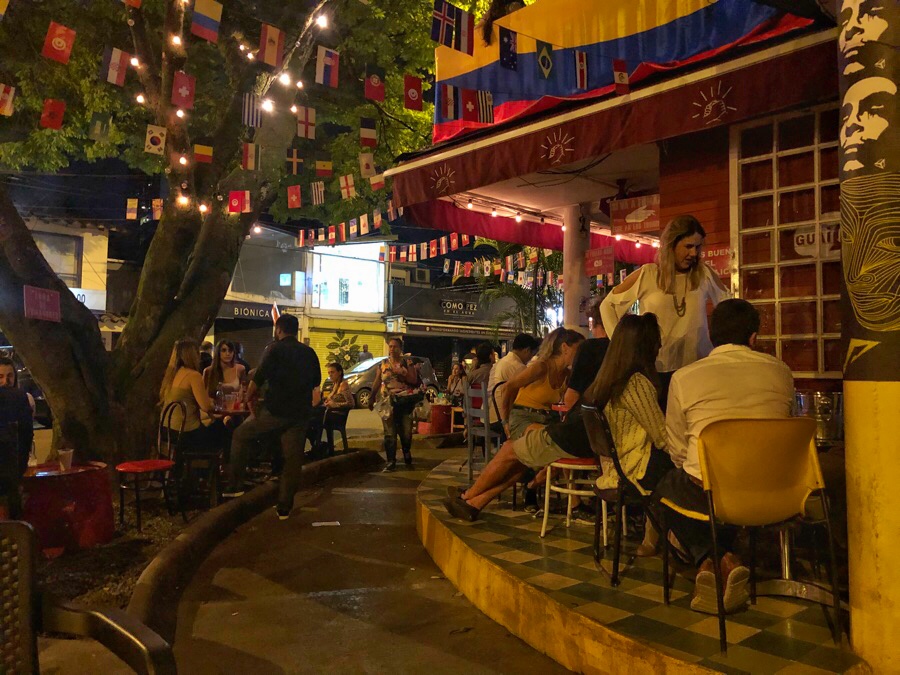 That aside, El Poblado, eventhough it's an attractive area to explore, it is quite noisy itself. The trendy bars and beautifully designed restaurants produce a noise in which it is almost impossible to have a conversation. 
We find a great bar on a corner with a large terrace that seems to attract only locals and has great Colombian music on a comfortable volume. We enjoy El Poblado here to the fullest with a nice beer until we suddenly see a familiar face… it's Eva who we've met in Pulau Weh, Indonesia a year ago, she is here! This is just the weirdest thing… 
After midnight all is calm, the music is turned down and because our room is in the back of the building we sleep quite well.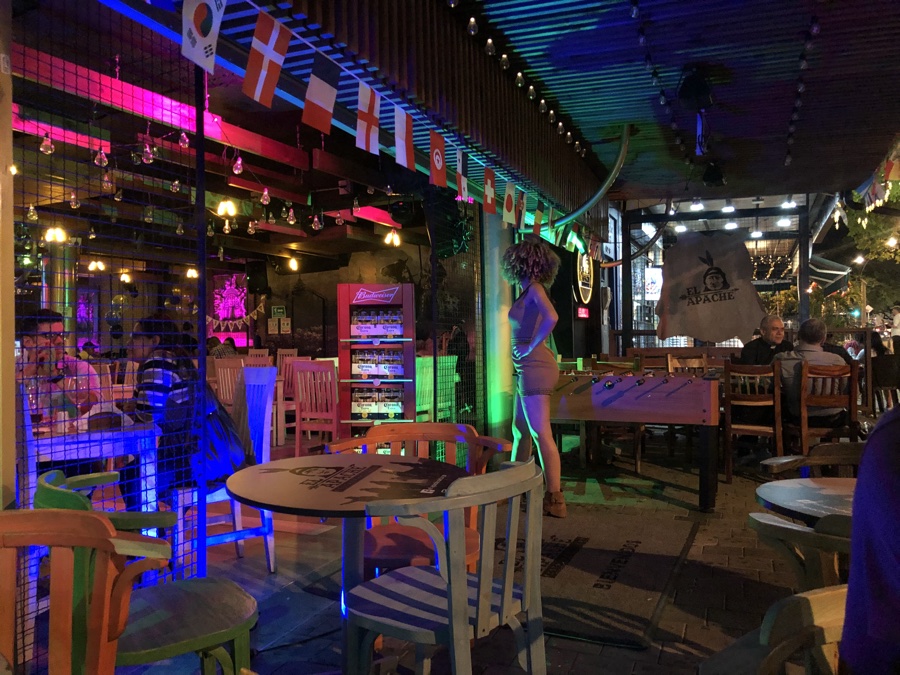 There are a few nice and cheap vegetarian restaurants in El Poblado, one of which is Marietta, where you get a three course meal with fruit juice for 12,000 pesos.
We can't extend our stay in this room so we've decided to go to a different part of town for two nights so by Uber we get to Laureles in fifteen minutes.
Unlike El Poblado, the area Laureles is much more tranquilo, it doesn't have nightclubs or party hostels, but nice bars and restaurants, more locals and less tourists.
We change hostel because after three days of pumping volume we long for some peace and quiet.
Our room at Hostal Rich is huge and actually meant for six persons. We have a room on the ground floor which unfortunately isn't a lot quieter than our former hostel. The tiled floors and empty walls bounce off every sound.
We walk for only five minutes to get to the most popular street in this area, Carrera 70. Filled with great bars and restaurants and not a tourist spotted yet.
Our first night we enjoy a very tasty two for one hamburger at El Apache where we get served by a cute Pocahontas. Finally someone that speaks English, so we fire our many questions upon her. Food in Laureles isn't cheaper than in El Poblado but the beer is and these two for one meals make things definitely more interesting 😉 We enjoy the rest of our evening at Bodega de Licores, a small bar with a nice terrace. I think we are the only tourists here…
Our second night we decide to enjoy some street food. We stumble upon a stall with a very entertaining owner. We recommends a mixed grill plate for the both of us. It's 20,000 pesos but turns out to be enormous.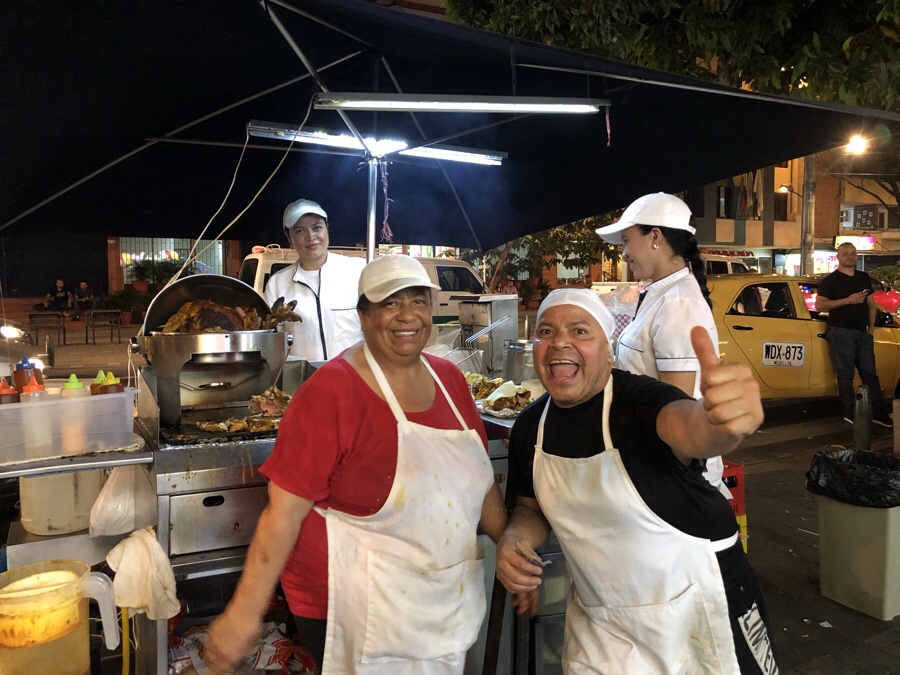 We keep our leftovers until a homeless guy walks by. He tries to sell us some gum but when I offer him our plate with leftovers he's extremely happy. He even comes back to thank us again after 30 minutes. 
We are enjoying ourselves immensely on our little brick wall next to the food stall. There are some salsa dancers trying to make a buck and the food stall owner joins in from time to time. 
When we move to Bodega de Licores where we were yesterday the owner immediately recognises us and knows what we want to order. Already a regular customer, hahaha!
From Laureles it is very easy to go to different areas in the city. We take the metro to the cable cart in La Francia. We pay 2,300 pesos to enter the metro. Now we can travel all through town on one ticket and won't have to pay again unless we exit and enter again. 
The metro cable is very cool, we can see everything that's happening below us in a slow tempo and on top we change cable towards Arví Park. This last metrocable is double the price but double the fun too. On top of the mountain the views are excellent and the park has a lot of potential. There are some small hikes and just outside the park there is a small village on top of the mountain. I can't say the park is the best part of this day, the ride over the slums and it's graffiti has made a much bigger impression on us.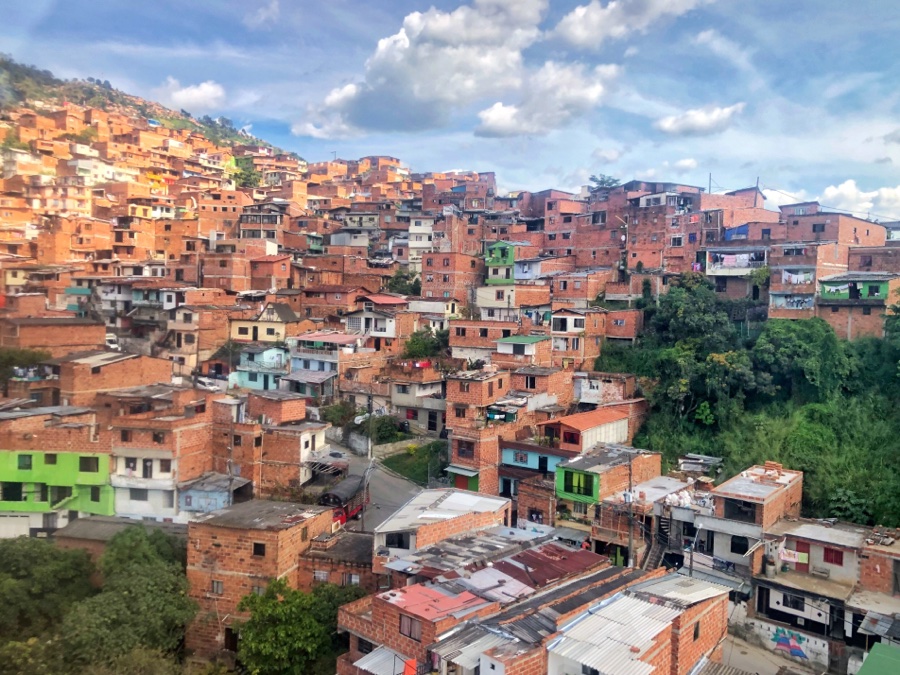 On our way back we buy another metro ticket on which we can travel until exiting the metro again. Easy and cheap!
Guatapé lies northeast of Medellín at about 2 hours drive. The small village has an altitude of 2135 meters so that is a lot higher and therefore cooler than the 1500 meters of Medellín.
We leave for Guatapé from the Terminal del Norte where we pay 14,000 pesos per person for a bus ticket.
During our bumpy ride to Guatapé a young rapper enters the bus and entertains us with his talent hoping he'll earn some money. The views are absolutely breathtaking but taking pictures seems virtually impossible with these bumps and shakes.
After two hours we are at the Terminal de Buses in the town of Guatapé. Already we see the colorful houses everywhere we look. So we hurry to drop off our bag at our hostel and explore the town. 
Wow wow wow, what a beautiful town! Small streets, up en downwards with cute restaurants and those colours… everything is colored.
In Guatapé it's fiesta time this weekend. On the 16th of July there is the celebration of the Virgin Carmen who protects all drivers. So huge (and I mean HUGE) trucks pass the streets followed by the most beautiful horses ridden by authentic Colombian caballeros. It is a real treat to watch this two days in a row.
We meet Pauline and Samuel whom we've also met in our hostel in Medellín. We have dinner together and enjoy the festivities.
Guatapé has a few really nice vegetarian restaurants where you can enjoy a vegetable filled meal for a good price. Most restaurants charge 23,000 pesos for a hamburger or a pizza but here you can actually eat the vegetables they grow for about 15,000, sometimes it even includes a fresh made fruit juice! Here are some tips if you're interested:
Namaste: delicious veggie dishes, 12,000 pesos for a big tasty salad and 5,000 for a huge piece of carrot cake. 
Ramé: 15,000 pesos for a fresh made juice, soup and plate full of tasteful freshness in a nice living room atmosphere.
Pizza de Luigi: with a name like that, what can go wrong. On the second floor in the same street as Ramé, you pay 20,000 pesos for the best vegetarian pizza in town!
Other than walking around the gorgeous town we enjoy the view over the lake and relax on the veranda of our hostel. Experience Hostel lies just over the bridge and is about 700 meters to town. The advantage is that we don't have to deal with the noise that is produced during the festivities in town. The veranda has a fantastic view over the Piedra that we will climb tomorrow.
A few kilometres from town there is an enormous boulder that you can climb. In a crack of the boulder they've build stairs all the way to the top. What is supposed to be the best view is the world is the reward after 700 stair steps. We are going to find out if that's true.
The stairs open at 8am so we leave early to be there before the crowd. Our tuktuk takes us to the beginning of the stairs. When you take a collectivo, they will take you to the start of the 'park' which is about a 15 minute walk up towards the entrance.
The entrance is 18,000 pesos per person but we've heard the price has gone up quite a lot in the last few years.
Every 25 steps you can see the number of steps you've had, but as I'm counting it seems like the one painting the numbers had some trouble doing maths… after 675 steps we are there! Some restaurants and souvenir shops that don't really add to the beauty of the rock but the view is worth millions. A panoramic view over the many small islands in the lake. Here we meet Eva again, who we've met in Medellin and in Indonesia too. Such a small world…

From Guatapé we take the bus to the small town of San Rafael just half an hour east by bus. This town almost isn't worth mentioning because after two hours we've seen every street. The town has a nice main square and a charming church. The streets are slanted and have some nice colourful houses in old colonial style.
The town lies alongside a river and has a big walking bridge crossing it.
Close-by you can see monkeys in the forestal area and if you're lucky you can even spot a rare ghost monkey. 
There are two bus companies on the main square that go back to Guatapé for about 7,500 pesos per person.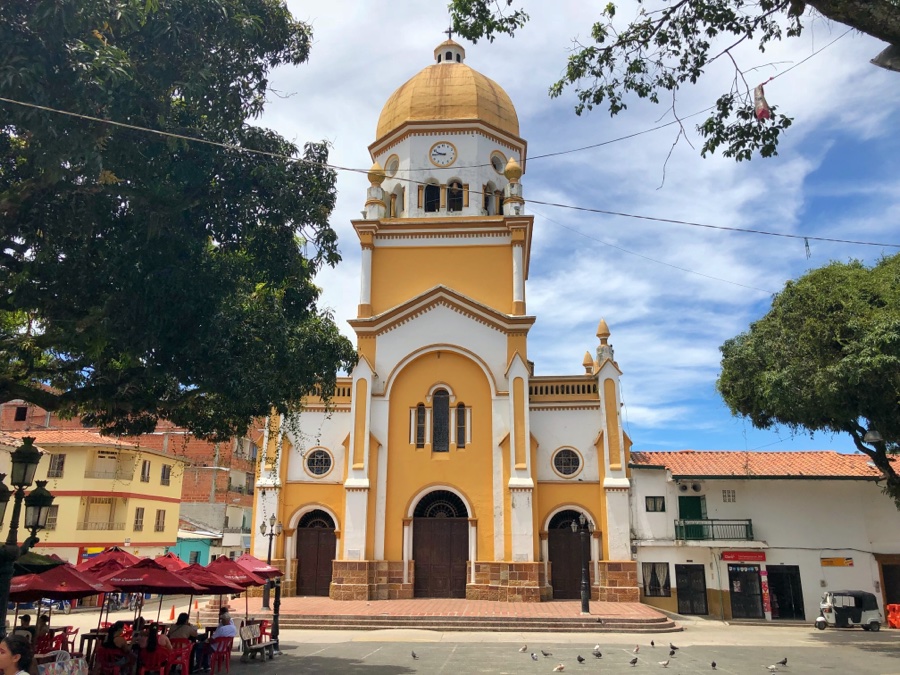 There is only one bus company that's driving between Jericó and Medellín. They leave from terminal del Sur so when we arrive in Medellin from Guatapé at Terminal del Norte we have to take the bus to Terminal del Sur first. No problem, on the ground floor of the terminal are busses going there for 2200 pesos. Uncomfortable but cheap we arrive at the terminal and buy a ticket at counter 18. This bus costs 28,000 pesos (€8.50) and usually takes three hours, unfortunately for us we have to wait for 2 hours in Albania, about halfway. They are building a highway and the road is blocked for construction for a few hours. So we wait.
We followed someones advice to sit on the left side of the bus but we start to believe it's the other way around.
On our right side the most amazing scenery passes us by… luckily the second half it is finally our turn, the views are spectacular on the left side and we can enjoy the view of the biggest natural piramide in the world, Cerro Tusa.
Our long trip is soon to be rewarded because when we enter Jericó it looks idyllic and colorful by nightfall. We drop our bags in our room and go to the main square for a meal and a beer.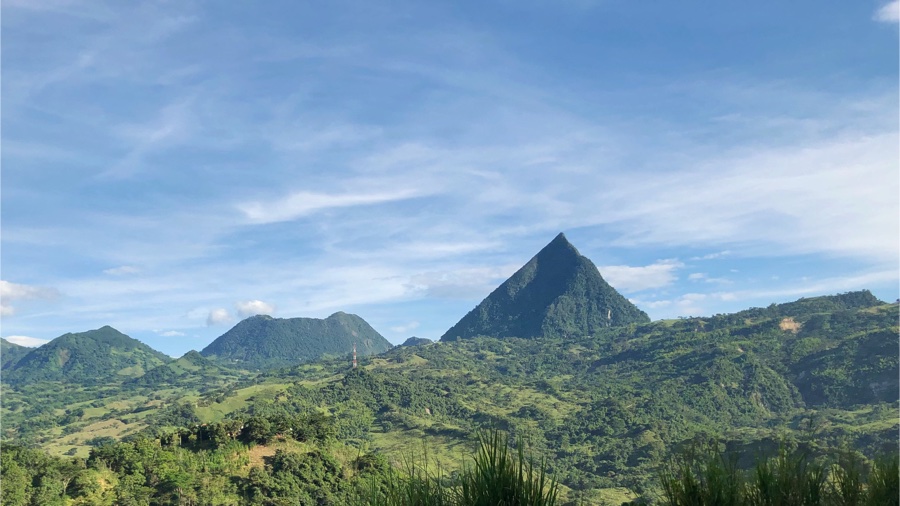 There are many people but we are obviously the only foreign tourists here, because everybody is looking at us, greeting and smiling happily. This feels so welcoming!
The square is really nice and has a lot of nice bars and restaurants. We have a tasty salad at La Terazza where we immediately fall in love with the charming waitress.
When we return to our accommodation at Cabanas El Rincon Paisa we take a good look at the room, it's a lovely wooden cottage with a balcony. The view over the city lights is amazing but when we wake up we see the best view ever!
Mountains as far as we can see and a beautiful gothic cathedral… whoahhhh…
As the day passes we get invited in by a couple we meet in front of their beautifully renovated home. The house is gorgeous and has an impressive view over Jericó. Sweet people, they ask us to come back and join them for dinner the next day. Our hearts are melting… this town, we could live here!
Besides these lovable people, Jericó has some really great other timespenders to offer. We visit the Cristo Redentor, a huge Jesus statue on top of the hill, from where the view over the village is even better. Breathtaking!
Here we meet a couple of 18 year old guys who are hanging around on top of the hill. There have nothing better to do so they enjoy flying their kite over the village. They don't speak English but we can make ourselves understandable. They have a lot of questions and in the meantime we get to fly their homemade kite too. Weeehooo, so much fun!

It was supposed to be quite simple, a trip from Jericó to Salamina via La Pintada would take four hours, tops! So, we take the bus at 9 am from the main square in Jericó towards Puente Iglesias, this costs 8,000 pesos per person and takes about 40 minutes. In Puerte Iglesias we should take the bus to La Pintada at 11 am. The bus is an hour late and the driver says it's better to drive on to La Felisa and take the bus there. Hum, now we're confused… what should we do? 
We decide to do as he says and switch busses in La Felisa. When we get there we pay the driver 10,000 pesos per person for this trip.
A lady walks up to us and explains which bus… or rather which Collectivo we should take.
A Collectivo or a Wheely is a pickup truck Jeep where you sit in the back. 
We do just as she says and after an hour we get off and pay 4,000 pesos per person. We have to switch Jeeps in El Mercad which is about the middle.
When we find our new Jeep to Salamina we get to sit on the roof. Woowwww this is so awesome! It's like we are flying above the clouds… the views are breathtaking! Although it's probably the unsafest thing you can do we are having a blast! The car drives quite fast and the roads start to get bumpier by the minute. It's dusty on top, our hands are sweaty and our muscles are sore but it is still incredibly cool!
After half an hour of ohh's and ahh's and ducking for lowhanging branches the fun is over and the driver says we need to switch cars again. Somewhere halfway. In the middle of nowhere. What?! AGAIN?! Grrrr… why did nobody tell us?!
I pay him 2,000 per person but he says it's 4,000 per person. For half an hour sitting on the roof?! (Actually it's quite cheap for such an excellent adventure)
Our new Jeep arrives within ten minutes, costs 5,000 pesos pp and this time we get off right in front of our hotel. Pfff nine hours later we are here… finally… Salamina!
Bonsai Casa Hotel is in a great location in the town centre and has a view like xo. Gorgeous… 
We find a nice restaurant, ehhh actually the only restaurant in town, and order a burger. Our 20th burger this month. Pizza and hamburgers… that is about all they seem to offer in Colombia. So sad with all these fantastic veggies available…
There's a bunch of men drinking beer and immediately invite us into the bar as we walk by.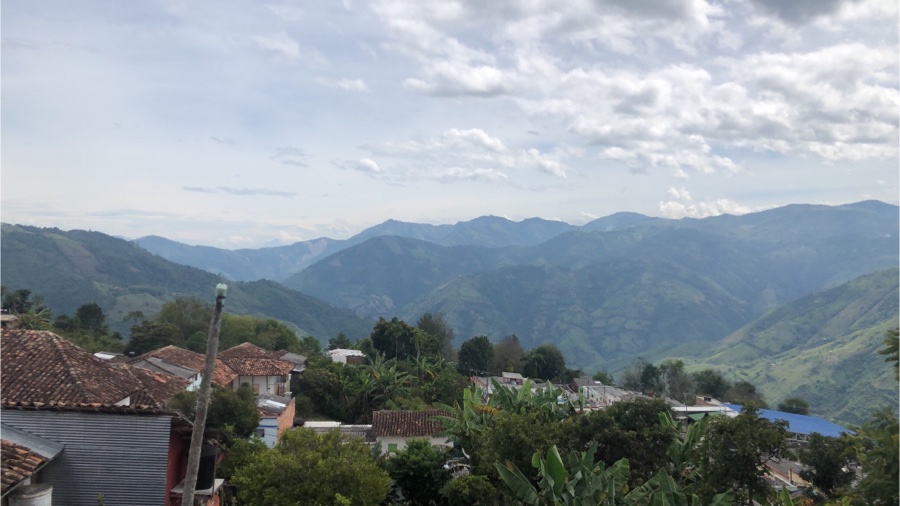 Spanish lessons by drunk locals part two… we are unable to tell you how much fun we've had… let's say, this has put Salamina on our top towns list.
The scenery in Salamina is absolutely breathtaking, a walk through the village immediately shows the extraordinary location all around. Wherever you go you'll see high mountains and deep valleys… what a treat this town.
As we walk through the village we meet an old lady. She sits in a chair all day looking out onto the street. She probably doesn't have a healthy bone in her body but her heart is the best.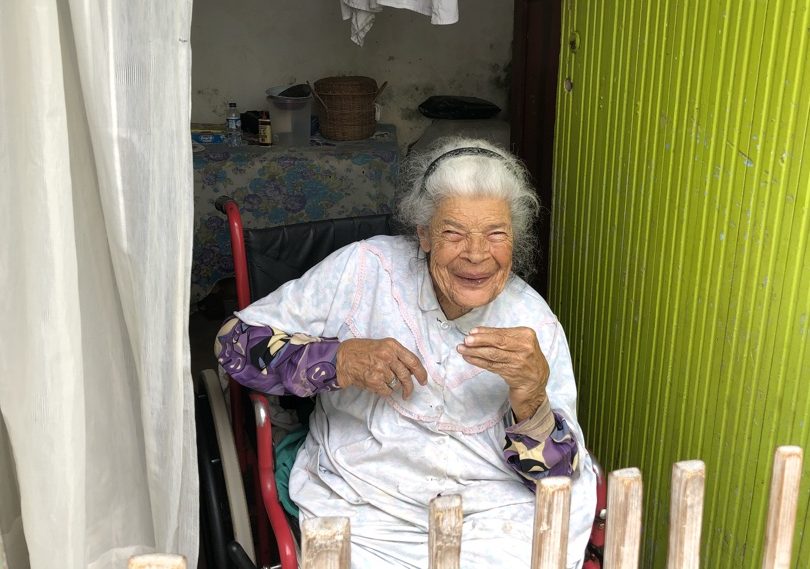 We walk up to her and ask her how she is doing, a huge smile and a little conversation tells us so much about her and the people in this village… so warm and welcoming. 
There is fiesta all around again. Colombians love to party! There is a big parade and everybody is in a costume. The army and police are there and the mayor shakes our hand.
Eventhough the village has some beautifully colored streets and the sweetest inhabitants there is not too much to do here, so after a few days we decide to move on.
Filandia, a town that sounds like a country in a fairytale… 
From Salamina we want to go to Filandia, a small Heritage village not too far from Salento. Because there is the Colombian Independence Day this weekend and we don't want to stay in the incredibly crowded Salento we choose to go to the less known Filandia. 
In Salamina we first take the bus to Manizales, which leaves the tiny bus station multiple times a day. There is even a bus directly to Pereira at 13:15 but it's now 10am so we take the 10:30 bus to Manizales. It's quite a bumpy road that takes almost 3 hours and costs 17,000 pesos per person.
The views are impressive, huge valleys and little villages. About half an hour before we arrive we can already see Manizales in the distance. This city lies on a mountaintop and looks quite majestic. In the Terminal de Transporte we quickly walk from where the busses arrive to the other side where the busses leave. We buy a ticket to Pereira 9,300 pesos per person and don't have to wait to long. The bus takes about an hour and arriving in the Terminal de Transporte of Pereira we buy a ticket to Filandia. A 30 minutes wait is just enough to buy a sandwich… phew… Only 1 hour and 6,600 pesos per person further we arrive in Filandia, hooray!
We've booked a few nights at the Bidea Hostel. A great big room with private bathroom and a comfortable bed. Unfortunately like every other hostel in Colombia, the walls seem to be made out of cardboard.
There is a festival in town because of the Independence Day celebration and there's music and parades everywhere around the big square in the centre of town. We expected this village to be quiet and unknown but we find Colombian tourists everywhere. We are almost the only foreigners there so we still get a lot of attention. People are very curious why we come to their beautiful town and why are we not in Salento like everybody else?
As we join in on a group of locals singing and making music in a bar, (again) we have the time of our lives. 
From Filandia it is an hour to Salento by Jeep. We have only one day left so decide not to go so the Cocora Valley for this takes an hour more from Salento, one way. We are having so much fun here, we tell ourselves we don't need to go anywhere else… of course we will probably regret this later.
We need to het back to Bogotá and have two options, we can fly from Armenia or Pereira, which is usually not too expensive if you book a week or more in advance… or take the bus. This last option is much cheaper but takes 8 hours from the terminal in Armenia. We choose to travel by day because we don't feel comfortable sleeping in a night-bus for it isn't always that safe. And besides, during the day we can see more of the scenery!
First we need to take the bus from Filandia to Armenia which leaves every twenty minutes. As soon as we exit our hostel the bus arrives. Niceee… and it just started raining so really nice!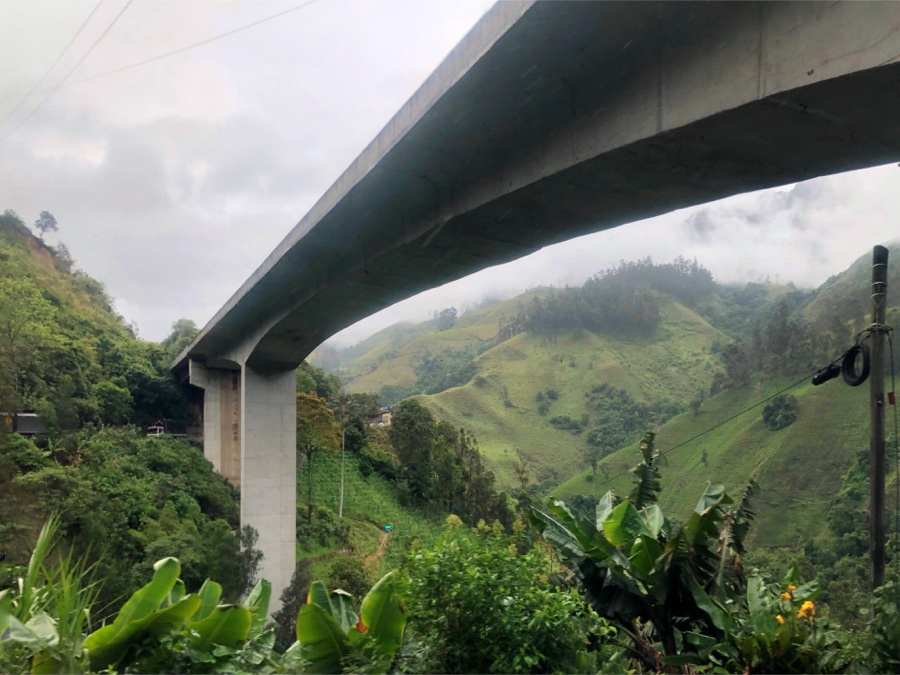 The bus to Armenia costs 4,500 pesos per person and takes about an hour.
Yesterday we've checked the bustickets with 'Bolivariano' online and they were the regular price of 68,000 pesos per person. We saw some tickets get a discount when you buy them last minute and there are only two seats taken, so we thought we'd take our chances and waited until this morning. Yes, good decision because the price has dropped to 49,000!
We order two tickets and pick the front seats which have a lot of leg-space.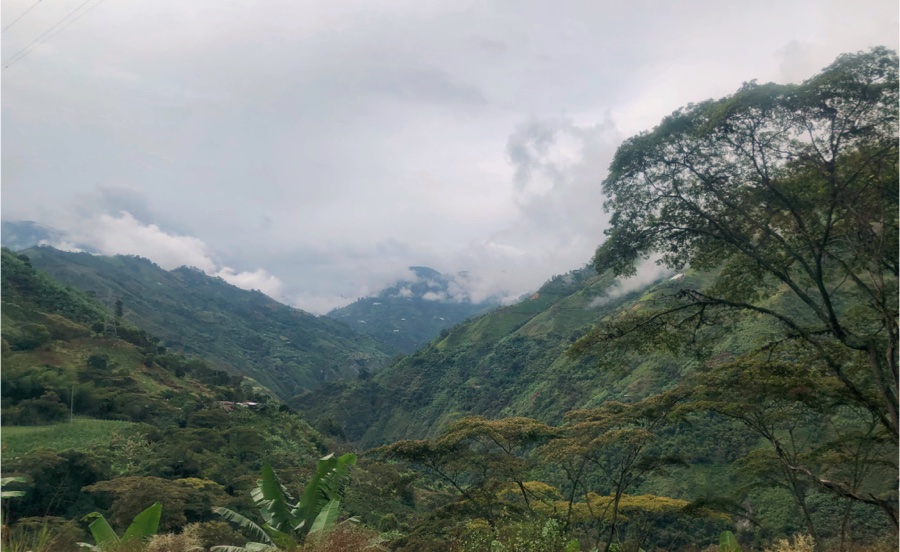 We have an entertainment system and WiFi that is actually working. 
The way to Bogotá is beautiful, deep green valleys and small villages against the mountains. It's a nine hour nature documentary! Besides all this beauty we are sitting in front of a woman talking on the phone for 9 HOURS. We FINALLY arrive at the Salitre bus terminal. 
We will spend our last few days in Bogotá's Candelaria where we enjoy life before we leave Colombia… 
We've seen so much unexpected beauty in this country, we could stay here for three months. The sweetest people, the impressive views and cute villages… we will remember Colombia as one of the greatest countries we've visited in the last 16 months.