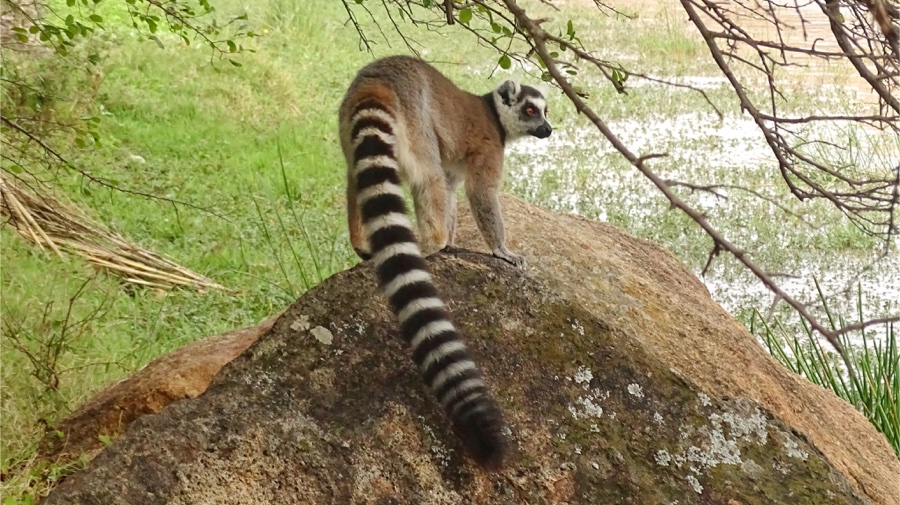 We truly love everything about Madagascar. The endless fields of golden grains and the colorful terraces with all kinds of vegetables, different greens separated by red soil. High mountains and deep valleys, there is so much to see everywhere. Small streams dancing through the lands and than those houses that remind you of the French colonial times. Everywhere you'll find small brick ovens made by locals to bake red clay bricks they make from the soil.
That red soil is very fertile, you can grow almost anything here. Madagascar is a true veggie-walhalla:
carrots, broccoli, cauliflower, cabbages, lettuce, sprouts, courgettes, aubergine, green beans and many different kinds of fruits. It's heaven!
Unfortunately the Malagasy cuisine is not very creative. No fruity breakfast and vegetable main course.
In almost every town there are some good restaurants where you can get a vitamin boost on your plate but mostly it's fried and very salty accompanied by white French bread or pizza. They do know how to make a French bread though, crispy on the outside fluffy on the inside!
Meat, if you like meat you will be so happy here. Zebu meat, the most tender steak you've ever had. Ducks, geese and chickens who have just been walking around the back yard all day. You can taste the happiness.
So who would have ever thought we would enjoy meat so greatly.
Madagascar has been independent from France since 1975, but there is still a lot that reminds you of France. Driving through this country feels like driving through France from time to time, the hills, the houses and the baguettes.
In the center of Madagascar there is a enormous plateau with an altitude of 1600 meters. Here everything is cooler, greener and more humid.
The dry south has a lot less to offer the people and the poverty-rate is clearly very dependent on what nature brings.
In general there are many accommodations but we haven't found any self catering options except for campsites which may have a communal kitchen.
Would have been amazing to buy a lot of that colorful vitaminstuff and make something fantastic with it…
Antsirabe is a nice town about 170 kilometres from Antananarivo. Here you can find a lot of colonial architecture from the past. There is an old railway station which unfortunately is no longer in use and some other impressive buildings. The hotel des Thermes is nice to pay visit, faded glory but with a little imagination you can see what it used to be like and coffee at the bar is good.
Along the road 34 to the west there is lake Tritriva, a beautiful 160 meters deep lake with a story attached. The ranger at the entrance of the area will tell you all about it.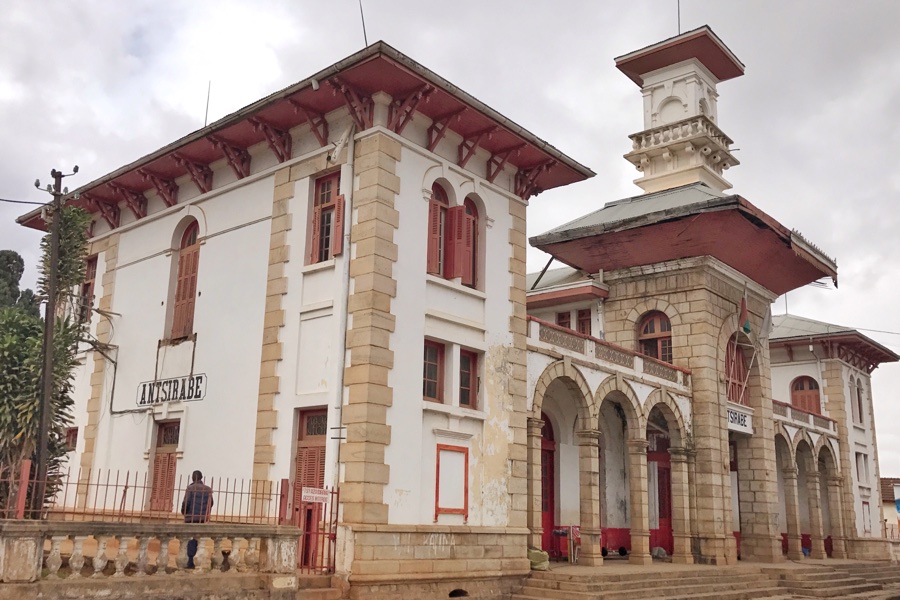 We stayed two nights at 'hotel Antsirabe', in the centre of town. The hotel was very good and we paid about € 16.00 per night for a huge double room with a private bathroom. Oh and the wifi actually works!
Dinner at Zandina is recommended, fantastic pizza and the zebu of course is tender as a baby's bottom 😉 here you can add vegetables too which were very tasty.
Also Cecile et Angel is great for (again) pizza, this time by the meter!
At about a 100 kilometres further south, is this slightly smaller town but just as interesting. The market and the great streets to walk through.
We stayed at the Grand Hotel in the middle of town for two times. It's reasonably priced, we paid € 11.25 per night and the wifi is the best of whole Madagascar.
Our second stay wasn't very comfortable for there was a quite noisy family in the room above us that woke us up at 5 am and continued until we decided to go.
We didn't find many restaurants here, but at the L'Artisan hotel there is a restaurant which we can rate as ok. The complex looks good too and has a nice view.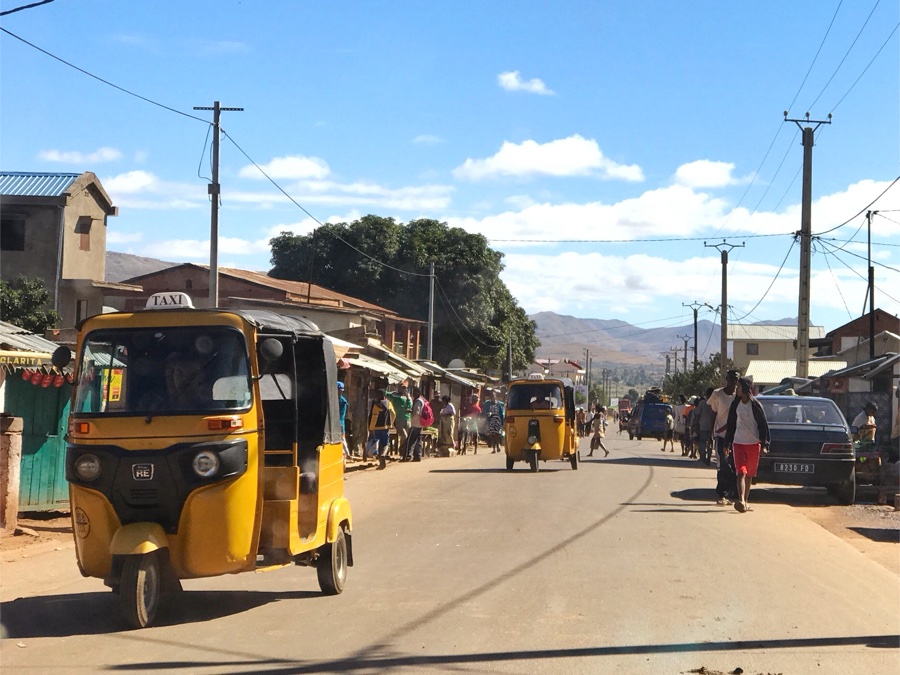 This big town build on a hill is about 425 kilometers from the capital city Antananarivo. With a 4X4 you can reach this city in a day by leaving Tana really early, but we found that the naturebetween Ambositra and Ambalavao was the best of the whole route following the RN7. So don't.
There is a lot to do in Fianaransoa and in it's area. Of course there is the big national park Ranomafana which is not too far away, but there's also an old train line towards the east, beautiful colonial buildings in the old town and some amazing restaurants.
We stayed at the Three Palms Hotel, it's outdated but clean and one of the rooms has the best view you can get in this town.
A small town with a lot to offer, a silk factory, a paper factory, a embroidery and last but not least: the biggest zebu market of the country. On Wednesdays you can find it in the middle of town.
You can find a lot of hotels here, we stayed in La Recidence Betsileo, named after the original tribe of this area. The French owner doesn't speak a lot of English but he tries very hard. We have a fantastic evening and decide to stay another night. The food in the hotel-restaurant is amazing! Zébu a la Bourguignon… DELICIOUS!
And the next day we have duck, so tender… ohh. For veggies I would recommend to find another place, the French cuisine is not really known for its fantastic vegetarian meals. For the room we paid € 11.00 and the meals where about € 5.00
There is also a smaller park nearby called Community reserve Park Anja. It is maintained by four surrounding villages and it has a very nice group of black ringtailed Maki's and some reptiles like chameleons and snakes.
They offer different walks, with a mandatory guide. The entrance fee was A10.000 (€ 2.80) but the prices for a guide are quite high. We paid A36.000 per hour. The park is small and limited but the Maki's make it worth while. The are a little used to people so eventhough they ignore you they don't mind being photographed close by.
Andringitra National park can be visited from Ambalavao and is not suitable for day trips. The park is too wide and too far from the main road. Unfortunately we had to skip this, but we'd love to hear from anyone who has been there!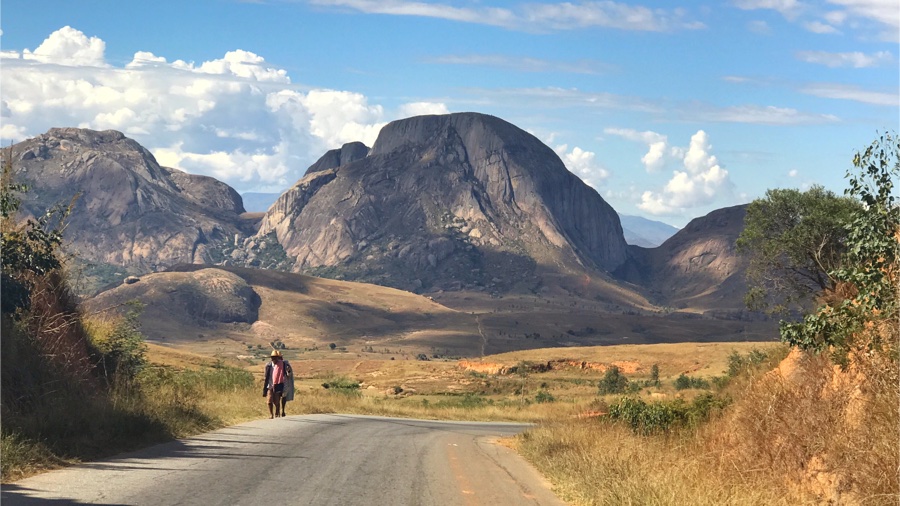 Ranohira is a small touristic town, of course being next to a big tourist attraction it must be. There are some hotels with restaurants which are not all that good. We preferred to spend some time at the small square in front of hotel Berny. There is a small cafe where locals gather. Lots to see.
When we first arrived we wanted to go to Isalo National Park the next day. We met two girls from Belgium and France to share a trip with, but hearing the weather forecast (HOT) and reading about the park made us decide not to go. The price of the day trip is for Malagasy understanding quite high (€ 80.00) and we thought we could always go on our way back, because we would pass this town again.
Our hotel Berny is a little disappointing and the town isn't too special either, so the next day we move on.
On the other side of Isalo, you can find a few 'sapphire' towns, famous for it's gold and gems like sapphires that are found here. Don't get any brilliant ideas, the people here are watchful like maffia… including guns.
On our way to Tulear we also pass an amazing butterfly valley, with as you may expect, thousands of butterflies in many different colours. Whoah… this is unbelievable!
The last part of the road up to Tulear is very bad and takes us forever but when we finally survive the pothole-hell we are in heaven…
We decide to drive on to Mangily Ifaty, a town about 35 kilometres north of Tulear. There used to be a bumpy dirtroad after Tulear that took 1,5 hours to get there, but since the Chinese have a cotton plantation in the area the road has been improved big time. The new tar road only takes you half an hour from Tulear to Ifaty.
The town is small, it has a few small bars and restaurants and a lot of friendly locals.
Arriving at the beach we are exited, the sea is like silk and the sky is totally blue. Oh… it's like a dream.
We stay at La Bella Donna bungalows, it's a relatively new place with beautiful luxury cottages on the beach. We are very well taken care of by the owner and his sister in law, a real holiday feeling!
The cottages are amazing with a big bedroom and a nice bathroom and it's right on the beach. We love it here, we could have stayed a month! So we wholeheartedly recommend you to come and experience the peace and serenity this place offers.
Interested in staying at this little piece of paradise? Check their website here!