This green oasis La Réunion in located between Madagascar and Mauritius, it's an overseas department of France with about 800,000 inhabitants. The language is (as you might have expected) French and Creole, both languages you'll find in many African countries. The largest airport is located in the capital Saint-Denis where we arrive for this weeklong adventure.
La Réunion, otherwise known as hikers paradise, has three big craters in the north with unimaginably many waterfalls, some are small but some seem to disappear into the clouds.
The nature is very diverse, because of the perfect climate it's home to many different flowers, trees and bird species.
Piton des Neiges is, with it's 3069 meters, the highest point of the island. Surrounded by steep green mountains this peak gives you a panoramic view over the island. Not trained for such an extreme adventure? No worries, La Réunion has a trail for everyone.
La Réunion a.k.a. hikers paradise
There are so many trails on La Réunion, you can probably do a different hike everyday for the next 20 years!
Besides these green mountains La Réunion has another side, a dry and hot side. The active volcano Piton de la Fournaise is known to erupt every few years and is amazing to visit through one of the many different hiking trails. The area is varied with new green and shows it's harsh history in the many layers of lava.
Life in La Réunion is easygoing, it's got the African speed but the European comfort. Huge supermarkets with French delights for the same price you'd pay in France and accommodations with Western standards. The roads are well maintained and the villages have a typical French vibe.
A fantastic mixture between the African and European culture…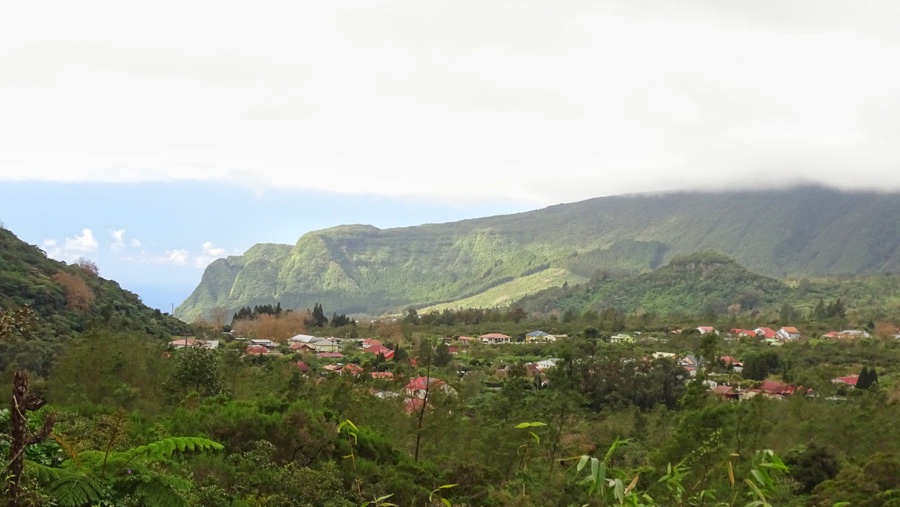 Once a huge crater, now filled with tropical green vegetation, cute villages and home of many colorful birds. Within Cirque de Salazie on the northern side of the island you'll find a main road splitting in two. Going left you'll end up in Hell-Bourg, on the right you will find Grand-Îlet both have incredible beauty to offer in between the peaks of Piton des Neiges and it's smaller buddies.
We choose to stay in Grand-Îlet at a fantastic new chambre d'hôte called La Croisée des Sentiers meaning Crossroad trails.
A brand new tastefully decorated room with a big and luxurious private bathroom and a patio, including breakfast with the family. We pay € 65.00 per night. Quite a lot but La Réunion is not cheap…
In this area there are many different hikes to choose from in every level and for all types of hikers. We did a fantastic hike around Piton de la Maillot, in four and a half hours we hiked up and down this mountaintop and enjoyed the amazing panoramic view over the area. La Réunion is so beautiful… we could live here!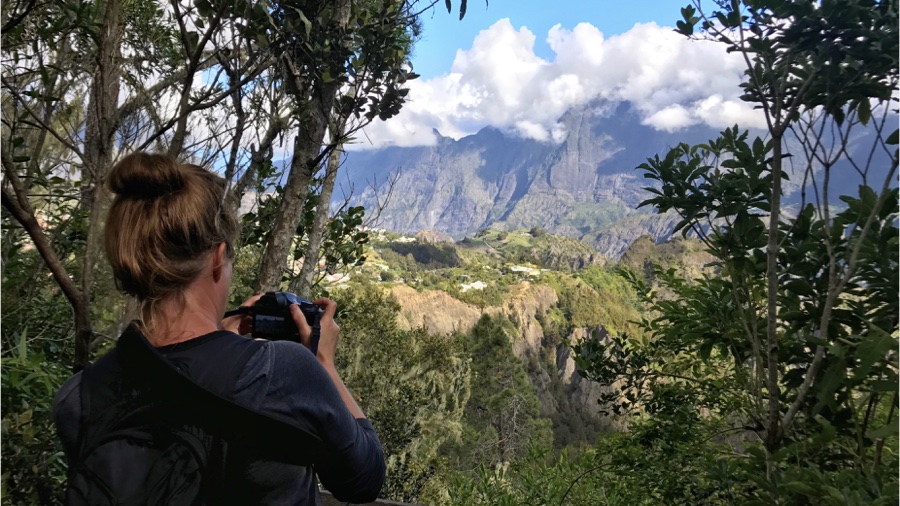 South west of La Réunion you'll find another crater, with a completely different look. Cirque de Cilaos is surrounded by fierce rough mountains, pine and oak trees and rocky tops. An autumn scent and leaves on the path.
The town is great, restaurants, a big supermarket and hotels with a homely ambiance.
We found Le Calbanon a basic but great accommodation in the town center for only € 18.00 pppn.
Coming from Cilaos and from Salazie you can also visit Cirque de Mafate for a multiple day hiking trip, the ultimate nature experience is there waiting for you.
From different cities on the island you can do a helicopter tour over the cirques and other magnificent areas. This was our plan but unfortunately being here in the low season, they could not fill the flight with the six people needed so our flight was cancelled… the prices are between € 90.00 pp for 15 minutes and € 320.00 pp for an hour.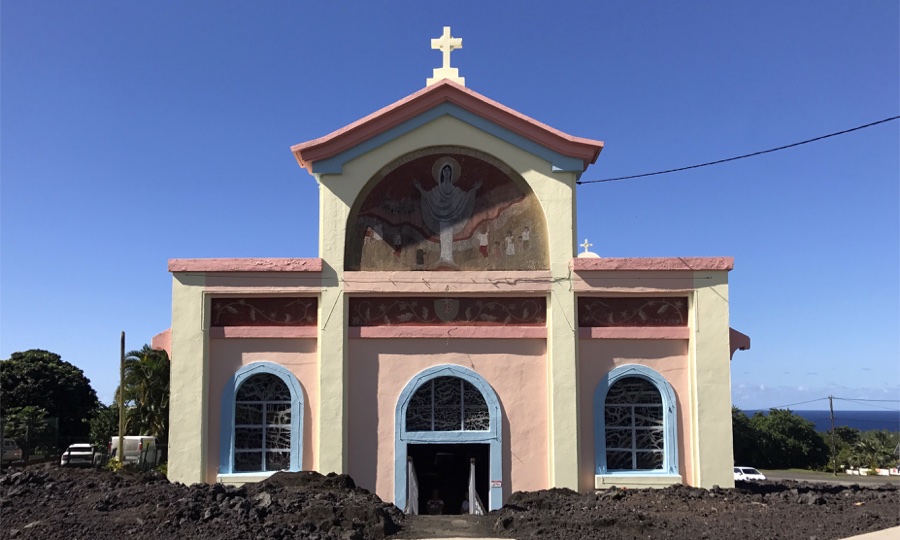 La Réunion has an active but controlled volcano, Piton de la Fournaise, which is great to visit. In the last 350 years it has erupted at least 200 times. It's last eruption in the end of 2016 is still very visible, bold streaks through the landscape of smooth hardened lava. Also former eruptions are visible for there is new green life growing on this fertile ground.
Hiking up the volcano on one of the many trails you can get right up on the rim and feel the heat of the boiling magma. An incredibly interesting place to see.
A tropical green inland, an exiting volcano, French villages ánd a beautiful coastline… La Réunion has it all.
With it's rough volcanic eastcoast and the Saint Tropez-like beaches on the west. Don't get me wrong, this island is not blessed with the whitest beaches we've seen. But boy, if you just loose that desire for white sandy beaches… you'll be amazed. The sand is like mixed pepper, the smoothed black volcanic rocks reflect the sunlight, just where the turquoise blue water hits the shore. And that is just the beach…
Palmtrees, great parks near the ocean with picnic spots and of course cafes and restaurants where the French cuisine mixes with Creole delight. Mmm… La Réunion!
We were on La Réunion from 21st until 28th of june, this is the beginning of the winter so in the mountains (and there are quite a few) it can be very cold, during the day it won't be warmer than 15 degrees and at night it can even freeze a few degrees. This of course is also because of the altitude and the humidity.
The western part of La Réunion is much warmer, the temperatures during the day were around 27 degrees and at night around 20. The more you get to the coast the warmer the days will be. There was a firm wind every afternoon but the nights were calmer.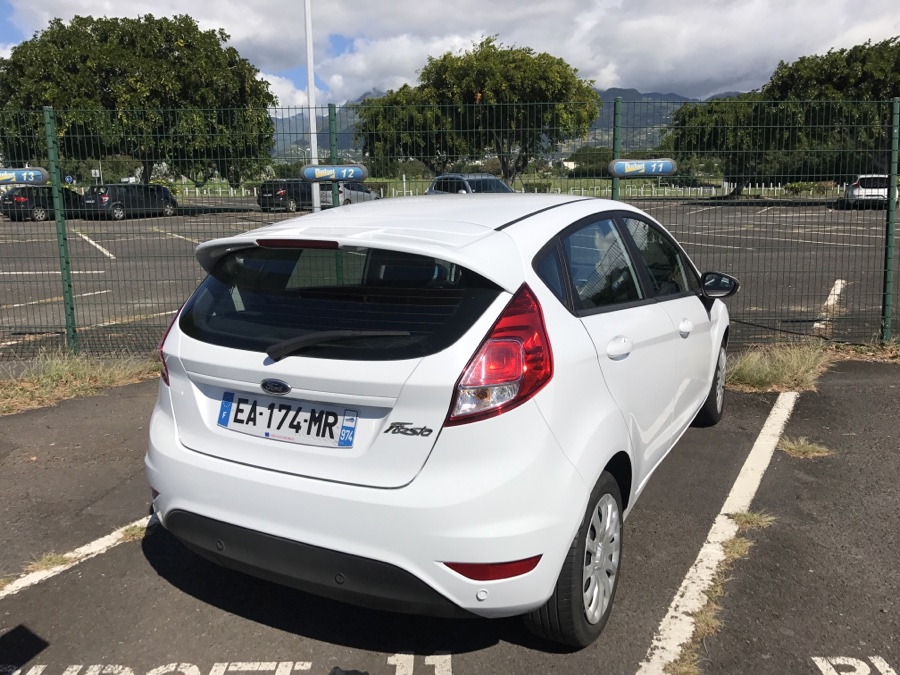 La Réunion is such a well organised island. Buses are on time and will bring you anywhere on the island.
Although public transport is easy, we chose more freedom and comfort, so we rented a Ford Fiesta again (brand new and white just like we did in South Africa) for € 18.00 per day. The roads are very good and nothing is really far on this island. The average speed is about 50 kilometers per hour.
In most towns you can park for free, almost anywhere you like. In the more touristic areas like near the beach and bigger towns like Saint Dénis, there is paid parking.
Renting a bicycle or a scooter is of course also a possibility, but we haven't seen these offered too much.
Currency of La Réunion: Euro
In total we've spend:
Transportation: € 163.00
Accommodations: € 293.00
Food and drinks: € 185.00
Entrance fees: € 0.00
Other: € 0.00
That brings us to a daily budget of: € 91.57 for two persons including everything except international flights.
La Réunion is really not as expensive as you might think, especially when you're used to European prices, a stay in La Réunion is very similar to home. In this last week we've done all the great things we wanted to do including great French wines and cheeses 😉
Here are some examples of products and prices in euro:
Large baguette in mini market: € 1.50
Pizza in lunchroom: € 8.00
Coffee latte in a lunchroom: € 2.00
Bottle of good French wine in a supermarket: € 5.00
Beer (330 ml) in a cafe: € 1.50
Bottle of beer (330 ml) supermarket: € 0.65
Coca Cola in restaurant: € 1.50
Main course in restaurant: € 15.00
Liter gasoline: € 1.35
Simcard with data: we used our Dutch simcard