March 31 until April 24 2017
A country of many extremes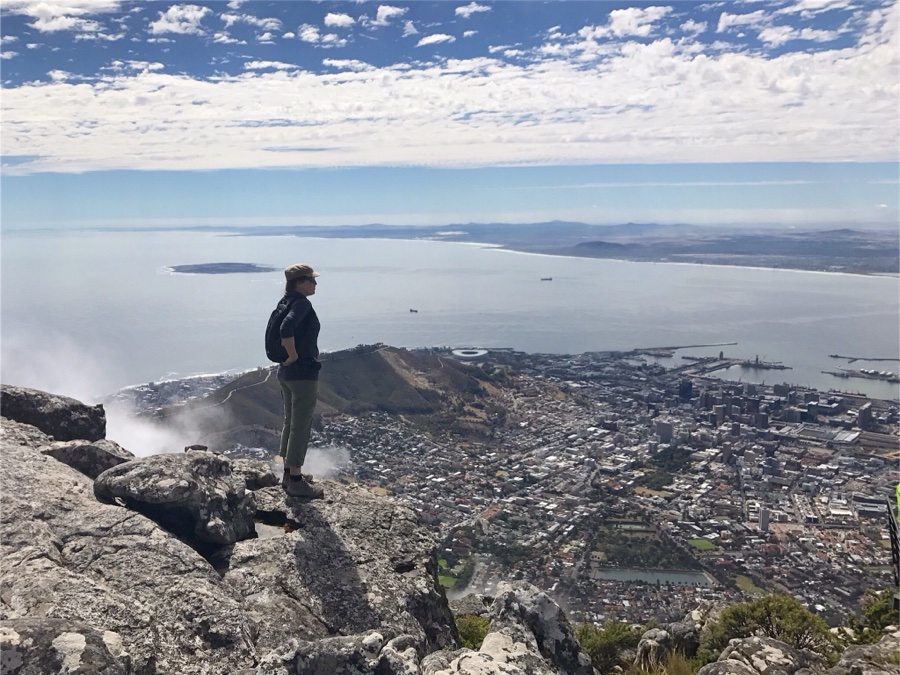 Four seasons in a day, people in all colors and a scenery to die for, from fields of gold to lush green oases as far as the eye can see. Never a dull moment in South Afrika!
This country with about 55 million inhabitants unfortunately has a negative economic status, there are demonstrations against President Zuma everywhere and the fall of the Rand has its effect on everyone.
South Africa has three capitals, Pretoria, Bloemfontein and Cape Town. The last one we visited for five days and we loved it. We were not attracted to Johannesburg or Jo-burg, this city has a negative reputation, the streets are unsafe almost everywhere so we drove around it with a big bow.
In general, larger cities in South Africa are not very safe, especially for 'western' tourists. In the indigenous population, even though they are extremely friendly and hospitable, there is a lot of poverty. This can lead to (violent) robberies, sad but true. If you want to walk the streets at night, stay where other people are and don't go into quieter areas.
We spend (only) 25 days in this fantastic country and just couldn't get enough of the endless beauty it has to offer.
Hakuna matata!
Cape Town is a great city where many surprises await you. Fantastic restaurants, architectural buildings, endless nature and of course the African culture!
Staying in the center of Cape Town is not cheap, we found 'the Backpack' hostel highly recommendable. 'HomeBase hostel' as a cheaper option was 'ok'. It definitely got that home-feeling, but take your earplugs with you.
On Longstreet you will find plenty of nice restaurants and cafes, each one with beautiful decor and nice terraces. For this alone we wanted to stay here for three months.
One of the nice cafes is 'Tiger's Milk', already in our cafe top 10 ever, great food, not too loud eighties music and tasteful decoration.
'Yours Truly', a bar / restaurant in the jungle. Ambiance: a 10+
Do not skip a visit to the Table Mountain. The panoramic view is absolutely breathtaking and of course you go hike all the way up 😉 Water and sunscreen are essential.
Once you are on top you'll soon forget the hike, because the view is unforgettable.
The Waterfront district located by the harbour is worth the walk. Watching enormous ships and great architecture.
The Bo Kaap district with it's colored houses and cool graffiti are a pleasure to see. Walk a little further then the first street where everyone is photographing…
Simon's Town is a fun town about an hour by train from Cape Town. You can walk from the train station to Boulders Beach in half an hour where there's a penguin colony waiting for you. Access to the beach costs about € 5.- per person but just before the beach there is a beach that is free. There are a little less penguins but you can meet them up close. Don't tell anyone! 😉
We have skipped the Muizenberg beach with it's famous colored changing rooms for the more authentic St. James. Also with colored changing rooms ánd locals.
We've never felt unsafe in Cape Town, there are security guards on every corner of the street. Use your sense and your eyes. Just don't walk into dark empty streets and flash your money of expensive phone around. If it doesn't feel good, don't go there. Other than that, in the center you'll be just fine!
The most popular city of South Africa is definitely worth a visit. There is so much to do we didn't have enough time in the five days we were there. Climb the Table Mountain and get stunned by the view, enjoy the many bars and restaurants or take the train to check out the penguin colony or one of the amazing beaches just outside the city.
The Garden Route is a beautiful green area along the Southwest coast of South Africa, from Cape Town to Port Elizabeth. The infrastructure is quite good and it is fairly quiet on the road. The landscape has interesting vegetation and changes from minute to minute.
We stay in Mosselbay for € 45.- in an apartment called 'the Cove', which is very comfortable, it has a swimming pool and a very cool view over the bay. There is also a secured parking space.
A walk along the coast is great, from june to november whales bathe in the bay, unfortunately we have to miss that…
A walk along the coast brings you some interesting blowholes.
Other recommendations:
The Coffee Junction, Coffeeshop
The Blue Shed, Coffee roaster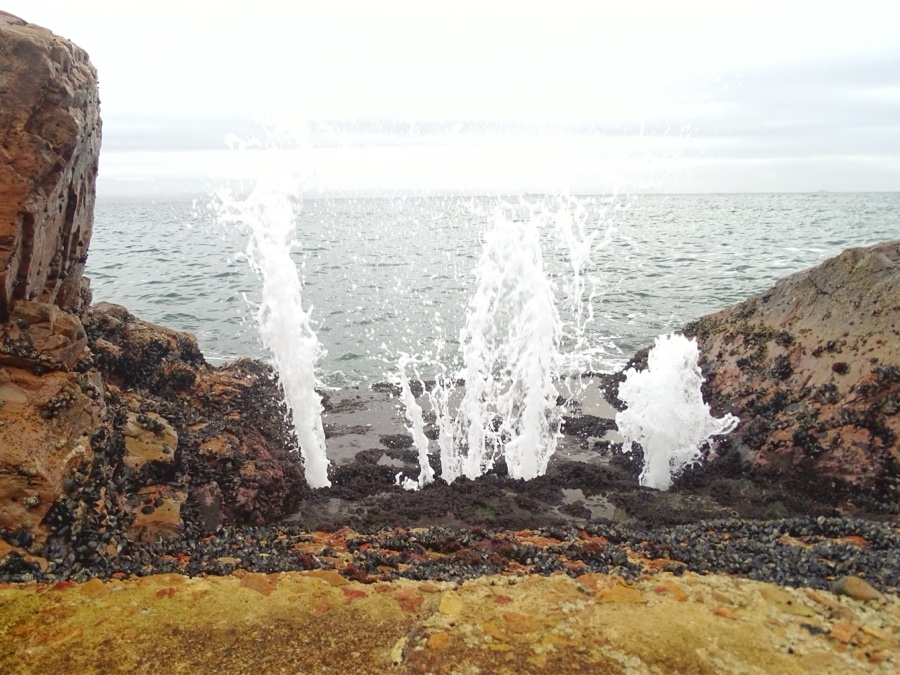 'With a quiet K' is the first thing the locals say. At first sight, not a real charming town but it has a lot to offer activity-wise. 'The Heads' a viewpoint close to this town is really worth a visit!
We stay in Knysna for 2 nights in 'The Cape Days' apartment for € 35.- per night which is excellent. We have a fully equipped apartment with a balcony and a secured parking.
Other recommendations:
Restaurant / hotel the Turbine, with (yes) inside a huge turbine, where you sit right next to while dining. Exciting isn't it 😉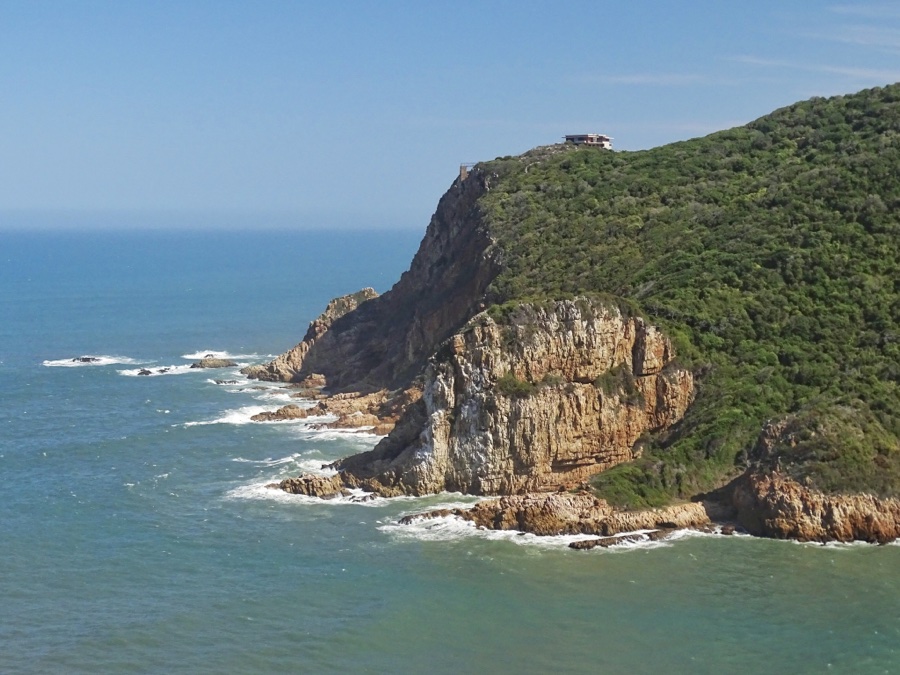 The peninsula The Robberg at Plettenbergbay is excellent for hiking. You can find sealions, fur seals, lots of bird species and fantastic vegetation.
We do an absolutely breathtaking hike of about 9 kilometer which leads us through different kind of paths, over big rocks and through colorful scenery to the furthest tip of the peninsula where big smelly seals sunbathe all day long. The trail takes about 4 hours without breaks.
The coastline of South Africa has many long and amazing beaches which scream for you to pay them a visit. The water might be cold and the waves will be wild, but ohh but those views! Priceless!
The entire coastline along the south coast consists of beaches, big ones, small ones… one more beautiful than the other. Kissed by the sun and touched by the icy blue water. You'll find yourself alone on most of them.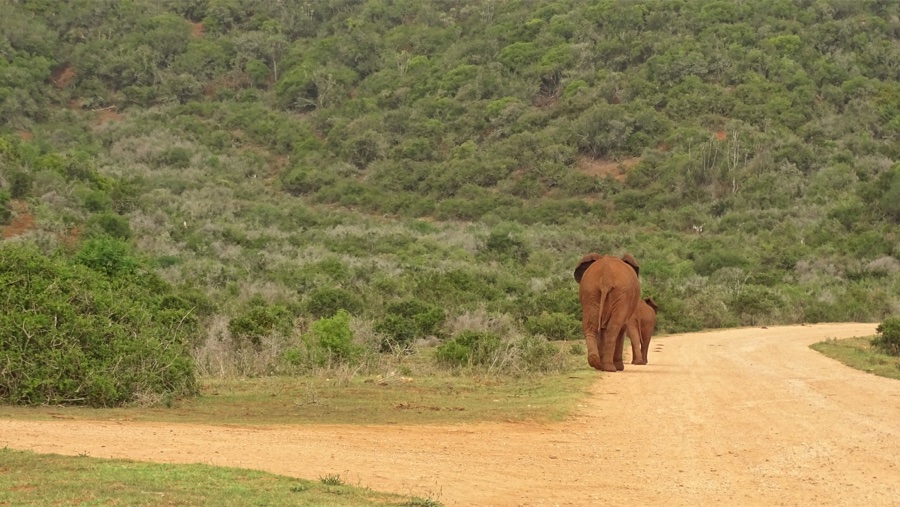 In Addo Elephant National Park you'll be amazed, wild animals are everywhere and you can find the big five here as well. Almost any wild animal in South Africa lives in this park except for giraffes, because they are not originally from this part of the country.
There are a lot of sandy roads in the park which give it that non-touristic vibe. The day of our visit is not crowded at all and the animals are quite relaxed.
The price of the park is € 35.- for a normal car (with up to 5 passengers), and you get a free map at the entrance 🙂
Not only the animals are cool and really close by, the nature is amazing too. You'll find green mountains mixed with interesting savannas, many different bird species and even tortoises. This is our no. 1 National Park!
Our accommodation is very close to the entrance of the park. Addo Dung Beetle guest farm is an unexpected pleasant experience. There are several cottages with outside facilities and a view to die for! The cottages are being updated this year (2017), but for us it's already worth the stay. And only 10 minutes by car to the park!
Vrystaat is clearly less touristy and that is a real pity because there is so much to see and do. We drive from Addo up to Smithfield and from there to Ficksburg just above Lesotho. After our stay there we drive through Lesotho to the Drakensberg area. An amazing trip with huge green mountains and rough rocky scenery. Keep your camera ready at all times!
Our stay in the small town of Smithfield is only for one night but left a big impression. There are no tourists there so prepare for real life. Don, the owner of Jasmine cottage, and his wife Ellie do everything to make you feel at home. We have a bedroom inside the house with our own bathroom and a great patio.
The town is quite small and there's not a lot to do but the local bar Buckleys is great for food and drinks.
After our stay here we drive on towards Ficksburg. A dirt road of 75 kilometers, but somebody has to do it. We've put on a country music to fit the scenery and took our time. After an hour or five we arrive at another fantastic location…
This small kingdom in the middle of South Africa with a surface of about 30.000 square kilometers is surrounded by a river. We were planning to stay a night here but a combination of heavy rainfall and bad roads made us decide otherwise. Instead we only drive through this beautiful country for a few hours after the rain.
The moment we pass the border at Maputsoe near Ficksburg, we have an immediate culture shock.
Poverty is everywhere… while driving we almost can't keep our eyes off the litter, the slums, people with torn clothes and emaciated cattle.
After an hour we can see more of the surroundings, the mountains are beautiful and the green hills have colored towns build against them. The nature is magnificent but it's clear that there is no money and there are no jobs. The houses have a roof, or… at least I think they all do. We pass empty supermarkets and there are almost no cars on the road. The infrastructure is quite alright in some areas but other roads are like Swiss cheese, the potholes are so big we are afraid we won't get out of them with our small car.
We've had about 7 police checks in the first 30 minutes asking for our toll-receipt, drivers license, passports and even our international drivers license. I'm sure the last officer was a bit disappointed when we said that we had one. Alright, go ahead…
So, after driving around for a few hours we leave the beauty and the poverty behind us and pass the border at Calendonspoort near Fouriesburg.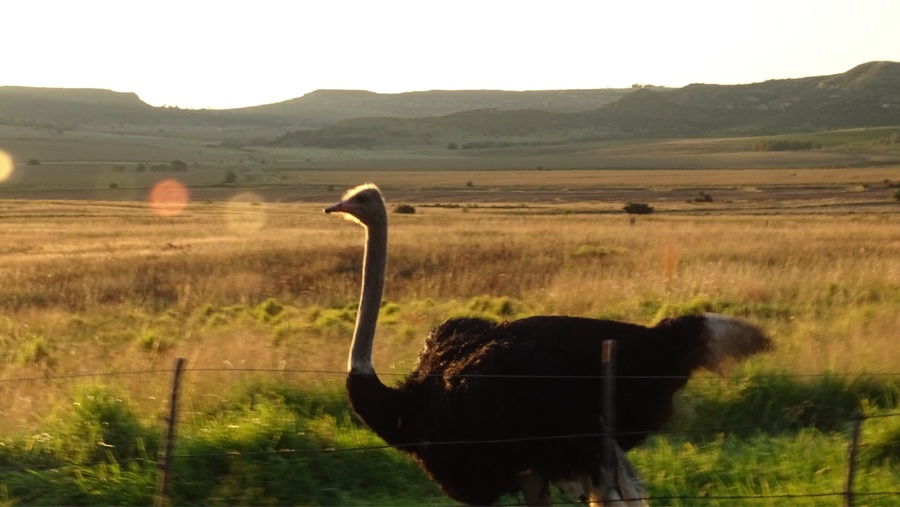 Springwater cottages are located between mountains and surrounded by peace. Our luxurious cottage has two bedrooms and two bathrooms, a fully equipped kitchen and a fireplace.
Outside on the patio you can enjoy the fantastic view of the mountains and our dearest neighbour ever: Elvis the ostrich.
The owner Anton has a farm next to the three cottages and is a great companion for a interesting conversation. Outside by the fire we talk all night enjoying a very good bottle of wine.
Springwater cottages are located between mountains and surrounded by peace. Our luxurious cottage has two bedrooms and two bathrooms, a fully equipped kitchen and a fireplace.
Outside on the patio you can enjoy the fantastic view of the mountains and our dearest neighbour ever: Elvis the ostrich.
The owner Anton has a farm next to the three cottages and is a great companion for a interesting conversation. Outside by the fire we talk all night enjoying a very good bottle of wine.
Drakensberg National Park
Our two night here is far too short but the weather isn't great so we are moving on. Next destination: Drakensberg National Park.
Again we hit the jackpot, we are sleeping in a cave! Owner Steve of Incunzi Cave on the edge of the Drakensberg National Park has an accommodation underground called Didly squad, build by Steve himself and inspired by the many houses in Africa that are nothing more then a couple of walls and a roof build from didly squad..
The inside of the cave is amazing! Your just can't stop looking at all the rarities on the walls and ceiling.
From the bed you can look precisely through the window for a view over the mountains. The walls are covered with reviews of former lodgers.
Outside we use the braai for our first stake, which of course was AMAZING!
Sitting outside, don't forget to look up… We have never seen so many stars as that night, even the Milky Way showed itself! Breathtaking!
This province has a very different, more African culture. There are some people who speak Afrikaans but most only speak Zulu and some English. 
The drive from Drakensberg towards our first stop is again beautiful. Just before we get to Kloof, above Durban people drive like madmen! 
Kloof is a small town with an enormous gorge passing through it. We stay there for only one night so unfortunately we don't have enough time to do a hike down the gorge but it is amazing just looking at it. Whoah!
For the first time we order an Uber taxi to take us to the centre where there is a nice restaurant in an old train station called Smokers, which was quite recommendable. We order a huge salad with chicken and some fries but it takes some work to empty our plates. Great place, good food!
Next stop after a lot of beautiful beaches is St. Lucia. A small town between the ocean, a river and a swamp where at night hippos cross the streets to move from the sea to the swamp. 
Our hostel Monzi Backpackers is fantastic, we have a double room with shared facilities just outside and there is a large communal kitchen right next to the swimming pool with a fantastic terrace. We booked a safari with the hostel Hluhluwe Imfolozi Park, which is an hour from here.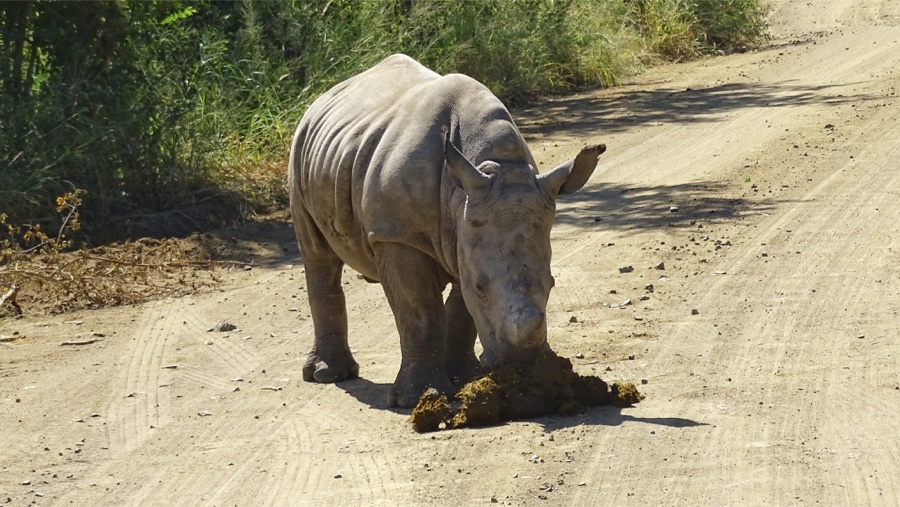 We get up at 4:15 but that is totally worth it. As the sun comes up we enter the park where all the animals have just begun their day too. We see many species but, it's very different from Addo. This too is a beautiful landscaped park with hills and a river crossing it. After a long day we drive back to the hostel thinking, was it worth it? The safari is great, we don't have to watch the road, the ranger sees so much more but the costs of € 65.- per person are still a lot of money. Compared to our DIY safari in Addo, we wouldn't book it again, but the park was fantastic and we feel privileged to have seen so many rhinos! Unfortunately, the rhino is still threatened daily by poachers for his beautiful ivory horn. Even in the parks, 30 rhinoceros are killed every month, in this park alone!
While driving towards the south border of Swaziland we see 2,3, no 6 giraffes by the side of the road. They are eating the leaves of the trees and they are so close!
We also see impalas and warthog, for free… haha after spending all of our money in the National Parks.
We pass nine inspection posts, stamp desks and other barriers when we drive into Swaziland. We don't have our special document with permission of the rental company to enter Swaziland, but we get in without them asking for it. 
That saves us about € 35.- you usually pay for the document. We'll better drive safely because without the permit we are probably not entirely ensured… But anyway, yeah we're here!
In no time we approach a policeman that stops our vehicle, uh-oh, window down, passports in hand. He wants to hear the horn. MUUUUUUBBBB… Ok, you're fine, good luck! OK… and go…
We have booked one night at a mountain camp in Shewula nature reserve. The road is dreadful and takes us forever and when we finally arrive it is three o'clock. The ladies at the accommodation have no registration of our booking, eventhough we've already paid through Expedia. That is the problem, she says. We don't get the bookings!
Uhh ok, just give us a room… nope, everything is fully booked and she can't recommend another place nearby. This is not happening. We have driven all day and now what?
We have no signal on our cellphone so we immediately decide to go and drive on to the north border and go back to South Africa, where we would be going tomorrow anyway. Just before sunset we arrive at a too expensive guesthouse with a view over the Kruger Park. We even see some elephants in the distance.
Well, this has at least one advantage… worst driving part is over. Edit: eventually we got our money back and our expenses compensated.
Finally we enter Kruger National Park! Poachers are a big problem here, even in the parks there are many rhinos killed for their ivory horn despite of the security guards, rangers and entry vehicle checks.
After a vehicle inspection we drive into the park filled with hope and enthusiasm. We immediately see all kinds of animals as we slowly drive to our first rest camp. We have booked two nights through SanParks in two different restcamps inside the Kruger Park. Oh boy, we are excited!
Our first stop is Lower Sabie. The camp is really nice, it has pool and a supermarket and restaurant with normal pricing.
Our round cabin looks very African, it has a straw roof and thick clay walls. It has a table and some chairs and of course a braai.
Inside we find a double bed, a sink and a refrigerator. Basic but charming!
The next day we get up at five to drive towards the next camp as early as possible. As the sun rises we expect to see a lot of animals again, but there aren't any. We drive for hours and hours but except for an Impala and one elephant somewhere in the distance the park seems abandoned.
We make jokes about it but actually it is quite a disappointment. We do see termite hills of 2,5 meters high, and not just one… one after the other, but no animals. Over a distance of 140 kilometres from Lower Sabie to Olifants rest camp the only animals we saw up close was a group of hyenas. This was so cool, they were walking alongside of the car first ignoring us and then looking curiously inside. Whoah!! Olifants rest camp lies on a hill watching out over the Olifantsriver. There are some hippos down below us playing in the water so we enjoy ourselves as we drink a beer in the restaurant. The basics of the camp are similar as the other camp but our cabin now has a toilet and shower. The next day after we left the camp we had a very close encounter with a young elephant bull. He was standing by the side of the road and he was not amused when we tried to pass him. 
Although it's amazing to see we were a bit afraid of our car being attacked. 
When the big fellow finally let's us pass we drive towards the exit of the park on to our next destination. 
We've saved the best for last…
After our amazing trip through Kruger NP we have booked one night at a slightly disappointing lodge. Our cabin at Marepe lodge was very dated and therefore too expensive. There is a restaurant in the premises which was quite nice, the garden surrounding it looked like you could marry there, and a new pool to go with it. The old collapsed pool was right next to it, seemingly untouched for years. But our cabin… no.
Enough about this lodge, moving on. 
The Blyderivierspoortdam is a big dam protecting the mountain water from spreading across the country. So this region has nothing to complain about when it comes to water.
The lake between the Canyons is amazing but unfortunately boattrip for the next morning is fully booked.
The following day we drive on to Blyde which is just above Graskop. On the way we visit Bourke's Luck Potholes. An gorge with potholes (yes) and beautiful rock formations.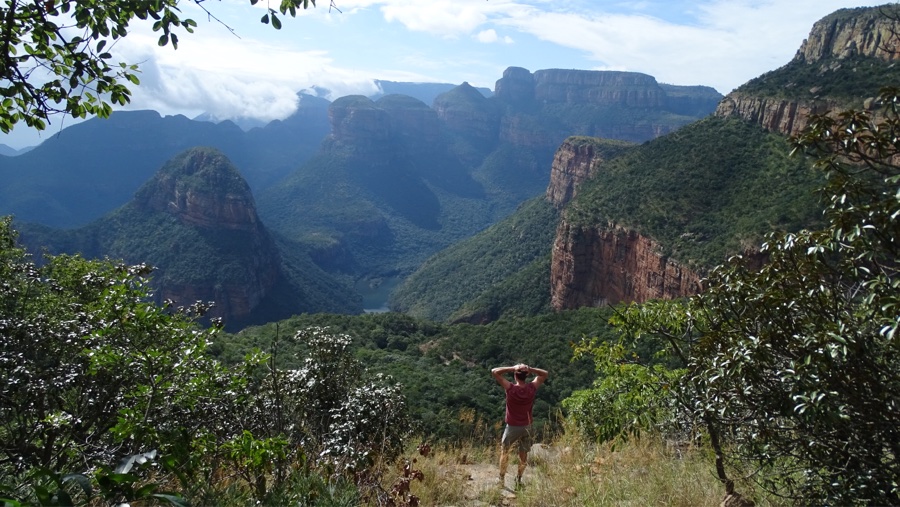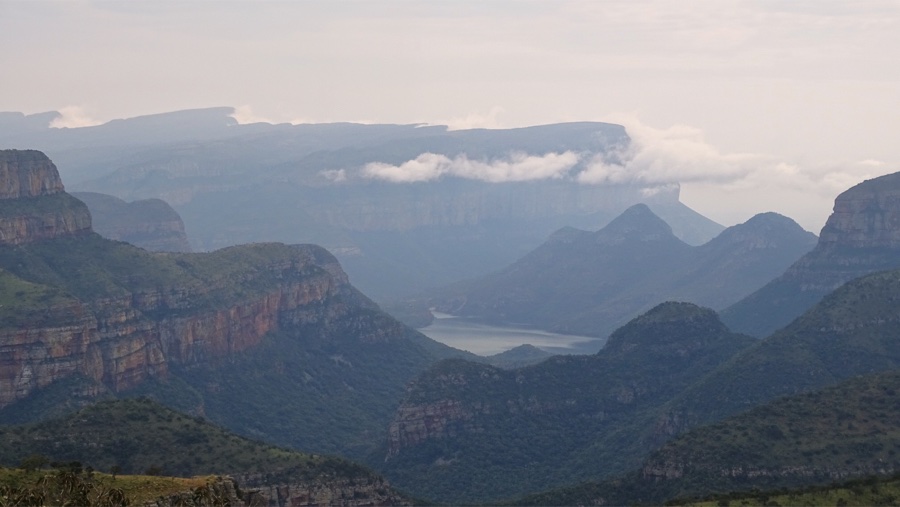 We stop at an fantastic view point and then we try to take a peak through God's Window. Unfortunately we can't see anything because there is a BIG cloud in the way…
When we arrive at Thaba Tsweni lodge and safaris we are delighted. This looks good. A big cabin with everything we need, including a fully equipped kitchen.
The owner gives us a few hiking trails of which we will do one the next morning.
We need to drive back to the Canyon and stop at Forever Resort. There we pay an entrance fee and drive on to the beginning of the trail.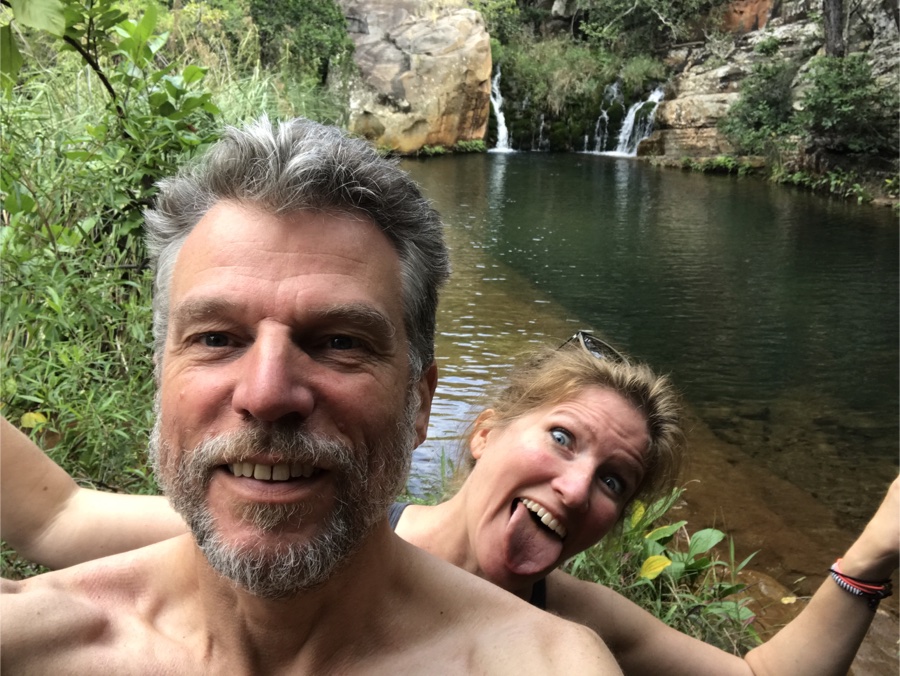 We hike trail B2 – Guinea Fowl. This is amazing! We thought we've had the most incredible view at the Canyon, but this… whoah! This surpasses everything! The hike is very nice, the paths very from sand to rough rocks and it's very well indicated. First we hike all the way down between the canyons where there's a nice river and a waterfall where you can swim. The water is freezing so we just dip our feet in to cool down. After a small picknick we continue the trail which now goes back up. It's fairly tiring but the magnificent view keeps us going. After a few hours we're back at the car park. This is not something we'll soon forget…
In the morning we bring back our car in Malelane and get a lift to the bus stop. Next destination: Mozambique!