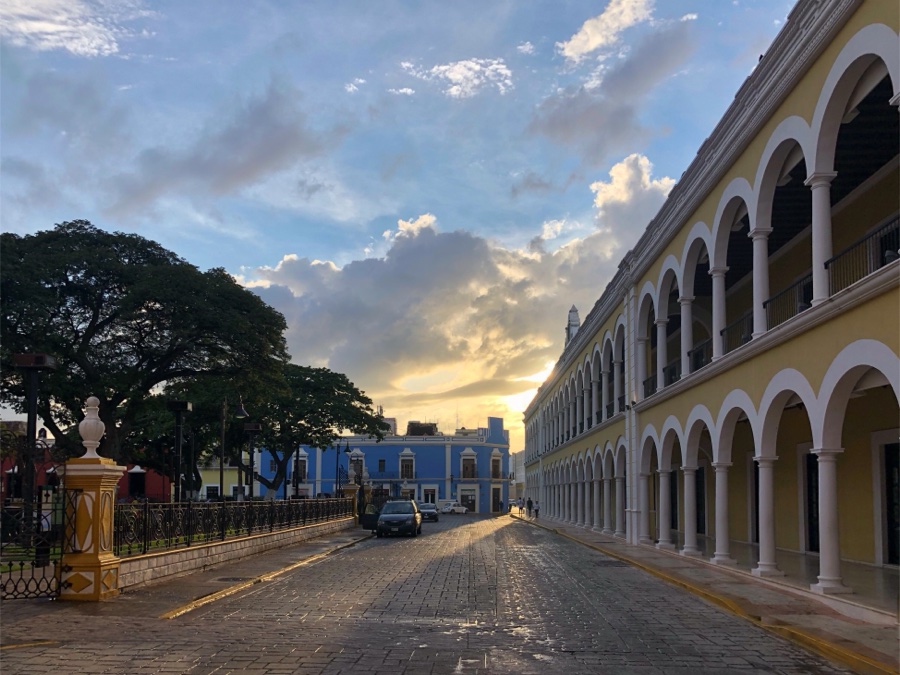 Mexiiiiicoooo! Yihaa!
The Estados Unidos Mexicanos or MEXICO with the United States of America on one side and Guatemala and Belize on the other side Mexico has over 124 million inhabitants. Unimaginably big. In fact, it is about four times the size of Spain.
An incredibly diverse country with much to offer. Green rainforests and lush mountains, colorful colonial villages, magical cenotes, tropical beaches and a candy blue sea. Did I leave anything out? Oh yes, the Inca history and of course the Mexicans themselves… these people are the sweetest! Friendly, helpful, welcoming…
Our flight from Cusco, Peru to Cancun has a transfer of 14 hours in Bogotá, Colombia. Just enough for a good nights sleep. We fly with Avianca, an excellent airline with lots of leg space, good staff and good food.
Arriving at Cancun Airport is a bit of a temperature shock. Phew… from the cold wet mountains of Peru to this tropical heat…
Cancun airport is quite large but as soon as we exit the terminal there are many people trying to help us find our bus. In the terminal we bought two bustickets into town with ADO. ADO is the biggest and most reliable company in Mexico but also the most expensive one. Safety and comfort comes with a cost. More about that on the bottom of this page.
People outside the terminal point us into the right direction, because the platform of ADO isn't easy to find. From the airport you can find buses to almost anywhere. Our bus takes us to the ADO terminal in Cancun in half an hour. From here we can take a taxi to our guesthouse but we don't mind walking after a long day of sitting. It's only a kilometer.
Cancun has quite a touristic center and is especially famous for its white beaches. Just outside the central area there are many small guesthouses where you can live amongst locals.
Our guesthouse Picari on Calle Picari is fantastic. There are four large air conditioned rooms and a patio with a pool. Our room has two double beds which is quite common in Mexico. The average double bed size of the last months is 130 centimeters so so tonight we sleep comfortable and relaxed 🙂
Our guesthouse isn't too far from the center, I'd say a ten minute walk. But close to the guesthouse there are a few small restaurants where we don't see any tourists. On this first night in Mexico we go for tacos and a Corona… or two.
There is a huge Chedraui supermarket close by and the Walmart a few blocks further is an attraction alone. They sell absolutely everything!
Cancun isn't a very attractive city. It has been build in the fifties to attract more tourists, so you won't find a lot of history here. From an unknown village to a city that hasn't got much authenticity left. Fortunately Mexicans themselves are very authentic so just find some locals and mingle!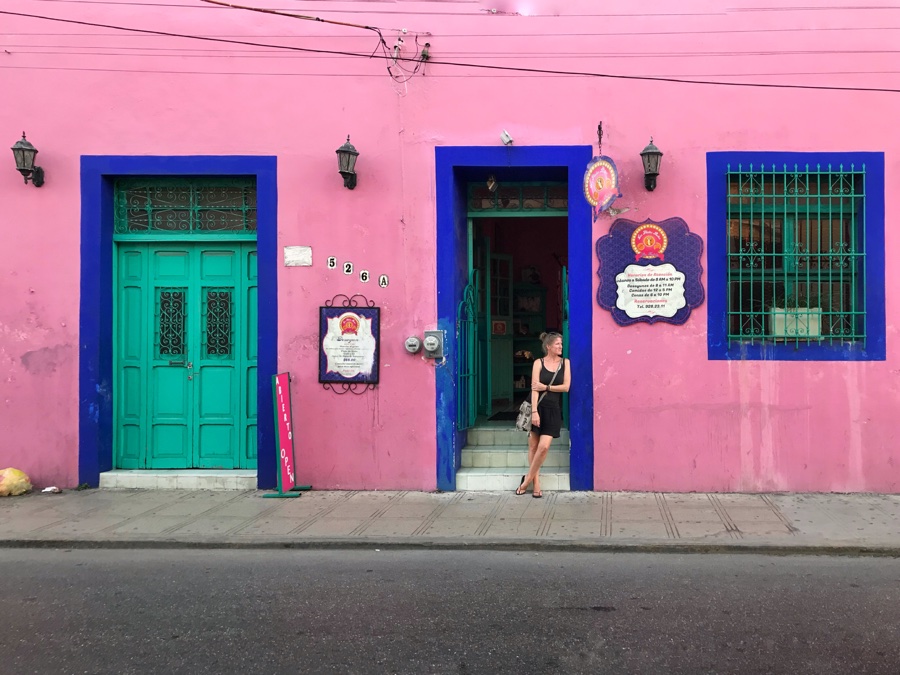 Mérida is a attractive and vibrant city with old colonial buildings, photogenic streets and lots of stuff to do. Our accommodation is just outside the busy center zone and a kilometer walk from the ADO bus terminal. At Casa Centro 70 (in Calle 70) we have a small apartment with a simple but useful kitchen and a nice and quiet garden.
From here we can walk to the main Plaza Grande in a little over five minutes. Walking around in Mérida is great and feels very relaxed. Everybody is so friendly and helpful and we're glad our Spanish is improving. People talk slow and clear and have a lot of patience. Mexicans are here to help anyone with a question and that feels so inviting!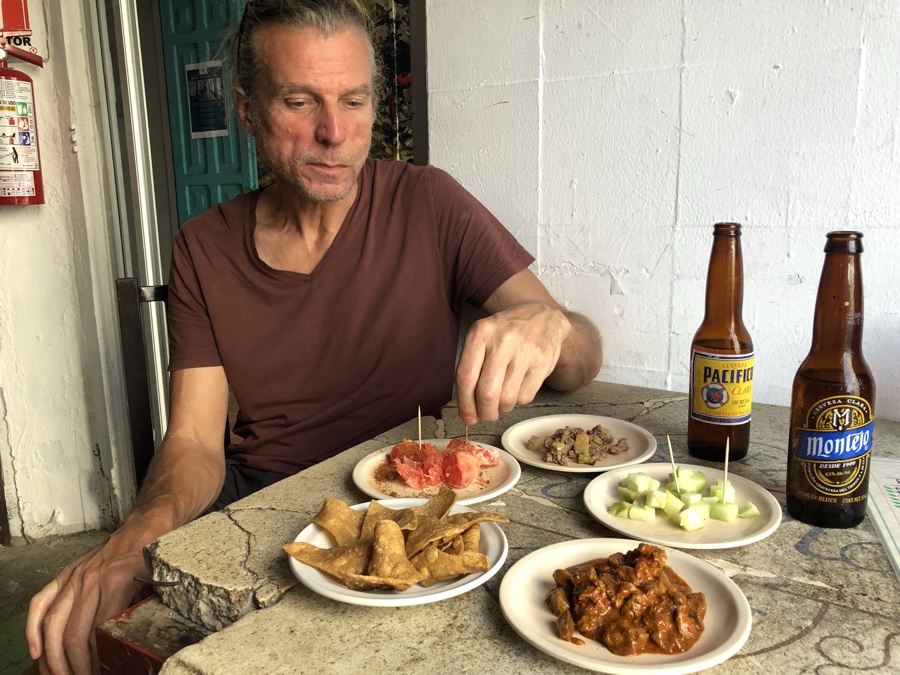 Next to our apartment is a great bar and restaurant called El Cardenal. Every Monday they have live Jazz music and on some other nights there is another live singer who unfortunately isn't as talented, but nevertheless entertaining 😉
Their garden is a fantastic place to chill amongst Mexicans. The food is disappointing and whatever you do, don't order the Papadzules. But for Mezcal or beer, this is the place!
Calle 60 and 62 just off the Plaza Grande are the most popular streets in Mérida when it comes to going out. Although there aren't as many bars or cantinas as we expected, the ones that we do find are great. In Calle 62 there is La Bierhaus, a German pub with lots of different beers and great food. The Frankfurter hotdog is actually very good! Very very good…
They also have live music a few times a month.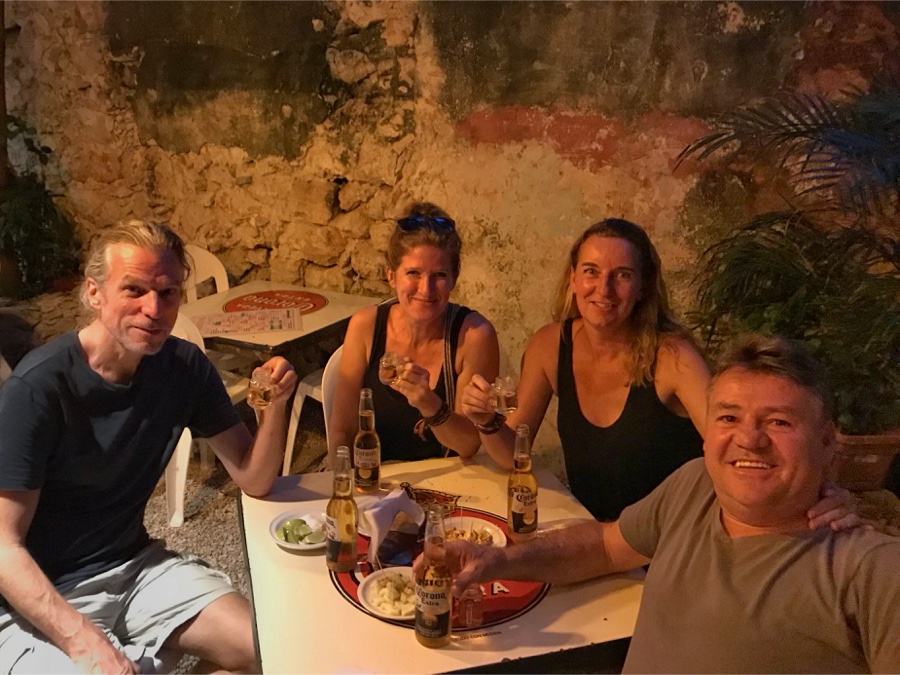 Here we meet Rob and Corinne from Hip on Trip. It's nice to talk to some Dutchies again and we absolutely love their company. I told them they had to bring some licorice (dropjes!) otherwise they wouldn't be allowed into Mérida 😉 so they did. Oh my, I cannot tell you how good that tastes!!
On Calle 60 you can find another highlight of your evening, filled with live music and good food. Mercado 60 has different small restaurants and great live music in a market style hall with long tables and a superb ambiance. Sensual salsa, cool pop-rock with soft colored lights and graffiti, an unbeatable atmosphere and lots of locals!
Mérida offers a daily free historic city tour (in Spanish) that will give you more background information about the city's history and will show you places you wouldn't visit on your own. It starts at 9:30 am at Palacia Municipal, next to the Plaza Grande and takes about 1.5 hours.
Although we are starting to love this city we originally came to Mérida for one reason, Día de Muertos. An anual celebration of the dead. In Yucatan this is called Hanal Pixán and is so much more than just the festivities on November 2nd. The whole month of October there are festivals, live music, conferences and traditional performances. In Mérida the Festival de las Ánimas is in the last week of October and offers something different every day with a beautiful ending on October 31st, Halloween.
The rainbow city of Mexico Campeche has heaps of ambiance. This authentic and photogenic town is enclosed by a thick and ancient city wall. Within these walls you can find lots of beautiful historic buildings and colorful houses. Campeche was build by the Spanish Conquistadors in 1540 on top of an old Maya town. It has been on the UNESCO world heritage list since 2005. A pleasant town to spend a few days in!
Our accommodation is in the historic city center, from here it's only one street to the lively part of town. We enjoy a fantastic breakfast at Luan, a small cafe with a bowl of fresh fruit, granola and yogurt for 65 pesos and a big delicious cafe latte for 35.
Although the waterfront isn't very attractive and somewhat smelly, the sunsets are the best. Wild cloudy sky's ensure a colorful spectacle…
In Campeche we meet Corinne and Rob again and enjoy a few more Coronas in Calle 57 where most of the good bars are.
There is a great Italian restaurant in town called Scattola where a decent sized veggie pizza fills our stomach for a reasonable price. One of the few places with actual vegetables in their meals!
Just outside the city wall there is a huge fresh market. A real treat! We walk around in the many small streets in the market and enjoy the enthusiasm of the locals. There is so much to see, so many colors, freshness en fun stuff. Definitely a recommendation!
It's a six hour drive by bus to Chetumal from Campeche. The scenery isn't spectacular and the city of Chetumal isn't either but we are only here on transit. Tomorrow we'll take another bus to Bacalar!
The bus from Campeche to Chetumal only leaves once a day at 14:00 so we'll stay here for just one night. Besides, there is the time difference again so we arrive an hour later than we expected, at 21:00.
Chetumal doesn't have too much to offer and isn't very attractive to the eye so we immediately book our bus tickets for early the next morning.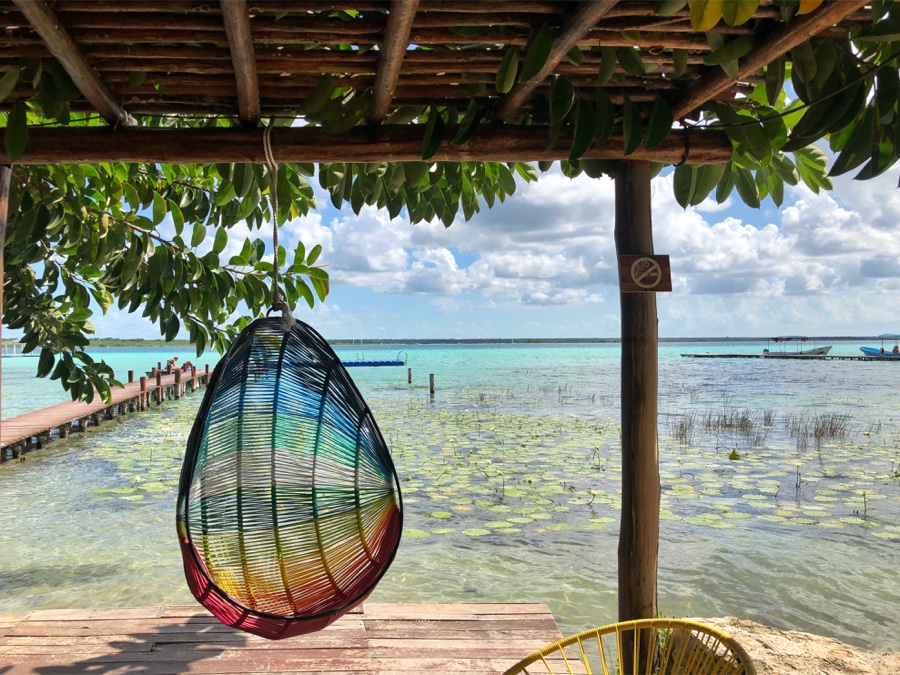 The beautiful lake of Bacalar is like paradise. Sweet blue water with palmtrees and cute little restaurants. I say sweet because the water is indeed fresh. This lake is in no way connected to the sea and owes its color to the minerals that are in the water. The water temperature is fantastic and is excellent for a refreshing dip.
We have booked three nights at hotel El Manglar, which is at a quiet location close to the town center. At Barbanegra very close to the hotel we enjoy a fruit and yogurt granola breakfast for 50 pesos and a good cappuccino for 35.
The town center has a main square surrounded by some bars and restaurants. During the day you can find people doing yoga or tai chi in the shadows of the small park. At night we enjoy the small pubs with their cute terraces.
We especially recommend Mandala cafe, a small bar with a chill vibe and reggae music.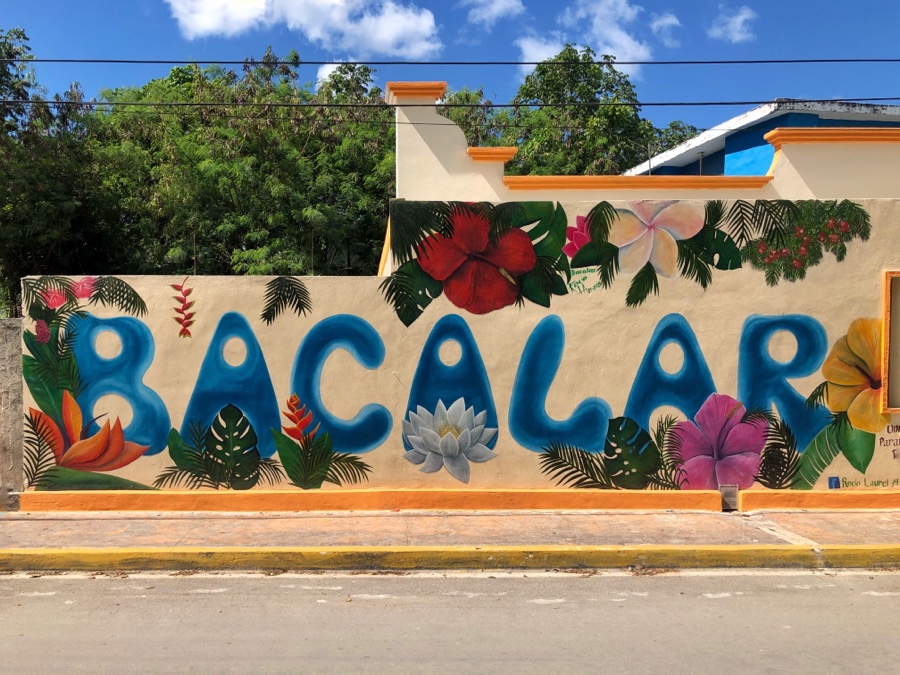 During the day we love sitting at La Playita. This restaurant and cafe is just outside the town center and has an impressive terrace on the waterside. They have a small pier so in between your fresh fruit juice and a beer you can jump right in. The Tostado Basmati is very tasty!
Also the small restaurant Mango y Chile is fabulous to chill with a fresh fruity smoothie and a bio sandwich, but the main attraction is the view…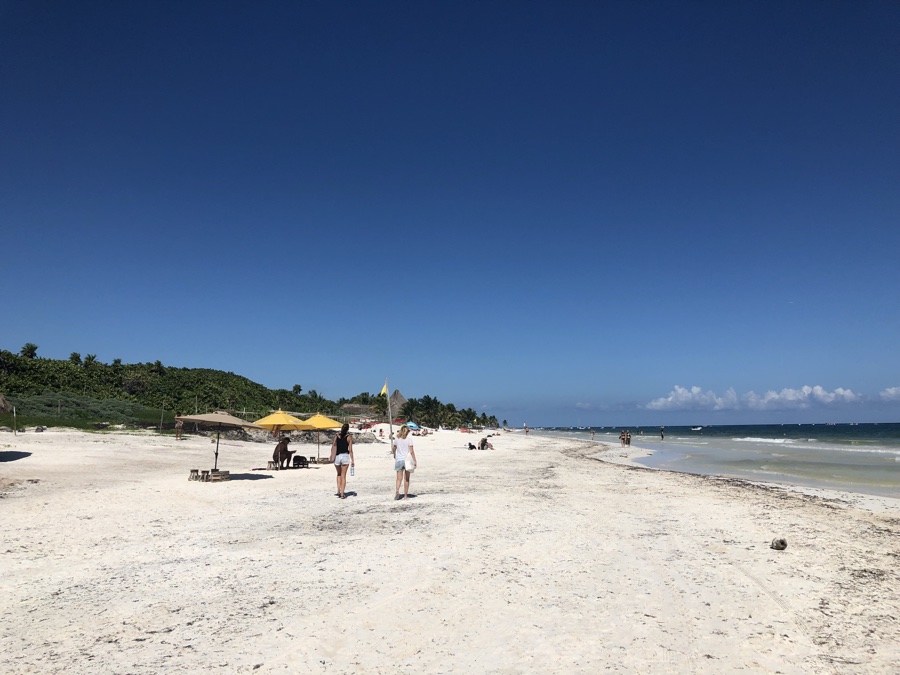 With the ADO bus Tulum is only three hours from Bacalar, so easypeasy ride  today! We book our tickets online again because that is so much cheaper. Read in our 'traveling around' part below how to do this.
Tulum is quite popular, although we cannot discover why. The town is absolutely unattractive and we cannot find any nice bars or restaurants. The only place for a decent and affordable meal is Fonda Huauzontle. A small restaurant with the owner as a cook. They have the menu del día which costs 80 pesos and comes with a lemonade. This place is super cute! They don't sell beer but you are allowed to buy that at the petrol station across the road.
So next day we want to go to the beach. A taxi costs about 80 pesos but we decide to save our money and walk. It's a boring 5 km but a very ok walk to the first public beach. There is some shade along the way but we soon regret only bringing one small bottle of water. Stupid amateurs.
Although absolutely breathtaking, the beaches in Tulum are cursed with the annual overkill of seaweed. Expecting huge piles of stinky gew we arrive at a nice cleaned white beach. Wow!
There are some really attractive beach bars with lounge chairs and matching music, but the price matches too… 80 pesos for a beer, no way!
We walk along the beach and pass the expensive bars until we find a great reggae beach bar with 'affordable' beer, for only 50 pesos each we enjoy a cool Corona and a view over the mesmerizing white sandy beach.
After some beers in the sun we have no intention of walking back the 5 kilometers but start walking along the road anyway. We meet a guy from Argentina and decide to try and hitch a ride together. We are in luck! A car stops and doesn't mind taking us all into town.
Because of the seaweed problem at this time of year we decide to skip Isla Holbox, a small piece of paradise not far from Cancún. After we've left Mexico we've heard from Rob and Corinne that the seaweed is really a huge issue there. Huge smelly piles of gew spoil the otherwise gorgeous white sandy beaches of this island. The price to get there just wasn't worth it. Just as we expected, so our next stop before heading to Cancún airport is Valladolid!
Again we cross the time zone here, this time we gain an hour and arrive after only half an hour (actual 1,5 hours) in Valladolid. A colorful colonial town but unfortunately also quite touristic. Multiple times a day different buses stop here during their tour around the well known temples and cenotes in this area. An overflow of tourists with enough to spend have turned the local tradesman into a money grubbing vultures.
We decide to give it a chance anyway and discover a lot more than high prices and proactive and annoying salesmen. A worthwhile convent San Bernardino de Siena and the beautiful Calle 41a or Calzada de Los Frailes are attractive and interesting.
Valladolid is nice for a day, that is if you don't mind the high prices and the tourist filled busses that arrive every ten minutes. Too bad we've spend our last days here, but very interesting to have seen this other side of Mexico as well.
Unfortunately this trip to Mexico has come to an end now. We've had a taste of the beautiful culture and nature and will definitely come back for more!
From here we fly to Spain for our next part of this amazing dreamtrip.
Mexican people are incredibly friendly and helpful, but also very traditional when it comes to the role of man and woman. When asking a question we notice that men mostly answer to Jos even though I asked the question. When I pay a bill the change goes to Jos. Maybe it's just my blue eyes and my breathtaking beauty they dare not to face 😉
The typical distribution of tastes within the Mexicans lives is also very traditional. Men earn the money and decide what it is spend on, women take care of home and children. Of course this is not every Mexicans way, especially in smaller towns and older people the roles are mostly like this. Fortunately young Mexican people feel the urge to keep up with modern times. Learn English, women want to have a career and men want to spend time with their children. As traditional or flexibel they are, Mexicans are interested in others and that makes them interesting!
Traveling by car or traveling by bus, either way is easy in Mexico. Although we cannot speak from our own experience we've heard often enough from other travelers that the driving is easy to do. Although the police can stop you a bit more often and won't always let you go on for free. It's no secret that the police in Mexico is corrupt. We would like to experience this ourselves next time 😉
Ado bus tickets
It is quite difficult to buy ADO bus tickets online for they appear to only accept Mexican creditcards when you use the app. Fortunately at ADO online, so not in the ADO app but in your browser, you can use your Visa card to pay. It takes a while during the process (veeeerrryyy slowwww) and you'll need your e-code which you'll get through your creditcard app (this is how it works with our Dutch visa card).
So, be patient during the process and don't use the app for this.
If this doesn't work, choose Pago en Efectivo or Pago en Taquilla. You will receive an e-mail. Go to a seven eleven of another store that offers this service (in that email you'll find a link to the service points) and pay the amount plus a small extra fee. They scan the code in your email and after an hour or so you will receive your Ado tickets in your mailbox!
If you buy the tickets a few days in advance the prices will probably be a little cheaper than on the day of traveling.
Currency: 1 Mexican Peso = € 0.05

In these 21 days in Mexico we've spend:

Transportation: € 211,80
Accommodations: € 277,10
Food and drinks: € 542,40
Entrance fees: € 0
Other: € 0

That brings us to a daily budget of: € 49.10 for two persons excluding international flights.

We haven't really been very tight with our budget in Mexico there last few weeks. We've booked some nicer budget hotels and enjoyed great meals and drinks. Corona, tequila… you really need to go with the Mexican flow 😉

Although we planned to do some diving trips to the cenotes eventually we didn't. So these kind of costs are not included in this budget. The prices for a two dive trip in the less known cenotes are around € 106 per person.

Here are some examples of products and prices in Euro:

White bun in bakery: € 0.25
Coffee latte in lunchroom: € 1.35
Corona (330 ml) in cafe: € 0.90
Corona (330 ml) supermarket: € 0.50
Hamburger in restaurant: from € 5.00
Burrito on the street: from € 1.00
Simcard with 1 gb. for 30 days: € 6.95