October 27 2017 to March 26 2018
'Strayaaaaaaa!!!
A roadtrip in our own car through Australia, Oz, the land Down Undah, oh my awesomeness… a dream come true! Total freedom and all the time in the world to relax and enjoy nature. Sounds good right?
For this enormous country we calculated three months that eventually became five… In this time we made a roadtrip from Cairns through the outback to Melbourne. 
Armed with our own Ford Territory and some camping gear we conquered the long roads through this enormous land, right through the hot red center and down to the south where Jos has relatives. We had a big get together reunion thingy in the end of January so there was a time goal to get there in time.
Along this journey we expected to see much of the awesome stuff like kangaroos, wombats, spiders and snakes and tattooed Ozzies. We were not disappointed. 
Our free eVisitor visa gave us three months time to explore. So we needed to extend our visa by flying abroad. Three days in New Zealand like we went on a city trip.
Then we went to Tasmania for three weeks and when we got back to Melbourne we continued our adventure by driving towards Brisbane along the stunning east coast.
Some background information if you're interested: this huge country has a surface of about 7.6 million square kilometres which is three quarters of Europe. It has about 23 million inhabitants of which 2.8% indigenous people like Aboriginals.
Australia (which means 'Southern Land') was discovered in 1606 by the Dutchy Willem Jansz and called New Holland by Abel Tasman in 1644. 
Different parts of the country were divided as Dutch and British colonies until their independence in 1901 when the six states united into one federation, 'the Commonwealth of Australia'. Australia is a federal parliamentary constitutional monarchy with Queen Elizabeth II on the throne but a parliament to call the shots. We know Q. Elizabeth from many other countries like Great Britain and New Zealand.
Australia has six states and territories, and we'll visit every one except West Australia, which is also the biggest. We'll travel through Queensland, Northern Territory, South Australia, Victoria, Tasmania, New South Wales and Australian Capital Territory. This last area covers only the country's capital city Canberra. 
Everything in Australia is big, big veggies, big houses, big cars, big egos, big hearts, even the people are big. They are a special kind, these Aussies and we like 'em! 
They even have their own language, which can be quite hard to understand when you think you can understand English. Check this out…
First stop in Australia and in Queensland is Cairns where we've bought a big car for our roadtrip. We've decided to drive up north before our descent to Townsville. Such a beautiful part of Australia up there! 
Our actual plan was to drive all the way south along the coastline but well, adventure was calling us so we changed our plan…
After a fantastic month along the Eastcoast we decide to follow our heart and move land inward. The outback is calling us! Absolutely a whole different side of Australia that definitely did not disappoint us… 
From Townsville we follow Flinders Highway to the border with Northern Territory and find some real gems!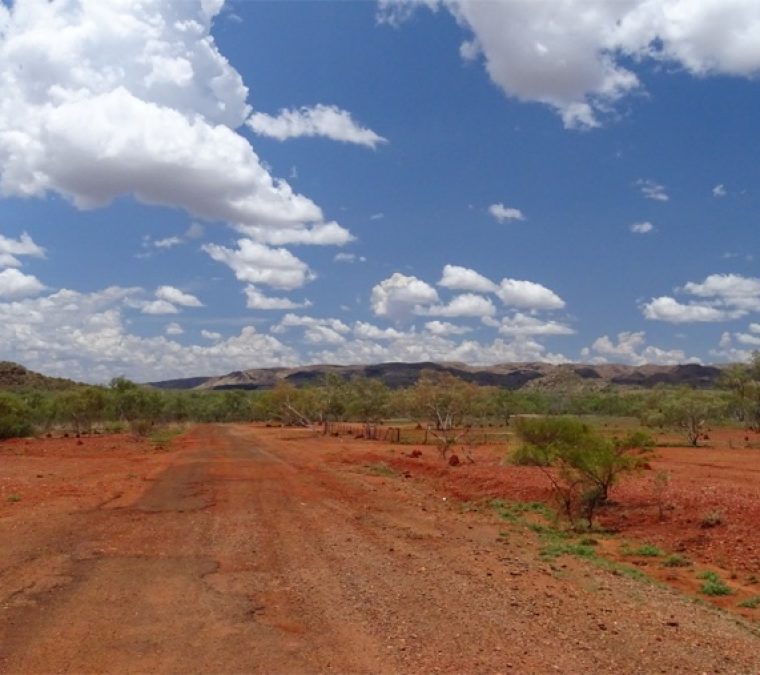 After meeting some authentic countryside Aussies we are ready for the real thing… life in the Red Centre of Australia is something else. Something completely new. Hermit farmers, extreme heat, looooong distances and a whole lotta nothing. What started as just an adventure ended in absolute amazement… 
Our roadtrip through Australia continues. We cross the border in the middle of the outback to the state South Australia. A uniquely divers state with only one disadvantage… it's just so freaking hot!! But the beauty and the contrast was impressive. From the worst heat ever in the desert to the most beautiful blue waters we've ever seen. We absolutely loved and hated this part of our roadtrip… see for yourself!
Tasmania wow Tasmania, we were expecting a green explosion and it did not let us down. Extraordinary farsights and breathtaking scenery. Impressive heights and awesome valleys, pristine white beaches and kangaroos in every size. Phooey this is our Island! Except when it rains… and when it's only 3 degrees at night and humid as the deep blue sea. Bad combination those three. But other than that, Tassie totally rocks!
It was a pleasure traveling through Victoria along the Great Ocean Road up to Melbourne. We stayed with family for a few weeks and took the ferry to Tasmania before continuing our trip through Victoria towards Sydney… we were absolutely amazed by the contrast in nature this state has to offer!
Pfeeewww… how can it be… This state's got it all, winding roads through lush green hills, with beautiful farms, real forests and high tree covered mountains. Serene beaches followed by a rugged untouched coastline. An all in one state! All in two weeks time… Eventhough our meet was short, it was love at first sight.
Currency: 1 Australian Dollar = € 0.64
In these 151 days (5 months) we've spend:
Transportation: € 3294 | A$  5272* (includes ferry to Tasmania)
Accommodation: € 2535 | A$ 4057
Food and drinks: € 2850 | A$ 4561
Entrance (park) fees: € 105 | A$ 168
Other: € 756 | A$ 1210 (a.o. internet, camping gear and clothing)
That brings us to a daily budget of: € 63.15 | A$ 101 for two persons including everything, except international flights.
We've slept on different campsites, with or without showers/toilets, but always unpowered. The average price for a campingplace with sanitary would be € 15.60 | A$ 25.00, depending on the location. Add about € 4.35 | A$ 7.00 per night for electricity. Most campsites have a communal kitchen with electricity sockets and a washing machine (usually € 2.50 | A$ 4.00 per cycle).
Australia has a lot of free or really cheap campsites. Most have a long drop toilet or bio toilet but some have none or a surprisingly nice sanitary block. These campsites are mostly in the middle of nature or right on the beach. No need to pay if you can get it for free!
We did spend about five weeks with relatives where we didn't have to pay for the accommodation. Nevertheless we spend our money on things we normally wouldn't do and didn't save too much on our budget, so we counted these weeks in in our budget summary.
In these 5 months we mostly cooked ourselves on our two flame stove. We had a healthy meal with lots of veggies every night and fresh fruit and egg in the morning.
We didn't do any tours and tried to do mostly the free stuff. There are so many places you can go, see and do for free here your really don't need to spend money.
Here are some examples of products and prices:
Fresh bread in supermarket: € 2 | A$ 3
Fresh French bread in supermarket: € 1 | A$ 1.50
Cafe latte in a lunchroom: € 3 | A$ 4.50
Beer (330 ml) in a cafe: € 4.35 | A$ 7
Beer (330 ml) liquor store: € 2.50 | A$ 4
Bottle of wine in liquor store: > € 3.15 | A$ 5
Fresh salad in restaurant: € 10 | A$ 15
Sandwich in restaurant: € 9.50 | A$ 14
Hot meal in restaurant: € 14.50 | A$ 23
Sim with 28 days data 5 gb: € 20 | A$ 30
Petrol per liter city/outback: € 0.71 – 1.25 | A$ 1.15 – 2.00
* Transportation costs:
We bought an SUV at a dealer in Cairns including full warranty. We used the car as a campervan and bought a good mattress and camping gear. We have driven 13,250 kilometers without having any trouble. Luck? We don't know but a little preparation is a good start!
Want to know more about buying a car in Australia? Read our blog!
Spending a lot of your dineros abroad isn't fun. For us, the decision between buying or hiring a car for our roadtrip through Australia was easy. Hiring a car is very expensive in Australia, especially in high season. If you go to Australia for a longer period like 3 months or more, the depreciation of the car is often less than the rent including insurance. If you can make a good deal on your purchase and resell, it doesn't have to cost you much, or nothing at all if you're lucky…
When you visit Australia you can expect many interesting things, surprisingly gorgeous nature and animals of all sorts. Unfortunately amongst these animals are bugs too, flies to be specific. In fact, there are over 30,000 different kinds of flies in Australia, all of them equally annoying. They are everywhere and come with their whole family. These uninvited buzzers can really ruin your nice campingtrip or social picnic…