Woohoo Vanuatu!!!
After our five month roadtrip through Australia we have to get used to this slightly primitive islandlife again…
17 days in our first South Pacific destination.
Some useful information: Vanuatu is a group of 83 exotic islands in the South Pacific and is a part of Melanesia, the area north east of Australia. It has about 270,000 inhabitants mainly on the three biggest islands, Malekula, Efate and Espiritu Santo. 
The spoken languages in Vanuatu are English, French and a form of Pigeon English called Bislama.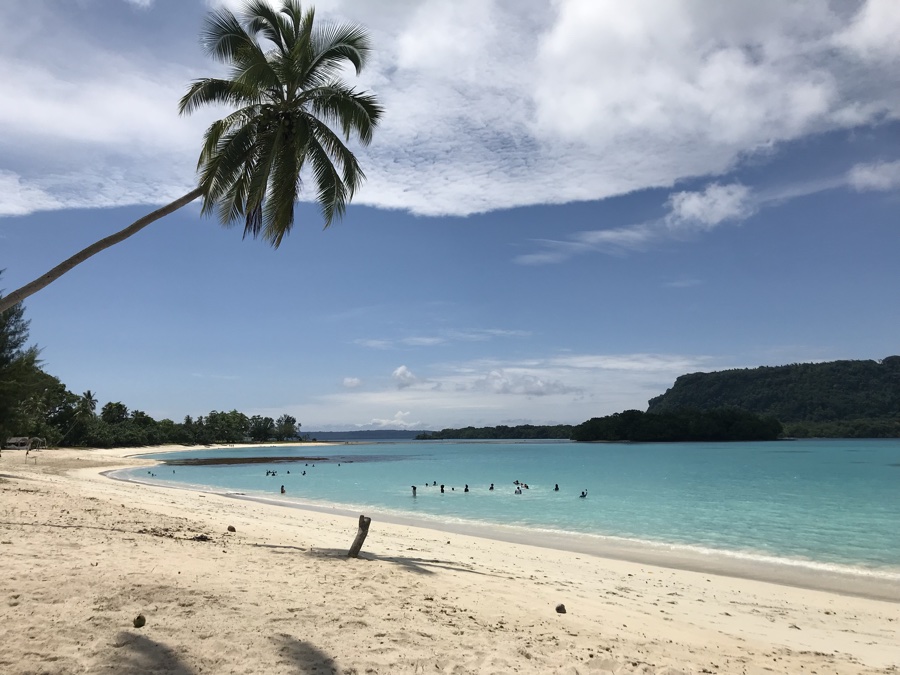 Their language isn't very hard to understand, the words sound 'Jamaican' and are written phonetically. 
Hello: halo
Thank you: tangkiu
How are you: olsem wanem, not everything is understandable 😉
Wota: water
Pepa: paper
Blong: belongs to
Very entertaining reading material.
People in Vanuatu are incredibly friendly and like other tropical islands everything is done in a slowwwwwww pace. Don't hurry, don't worry. 
We loved to see the mentality in Vanuatu towards a better and cleaner world is very notable. Vanuatuans are so different from what we've seen in Africa and Asia. No littering, rubbish goes in the bin, the seawater and the beaches are clean and they use mostly led lights in public places. 
Now the waiting is for them to stop giving plastic bags away in the stores, because here they wrap your daily groceries in way too many bags.
So of course we have a reusable bag which is obviously much appreciated. It will be filled up with a big smile!
Eventhough many things are more expensive then what we are used to, the average hourly income is about €2. Especially accommodation and transportation weighed heavy on our budget, so we had to make some serious choices when it came to visiting different islands in this country. Plane tickets to óne other island already covered 35% of our budget for this country so there was no room for more. Eventually we wouldn't have had enough time to visit another island in the 17 days we were here, for each island has so much to offer!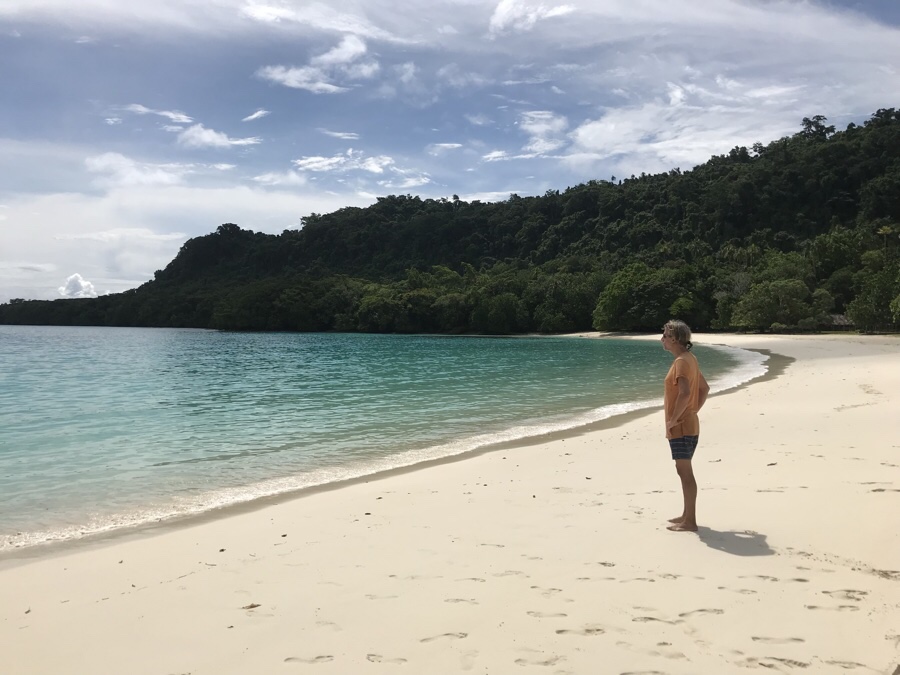 We've booked a flight from Brisbane to Port Vila with Virgin Australia. When we get to Brisbane airport we look at the information screen and all we see is a bright red coloured flashing 'CANCELLED' where the check-in time is supposed to be.
CANCELLED 
CANCELLED 
CANCELLED 
SHIT!
This is the first time this happens to us and we hurry to the desk of Virgin Airlines where we hear that the flight has been cancelled just ten minutes ago due to volcanic activity near Port Vila. What?! 
There are clouds of ash disrupting all air traffic and they have no idea when they will be able to fly. 
SHIT SHIT.
So we need to book a hotel and wait for further details. There's no compensation because the flight was cancelled due to weather conditions so this will weigh heavy on our budget. Fortunately we don't have to suffer too long, the next day we get a message just two and a half hours before an extra scheduled flight and say goodbye to Australia.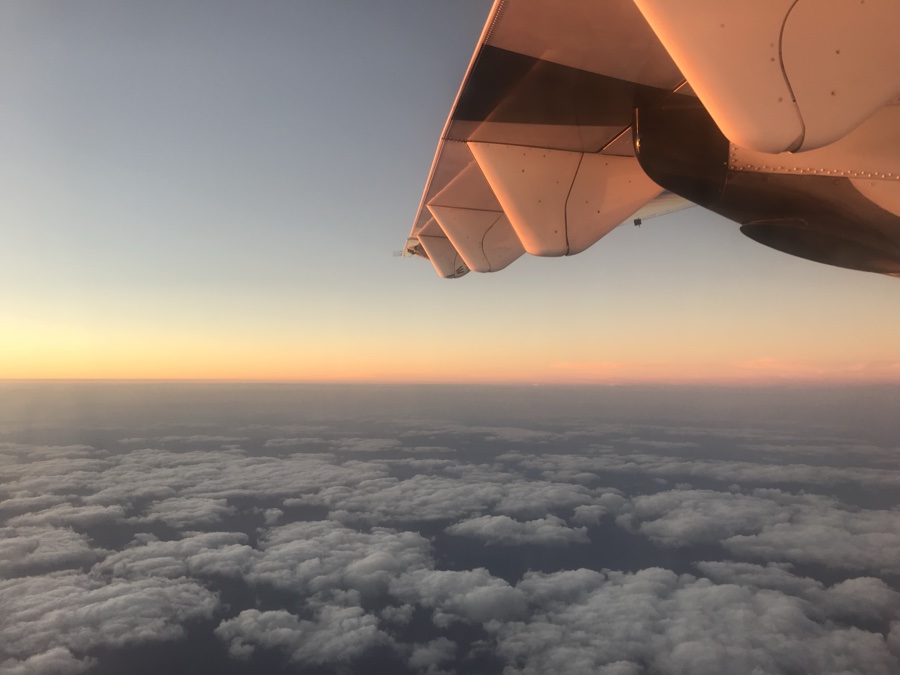 Entering Vanuatu you will need an outbound ticket for the visa upon arrival, so we thought and planned ahead and booked a ticket from Vanuatu to Tonga. There aren't many airlines that fly to Vanuatu so we don't want to take the chance with a fake ticket. What if they can see it isn't real…
Upon arrival the customs officer asks us when we will leave, so we name the date and that is enough. We get a nice stamp and we're in. We don't even need to show her the tickets… next time we'll just make a fake ticket again.
Ah well, WELKAM LONG VANUATU!
We arrive after a flight of only 2.5 hours from Brisbane. At the airport we meet an Australian couple with whom we share a taxi to town. A set price the policeman waiting at the taxi stand says. It's always 1500 Vatu from the airport to the city centre. Allright, no hustling… that's about € 11,- (or € 5.50 per couple) we can take a minibus which costs us V150 per person, much much cheaper. But this taxi looks so comfortable and is probably quicker too. When we are on our way the driver asks us where we are going and says we have to pay more because the hotels are on the other side of town. Righhht… note to self: agree on the price before you go! Hmm… eventhough we think he has a point and we don't feel like hustling we agree on a rip-off of V1800. We are tired, the air is hot and humid and we just want to go!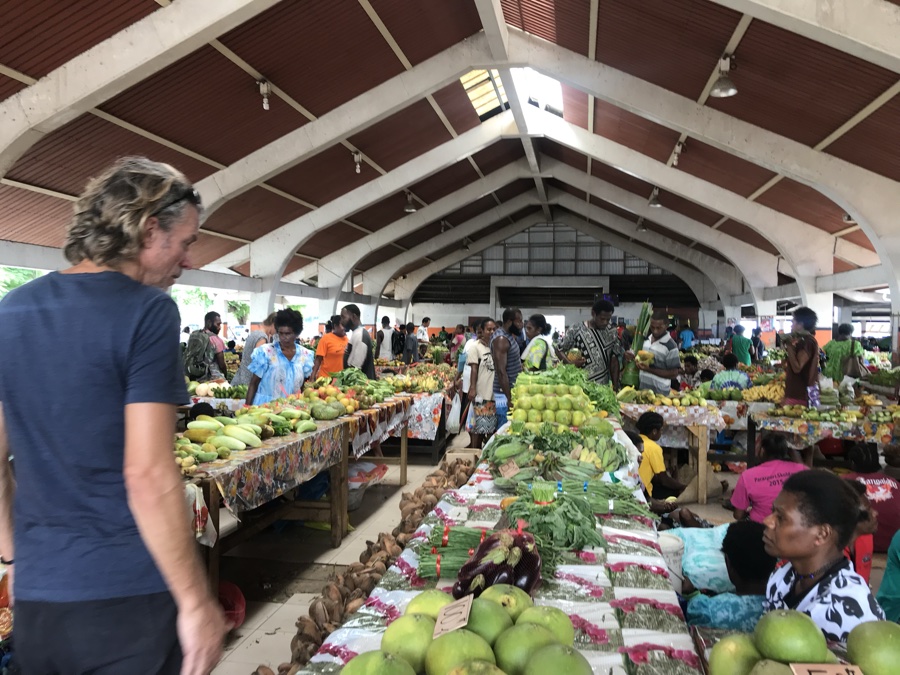 We spend a few nights in Port Vila to acclimatise after being in Australia for so long. The hotel we've booked for the first night is a little outside of town and we immediately regret that. There is not much to do around our Vanuatu Holiday Hotel so we look for another hotel for the next day that is closer to the centre.
At the nearby supermarket we get two large local beers and enjoy our evening in the nice garden of the hotel. 
We've booked two nights at Central Inn, a 'cheap' (€45 per night) and sleazy hotel in the town centre but very close to the promenade of Port Vila and some nice restaurants. We have to pay €8 per night extra if we want to use the aircondition. Crooks!
After we've arranged a scuba dive for the next morning we walk around the town and enjoy a burger and some beer at the Nambawan cafe (number one ;-)). It's happy hour so the beers are 300 Vatu instead of 450 and there is a movie playing tonight on a big screen in front of the bay. A really nice setting!
Port Vila is a fairly large city located in the west of the island and has, together with the cloudy skies, the right ingredients for a perfect sunset. Unless of course, there are too many clouds like today. So, no sunset today, just movie night, playing Darkest Hour, about Winston Churchill in WWII.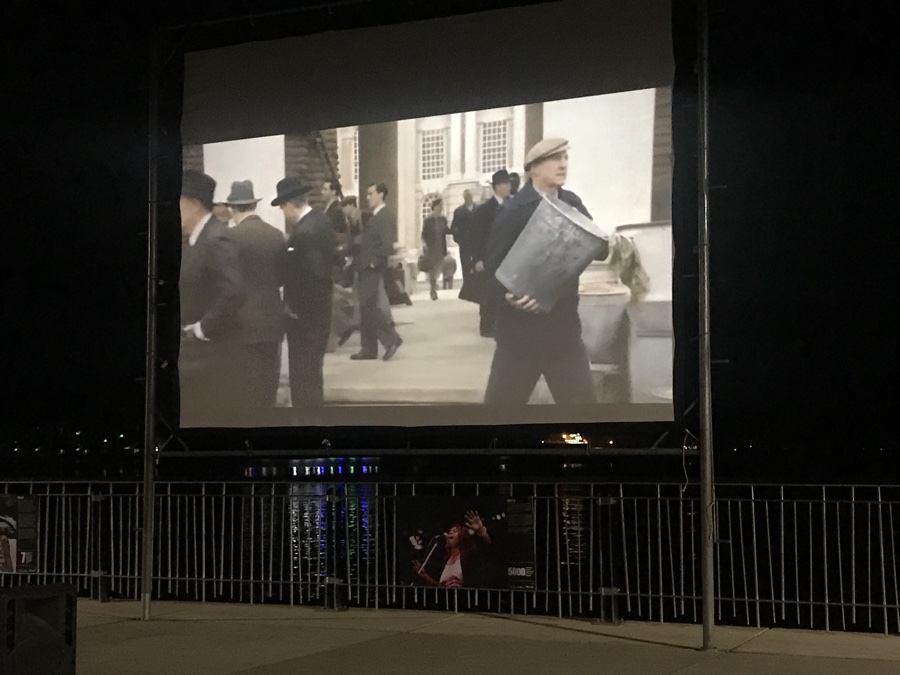 After an hour or so we appear to have more interest in the lightning show in the distance than for the movie ánd happy hour is over so we decide to go back to the hotel and go to sleep early tonight.
Traveling for a year, we haven't had a terrible bed like this one before. Eventhough we've been sleeping in cheap accommodations this is an exception. The thin foam mattress has a dip and the loud music from outside kept going until 4am. The morning came too soon… ugh…
Broken and battered we get up because today we are scuba diving! Vanuatu should be one of the best locations for diving in the world so we will soon know if that is true. There are a lot of interesting shipwrecks from the first and Second World War full of fish and surrounded by colorful corals. So they say.
We plan a double dive with Big Blue Scuba. Diving in Vanuatu is not cheap, we pay €107 per person for two dives including all gear. Four dives will give us a discount and costs €193, we'll think about it.
Our first dive we visit the Semele Federesen shipwreck, an inter island vessel that sunk in a cyclone in 1985.
The top of the ship starts at 38 meters and goes all the way down to 55 meters. We dive around and inside the ship until we reach 47 meters. Excellent way to start our diving in Vanuatu. There aren't many fish and the coral is disappointing but ooh, wreck diving is the best!
Our second dive this morning is to the Yankee Juliet, a small aircraft wreck. A plane that has not much interesting about it and the surroundings don't do it for us either. There are almost no fish and the coral is dead. Nope, this is a waste of money. Better do some good research next time. 
Vanuatu an excellent scuba location? Das war einmal…
The diving made us quite tired so we go back to the coolness of our expensive air conditioning. We fall asleep before we know it and by the time we wake up it's half past six and we've missed what was probably the best sunset ever. The sky is bright red and looks magical…
'Santo' is the biggest island in Vanuatu with the second largest population of the country, of which most live in the islands capital Luganville. This town has some restaurants and shops, but nothing fancy. There aren't any tourists anywhere, they are all in the resorts on the more popular east side of the island.
We book a flight to Espiritu Santo with Air Vanuatu. The flight takes 50 minutes and for that we pay € 110 per person each way. At the airport we need to pay a departure tax of € 1.50 per person, almost not worth mentioning but still…
Our flight of 11:20 is cancelled and we are moved to a flight later in the day.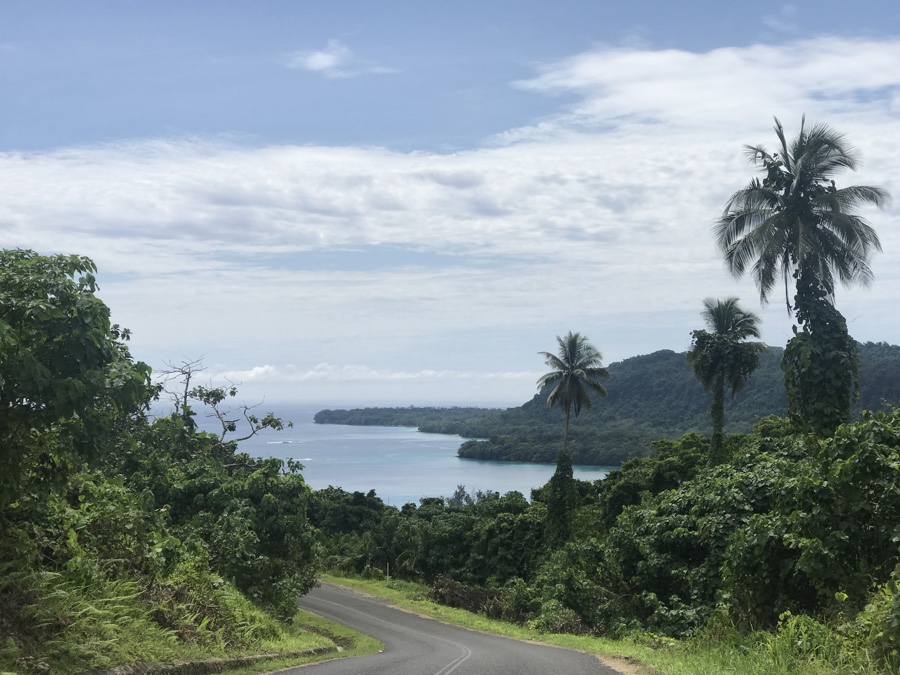 They have three flights on this route every day so if they are not full enough they just merge two flights together. For us it doesn't really matter, we are relaxed…
The island group looks fantastic from the sky, but it's very cloudy so we can't even get a glimpse of the volcano on Ambae. We fly through a big cloud of ash.
At the airport we meet Fraser and his ten year old daughter Francesca who live in the Solomon Islands. They will stay in the same accommodation and we get along perfectly. Fraser is a scuba instructor and Francesca just got her PADI. 
Airbnb host George picks us up from the airport for V1000 and after we've dropped our bags in the bungalow just outside Luganville he takes us back to town to the market for some fresh fruit and veggies. We buy a lot but spend little, the market is so cheap and everything looks delicious and enormous. The bungalow has cooking facilities so we have a great time picking some goodies for a nice meal.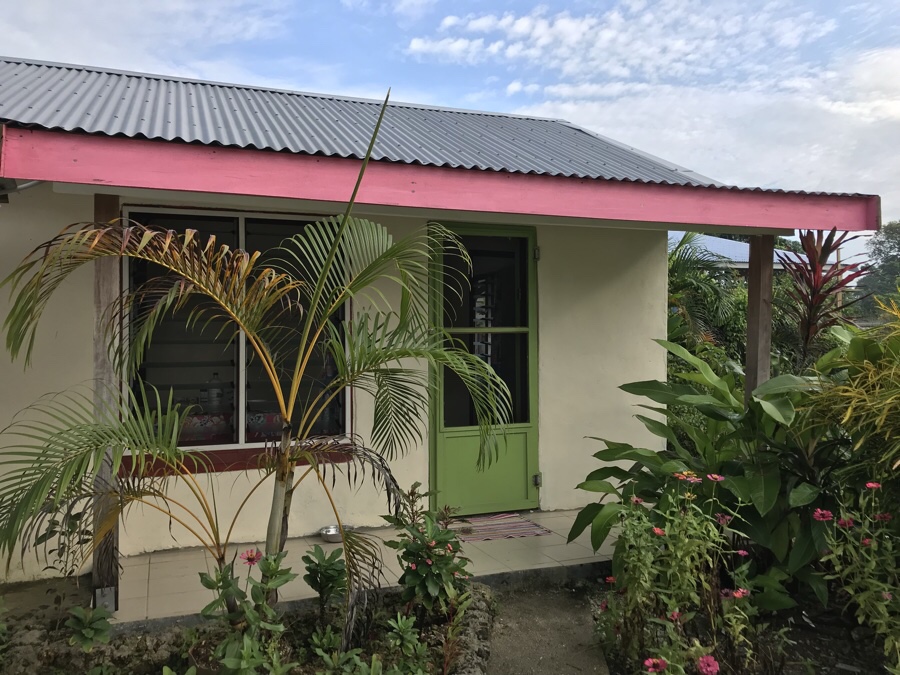 We eat together with our neighbors and Fraser cooks a great meal. We talk about everything we can think of while outside the daily showers are watering the greens.
Diving in Santo | The S.S. President Coolidge
We've come to this island for one main reason: diving the Coolidge. This enormous wreck of 200 meters tall lies on the bottom of the sea right in front of Luganville. The S.S. President Coolidge was an American cruiseship before it was confiscated by the US navy for battling Japan in World War II. It has been there for 80 years and it's the largest accessible ship and probably the best kept wreck from that time. A divers dream come true and we are doing it!
We've booked two dives with Allan Power, a dive centre in Luganville famous for its experience in this wreck.
In the morning we do an exploration dive.
The dive inside the wreck is quite complicated and deep so you need the first dive to test your gear and get a good idea of what the ship is like. 
We swim around the top of the ship which is at about 20 meters and enter a large hole on the side where we spot some old tanks. This is so cool! The ship is enormous, it must be about 20 meters from top to bottom, and that is only the front of the ship. The stern is about 60 meters deep.
We want to see the Lady, an iconic statue of a lady and a unicorn that unfortunately had to be relocated after a part of the ship collapsed a few years ago. The statue is now in the dining room at 47 meters where we find her and traditionally give her a kiss.
Unfortunately our GoPro doesn't respond to pushing the buttons anymore so we have no idea if we have any footage of this dive at all. That would be such a waste, because we see more cool stuff like toilets and a barber chair. Old medicine bottles and the original candelabras.
After this euphoric moment we swim towards the engine room at 43 meters and back through the dark corridors towards the front of the ship. It is so magical to be here, we see many different creatures like strangely colored nudibranches, corals and flashlight fish. We turn our lights off and see only the flashing dots in total darkness. This is so weird! 
We can't stay down too long so we continue our way through the ship, we swim through narrow openings and then we see the daylight again.
Still at 22 meters we enjoy exploring the top of the ship (it's actually starboard side because it's on its side). In an old barrel are some rifles, gas masks and shoes that have been collected from the wreck. 
Whether you are a scuba diver or not, you can't imagine how incredibly impressive this dive is. If you ever get the chance… 
Due to time and earthquakes more and more parts of the Coolidge collapse in the next years so we are very happy to have seen this beautiful ship while it's still accessible. 
We book a tour through 'Airbnb George' to see the island together with Fraser and Francesca, together we pay V8000 (€60) which is quite a good deal. Afterwards we will stay at Lonnoc Beach on the east coast, so we combine the tour with a transfer to Lonnoc. Life here is expensive enough.
While driving I ask Bradley about the island and if there are any wild animals here. Yes there are, he says, we have cows, pigs, chickens… 
Ok, so Vanuatu does not have any dangerous animals or huge iguanas or anything like that. Of course we've read all about this, there are no animals that can kill you in Vanuatu. 
But you can find many kinds of lizards and 
other icky creepy crawlies, there is only one "dangerous" creature in Vanuatu, the giant centipede, which can grow up to 20 cm long and give you a nasty bite. But can't kill you. 
The only animal tourists should be intimidated by is the mosquito. An occasional breakout of malaria and dengue is no exception so the use of repellent and malaria tablets is a must!
Ok, and now back to the good stuff! The island looks lush and green, no wonder there is so much fruit and vegetables. We stop at a fruit stall along the way for some coconuts and fruit. 
Everything is very cheap, a pomelo for V30 (€0.20) and twenty bananas for V50 (€0.35) We get enough fruit and veggies for the next few days.
We first visit the Riri Blue Hole where we have to pay V500 to get in. It's worth it, the fresh blue water looks like a dream, blue, almost chemical… it is quite cold but after a few minutes we are used to it. We enjoy ourselves for an hour with the hanging rope that swings us to the middle of the lake like Tarzan.
Our guide Bradley can take pictures with Frasers camera and has the time of his life, just like us.
When we drive on we stop at another vegetable stall where we buy a Cocoa fruit.
Bradley opens it up for us and we can take out the beans and suck on them, they taste sweet and sour. 'Don't chew or your mouth will be purple!' Bradley says. Ahh good to know.
Our next stop is the Blue lagoon where we have to pay another V500 per person. The lagoon is magical! It's freshwater mixed with salt water and there are lots of fish so we enjoy snorkeling around for a while. 
The water is bright blue and surrounded by green. The rocks under and above the water look very cool and rough. Man this is paradise!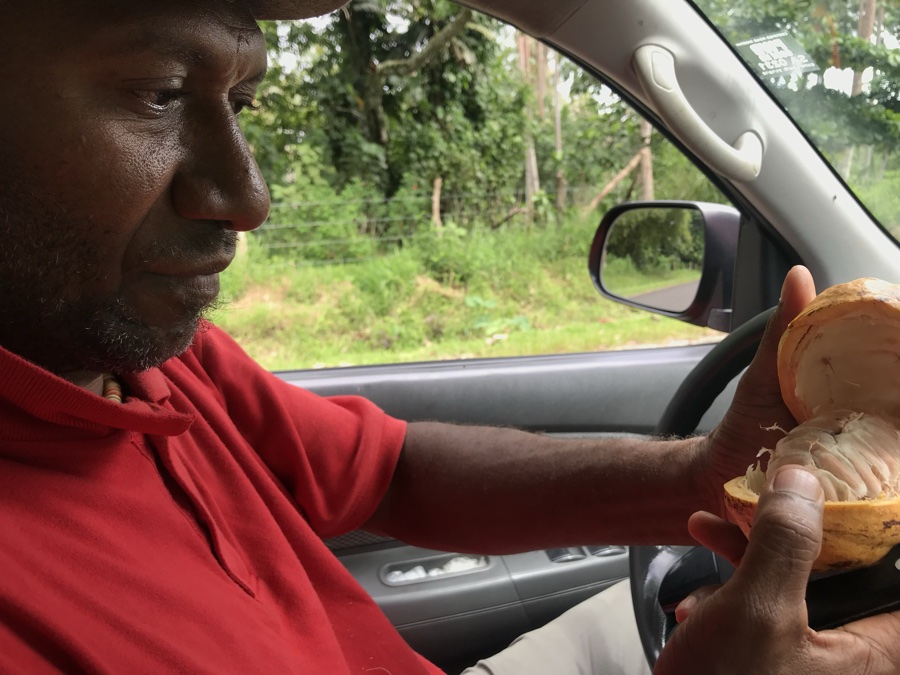 Our highlight for today, we stop in Port Olry, the near most north eastern point of the island offers absolute paradise. A large pearly white beach in a bay with the bluest water we have ever seen. Surrounded by palmtrees and a view over green mountainous island. A sand bridge connects the long beach with the small Island opposite of the dreamy Port Olry. Right on the beach there are some restaurants and accommodations in bounty island style.
THIS IS PARADISE!
The sand is soft like flour and there are no shells or rocks. There's a riff in the distance so there aren't any fish either.
Ah well, we just enjoy the perfect temperature of the water and play with the sand, before we enjoy a freshly grilled fish in one of the restaurants. 
The sky is starting to get grey and the clouds look heavy.  Like every other day it usually rains in the afternoon and it's already four o'clock so we need to hurry to Lonnoc before the sky bursts.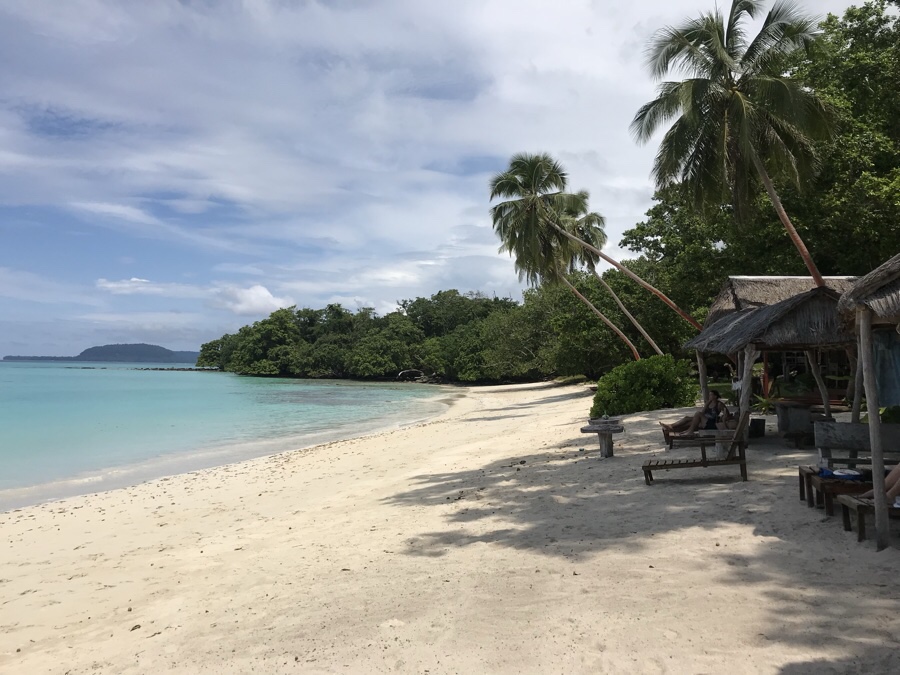 We've made a reservation for two nights at Lonnoc Beach Bungalows, their basic bungalows on the beach are about the cheapest we could find, we pay €45 per night. We arrive in a heavy rain, our luggage is soaking wet and the whole terrain is muddy. We are happy to reach the bungalow where we can unpack our wet stuff. The bungalow is very basic, it has a bathroom with cold water, there's a 3 centimeter mattress on the bed. Looking forward to tonight…
Toilet doesn't work, the tap is loose, the electricity sockets don't work and the roof leaks. The restaurant is ridiculously overpriced but the view over the bay is gorgeous. A white beach with palm trees and azure sea.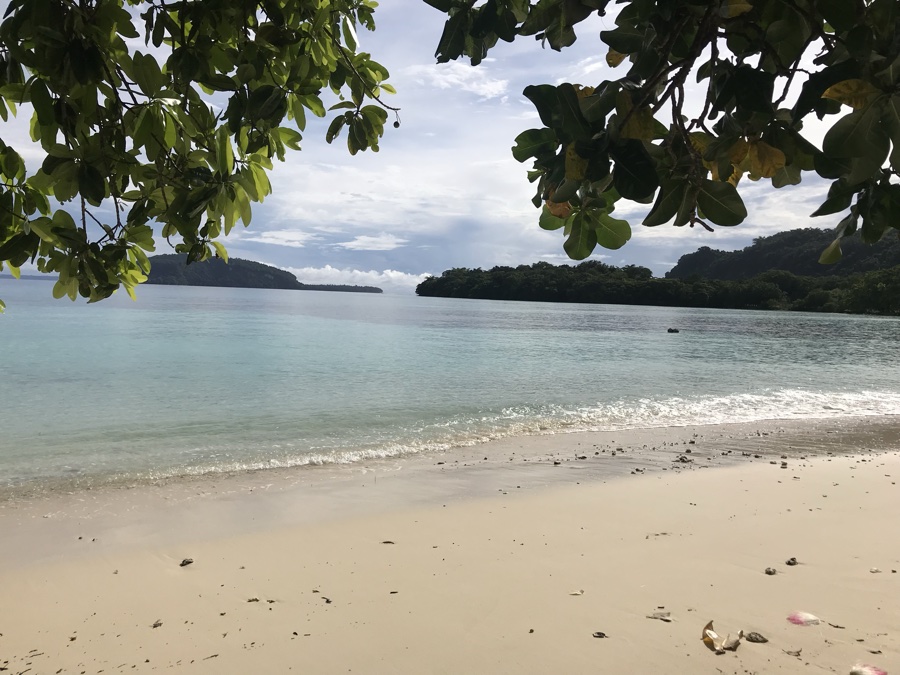 Close to Lonnoc beach there is the 'famous' Champagne Beach which has a reputation of being stunning. It's one and a half kilometre from our bungalow but we are sweating like pigs after a hundred meters so we are looking forward the a dip in the cool water.
The beach looks beautiful, white and deserted. The small bay is surrounded by green and has a great view of the small islands across. 
A sign says we have to pay V500 person, but we decide to wait for someone to ask. We have a great time in the clear blue water, the sand is so soft it feels like flour.
We are all alone there, or… there are some cows on the beach hanging around in the shade. They are checking us out while they ruminate. Unforgettable.
When we walk back a lady comes up to us and asks if we where in Champagne Beach, because then we will have to pay. We lie (our apologies) and walk on. Why would we pay some woman asking for money. Besides, we've already spend enough on this island!
The phone reception is good enough for booking a flight back to Efate, so we need to go to the airport today. There is a minibus driving in the morning for only V500 per person but it leaves at 6:30 am and we'll be at the airport all day. We'd rather spend some more time in this gorgeous and tempting blue water…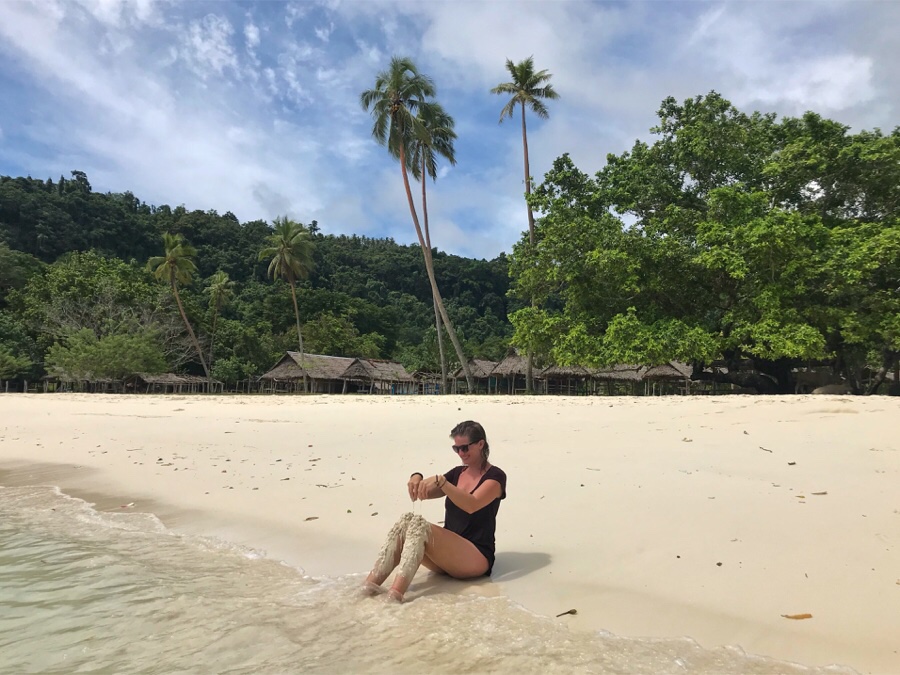 Our other option is a taxi but it costs somewhere between V5000 and V8000, the owner of the bungalows can do it for 5000, which is still €38 for just an hours drive. Totally outrageous.
We decide we spend the morning at the beach and when it's time we'll walk the 1.5 kilometre up to the main road together with our neighbour Amélie. Maybe we can hitch a ride for a few hundreds. 
There is a guy at the mainroad who says he's been waiting there for two hours… righhht… so we wait… and wait…
Until finally a car comes along and he's willing to take us to the airport for V4000 for the three of us. Ugh.
Still to much, what do they think, we are made of money?!
We haven't got a choice, we can't count on another car coming in the next hour so, ok. 
The trip to the airport turns out to be the ride from hell. The driver is drunk and thinks if he drives faster in the pouring rain it will be over quicker. He's driving a 140 km/h on a narrow road where they probably usually drive 50. We ask him to slow down but he assures us that God watches over us and wont let anything happen to us… oh Lord… we.are.going.TO.DIE!!!
We almost have a nervous breakdown when we finally arrive at the airport. Alive!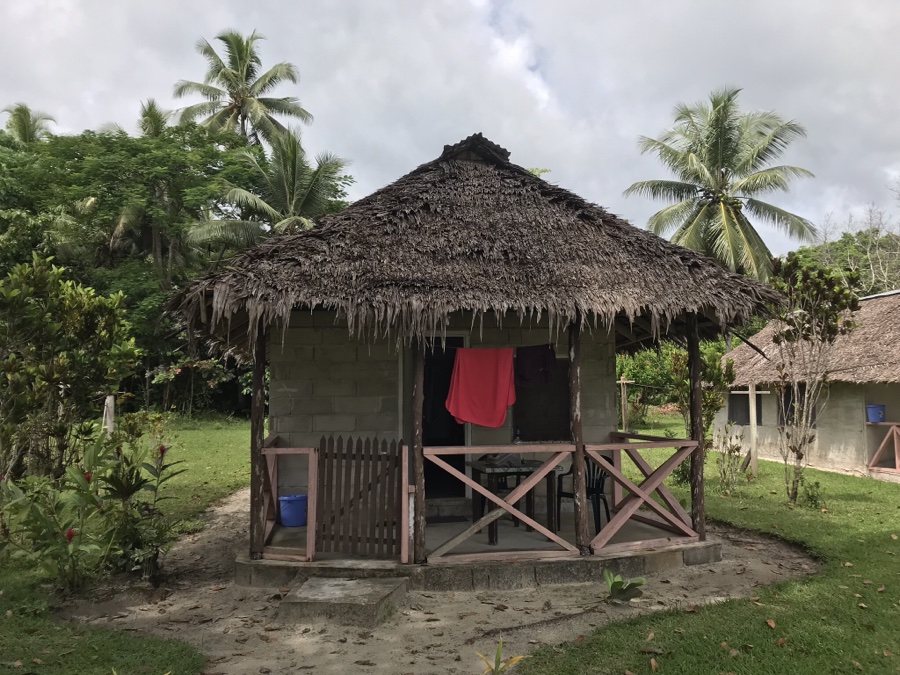 We feel ten years older… luckily we have some time to relax before we check into our next challenge. 
With our neighbor Amélie we wait for our flight and suddenly see Fraser and Francesca arrive. Great, Europe is well represented at Santo Pekoa Airport today 🙂
Back in Port Vila we all share a van to town for the regular price of V150 each, although they try to charge us extra for our bags. No no we won't fall for that again.
We check in to the old Business Class Hotel, now called the Olympic Hotel and get a huge double room with a nice ambience and airconditioning. We sleep like a log after our uncomfortable adventure and rise early in the morning as new. 
When we walk through Port Vila we visit the beautiful fresh market and get some fruit for breakfast. Port Vila has nothing really attractive but it's nice to just walk around and be amongst the locals. Tourists don't seem to walk any further than the esplanade.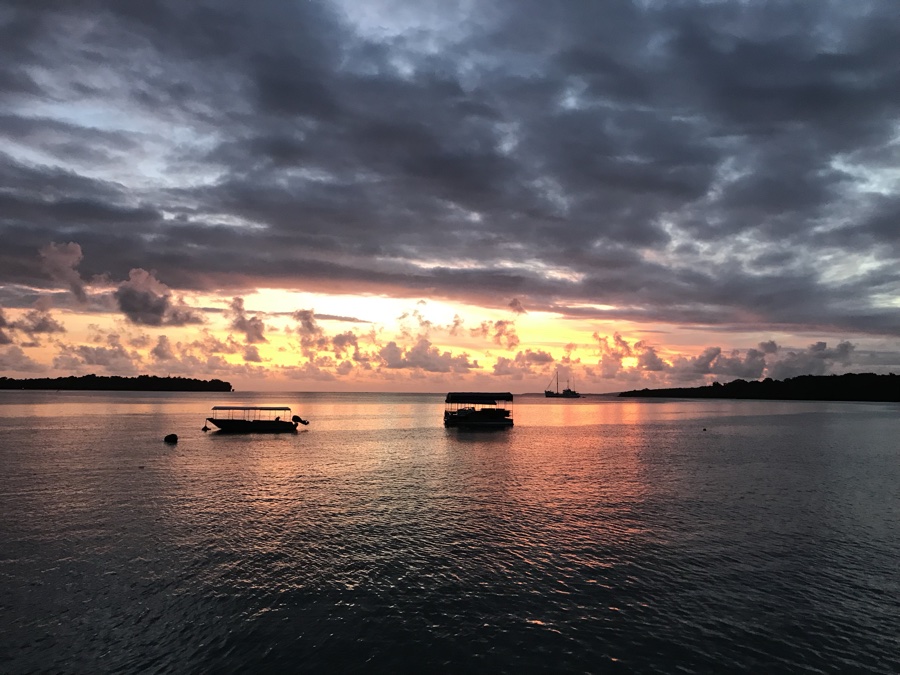 When we walk back towards our hotel we meet Fraser and Francesca again and sit down at our already favourite cafe Nambawan. It's happy hour between 16:30 and 18:30, so we enjoy the beautiful sunset and talk until late. 
Of course we don't want to spend the next week just in Port Vila, we want to see more of the island! So we book three nights in an Airbnb in Mele near Devils Point. The owner picks us up just when we found out Prince Charles is coming to Port Vila this afternoon. Hmm… shame, would have been nice to see the British prince here.
We are driving to Mele, just 15 kilometers from Port Vila. In this area you can find beautiful falls, a few exciting ziplines and you can visit the gorgeous Hideaway Island. We don't see any of this because a heavy storm is coming and we need to stay inside as much as we can. We are not in luck.
Our Airbnb house is fantastic.
After being picked up by the owner we get some more supplies for the next few days and drive towards Devils Point road where the bungalow is. A luxurious two bedroom private bungalow with a huge veranda and a view to die for. Here we have no trouble spending a few days inside to hide for the rain and storm that will soon be coming our way.
For now it's still dry and sunny so we spend our afternoon in the nice pool (oh did I forget to mention this house has a pool too?) and enjoy a cool beer on our beautiful patio with the view over the bay and Hideaway Island.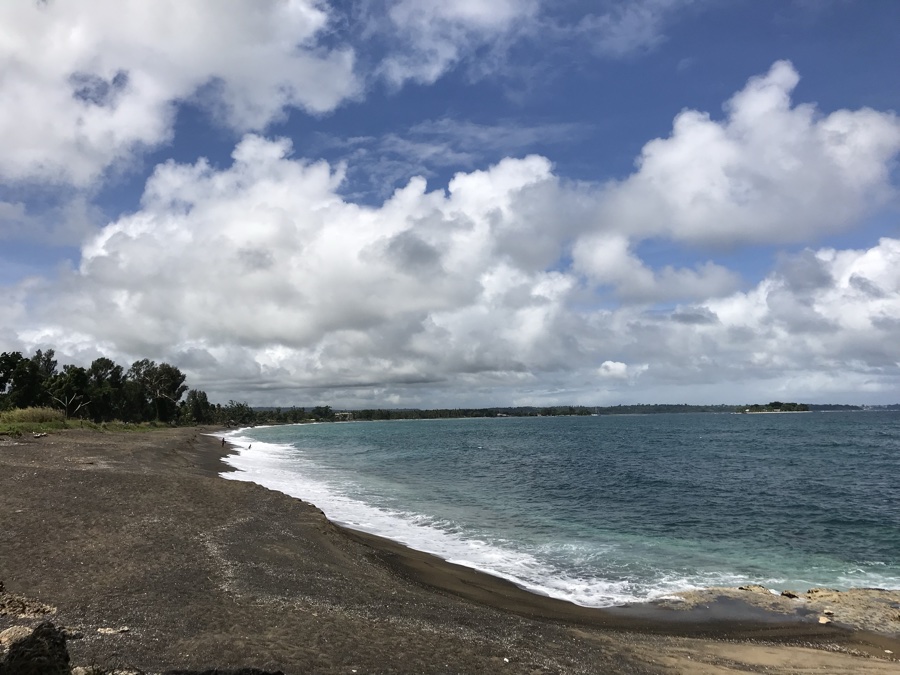 The heavy storm has officially turned into a tropical cyclone, his name: Keni.
Fortunately Keni decided to move away from us instead of coming on land so we have nothing to fear except for some really nasty weather. What do you do when you need to stay inside? We read-read-read! 
After we've relaxed in this €45 per night residence for a few days we are are good as new, the cyclone has passed and it's safe to continue traveling again. 
Eventhough we haven't seen much of the island we go back to Port Vila. At least we'll have something to do during the more rain they're expecting.
As we are leaving for Fiji tomorrow we check some photos of the island online as an indication of what we've 'missed' in the last week. Because while we were just bothered with wild storms and heavy showers, Fiji got the full bucket and was hit by a tropical cyclone Keni just a week after cyclone Josie… Fortunately it seems people in the South Pacific are used to this discomfort and pick up their daily activities as soon as possible, but for us it's shocking.
Along the Port Vila bay there is a nice boardwalk with a few restaurants are bars and a park with picnic tables and tiny beaches. This is where the locals hang out and tourists are nowhere to be found. Good vibe here!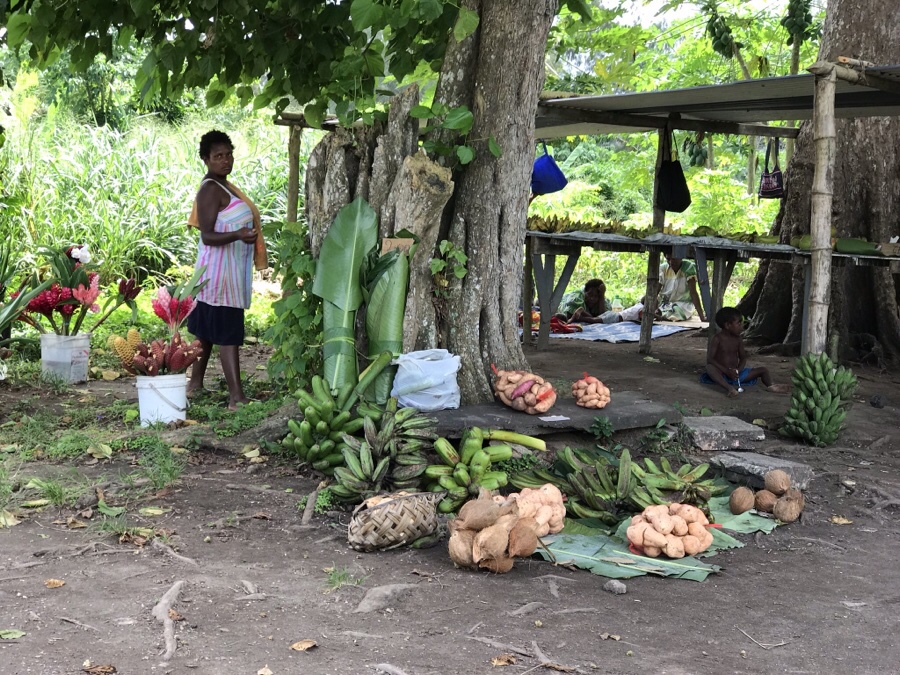 We stroll down to the market to get some nice fresh fruit for breakfast again. 
On Airbnb we find a boat on which you can sleep for €30 a night. You get your own hut and you can cook on the boat. The owners live on the boat and offer a trip to the island Tanna next week if you stay with them on their boat… shit, we are leaving tomorrow. That would have been fantastic! Hopefully we'll find another great opportunity like this one…
Oh this thing I forgot to mention… 🙂
Port Vila hosts over 300 cruiseships per year.
Luxurious floating all inclusive hotels, packed with people who have only two things on their mind: free food and doing nothing. Do I sound prejudiced? 
At least 2000 Australians invading a small town like Port Vila. You'd think that makes Vanuatu a touristic destination, nothing new to discover, only beaten tracks… wrong. No worries, 'cruiseship people' are generally quite passive visitors. They tend to enter Port Vila in the morning and the majority has seen enough around noon and will go back aboard to their all inclusive safe harbour for lunch. And then it's pool time… 
The locals have a love-hate relationship with the cruiseship people, they come and bring money but most of them are not interested at all. 
The smile you get when you answer their question with, oh no I'm not on the cruiseship, pff please… Haha priceless!
We've changed hotels and walk a kilometre to 'A Room With A View', a bed and breakfast on other side of town. We see a totally different side of Port Vila, no tourists, just locals surprised by ourpresence and we discover a fantastic lounge bar on the beach with a very relaxing ambiance.
Our hotel 'A room with a view' has indeed a very nice view. We enjoy a simple breakfast here on the balcony and we can stay in the room until we have to leave to the airport. Late checkouts have never been a problem in this relaxed country.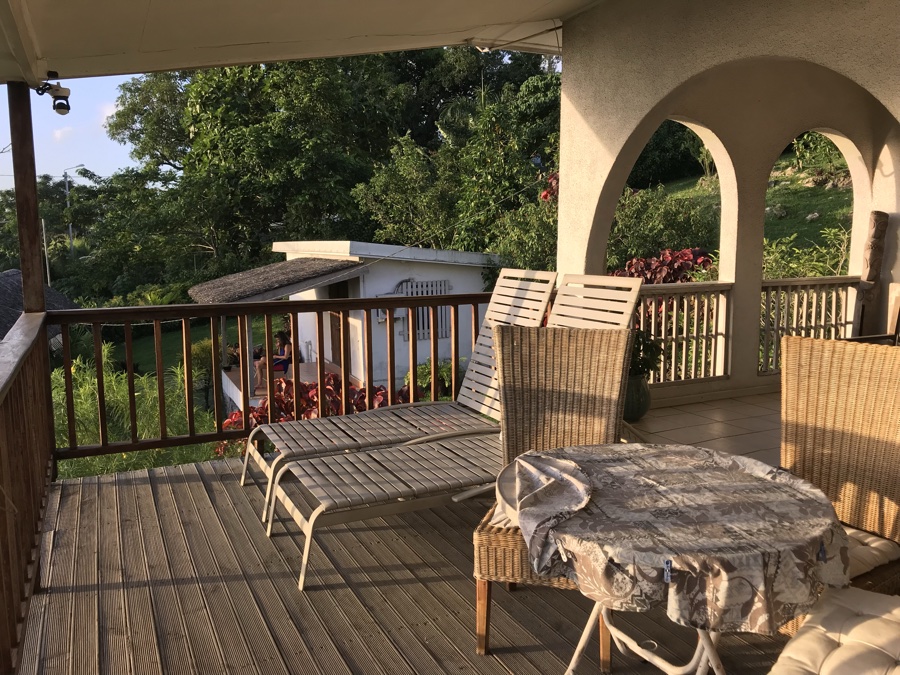 Now our time in Vanuatu is up, today we fly to Fiji and tomorrow we will fly on to Tonga! After our 17 day acquaintance with this beautiful pacific country we are eager for more paradise!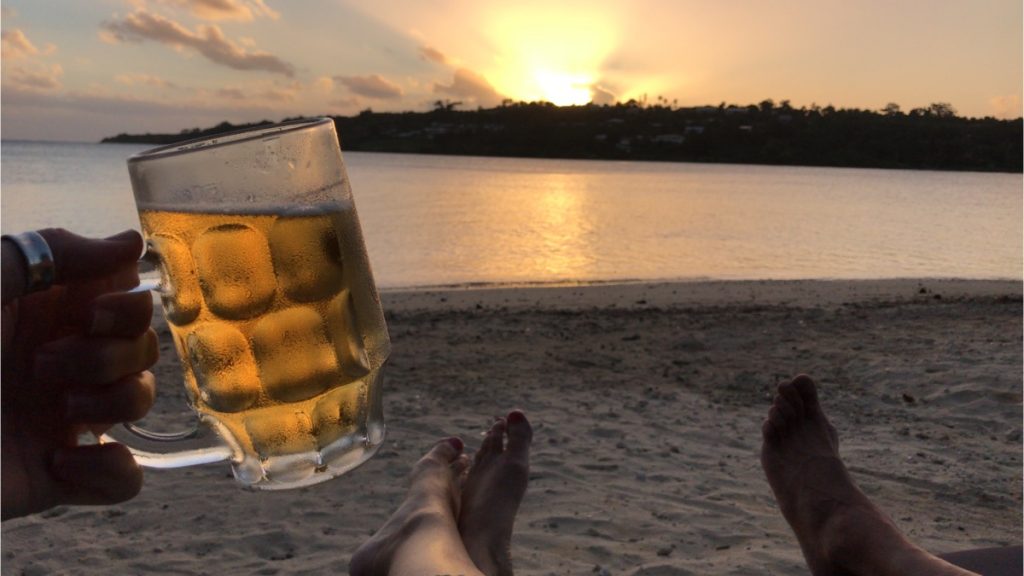 Vanuatu is one of the most dangerous and unpredictable countries in the world. No aggressive gangsters or violent idiots, but raging cyclones and roaring volcanoes are the deciding factor. Planning to come this way? Check the site of Pacific Disaster Center for recent news about tropical cyclones and volcanic activity: www.pdc.org or www.windy.com where you can see exactly what's coming your way.
While we are here cyclones Gita and Josie have already done a lot of damage to Tonga and Fiji but when the new developing tropical cyclone Keni is coming our way we do feel a bit nervous… all's well ends well and after a few days and without too much damage we can continue enjoying the island.
In Vanuatu there are two seasons, a wet and a dry season. The wet season (November to April) has the warmest temperatures, usually around 30 degrees and high humidity and heavy rainfall. The dry season (May to October) has average temperatures of 26 degrees and an occasional light shower. This is called the winter.
We are in Vanuatu late March until half April. The temperatures are around 28 degrees but it feels much hotter because of the high humidity. Every day we experience medium showers after which the heat drops to a more comfortable temperature. 
The humidity is usually between 90 and 100 % so you'll feel sweaty and your clothes are moist. You get used to this very fast and otherwise… just go swimming a lot 😉
While traveling through Vanuatu our itinerary starts to get more and more shape. Of course we would have loved to see a lot more islands but our budget just doesn't allow us. Flights between these islands are expensive and just this flight to Espiritu Santo cost us €225 pp return. There are containerships sailing between the islands but they are not for free, you don't know exactly when they leave and they take forever to get there. Due to the turbulent weather around these islands we would not recommend this way of transportation, eventhough it sounds pretty cool!
In Vanuatu you drive on the right side of the road. You can hire a car for the day, which will cost you about € 80 a day.  It's much easier to get around by minibus. These busses are cheap and they are everywhere. You can recognise them from the letter B on the licence plate. On Efate a bus trip in Port Vila costs V150 per person or for instance to the Evergreen Cascade waterfalls V200 pp. V500 pp will get you to the other side of the island. 
On Espiritu Santo we had a bit more trouble finding a minibus but the prices are pretty much the same.
On this island you'll be forced to arrange a taxi or transfer if you don't want to leave at dawn. A taxi from the upper east to Luganville will cost you about V8000 (€) for the whole car. The trip takes an hour but for a whole day Island tour we paid the same. The petrol isn't that expensive, V150 (€1.10) per liter and the wages are low. We've asked why transportation is so expensive here and the answer was: it just is. So you'll pay this price because that is what it costs.
Currency: 100 Vanuatu Vatu = € 0.75
In these 17 days in Vanuatu we've spend:
Transportation: € 527.00 (including domestic flight)
Accommodations: € 608.50
Food and drinks: € 406.00
Entrance fees: € 7.50
Other: € 19.00
That brings us to a daily budget of: € 92.20 for two persons including everything, except international flights and scuba diving*.  
We've stayed in double rooms with or without private bathroom, most rooms only had a fan and no breakfast. Some accommodations had a communal kitchen and some had a pool. We used Airbnb a lot, even hotels use Airbnb and offer their rooms a lot cheaper than on Booking or direct.
Here are some examples of products and prices in euro:
Large baguette in supermarket: € 0.45
Pizza in lunchroom: € 7.50
Coffee latte in a lunchroom: € 3.00
Bottle of wine in a supermarket: € 8.00
Beer (330 ml) in a cafe: € 3.50
Beer (330 ml) supermarket: € 1.65
Main course in restaurant: € 7.00
Liter gasoline: € 0.80
Simcard with 10 gb data: € 7.50
Scuba diving in Vanuatu
We have done two scuba dives in Port Vila with Big Blue. It's a good dive center and the price is the same as the other dive centers. We did a morning boat trip of about 3.5 hours, two dives (two tanks) in two different locations and paid V14,900 (€ 113) per person for the two dives including all gear. We would not recommend this area because there was not much to see.
In Espiritu Santo we did two shore dives. The first dive was in the morning, the second in the afternoon. Dive center Allan Powers has a lot of experience and has good gear and guides. We paid V14,000 (€ 106.50) per person for the two dives including all gear. Diving the Coolidge was very much worth the money and we wished we didn't already spend money on diving in Port Vila.