Lush green islands surrounded by pristine beaches and fluorescent blue waters. Tropical islands where the women are strong and the men wear skirts. Oh yes we are in the centre of the South Pacific! 
Tonga is a country in the Polynesian region of the South Pacific consisting of 177 islands divided in three groups, Nuku'alofa, Ha'apai and Vava'u. With a population of just over a 100,000 people this monarchy has a predominantly Christian religion. 
The northern Vava'u group has over 50 small islands surrounding the main island where you can find Vav'u's capital Neiafu. Everyday life is strongly influenced by the religion and Tongan traditions.
Sunday rest is well respected, no work, no stores open, no water activities and nothing else to but going to one of the twenty churches this town counts, where you can join a prayer or choir at least three times a day.
Although the islands have been inhabited by Polynesians for over 6000 years the first foreigners to visit Tonga were two Dutch discoverers Willem Cornelisz Schouten and Jacob le Maire in 1616, they called it 'the Island Amsterdam'. Although there where many dominant European and American visitors, Tonga has never been colonised, which is unique for the South Pacific region.
Obesity is Tonga's health problem number one. The import of sugary fatty stuff from New Zealand is a temptation for everyone who has too much time on their hands. This unhealthy lifestyle means that life's expectations have been adjusted from an average of 75 to 64 years in the last ten years. Shocking right? Not just temptation causes obesity, in the Tongan culture being heavy equals wealth…
Of course there are many ways to stay healthy, the fresh market doesn't have a large assortment of fruit and veggies but it is something and it looks tasty. And then there's fish… nice fresh fish, right from the big blue! I could eat that all day, everyday. But we need to consider the fish count too, so we stick to every other day 😉
We've booked a flight with Fiji Airways from Port Vila to Vava'u with a transit of 15 hours in Fiji. After spending a night in a beach hotel in Nadi we leave at 11:40 am towards Vava'u. When we check in we have to show our onward ticket from Vava'u at the customs. We've booked a flight back to Fiji next week so we show it to them and we are good to go.
At customs they warn us not to take anything fresh into the country but the airport is very small, a bit bigger than a shed and it doesn't look like they check bags or anything. We have some fresh cookies and we don't want to throw them away so we smuggle them in.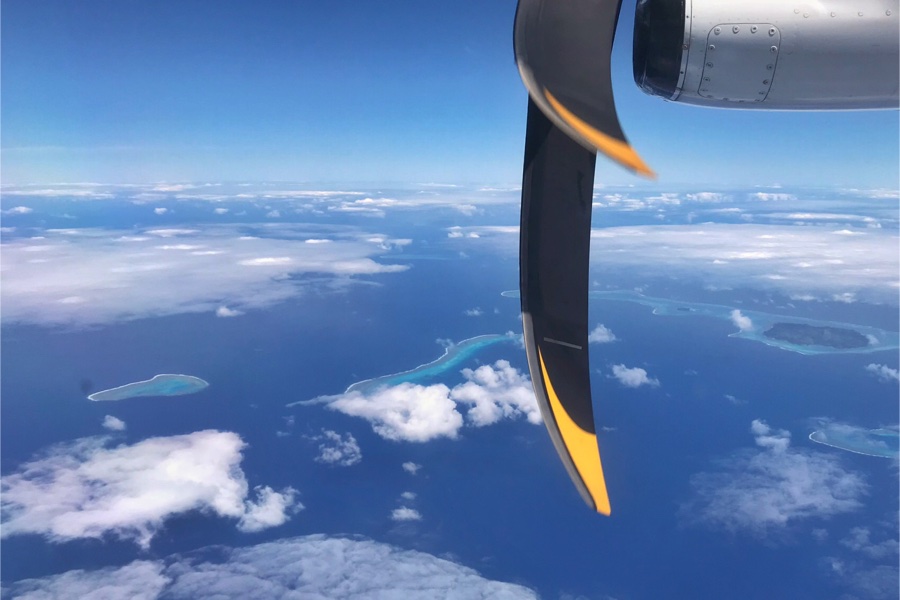 We've found a homestay on Airbnb in Neiafu for three nights and are picked up from the airport by the owner of the homestay. A big guy with tribal tattoos and long dreads greets us with a big smile. Hosts Lea and Salesi have a cozy home in Neiafu, the capital of Vava'u. Neiafu is a small town where everyone knows each other and where you can walk from one side of another in twenty minutes.
Salesi shows us around town and introduces us to his friend Riki who organises dive trips. 
The other dive centres there are closed for the season and Riki Tiki already has plans for Monday but he's happy to take us on a dive trip on Tuesday. 
Today is Saturday so we have two days to fill.
We return to the house and get settled in. They have a cute dog and two even cuter kittens. Lea and Salesi and great to talk to and we explain that we've been traveling for a long time. They have done some traveling themselves and have even been to the Netherlands twice.
We need to eat so we walk back to town. We pass the police and fire station where the men are outside celebrating their saturday with Kava. 
When visiting one of the South Pacific islands sooner or later you'll need to endure the test: try kava. A special homemade brew from the kava root, it tastes like mud (sorry guys, it does!) but that shouldn't have to be a problem, just keep drinking and you won't taste it anymore. Your mouth will go numb, just like the rest of your body… and brain…
We are invited to join the group of police officers and firefighters and get a coconut-shell filled with kava.
Only a few of them speak English or maybe they are just shy. It's is not common for a woman to join a kava group, so they are awfully quiet since we've joined them. Only one guy asks us questions like what we've come to do here and why. They don't get it, why should anyone visit Tonga?
Everybody's listening with their mouth open to our conversation and here and there a smile appears. When we are about to leave one of the guys wants to shake our hands and gives me a kiss on the cheek.
The little charmer! 'Only one', I say… haha he blushes and of course I get another one. Now they all laugh!
We have dinner in the local Italian restaurant, Bella Vista. A pricey menu but we decide we can spend some money sometimes… the Vista is definitely very Bella, we enjoy the sun setting while the local boys and girls jump off the pier into the bright blue water. The lady (who was obviously born as a man – hooray for freedom) treats us like VIP's and the Gorgonzola pizza tastes very Italian.
Not a bad choice after all!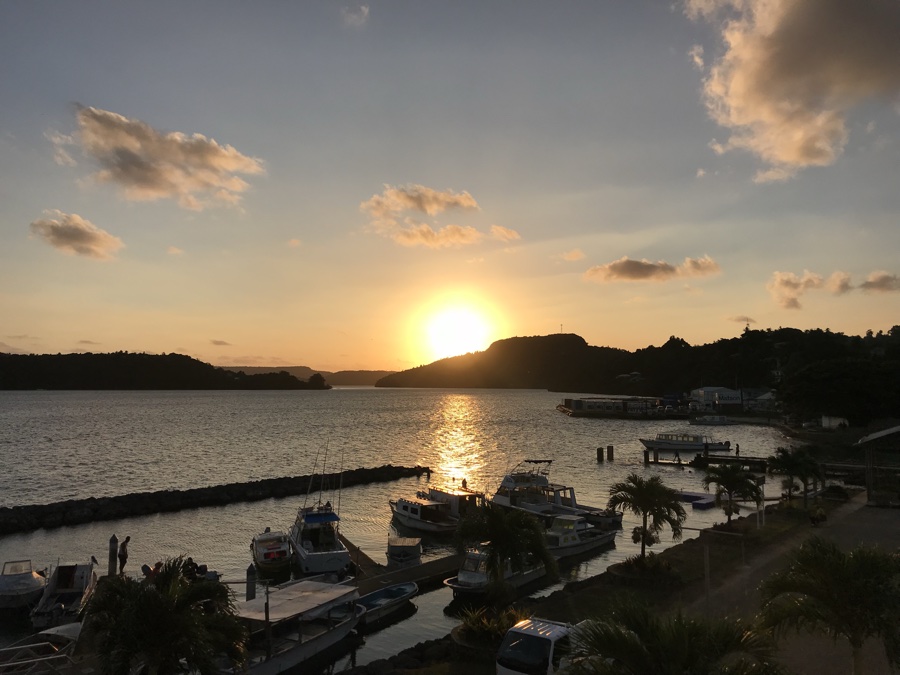 In town there is the old St. Josephs Cathedral, it's got a majestic look. Unfortunately there is not much known about this structure and after admiring it for a while we go to the cafe behind the church to drink away our sins. 
When we walk in we are immediately notified by some of the locals who obviously can't wait to talk to us.  A fantastic night!
At night the markets appear in the streets, no tourists just locals. Saturday evening and the streets are full. People wave and smile at us, children saying hi, actually everybody says hi. We feel special. When we pass the police office we hear the men singing traditional songs together. It sounds beautiful and warm. It brings a big smile to our face as we walk back to our bnb.
The next day we start with a good conversation with our hosts during breakfast. 'Good to know' stuff and tips for some sightseeing. 
We decide to walk up the mountain, Mount Talau. This highest point of the island is a whopping 130 meters high but the view from up there is mesmerising. The walk from the house is about 2.5 kilometres and then a steep and crooked 180 steps up (yes we've counted) to the top. It's just a small effort for the price you get, a panoramic view over the different islands divided by the bright blue water.
In Vava'u we see pigs everywhere, some peoples gardens are really ploughed through. The little piglets are adorable!
On Sunday the churches start their mass early, at five we hear the first prayers and choirs coming to life and they continue the whole day. The streets are empty and everything is closed.
We can find only one restaurant that is open, at Mango we order an incredibly tasty burrito for T$22 each. Again, not good for our budget but tomorrow we are moving to a bungalow on the beach where we will cook, so today we enjoy this yummy burrito!
It's monday morning and the fresh-market is open again, we buy some nice fruit and veggies and go to the supermarket for the rest. 
We will be in Talihau for five days and there are no shops or markets nearby so we need to buy a lot. We spent T$60 (€22) on groceries for five days, not bad for an expensive country eh?
Salesi takes us to Talihau in the South of the island. On the way he tells us some interesting facts about the islands and shows us a beautiful viewpoint. 
Some of the islands are now attached to the main island by a bridge which makes it easier for people to connect to the town and get their groceries. The other way around, it's easier for tourists to get to the small islands which is excellent for the local economy.
At Lucky's Beach House we have a new bungalow with a shared kitchen and bathroom. There are two bungalows that share these amenities but we are the only ones there, so we sort of have a private resort. The beach is quite windy and there is some algae as a reminder of the cyclone but the view is fantastic.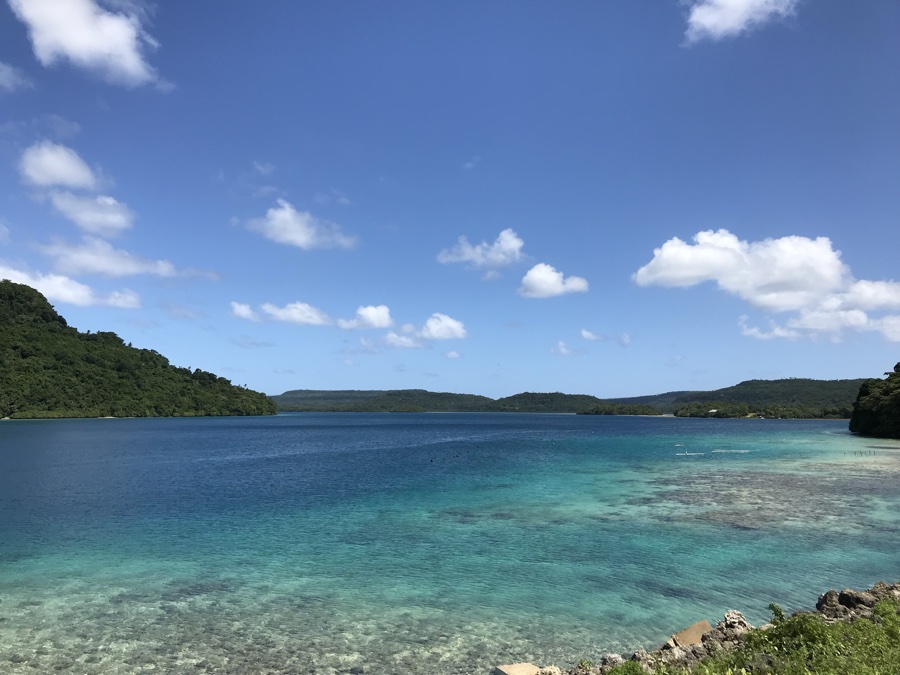 The rest of the water is turquoise and the surrounding islands are lush green.
Lynn and Kurt, the Hawaiian owners of Lucky's Beach House sell fresh fish filets so we enjoy a juicy Mahi Mahi (Dorado) and tender pink Tuna steak for dinner. 
We walk over the beach to the other side of town where we can watch the sunset. We're not alone, there are pigs… on the beach. Ugly fat hogs that growl at eachother and run away as soon as we want to take their picture. Ah well, at least we are alone now…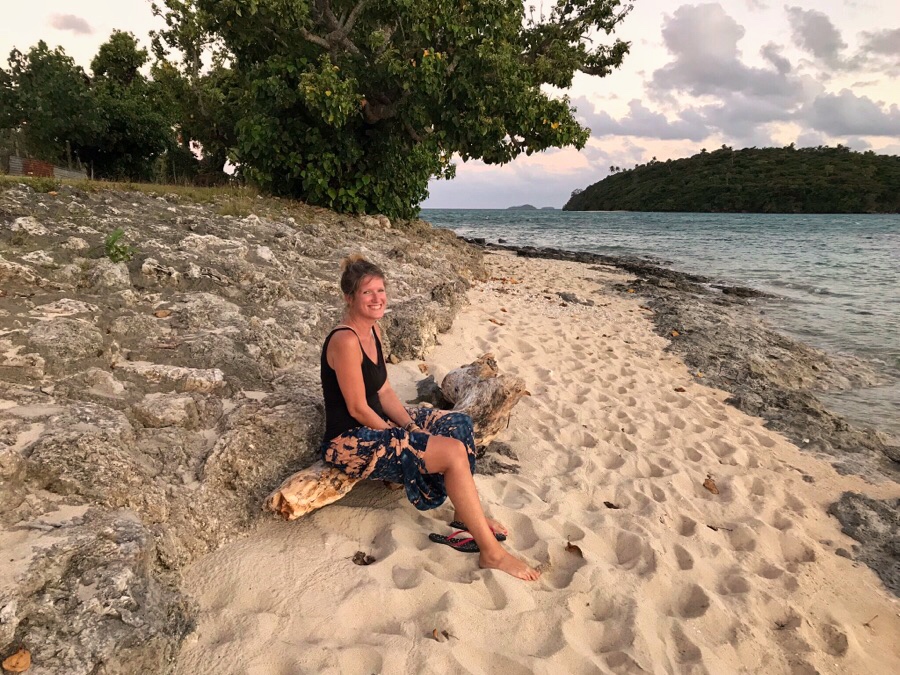 Today we go scuba diving, finally!
Riki picks us up at Lucky's with his boat along with two other people. We try on our wetsuit which fits perfectly. Good guess! We have a lot of fun with Riki and the other couple. The first dive site is only 15 minutes away and our expectations are high. We have no idea what to expect, but the underwater caves where we'll be diving are amazing. We swim through dark holes and narrow openings until we get to a walhalla of corals. It's just stunning, the coral looks so colourful and healthy!
Unfortunately we don't see a lot of big fish but the small ones are good enough. We see some luminescent anemones and just when we get back up we spot a turtle and a shark too!
Our second dive just cannot compete with this first one but still it's beautiful down here. A huge wall full of life that goes down for 2 kilometres (!) into the abyss… The corals are unlike we've seen before and we spot some creepy crawlers too! A pipefish and a really weird nudibranch. At about 2 pm Riki brings us back to our accommodation and we say goodbye to the couple that joined us. 
Poah what a impressive day… diving in Tonga was unforgettable!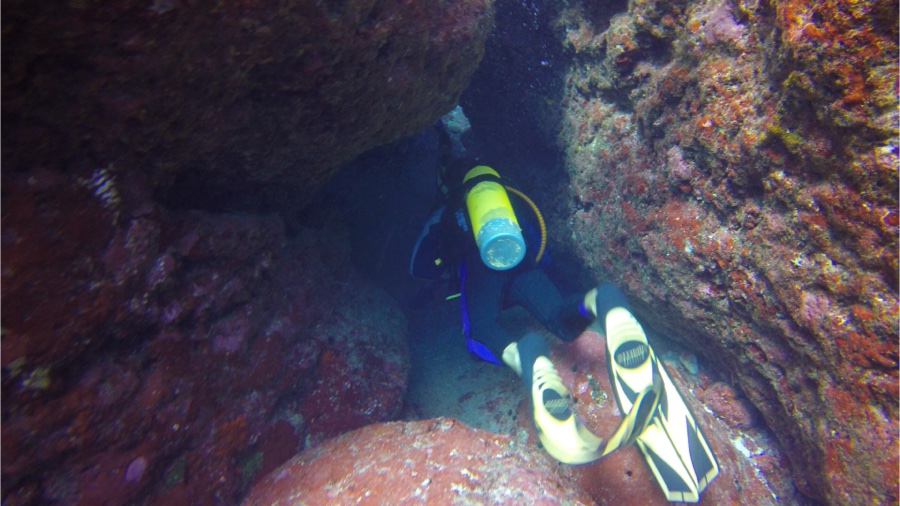 The next day starts with rain. Luckily our outdoor kitchen has a roof over it, so we enjoy our breakfast and watch the heavy clouds fall down. 
We quickly run to the papaya tree opposite of our bungalow to get that ripe piece of fruit, it was just begging us… eat me eat me… mmm!!
Finally the sky clears and the rain has stopped. We see a beautiful kingfisher in our papaya tree, it's a sign, let's go and do something! While we hear the pigs on the beach arguing we bring out the kayaks and get ready for a nice trip. Opposite of Lucky's there is Mala Island Resort, on a small private island. We paddle across to see the Chinese Garden, an impressive colorful coral garden. 
The tide is low so we can see the different coral very well. We paddle around the green paradisial island but when we get to the other side the weather changes quite rapidly. The clouds turn dark and before we know it rain pours down like crazy.
We try to move our kayaks through the waves and heavy showers as fast as we can. We can see the beach, pigs acting like nothing's going on, but by the time we get back to Lucky's we are soaked. Haha this was fun! 
So it's raining…
RAINING 
RAINING 
RAINING 
And it rains, for three whole days and three whole nights. Nonstop. Hard.
We are starting to worry about our flight but Lynn says it will clear up tomorrow morning. Besides, Fiji Air flies on automated navigation and domestic flights use visual navigation so the domestic flights are cancelled but a flight to Fiji is nothing to worry about.
Our flight leaves at 12:30 tomorrow so let's hope she's right. 
All we can do is read, enjoy some music, time goes by very slow… slow is good!
We have nothing to worry about, the morning starts with a bright sky and all planes (one: ours) fly today!
We enjoy our last hours before we are picked up by George the taxi driver. The airport is only 30 kilometers but it takes us 45 minutes to get there. Bad roads? No, zigzagging between cows on the road.
At the small airport we check in our bags and get a handwritten ticket and baggage receipt. That's it Tonga, our time was short, you weren't easy on us, but ah, you were wonderful!
Next step: a stopover in Fiji again and then… more paradise in French Polynesia!
Just a few months ago cyclone Gita has made a real mess of the Southern island group Nuku'alofa. 
Cyclone season ends in April, locals lick their index finger, stick it in the air and say there are usually about 7 tropical cyclones around the South Pacific and we've had 6 this season. So one to go and then peace returns in paradise.
When we arrive the sky is clear, it's sunny and not too hot. We are lucky they say, it has been raining here for weeks! Hmm that does not sound appealing. 
The next few days the weather continues to be beautiful. About 30 degrees, a breeze and some clouds for a regular moment of shade. Unfortunately, it had to happen some time, the rain comes back and appears to be endless. Our last two days we can only watch the heavy showers pour down in the blue water and on the garden of our bungalow, turning everything into a muddy mess.
Of course we can only judge the north of Tonga but this country is not the first place in line to get the 'easy to travel' award. There are no buses, the island is just too small, no trucks to jump on to, only a few taxi's. A few meaning two or three. Don't expect them to wait in line for you at the airport, if you don't arrange transportation on this island, there is no way you are getting to your destination on time. A transfer from the airport or Talihau to the center of Neiafu is about €13 and from Talihau to the airport is €18. It's only a few kilometers but the roads aren't fantastic and the cows and pigs make the trip extra challenging 😉
Currency: 1 Tongan Pa'anga = € 0.36
In these 7 days in Tonga we've spend:
Transportation: € 33
Accommodation: € 208
Food and drinks: € 116
Entrance fees: € 0
Other: € 2
That brings us to a daily budget of: € 51,28 for two persons including everything except international flights and scuba diving*.  
We've stayed in a double room and a beach bungalow without private bathroom, a fan and no breakfast. In our first accommodation we've eaten simple meals in restaurants and our second accommodation had a communal kitchen, so we cooked ourselves. Buying groceries or other products can be difficult, there is not much available on the island and vegetables are very seasonal, so the market looked quite sad. Nevertheless we managed to cook a nice meal every night.
Here are some examples of products and prices in euro:
White bread in supermarket: € 2.50
Cucumber at the market: € 1.75
1 liter milk (long life): € 1.50
Pizza in restaurant: € 13
Coffee with milk in a restaurant: € 2.50
Beer (250 ml) in a cafe: € 4
Beer (250 ml) supermarket: € 2
Main course in restaurant: € 14
Scuba diving 
We have done two scuba dives by boat south of Vava'u with a guy called Riki Tiki, a guide from New Zealand who has lived in Tonga for twenty years. 
We paid €65 per person for two dives including all gear. Riki has good material and is an experienced guide. He has his own boat and knows his spots. We were lucky to have met him, because the dive centres in town charge €110 for a two tank dive.