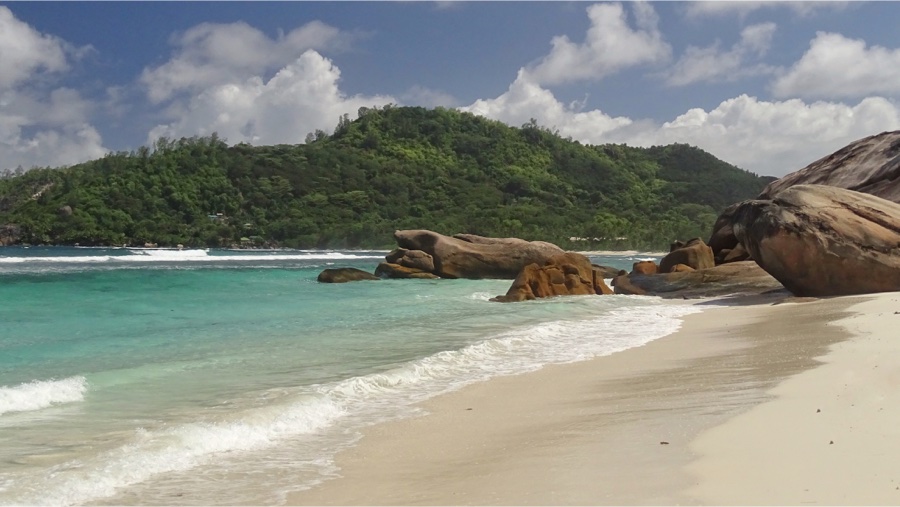 Ohhh the Seychelles, you charmer you, with your romantic white powder beaches and that tempting sea of serenity. If only you where a little cheaper, a little more fun… if only you had nice beachbars and beds… or hammocks.
What can I say, this is a real paradise, white whiter WHITEST beaches, hanging palm trees at just the right spot and the brightest candy blue sea you've ever seen. But something is missing. Charisma? Ambiance? It was no love at first sight for us, the Seychelles had to grow on us for a few days to make us feel we'd never want to leave…
Tanzania to the Seychelles
We arrive on june 1st by plane from Dar es Salaam with a very short transfer in Nairobi. Kenya Airways is comfortable, strict and on time. We booked this flight about three months in advance so our tickets were quite cheap… € 130.00 per person from Tanzania to Mahé.
Mahé is not blessed with the most beautiful beaches, so first we will go to the island of Praslin which is about 45 kilometres north-east of Mahé.
At the immigration office we need to show our outgoing flight and our booked hotel. Then we are free to go in with a wink from the cute immigration officer… 😉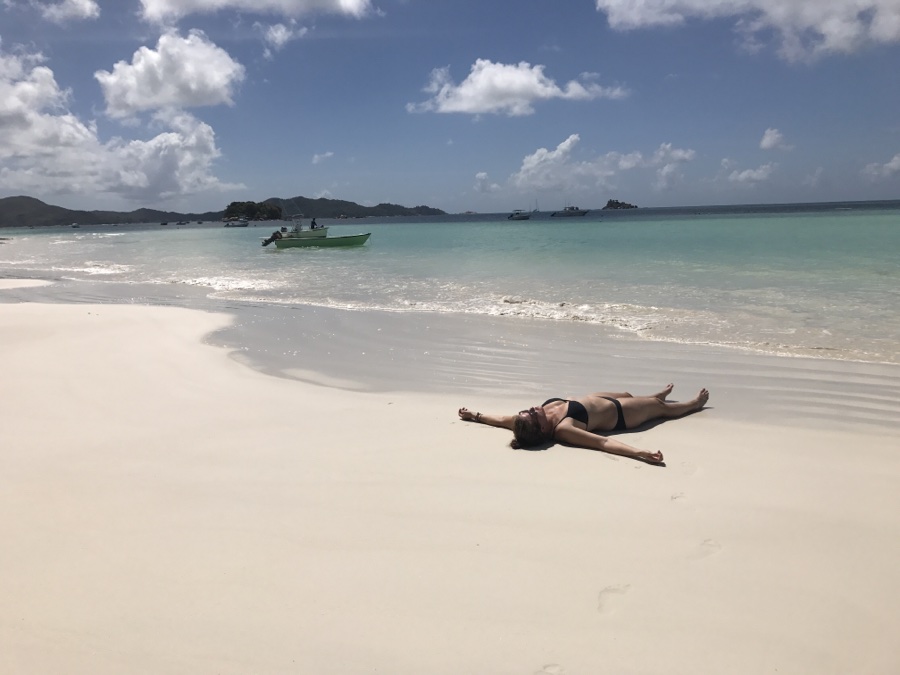 There are two options to get to Praslin, the Northern island of the Seychelles, that is by plane or ferry. The ferry port of Cat Cocos on Mahé is about 15 minutes from the airport. The taxi to the ferry costs about € 25.00 and the ferry itself also costs € 25.00 per person one way.
The port on Praslin is closer to our guesthouse. But all added up it's cheaper and easier to fly. We get some beautifully colored money from the ATM at the terminal and check out the local simcards. Data in the Seychelles is very expensive so we decide to resist temptation and try to go without mobile internet.
The airport on Praslin is on the other side of the island and a taxi would cost us about € 40.00, luckily for us (and for every other person visiting the Seychelles) there are public busses! The bus stops just outside the terminal on Praslin and costs € 0.35 per person for every ride no matter where you get off. There are stops everywhere and sometimes the bus stops on request. Our accommodation is in the north-east of Praslin at Côte d'Or beach, and it is great!
Coco Bay villa is a low budget self-catering accommodation with nice rooms and bungalows, a well equipped kitchen and a beautiful garden. The owner Jeanne is super helpful and friendly. In the three days we stayed here we paid € 45.00 per night. The residence is about five minutes walk from the breathtaking white typical Seychelles beach of Côte d'Or at the Anse Volbert.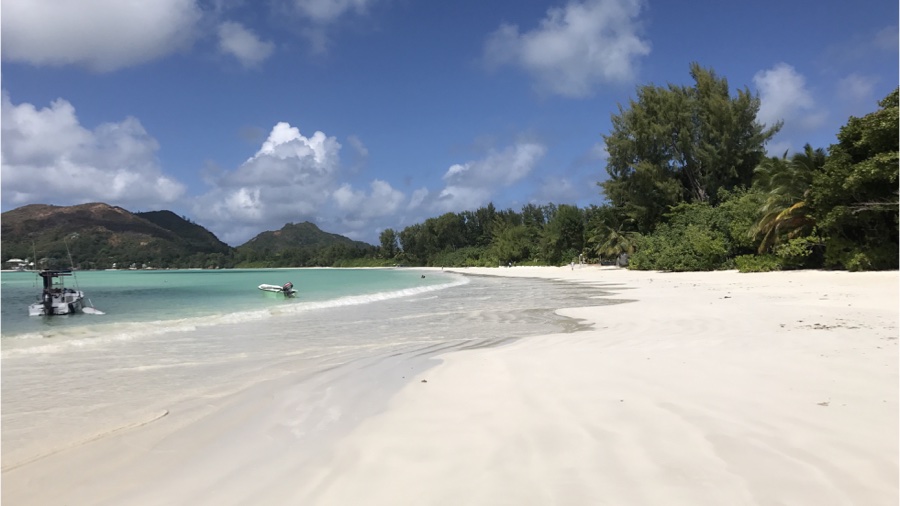 But oi, here it comes… when we arrived in Praslin we've just had a few days of stomach misery so we were cranky and sore. Maybe it also had something to do with me having my period just when we were going to – my dream is coming true – the Seychelles ánd the fact that we got a nasty sunburn on our shoulders in only one hour on our first day at that lovely mesmerizing beach. Just when we were thinking, hmm maybe we should use some sun cream… you know… too late. It all happened so quickly.
Ok, our days in the Seychelles are ruined. One unattended hour of happiness and now we can't swim freely anymore… seriously, I could cry.
So the next day we crashed into depression. We didn't do anything, sobbing about how everything was so expensive and stupid and that there where no nice bars or restaurants. Not even the annoying vendors on the beach. I hate the Seychelles, the Seychelles are boring and heavily overrated… they are!
Ugh. Luckily the next morning we got the bad demons out and managed to drag our bodies outside again. We tried to make the best of our few days in the shade at the magnificent white (WHITE) Côte d'Or beach on Praslin.
Very glad we got that out of our system, so what's next?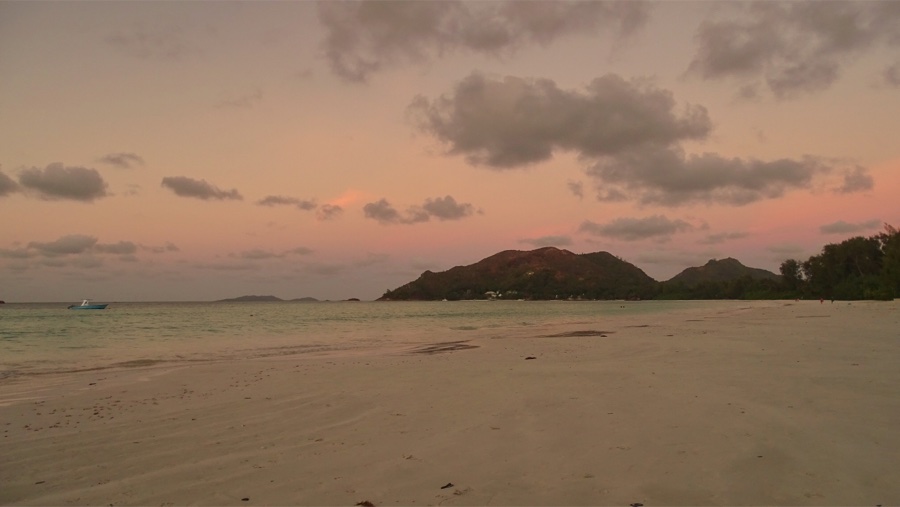 La Digue is supposed to have the most breathtaking beaches of the Seychelles. Beautiful small pearlywhite beaches with grey boulders and palmtrees at just the right spot. After Praslin we want to go to La Digue but destiny says no. We have to go back to Mahé at the end of this week but the boats from La Digue back to Praslin don't go early enough to connect to our flight to Mahé. If we would leave La Digue on the day before we would have to leave at 7:00, that would give us only one day on La Digue. Shit.
We sadly we decide it's for the best to skip La Digue and go to Mahé instead to discover what this island has to offer.
Book a ticket to La Digue
If you want to go to La Digue, you can book the boat from and to Mahé/Praslin to La Digue with Cat Cocos or between Praslin and La Digue with Inter Island Ferry or Cat Cocos. The prices are something like this:
Mahé to La Digue vv € 85.00 pp. one way
Praslin to La Digue vv € 15.00 pp. one way
Or you can fly in a supercool 16 pax propelled aircraft from Mahé to Praslin for about € 42.00 pp. one way with air Seychelles. The flight is only 15 minutes and can be quite nauseating with strong wind. We know because our flight back to Mahé was quite uncomfortable… the moment the stewardess was about to say we could board the plane it started to rain. And it rained hard. We boarded the plane, no mercy… and off we went. Ugh, can still feel it. No really it was actually quite a cool experience.
Back in Mahé, the main island of the Seychelles, we take the bus to Beau Vallon beach. This is supposed to be the best beach in Mahé, so we are soon to discover if that's true. We arrive around noon so we have all afternoon to enjoy the sea. Our sunburn has cooled down enough to come out of the shade. So we SWIM! Woohoo!
The beach is much less white than the ones on Praslin but there are restaurants and bars on the beach and eventhough the water isn't as blue we are happy with our decision.
This first night on Mahé we sleep at RowsVillas, just behind the expensive Berjaya resort. You need to walk through the resort to get to the beach.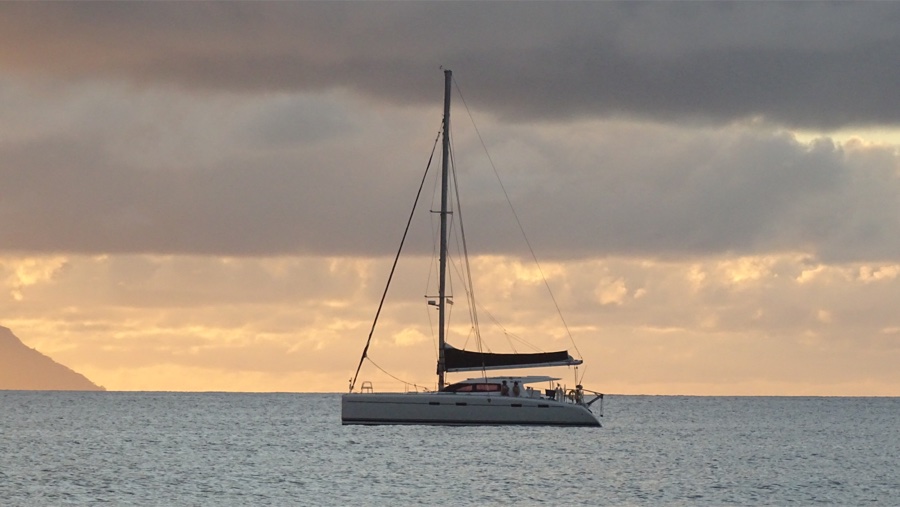 At RowsVillas we have a beautiful apartment on the first floor with a very nice bathroom and fully equipped kitchen for € 57.00 per night no breakfast. There is wifi available for € 6.00 during the stay. The apartment is on the south end of the beach at about 5 minutes walk from the water.
We discover that late in the afternoon the beds of the Berjaya resort are empty and waiting for us, a perfect location on the beach to enjoy the sunset.
Our day is filled with relaxing, walking around town, swimming and in the afternoon we meet some cute kids with whom we have some funny conversations.
After an amazing sunset, there are huge bats in the trees, the size of monkey. They fly around and now and then land in the trees again. The boats in the water, the pink and orange sky… so much to see. An end to a unexpectedly perfect day. We have totally recovered.
The next day we rent a car with the company next to RowsVillas. The cars are new and the rate is the same as anywhere else, € 40.00 per day.
Mahé has so much to offer, great hiking trails through thick green jungle, red soil paths and lots of roads passing great deserted beaches. We spend the day discovering the best ones and swim wherever we can.
We bring back our car at our next accommodation, Romance Bungalows on the north end of Beau Vallon beach. Last night it was full but now it has a room available for two nights at € 70.00 per night including an amazing breakfast and good wifi.
Being right next to the beach we love this place already but seeing our room makes us never want to leave!
The ground floor double room (the cheapest one) is huge and has a private bathroom on a slightly higher level. There is a patio in front and the beach is just a minute away.
On the beach we have delicious pizza and beer at Baobab Pizza and of course swim for the rest of our time here.
Yeah right, like anyone cares about the locals in a country where you're blinded by perfect paradise. But you should, because they are there, they are great and better yet, they can tell you everything you need to know about their island.
The first days it was like we couldn't get in contact with anyone. The few tourists that were there, were to much into their selves to talk to anyone but each other. The locals weren't too chatty themselves, they seemed suspicious, annoyed and intimidated by the arrogance of their visitors. As soon as they sensed we were interested they were much more open and talkative. Asking questions about how things work in Holland and comparing it with their own situation.
In Beau Vallon we met some local kids on the beach who were bored and looking for some fun. Irritating tourists turned into something completely different. We took their picture and showed them the result, laughing loudly they jumped into the sea and started covering themselves with the white sand. Take picture, take picture, they said. So much fun doesn't have to cost a thing.
We were at the Seychelles from the 1st to the 7th of June. During the day it was hot most of the time and at night it cooled down just enough and there was some rainfall. The water temperature was just right, not too warm and definitely not too cold. Unfortunately the rain did make the water a little troubled, so snorkeling was not a good option.
We found the temperatures during some days too hot to do anything other than swimming. The last few days were cloudy and much better to handle, according to one of the hotel owners this was much more suitable for this time of the year. It should have been less hot because it's the beginning of the monsoon.
Currency: 10 Seychellan Rupee = € 0.66
In total we've spend:
Transportation: € 263.00 (incl. 2 domestic flights)
Accommodations: € 337.25
Food and drinks: € 191.00
Entrance fee: € 0.00
Other: € 6.50 (internet)
That brings us to a daily budget of: € 132.95 for two persons including everything except international flights.
Yes, the Seychelles are as expensive as their reputation. There are a lot of reasonably 'cheap' guesthouses with self catering facilities but that won't help if there is no vegetables or meat available in the supermarkets. Milk and coffee is sold as instant powder and only dry products like rice and pasta are abundantly available. We ate things like pizza and streetfood, which was cheap and much more fun too.
Here are some examples of products and prices in euro:
6 small plain sandwiches in supermarket: € 2.50
Pizza in lunchroom: € 15.00
Coffee latte in a lunchroom: € 4.25
Bottle of wine in a restaurant: € 23.00
Beer in a cheap cafe: € 4.50
Bottle of beer (280 ml) supermarket: € 3.00
Streetfood take away roti: € 7.00
Coca Cola in restaurant: € 3.50
Simple main course in restaurant: € 25.00
Liter gasoline: € 1.80
Simcard with 1 Gb data: € 25.00