From Denpasar airport we fly to Labuan Bajo on the island Flores with Wings Air. The tickets were quite pricey but it beats the long way you'll have to travel over land and/or sea which was our initial plan. We'll probably regret it big time but it is incredibly hot so we'll only fly to Labuan Bajo to do some diving before we fly back to Bali. Unfortunately we are unable to fully enjoy the islands Flores and Komodo National Park because of this hot weather.
So for now we only have a short version of our visit to this area…
Labuan Bajo is the gateway to visit the Komodo Islands. Here your find many dive centres and the harbour from where the public ferry departs to Pulau Rinca and Pulau Komodo.
Besides the beauty in our world, the underwater world around the Komodo Islands is supposed to be the number one divespot in Indonesia. So we are here to find out if that's true!
The religion on Flores is mostly Catholic but this doesn't mean there are no mosques, in fact we sleep right next to one… again.
La Bohème Bajo guesthouse is a slightly disappointing place but has a lot of potential.
Nice personnel, a great vibe in the communal area and a fantastic sunset every night. The food from the small restaurant is super, best pizza in Indonesia!
The building is unfinished and it doesn't look like they'll finish it in the next year. Around the building there's litter and construction waste. When we arrive we discover that our room doesn't have a private bathroom like it said on the booking site. The bathroom is one floor down and shared with three other rooms. The tiled stairs are slippery and have very high steps so for me this was not comfortable and quite scary even. The included breakfast was a bowl of do it yourself pancake batter and some old papaya in the fridge which we skipped.
And what's up with the Swedish guy hanging around. Friend of the owner he said, living there he said. Talking loud, gurgling and burping loud, shouting the FUCK all the time and calling the employees 'fucker'.
By the look on the other guests faces we were not the only ones shocked… more beer drinking, burping again, more swearing and then when a bottle of whiskey is opened we decide to go to bed early.
We paid for four nights but decided to check out one day earlier.
We want to dive the next day, so we need to make arrangements quickly. The manager of the guesthouse makes some calls and there is one dive center with two open spots. The others have no daytrips or full boats.
We walk towards Komodo Dive Center and get acquainted with the owner. We decide to go with them tomorrow for a three dive daytrip on a authentic looking wooden vessel. The group of ten gets divided into three with a guide for each team.
We dive in these sites on the north of Komodo: The Couldron, Chrystal Rock and Castle Rock. We see the most breathtaking corals and many colourful fish.
Giant turtles and a lot of black and white tip reef sharks up close. Big ones! Unfortunately we are unable to buy a case for our GoPro so we have no pictures of this breathtaking scenery. Ah well, it's forever in our memory. The diving in Komodo is truly incredible and we have had a fantastic day with a group of great people. We are so happy to have done this.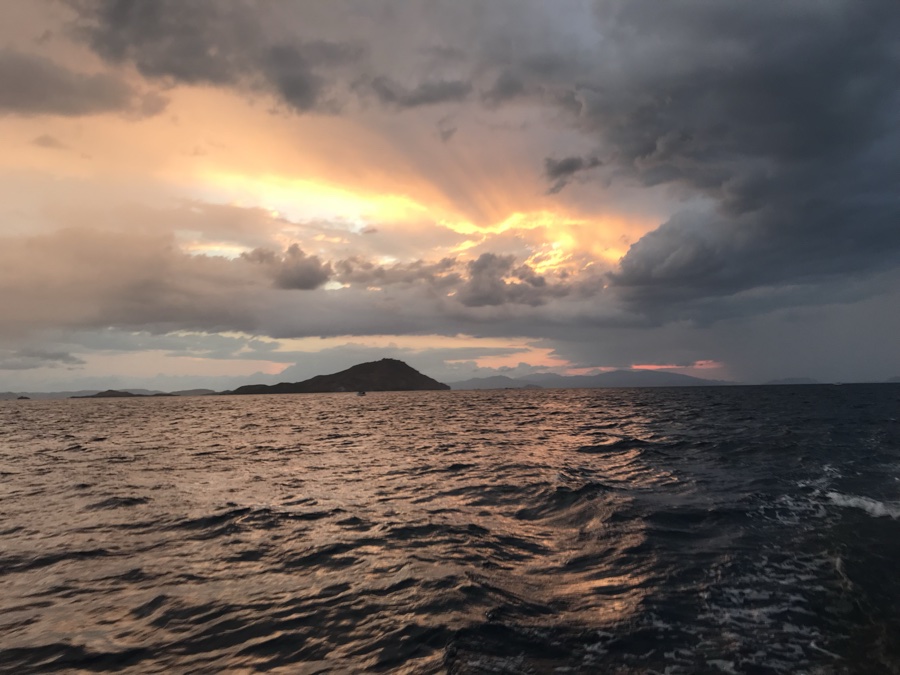 We ended up regretting the decision but we skipped going on land of the Komodo Islands because it was terribly hot during our stay. The islands around this time are dry and colorless and the lack of wind makes it hard to stay in the sun for too long. Temperatures of 35 to 40 degrees Centigrade were the main reason not to go for a hike there. We must go back one day 🙂
During our boat trip is was incredibly sunny and we even had heavy rainfall in the afternoon. More wind at sea and enough shade aboard so it was very doable.
Our costs in Labuan Bajo were quite low. Eventhough a cheap accommodation is hard to find we managed to book four nights with some discount. Unfortunately the guesthouse was a little disappointing so we only stayed three nights but paid for four.
In these 3 days in Labuan Bajo we've spend:
Transportation: € 4.50
Accommodations: € 40.00
Food and drinks: € 32.00
Entrance fees: € 0.00
Other: € 0.00
That brings us to a daily budget of: € 25.50 for two persons excluding flights to and from the island and diving activities.
We didn't have a great deal for the flight to Labuan Bajo and because we had other plans at first, we didn't book a return ticket. When we decided to go back to Bali the flights were terribly expensive. For two persons we ended up paying € 288.00 back and forth.
Diving
We booked one day tour with Komodo Dive Center. This was including a small breakfast, a lunch and three dives and full equipment. The prices at each dive center are the same and they offer the same package. They keep a maximum bottom time of 60 minutes and small groups of 3-4 persons. We paid Rp1,500,000 (€ 95.00) per person for this day. The Komodo National Park marine fee was not included and costs you another Rp150,000 (€ 9.50).
You only pay this National Park fee when you actually go to one of the Komodo islands or dive/snorkel in the area.