Ecuador, oh you small country on the equator. You're full of surprises aren't you… Gorgeous beaches on the west coast to impressive Amazonian rainforests in the east. Lying in between its big neighbors Colombia and Peru, Ecuador has nothing to be ashamed of.
Breathtaking nature, authentic villages and a beautiful culture and we got to enjoy it extra, because after traveling from north to south in three weeks we set course to the coast where we will work as volunteers for a month. With our bungalow on the beach in Puerto Cayo as a home base we explored the surrounding villages and of course the ocean!
From Bogotá we've take a flight to Quito with Wingo, a budget airline in Colombia. Our flight takes only two hours and is actually quite comfortable. Wingo is definitely not the worst budget airline.
Arriving close to Quito at the Mariscal Sucre International Airport we walk through customs without any trouble, nobody asks us for a outward ticket or proof of accommodation. Just some small talk, a stamp and we are in!
Outside of the terminal there are green public buses, we take the bus to the Rio Coca bus terminal and pay $2 in the bus.
We arrive after an hour and walk to another terminal just outside Rio Coco. The second bus to the historic center costs only $0.25 per person which we pay to enter the terminal. We walk all the way to the back and take bus E3, a triple long bus which is absolutely full. After about half an hour we are at the end of the line, Estación Marin Central which is close to our accommodation too.
A walk passed the beautiful colonial churches, through the colorful streets and passing nice little shops and cafes fills our long day. The Basilica del Voto is especially nice to visit, you can enter for a couple of bucks and from the tower you have a perfect view over the city!
The temperatures are excellent, around 22 degrees and in the sunshine it feels nice and warm. Time for a drink on a terrace.
The weather shows its best side, the sun is shining and the 20 degrees feel much warmer. The UV is very high here so we'll be sure to use sunscreen!
After an ascending ten minute walk we check in to Friends Hostal. The hostel has a lot of private rooms, it's quiet and it is situated on a higher point in the city so the view from the top floor rooms is the best in town!
Close to the hostel you can find the district La Ronda, an artistic area with heaps of ambiance and small galleries. During the day it's quiet and peaceful but at night restaurants and bars are open for happy times.
We can do a free city tour with a group but we decide to walk around on our own. In a free city tour they bring you to all the attractive spots but on the other hand that is where they all go… a free city tour isn't totally free either, the voluntary guide often depends on the tip. A tip of $5-10 is normal, depending on the length of the walk.
Most areas in the historic part of Quito are safe enough to explore on your own, as long as you don't walk around showing what you've got. Of course leave your passport and valuables in the hostel (locked in your backpack) and take only the money you need for the day. Just in case you do walk into someone with bad intentions…
After our adventures in the Galápagos we arrive with Tame at the new airport just outside of Quito. We don't want to go back to Quito for just a day because our next destination is Tena, on the edge of the Amazon. A direct bus from the airport to Tena only leaves once a day at 7 am and we arrive at 3 pm. So we decide to take the green airport bus to Tumbaco, spend the night there and take one of the many buses to Tena the next morning that comes from Quitumbe, in the south of Quito.
The airport bus stops in the centre of this unattractive dusty town, in front of the large Santa Maria supermarket. We can see people here are not used to tourists, because we get a lot of attention and smiling faces.
We've booked a room at Raiza.ec Hotel, it's a 1.5 kilometer walk from the busstop but it's very close to the office of Transporte Baños.
We buy two tickets to Tena for $7.50 per person for the next morning and relax on the amazing rooftop terrace of our hotel.
Our bus leaves at 10:30 from Quitumbe and will be here around 11:30. Not exactly on time, the bus arrives at 12 and we're on our way. The bus passes Pifo too, but we had no luck finding an accommodation there.
While the roads are generally very ok the journey is quite uncomfortable. Yelling children, crying stinky babies and violent bloody combat movies with volume on max. Above this the seat in front of us is pulled all the way back leaving us no legspace whatsoever. Unfortunately the guy in front of us is not able to be reasonable so we'll just have to cope for five hours.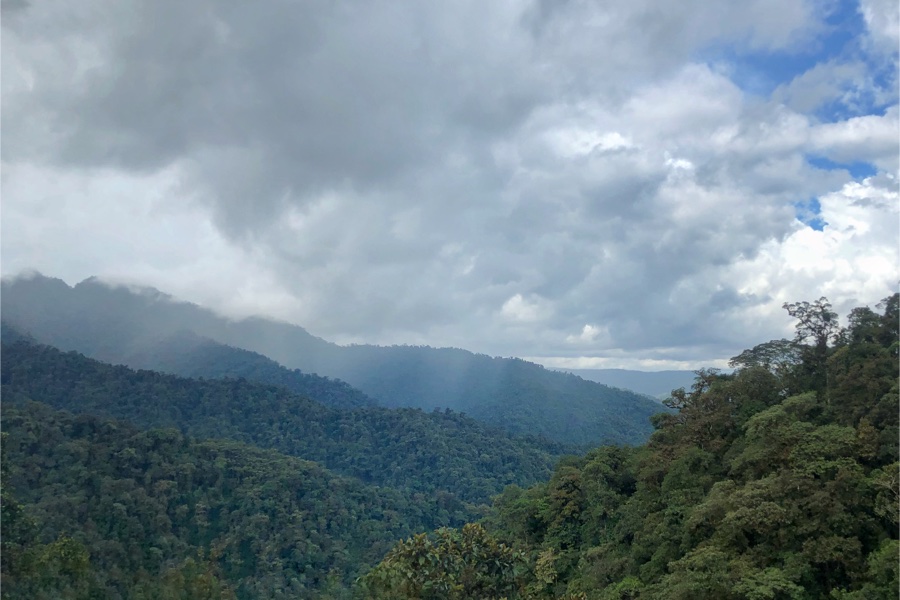 The drive from Quito to Tena is mostly descending so our ears are popping and the temperatures rise. After four hours of beautiful scenery we arrive in Tena. An hour sooner than we expected.
Tena is quite a large town, but not too attractive. The Terminal Terrestre de Tena is in the center of town, we do some grocery shopping at the supermarket and walk towards the office of Grand Selva tours where we'll be picked up by the owner of the jungle lodge we will stay in, Karin. The jungle lodge is about an hour drive and lies along the Napo river, one of the biggest rivers that flows into the Amazon. The lodge has a pool, a restaurant and no internet reception. Welcome to the rainforest!
The next morning we want to join a jungle hike with some other guests. We leave at nine right after breakfast and before we know it we are getting deeper and deeper into the rainforest. It starts raining but who cares, this is so cool! The trees are impressive and the path is barely there. Eventhough it's raining we see a lot and our guide Arturo shows us many things. Lots of interesting plants, Arturo knows exactly what plant is for which disease.
After a while we spot a dead groundworm, because of the rain it came up but was apparently killed by some animal just before we came. This worm is almost a meter tall and must be as thick as my wrist. WOW we are impressed. It's head has been bitten off but it's still moving… Arturo thinks it must have been a big snake or a monkey. Shit we missed that… what a creature!
We have to cross the river Napo, it's quite wild and we get wet up to our upper legs. An incredible experience… after four hours the rain has finally stopped and we can enjoy the sound of birds and the butterflies appearing.
We walk through the sucking mud and again we cross the river. After this six hour adventure we see the lodge appear, yes we made it!
Dinner at the lodge is not too expensive ($4.80 pp) and quite alright but we've brought some food of our own so tonight we will cook our own meal. A nice rice with vegetable dish and a beer from the lodge-restaurant 🙂
What a fantastic day, can't wait to see what tomorrow will bring.
There are a lot of birds around the lodge, the trees are quite high so the birds are hard to see but the sound alone is just perfect. Waking up to this singing and not to the sound of traffic or people talking too loud is amazing. We enjoy our time here and walk around the premises to look for other butterflies. We find different ones in all sizes and colors.
Roberto and Karin are very sweet and Roberto knows a lot about birds, insects, butterflies and trees. He grew up in this part of the Amazon so we love to listen to his stories.
We planned to do a night hike on our last night, but unfortunately it's raining so hard Roberto has to cancel the hike. Too bad…
The next day just before Karin brings us back to Tena, we see an awesome Rhinoceros Beetle at the lodge. It is huge!
In Tena we take the bus to Baños. There is a bus going that way every half hour or so, so we just go there and hop on the first one that comes along. We pay $5 per person for a three hour trip.
There is not a lot you can't do in Baños, paragliding, bungee jumping, zip lining, rock climbing… you can even swing back and forth on high altitude with the depth of the city below you.
What do we do? None of the above…
We've already done so much and we just can't do every awesome thing that comes along. The weather isn't very cooperative too, we seem to have a prescription to the rain…
After being shamelessly lazy for a few days we do a great hike just outside of Baños. From this very touristic town we follow the road to the north of Baños through the mountains. Local people greeting us along the way and the route giving us gorgeous views over the valley. Despite the rain we have a great, active day after all!
Baños has a nice atmosphere, the streets offer many restaurants and there are a few attractive colonial buildings, a mini botanical park
Reaching a low point in our travels, we just can't get ourselves to do any of the cool stuff. Rafting, bathing in the hot springs, check out the Tungurahua Volcano or visit one of more than 60 impressive waterfalls.
We've found ourselves in a passive and unmotivated state while we stayed in Baños for four days. I guess it is inescapable when you're traveling for such a long time.
The weather in Baños is quite unpredictable, you can start your day with a bright blue sky and end it with a cloudbreak or the other way around. Temperatures can be quite chilly, probably about 16 degrees centigrade.
Leaving Baños is as easy as getting there, many buses leave for many destinations. There is only one bus company that goes directly from Baños to Cuenca: Amazonas, it leaves from the bus station in the centre of town. We buy two tickets two days before we leave for the 8:45 bus, at this point we are the first passengers but when we leave the bus fills up entirely.
There is also an afternoon and a nightbus, but the views are supposed to be excellent so we'll take the morning bus. The tariff is $10 per person for this usually 7 hour during trip.
While we cannot ignore the Spanish dubbed Jean-Claude van Damme marathon that is loudly playing on the big screen we try to enjoy the spectacular views as much as possible. There are beautiful deep valleys and mountains with a lot to see. As the road zigzags through the mountains close to Nariz del Diablo, Devils Nose… we see the train tracks besides us so we are very okay with deciding not to do the popular and expensive train ride in this area.
The bus swings through the winding roads, we need to hold on tight because we're being swept from one side to another.
On the way we make a lot of stops, people get in and out of the bus. Tiny people in traditional Ecuadorian clothing with hats and babies tied to their back with a colorful scarf. They all smell really bad, a penetrating odor that doesn't go too well with being in a moving vehicle…
Next to us is a guy who looked familiar to us. Obviously he feels the same because after a while he says we dived together in French Polynesia. That is so weird!!! We have a great time chatting up and for a while we forget all about time. This makes our long trip a bit easier.
After 8 hours we arrive at the Terminal Terrestre close to the airport on the east side of Cuenca.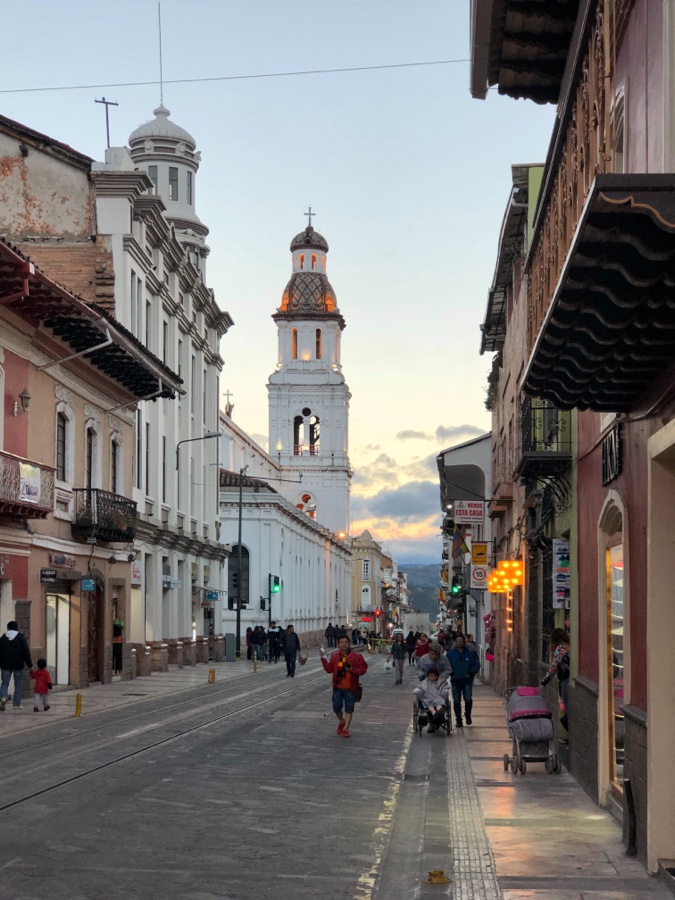 The Terminal de Terrestre on the east side of the city is about 2 kilometers walking distance from the center. We therefore take a taxi just outside the terminal. The taxi has a meter and we have to pay $2 to get to our hostel on the west of the city center.
We've booked two nights at Anicha Hostal, a beautifully decorated hostel with a young Argentinian owner Santos. The hostel has dorms and one double room and has a great vibe. Relaxed music all day but all is quiet at eleven. Love it!
The location is perfect, from here we explore this awesome UNESCO heritage city, its precious churches and colonial houses. Wherever we walk the streets are beautiful… Cuenca has a lot of great museums, small city parks and excavations of interesting ruins.
We've decided to stay another two days, because we love this city so much. In fact, we never want to leave… we could live here!
On the south east of the city there is El Paraíso Park, we follow the river towards the park where we enjoy the flowers and the peaceful ponds.
Mirador Turi is just outside the city, there is a bus from the riverside to Tres Puentes and from there it's only a short walk to the viewpoint. From the platform the view over the city is absolutely gorgeous, especially by sunset…
Just an hour by bus you can do a day trip to Cajas National Park, on the west of Cuenca. The park has many different hiking trails through the many lakes inside this beautiful piece of nature. There are lamas in the park too!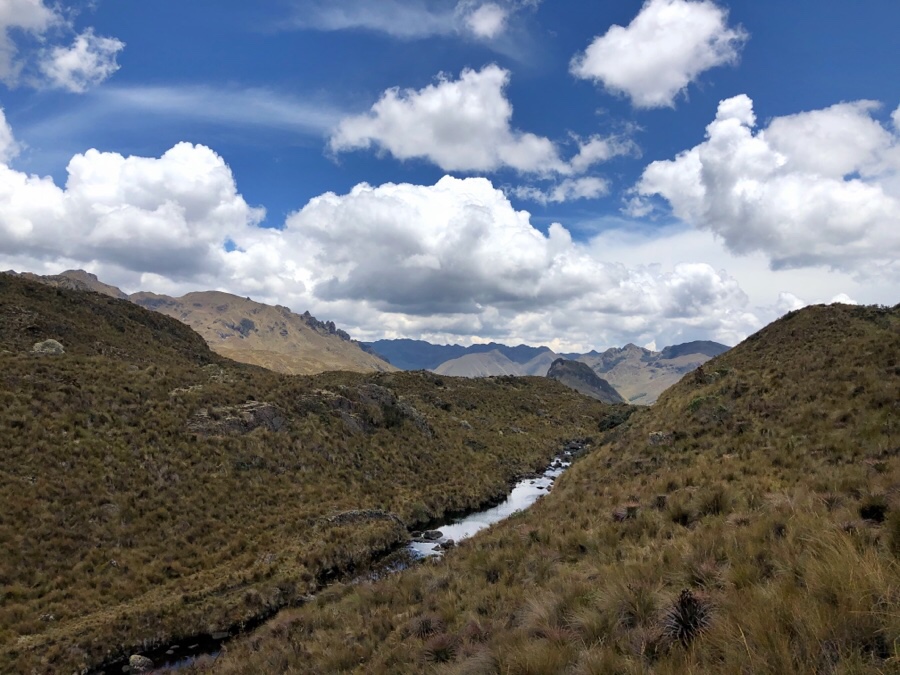 We are going back to Cuenca after our 7 week stay in Puerto Cayo.
From Montañita we've just missed the bus to Guayaquil and some caballeros tell us the bus that is there leaves for Santa Elena and from there we take the bus to Guayaquil. That is the quickest way for now. They say. Hmm, quick decision… ok let's go.
After 1.5 hour we reach Santa Elena, a big bus terminal where we immediately buy tickets towards Guayaquil inside and enter the bus which leaves after five minutes. Alright not too much time loss…
The trip to Guayaquil takes four hours but seems a lot longer. The first half is like sitting in a refrigerator and then they decide to turn off the air conditioning entirely which turns the bus into a sauna. We can't even enjoy the beautiful Cajas National Park as we drive through it. Ah well, we are going there tomorrow anyway!
From the terminal we take a taxi into town and pay the driver two dollars when we get to Hostal Anisha. We've been here before and absolutely loved it so we are back! The owner Santos is happy to see us again and gives us the same room.
Again we enjoy being in Cuenca, the beautiful streets and the lively square. 
During our second stay in Cuenca, after our workaway experience, we finally visit the breathtaking Cajas National Park. The park is not very popular and honestly we can't understand why, it is absolutely beautiful!
From the terminal terrestre we take a bus towards Guayaquil (any bus that way is fine) and pay the driver $2 per person and ask to drop us off at El Refugio, where the official entrance is. After about an hour the bus stops in front of the entrance and we register at the office. The entrance to the park is free and there are a few hikes to choose from. It is even allowed to camp in the park!
The park is at 4000 meter altitude so it shouldn't be underestimated. Because we haven't been in high grounds for more than a day we choose a relatively easy hike of 3.5 hours around Laguna Toreadora. Absolutely recommended!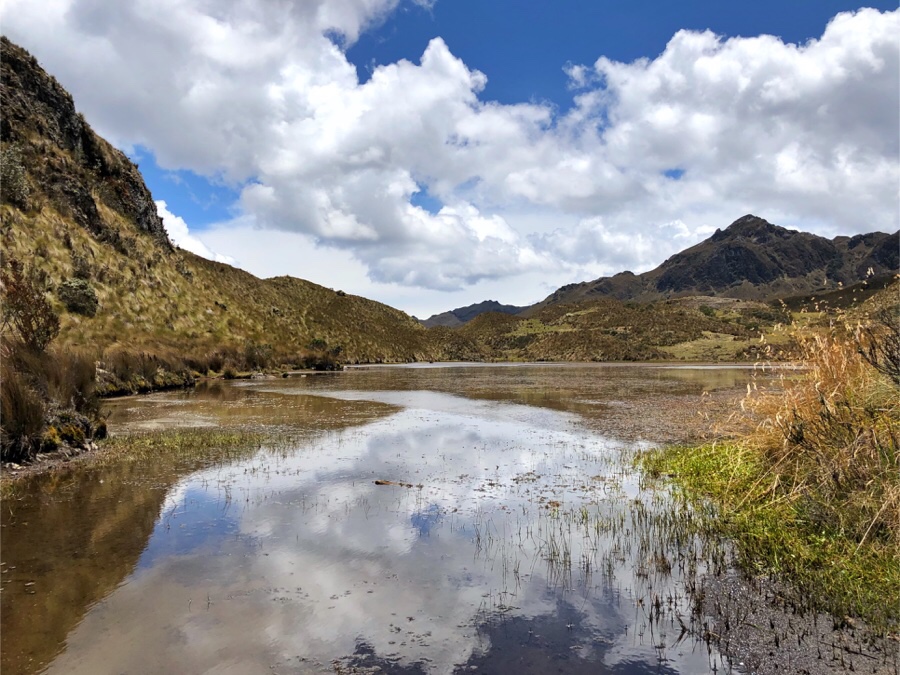 When you go hiking in Cajas or any other park at this altitude there are a few things to keep in mind:
Take it slow, the altitude can wear you out very quickly, why not take it slow and enjoy the surroundings to the fullest. Others will always be quicker, take your own pass.
Use sunscreen, at this altitude the UV rates are very high. Unless you want to return with a healthy looking red face, wear sunscreen at least factor 30 and a hat.
Take warm clothes, although it might seen nice and warm and it can feel very comfortable walking in the sun, enjoying the fresh breeze, sweating like a pig. In the afternoon when the clouds come in the temperatures can drop 20 degrees and while your muscles are cooling down you'll be an ice cube before you know it 😉
Hydrate, a bit of sun, a slight breeze, not too hot, what's the problem? You don't notice it but your body loses fluids very rapidly in this lovely weather. The altitude itself can give you a headache, in combination with dehydration this can be very dangerous. A liter per person per 2 hours should be the minimum.
Bring food, for energy of course and besides, what is better than enjoying a short break once in a while to look around and take a small bite before continuing your hike.
From Cuenca to Montañita and Olon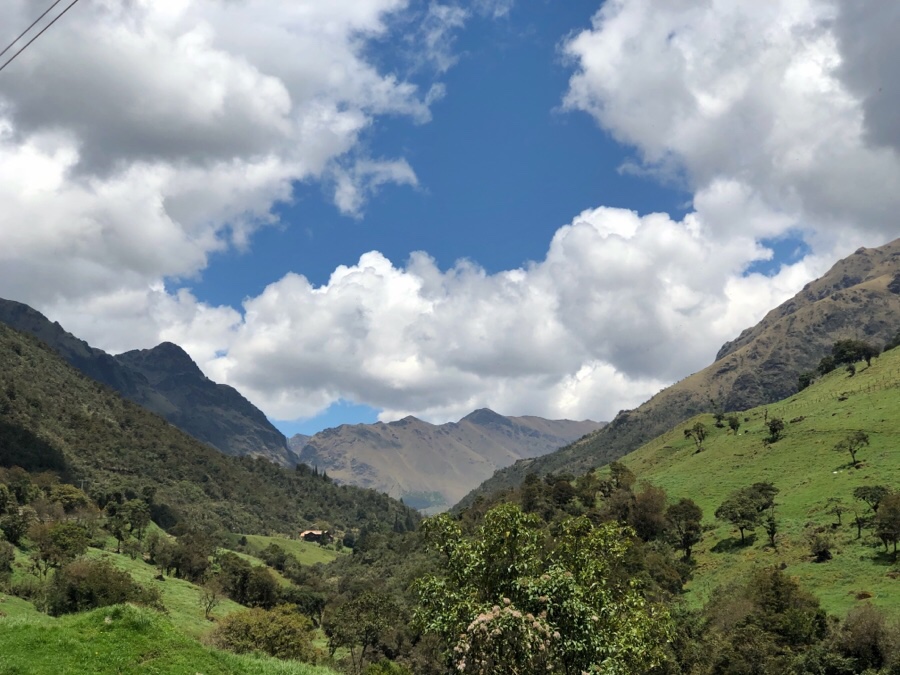 We have to keep moving because we are expected in Puerto Cayo on the coast in just one week. So after four days we take the taxi to the Terminal de Terrestre and there we take one of the busses to Guayaquil. There are different bus companies that drive this route but we choose Alianza which is one of the better ones and leaves every hour. A ticket costs $8 per person and the trip takes 4 hours. The bus is very luxurious and has of course a bad quality combat movie on to entertain you Ecuadorian style. Never a dull moment in the bus… We pass some incredible parts of Ecuadorian nature and we can even see a lama walking around… this is heaven!
In the Terminal de Guayaquil we look for another bus which leaves towards Montañita and Olon. The Terminal is very big and we find the company Libertad Peninsular on the top (2) floor. They leave every hour and drive via Montañita to Olon in 3.5 hours for $5.75 per person. 
The journey is a bit boring, the bus has large windows so we can enjoy the scenery to the fullest but unfortunately there isn't much to see. Bold, flat and dry landscaping… 
As soon as we reach the coast things change, there is the ocean on one side and a green hilly area on the other. Nice!
We are passing small villages where concrete self built houses look like they won't be finished in the next decade. Poverty all over the place. When we enter Montañita it's clearly as touristic as we thought. The people getting off here are immediately addressed by representatives of hostels. The town looks quite nice from what we can see. After our voluntary work adventure we will check out Montañita more thorroughly!
It takes about an hour to get to Montañita and Olon is only five minutes further. We get off at the only bus stop and are greeted by the local dogs. They walk us to our hotel just ten minutes from the bus.
La Mariposa is a fantastic looking hotel with a nice garden and we even see a hummingbird when we arrive! Weehoo! It looks like we are the only guests and the peacefulness here is to die for. No loud noise, no music… just tranquility. We eat on the deserted beach at one of the nice restaurants and at Bululu, great place, magic food!
We walk in one minute to the beach… it looks great! A wide flat beach with brown sand and colorful cobble stones. We walk along the shore and let the water kiss our feet. This is just what the doctor ordered…
A dead turtle attracts our attention, it is just laying there in the sand and we are not the only ones who are shocked.
As we walk on, the soft breeze blows our hair back and forth. We collect some stones and check out the locals on the beach hauling in their fish nets.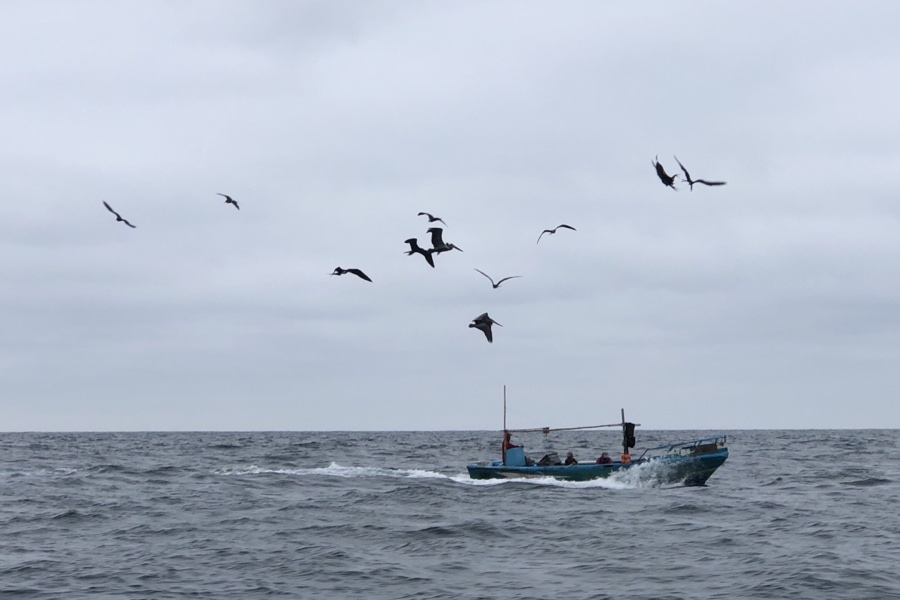 It's been four days since we've arrived in Olon, we want to do a whale watching tour in Puerto López before we start our voluntary work in Puerto Cayo and we still have to days left so we check out of our hotel and walk to the main road. The green bus goes to Puerto Lopez and Jipijapa and is supposed to pass every twenty minutes.
The scenery is breathtaking, it's unexpectedly green here. And with one eye on the mountains and the other one on the ocean we even spot what looks like a whale in the distance! Wooooh!
On our way from Puerto Cayo back to Cuenca we stay in Montañita. We skipped it first thinking it was too touristy but now that we're here we are so glad with our choice. We've booked the fantastic Kundalini hostel on the beach. Totally zen and the breakfast is the best we've had in months.
Kundalini is a little out of town which is excellent because the loud music reaches a long way. From our hostel we walk over the beach to town in five minutes.
It has been raining the last few days and the streets are dirty and muddy. Strangely the beach is not wet and muddy at all so we spend a lot of our time on the large and Long Beach of Montañita.
The town has a lot of bars and restaurants and the beach is excellent to learn how to surf. The waves are generally very calm and there are surf schools with matching dreadlocked surf dudes. The smell of something different than tobacco and what's better than drinking a beer on the beach with a campfire and live guitar music.
We absolutely love Montañita and definitely our hostel with silent nights and comfy beds.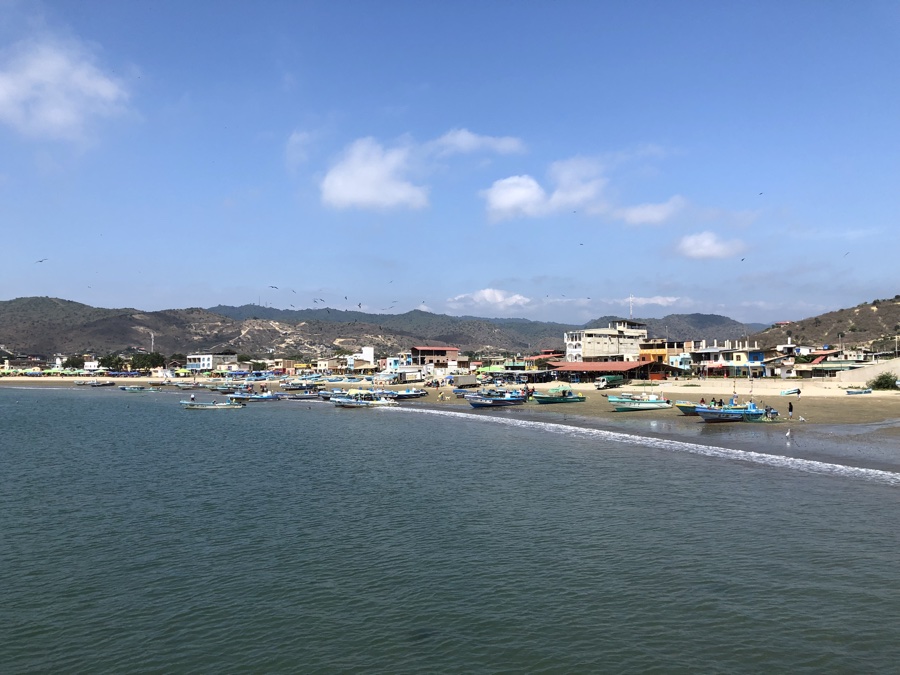 Puerto López is a town you could call authentic. It's got old houses and friendly people, not too many tourists and a nice vibe… but it's also incredibly dirty. Stinky streets with undefinable puddles of yuck and filthy beaches with garbage all over the place.
We are just here to see whales, so after we arrive at our fantastic apartment Monte Libano we immediately go tour-hunting. We want to do a whale watching tour this afternoon because the weather is super sunny and we don't want to waste any more time. We want to see whales now!!
On internet we've found a company with money back guarantee and great reviews so we walk along the beach to the north end where the office of Palo Santo. There is a tour this afternoon but it's organized by Polo tours. There are 11 people on the list for today so we can be sure they will go. The costs are $26 per person, which is too much. Average costs are $20.
The boat of Polo Tours is waiting for us at the pier and so is the rest of the group which makes a total of 18 persons.
At 15:00 we're on our way, the boat stops at a huge rock formation where we can see Blue Footed Boobies. Yes! Finally we can see them quite close.
The sky is going grey on us so hopefully it won't rain… A few minutes later we move on and it doesn't take long before we spot some whales. An enormous one and a mother with her baby. She's showing off and baby tries to copy her moves. It's very hard to see where they are once they submerge but they come back up every few minutes. FINALLY WE SEE WHALES!!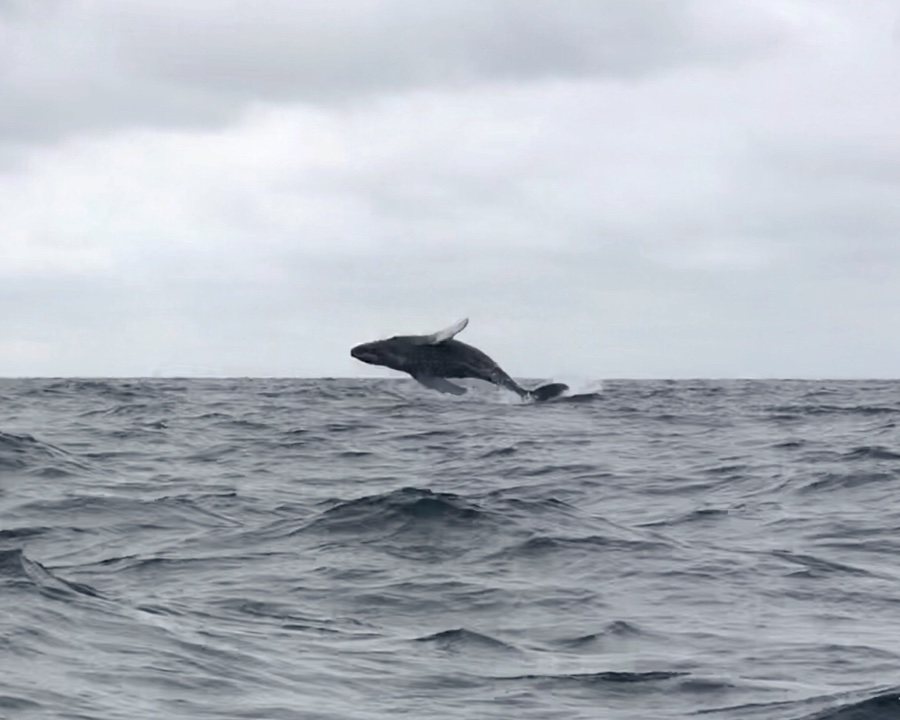 Whoah this is awesome! They are so big too, the adult must be about 15 meters long. Very impressive!
After 45 minutes floating around we continue our trip and move to an area where we can snorkel near Isla Salango. The weather has changed rapidly since we left and the water temperature doesn't tempt us to jump in. Nope, we're fine right here on the boat.
Not a lot of people go snorkeling and the few that do are back aboard after fifteen minutes.
We get a piece of watermelon and banaba cake as a snack and we are on our way back to Puerto López. So two hours after leaving the dock we are back at the pier… 
We make a complaint at the office and tell them we picked them because of their fantastic reviews. They feel terrible about our experience and promise us we can go on another tour tomorrow morning, for free! WHOAH!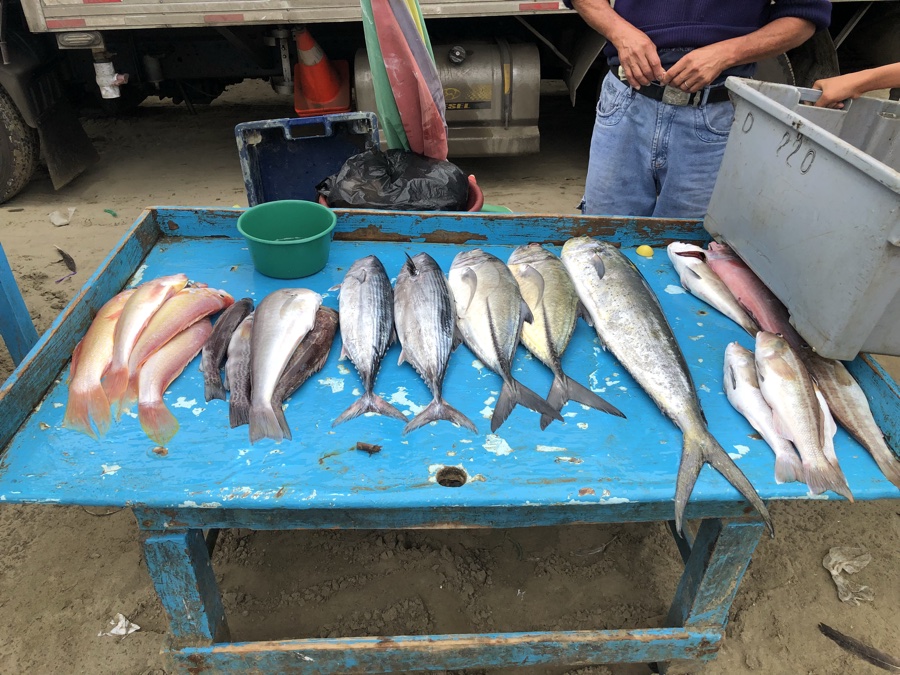 When we wake up it's a special day, yes we are going whale watching again but there is a big fiesta in town, the streets are filled with an enormous parade, people dancing, nice clothes but nobody's laughing. It's like a funeral… we've seen this before in Colombia, no cheering, no real fun, where are the happy faces?!
For us, whale watching 2.0 is happening today, so we're HAPPY HAPPY HAPPY! We have to be in the office of Palo Santo at 10:30, there a lady from another tour agency picks us up.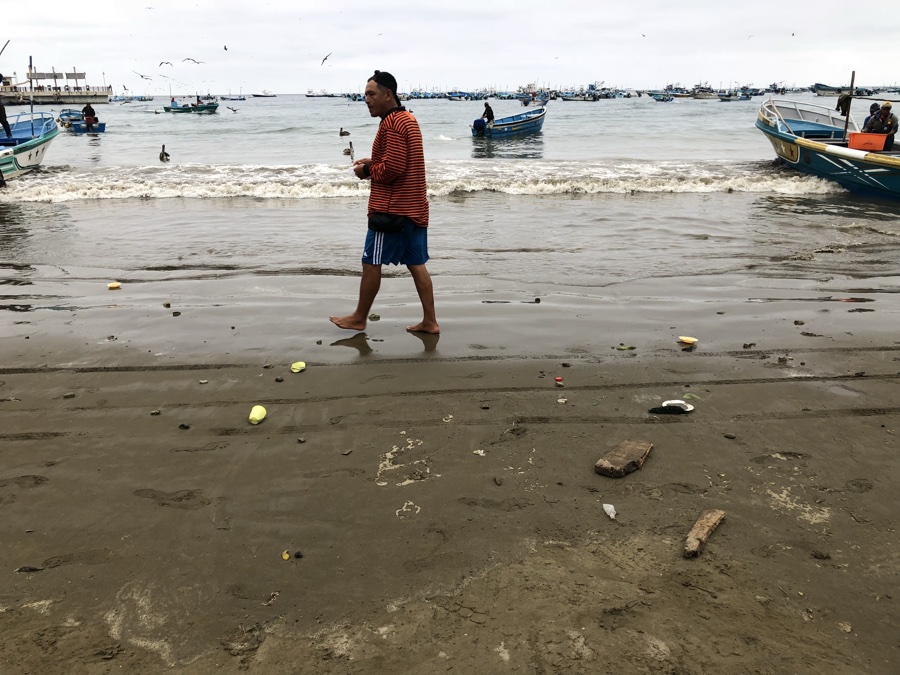 Nobody speaks English so we can only understand so much of what's going on. Our tour today is with Orca Tours, okay… another company again…
There is an ambassador from the United States present because of the festivities. He is going whale watching too and walks by greeting people like he's the president, thankfully he is not on our boat 😉
However… at least hís boat leaves on time, our boat was supposed to be leaving at 11 but there is a group of 5 that is running late. So we wait.
Pitter, the guy from the tour agency is filling the waiting time with a story and a nice questionnaire about whales. Quite entertaining, all in Spanish but we're doing well!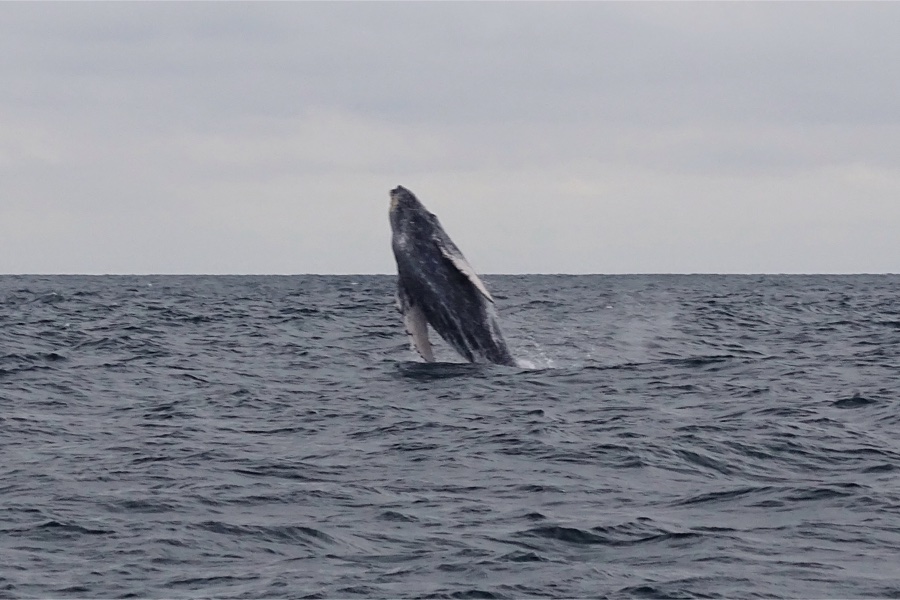 Finally after an hour the mission group enters the boat and at 12 we are ready to go. After half an hour we are at the whale spot just like yesterday. But this time it's different, we first see one, it swooshes by gliding through the water. Then another one with a baby… no there's another two with the baby! They are playing with each other and showing off by doing saltos. We see five whales together!
We cannot believe our eyes and Pitter and the captain are really doing their best to let us see as much as possible without disturbing the whales while they play. This is awesome!
So different from our experience yesterday. We spend one and a half hour watching whales continuously, while we sit on the roof of the boat.
The snorkeling part after that is a repetition of yesterday and even the spot with the Blue Footed Boobies is the same, but who cares… what we've seen today is extraordinary! After 3,5 hours we are back at the pier with a unforgettable new memory.
While we stay in Puerto Cayo we go for one more whale watching tour in Puerto Lopez. This is our chance, because the season in almost over… The best time to see whales here is between July and September and on this last week of September we expect to fulfill our dream one last time.
This time we book a tour with Spondylus and pay $18 per person. Wow we really overpaid last time! The tour is well arranged and again we get a talk from a 'ranger'about whales and the environment.
We are in luck, again, because a group of six whales swim side by side alongside our boat for a long time. It is magical! No jumps this time, just silence and this incredible sight…
Puerto Cayo - Voluntary work
In Puerto López we take the bus in the main road to Jipijapa, it stops in Puerto Cayo at the 'bus terminal' along the main roads. Here there are taxis and tuktuks waiting. We have a tuktuk take us to Casa Anna where we will be volunteering for the next month.
Anna and Steve are from Canada and run a small holiday home property by the beach. Our room is quite large and even better, the communal kitchen has a view over the ocean!
Puerto Cayo is a small village with a few nice restaurants and bars on or by the beach. A great place for inexperienced surfers and excellent for nice beach walks. There is a firm wind but the waves aren't too high because the beach is quite flat.
The long beach is perfect for a walk, you'll find the most beautiful colored stones and shells. You might even see whales from this beach, as we've been lucky enough to spot them a few times in the distance.
The village of Puerto Cayo is very authentic and is a lot cleaner than Puerto López. There are some small 'all you need' shops and a main square.
At the terminal de Terrestre we look for a bus to Machala. We need to cross the border and go to Piura in Peru.
From what we've heard there are no direct day buses from Cuenca to Piura and we don't want to take the night bus so we have a stop in Machala.
At the terminal we find a bus company Pullman at desk number 15. They leave to Machala in 15 minutes but when we get to the desk we also see there is a daily bus to Piura that leaves at 7 am. Shit. Missed opportunity.
We decide to go to Machala anyway and take that same bus of Pullman there tomorrow morning. The lady says it leaves at about 10:30 and there is a office in the Machala bus terminal.
We need to register our names and buy a ticket of $4.50 pp to Machala we enter the bus. It's not the most luxurious but definitely very comfortable. We receive a ticket for our luggage too. There are only three other people in the bus but along the way the bus totally fills up.
The ride to Machala takes about four hours and is the most diverse trip we've ever had. It leads us through Alpe-like hills with grazing black and white cows, huge rocky mountains decorated with different cacti, wild lush vegetation, misty rain forest filled with fruit trees… we pass numerous small towns, where men walk around with a machete as if it is their third arm. We are the only gringo's and we are greeted everywhere along the way.
The left side is obviously the best place to spot all this beauty, unfortunately this was not where we sat. This trip between Cuenca and Machala is definitely one of the most beautiful routes ever!
The last half hour we drive only though enormous never ending banana plantations. Machala is the banana capital of the world, their largest yearly export ensures that countries in all corners of the world are provided with the most delicious bananas.
We arrive at the terminal de Terrestre just outside the city. Machala is quite big and not very attractive but it's got everything you need. Except for nice bars and restaurants, there aren't any. Or at least nothing worth mentioning.
At the terminal de Terrestre in Machala we check which buses go to Piura, but only Cifa International has a bus going that way. What happened to Pullman?? Nope, we can't buy tickets for this bus coming from Cuenca going to Piura, should have done that in Cuenca. Grr…
So, we buy two tickets to Piura with Cifa for $15 per person. The bus will leave tomorrow morning at 10:30. Manageable, we can sleep in 😉
There are many buses going to the center for only $0.30 per person. Machala obviously isn't very popular with tourists because people smile at us as if to say 'finally we get some tourists here!'. When we ask someone a question within no time there are a few people surrounding us trying to help too.
Machala to Mancora/Piura, Peru
At 10 am we arrive at the terminal de Terrestre in Machala. Our 10:30 bus to Piura comes from Guayaquil and is of course late. The lady at the terminal who arranges the international buses is nice company while we wait. She speaks some English and wants to know all about our trip. Before we know it an hour has passed and our bus has arrived. We are the only ones to pick up so after five minutes we are on the road. The bus is not very luxurious but quite ok. It's only an hours drive to the border through banana plantations and military grounds. When we arrive at the border we receive instructions by the bus assistant in Spanish which we cannot understand. A customs officer enters the bus and asks who entered the bus in Machala. While the bus assistant (whom we'll call bus-guy) signals everybody from behind the officer, everybody raises their hand. Everybody entered the bus in Machala. What? Is? Going? On?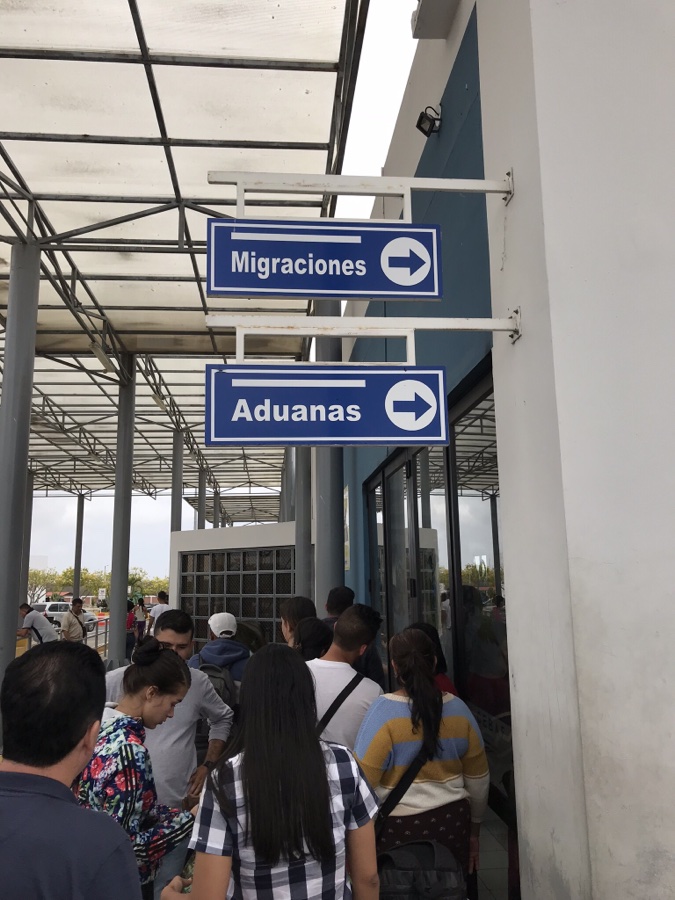 After a thorough luggage check we move on to the next stage. We get divided into four groups. Jos and I are in group 1. When we exit the bus we have to leave our big luggage behind and only take our small carry on. We've put all our valuables in our carry on because we've heard things tend to go missing while waiting at the border. Great.
The area between the two borders is full of people. It's total chaos. Those are the Venezuelans, they are waiting here because they can't enter the country, says a girl in our group. They have fled their country and want to go to Lima where they can find a job and hopefully a better life. We see a lot of people with their luggage and using blankets at a tent. Some have been here for weeks. This is so sad…
We are the only gringos so the bus-guy accompanies us to the office where we get an exit stamp for Ecuador. We wait in a short line and when we are up, the officer says our 90-visa will expire tomorrow. Ehmm… oh we've forgotten all about our visa, that is so weird! Phew, close call then.
After five minutes we are back outside where the bus-guy is still waiting for us.
Now, the bus-guy says in simple Spanish, now you go to the Peruvian border, get an entrance stamp and return here. Okidoki.
We walk 500 meters to the Peruvian customs office where we have to wait in line. The line just reaches outside the building and within 20 minutes we can enter the building. We stand in our line, in a row of about 40 people. Right, this could take an hour or so… two hours later we've reached the next level and wait at the customs counter while the officer takes our picture and fingerprints. He enters some information in his system and browses through my passport looking at my collected stamps. Then some more typing. Pfff I am so tense… and then CLACK, a stamp. Yeah!
Now Jos, same story, no problem. CLACK! Easy. No questions, no onward ticket, just a stamp with a 90 day visa.
We hurry back to the bus and our backpacks. Bus is still here, bags too, but where is everybody? After waiting for an hour group 2 comes back. Now we wait for group 3 and 4, says the bus-guy. And so we wait, and wait… waiting…
Four hours later the people of the last groups return one by one. Sad faces. Obviously been crying. They won't join us to Peru. They are Venezuelan refugees and didn't get their visa. They take their stuff from the bus to join the enormous group of others outside and get ready for a long and patient wait for a permit to enter Peru.
We had no idea…
After waiting at the border for seven hours we finally continue our trip to Piura in a half empty bus. This is so sad.
With the border crossing behind us, we think we've had it all, but no… there is another safety check point. Police search the bus with flashlights, probably for drugs. After having driven for another half hour the bus stops and picks up a big group of Venezuelans, with their baby's and arms full of pillows and blankets. They look exhausted and pale. This bus, these people. It's so impressive, are we part of an attempt to help people towards a better life?
The roads in Peru are evil, bumpy and shaky and it seems to take forever just to get to Mancora, very tempted to just get out and stay here. Mancora looks nice, there are great looking bars but they're all empty. Hmm, low season.
Ugh, we have a flight to Cusco tomorrow so we need to stay strong!
14 hours after leaving Machala we arrive in Piura. A hellish ride and not a great way to continue our adventure in a new country but what an impressive experience this was.
Above all the beauty we've seen, our stay in Ecuador thought us one thing, Ecuadorians are incredibly helpful honest, hard working and interested, we actually can't understand why people would skip such an amazing country!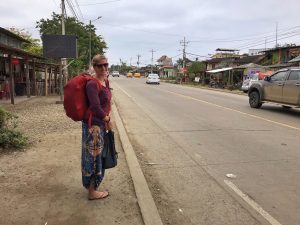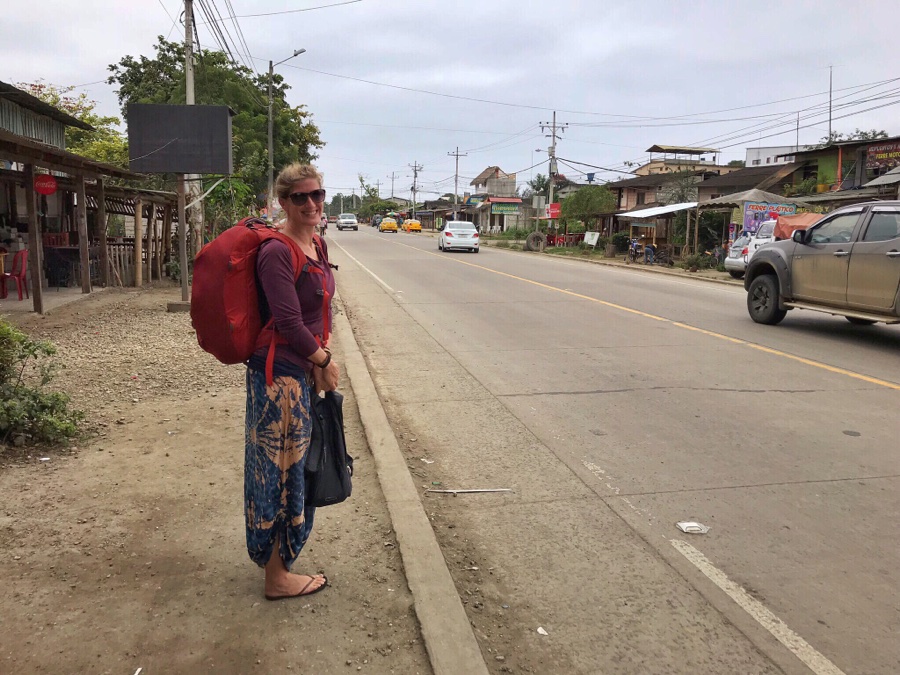 Traveling through Ecuador isn't too hard. The distances are relatively short and the roads generally aren't too bad. Eventhough the train tracks are almost all out of use or too expensive, the network of buses is quite extensive and very affordable. From our experience the bus prices are honest and we gringos pay the same price as locals. We've never had to pay extra for our luggage and always got a tag when you need to put your luggage in the special compartment underneath the bus.
There are many bus companies that have routes throughout the country and for the shorter distances there are tuktuks or taxis. 
Usually inside smaller towns a taxi or tuktuk ride costs a Dollar. Going from one town to another by bus doesn't have to cost much more. In our opinion bus trips during the day are quite comfortable, easy and safe. We never take a nightbus.
We don't have examples of specific bus companies because we've tried many and didn't experience any real bad ones. 
Currency: 1 US Dollar = € 0.88
In these 20 days of traveling through Ecuador we've spend:
Transportation: € 81.00
Accommodations: € 301.00
Food and drinks: € 359.00
Entrance fees: € 80.00 (jungle and whale tour)
Other: € 26.00 (mostly internet)
That brings us to a daily budget of: € 42.35 for two persons excluding international flights and excluding our stay during our voluntary work period. We've done a hike in the jungle (€17 pp) and a whale watching tour (€22 pp), which we both included in our daily budget.
In Ecuador we have slept in hostels and had a double room with a private bathroom everywhere. We've eaten out on some days and we've cooked on other days. We've have made our own breakfast and lunch.
Here are some examples of products and prices in Euro and US Dollar:
White bun in bakery: € 0.25 / $ 0.30
Coffee latte in lunchroom: € 1.35 / $ 1.50
Beer (550 ml) in cafe: € 1.75 / $ 2.00
Beer (550 ml) supermarket: € 1.00 / $ 1.25
Liter milk in supermarket: € 0.75 / $ 0.90
Meal in restaurant: from € 4.50 / $ 5.00
Meal on the street: from € 2 / $ 2.25
Simcard with 5 gb internet: € 12.85 / $ 15.00