After a fantastic month along the Eastcoast we decide to follow our heart and move land inward. The outback is calling us! Absolutely a whole different side of Australia that definitely did not disappoint us… 
From Townsville we follow Flinders Highway to Mount Isa near the border with Northern Territory. In the Queensland Outback we find some real gems and a lot of authenticity. Incredibly friendly people, good roads and an inspiring vibe!
Our incredibly spontaneous idea to leave the coastline starts in Charters Towers. When we arrive in town it looks like we are fifty years back in time. The we sky full of birds makes the picture complete. They fly real strange those birds, wait… what? It's flying foxes! Lots of them. Whoah wicked good start!
We stop at a camp store to refill our gas tank but forget to ask for the price. $ 20.00 for a 4.5 liter tank. Rip off.
There is a Woolworths supermarket where we do some groceries for the next week.
Rice, pasta, tomato sauce, a can of beans, flour, weetbix and milk. Anything we can keep uncooled is fine.
Tonight we'll stay at Charters Towers tourist park. The owner checks us in with a smile while her husband shows us to our spot without saying anything.
The campsite is open and unattractive. There is not much shade but it'll do for a night. The toilets are very clean but the open kitchen it not.
In Charters Towers there is a nice trail up the hill where you can find some remains of a mine from World War II. Aussies are very proud of their historic highlights which are almost all about WW II.
Something lighter can be found in the The Miners Cottage museum of cool junk, entry $ 5.00.
We prepare a fresh salad for dinner and enjoy the peace and quiet until our neighbours come home. A chatty older couple that provide us with a mountain of unwanted advice. When they are finally through talking they call us, but this time it's for something completely different. They've spotted an Opossum on the roof of the toilet. This is so cool! We like our neighbour.
On his golfcart he's the man. The owner of the campsite drives by without greeting us and in the morning he feels the need to blow leaves right beside our breakfast table at 8 o'clock. Jerk. Time to leave!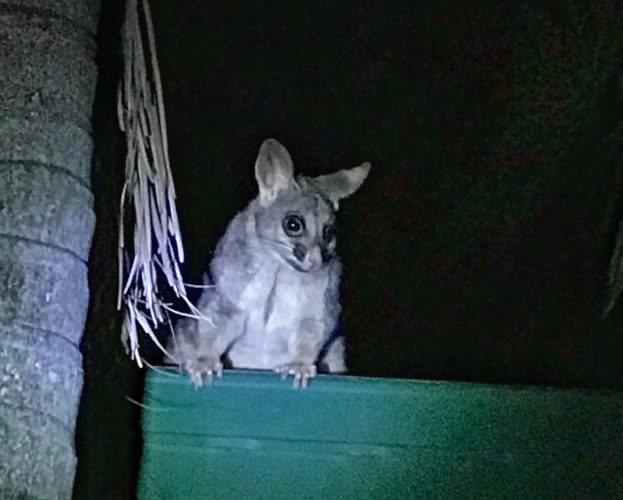 Huge road trains, trucks with three or even four wagons pass us by with high speed. With a total length of up to 55 meters they look monstrous. Our car rocks and the ground shakes.
We stop at a small petrol station in Pentland and fill up. Here the petrol price is still normal, the further into the outback the higher it gets. The Petrol station guy is such a sweetheart, he wants to know everything about us. He has never traveled further than Townsville so he has no idea what life is like abroad. 
Driving on, we pass White Mountains National Park between Pentland and Torrens Creek.
It looks really good, so we stop for a pause but decide not to go hiking, temperatures have already reached 36 degrees so we better keep it calm. As you might have expected there are white mountains everywhere in the wide impressive view from the rest area alongside the main road. 
After a few more kilometers we make a short stop in Prairie at the hotel/pub for a coffee. The place looks like an authentic countryside restaurant and is one big collection of old stuff.
The coffee tastes like nothing but we do need to pay $ 10.00 for two coffees with milk. Uncool. Totally.
Hughenden is a very small town, as part of the dinosaur triangle it's got a dinosaur museum, a life size cool dinosaur statue (free to check out) and more commercial stuff to attract tourists. Of course it would be fantastic to see the real remains of the dinosaurs that used to own this part of the land. Long ago when this area was 40 meters under sea level. But it's just so hot. Yaiks.
We spend tonight in Allen Terry caravan park. It's not as atmospheric as we hoped but very ok for one night. The toilets are clean and there's a big luxurious camp kitchen.
There's a weird scabby looking guy sitting in the kitchen. He has wounds on his arms and legs and he's talking to someone we can't see. His fat dog is lying on the table. Once every ten minutes he takes a can of beer from his stock the fridge. We've counted 11 so far.
There's a firm wind so we want to cook our meal in the camp kitchen whilst trying to ignore our scabby friend. He's watching the tv that's hanging above my head with maximum volume. Right, let's hurry. 
We decide to eat our meal at the car…
About 60 kilometres from Hughenden you can find Australia's "Little Grand Canyon" Porcupine Gorge, with it's towering sandstone cliffs. The 150 meter deep gorge has been carved by the Porcupine creek for hundreds of millions of years. About 25 kilometres of cool. Very impressive and immensely interesting place to visit.
There is a campsite just a few kilometres away from where you can follow a hiking trail to the other end of the gorge.
Dinosaur triangle town Richmond is small and unattractive. And hot.
We stay at the campsite there and find a fantastic spot without neighbours but with a free view over the outback. There's a artificial lake right next to the campsite but when we take a closer look we make the wise decision not to go swimming. The water looks brown and dirty and doesn't move, so we'll have to find another way to cool down, because man it's hot. We turn our esky into a cool foot bath and watch the cockatoos flying around the campsite, noisy but nice! There's no wind, did I tell you it's hot?
Tonight there's a towns Christmas party 30 meters away from our car, so we join them for a beer. Being Santa's biggest fan I feel so lucky to take a selfie with the guy. Yay! He's happy to do so, 'as long as there are no more kids!' he complains. Poor guy.
Back at the car our private show begins. The fireworks are right in front of our nose and are beautiful.
We spend the night outside watching the stars until it's cool enough to sleep.
In the middle of the night we are woken by some wallabies, hopping around our car. They are so cute!!
It's 9 am when we leave and it's already 35 degrees. A promise for another hot day. 
Majestic birds of prey hanging in the cloudless sky scanning the colourless dry grass for food. A bold and flat landscape that we follow for many kilometres with an unfortunate dead kangaroo by the side of the road every few minutes.
Just before Cloncurry the surroundings become greener and there are even some hills appearing on the horizon. An interesting view to break our boring trip.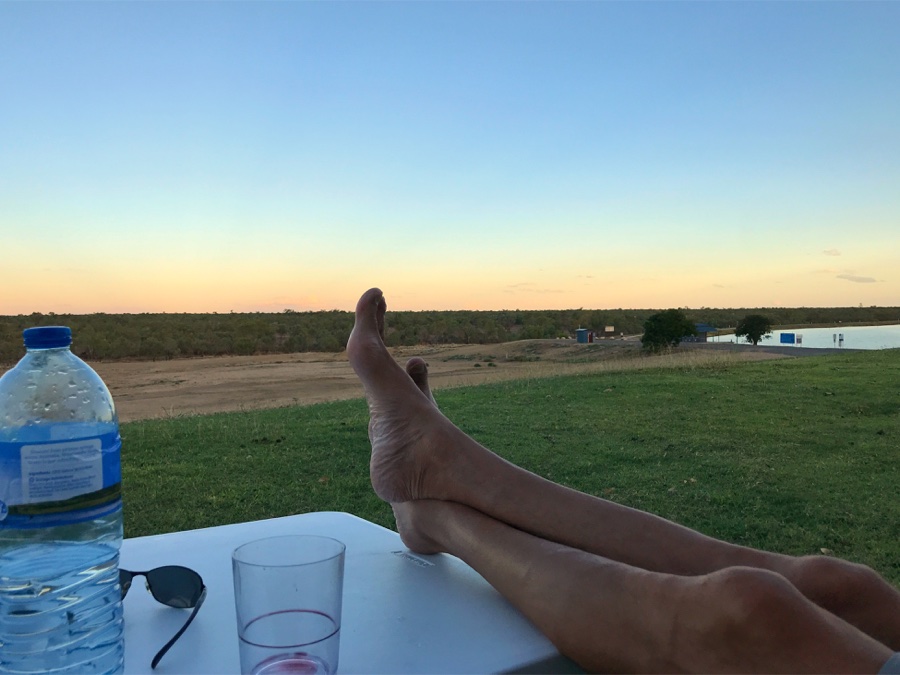 Between Cloncurry and Mount Isa there's an abandoned miners town with an impressive mine. Mary Kathleen Uranium mine has been closed for 35 years after many years of service but is still a very interesting spot. 
In 1983 the houses in the township were auctioned and when some of the sold houses were relocated into Cloncurry the town fell into decay and was abandoned not long after. All there is now in this ghost town is an empty terrain with the buildings foundations and a lot of cows. The mine itself is quite cool to see, a high dam with terraces and bright blue water from the minerals in the stone walls. The road from the highway is quite rough, we would not recommend it with a regular car or on a rainy day. 
Mount Isa is a big town with big supermarkets and even a Kmart. Oh ánd it's got a Patricia Street!
Mount Isa hasn't got a mountain like the name would have you expect, but it has got a mine. A big one, unfortunately you won't be able to visit it but what you can do is visit the underground hospital, a heritage from World War II.
We stay at Sunset Top tourist park, which is very ok. It offers a swimming pool, superclean toilets and showers and the camp kitchen has all we need. After a firm rain shower we hide in the kitchen and cook our meal for tonight. The rain has cooled down the air to a comfortable 23 degrees so it feels amazing outside and we sleep great in our car!
In the morning the temperatures are stil around 22 degrees so we take our time enjoying our breakfast.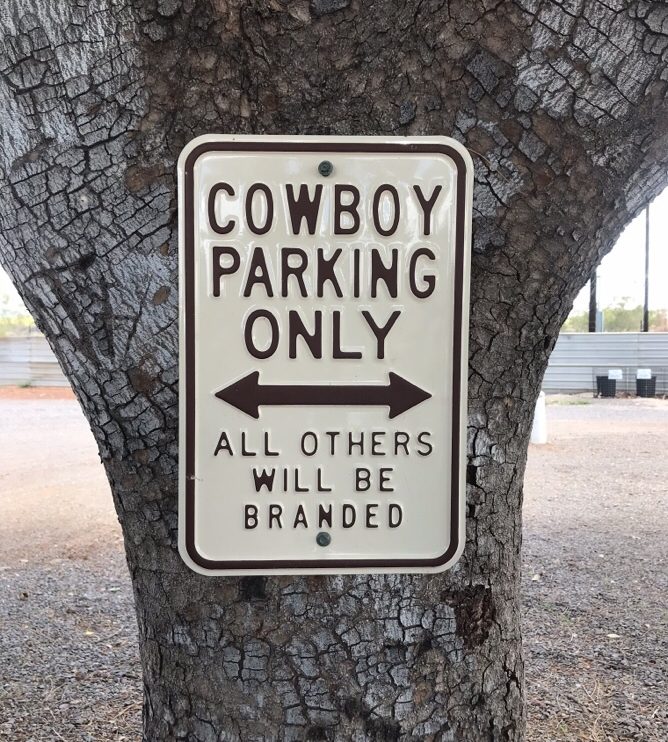 The border to Northern Territory
From Mount Isa we continue our journey with cool cloudy weather over Barkly Highway (a.k.a. route 66) and reach the border of Queensland to Northern Territory after 200 kilometres. The border right after Camooweal is nothing special, there is a big sign and that's it. Welcome to Northern Territory!