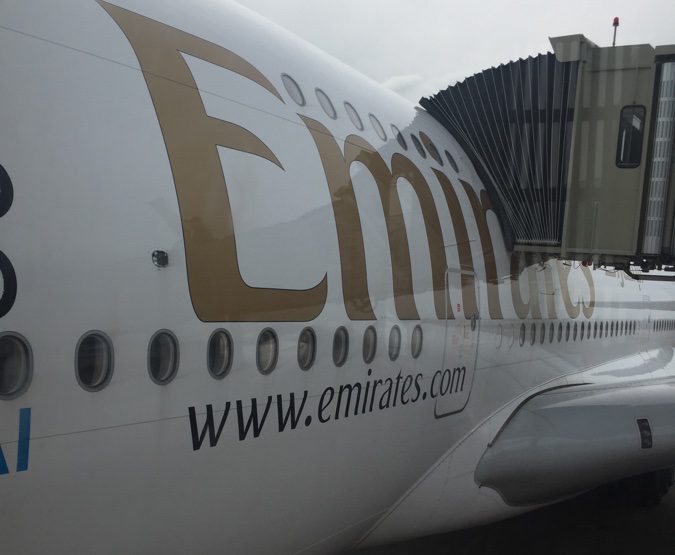 This time we booked our tickets with Emirates. With high expectations we undergo the flight, but unfortunately we notice quite quickly the seats are hard and not too comfortable for a long flight like ours. The entertainment system and the friendly stewardesses bring everything back in balance.
The plane, an A380-800 is immensely large and fully booked. Amazing how they manage to let the boarding go so smoothly.
Everybody's found his seat and just after the original time we fly to Dubai where we arrive just after midnight. The second flight, a smaller plane, leaves at 3 am local time to Cebu, the seats are the same but fortunately we manage to sleep almost the entire flight. 8 hours are over before we know it.
Round 3 pm we reach Cebu Airport on the island Mactan and we decide to look for an accommodation close by. We booked a room in Cebu but because of construction is could take a long time to get there.
At the airport we get money from the ATM and take a taxi to Lapu-Lapu, a small town nearby.
The new room we booked is in a pension of which we thought it was small, but this one has 55 rooms!
The pension is dated but it's clean and it only costs 30 Euros.
And as it is only for one night we'll survive. Tomorrow we fly to Palawan!
The receptionist tells us there will be a big party tonight, it's is the island Mactan's birthday and there will be bands and stages, DJ's, foodmarkets, they expect a huge crowd… but if live to see that?
After a short visit to the foodmarket we almost fall over and before we know it we wake up at midnight of the noise outside. It's very tempting to go out but then we'll never beat our jetlag. After a few hours we regret our decision because sleep is no longer in tha house. Wide awake we lay in bed listening to the music that has turned from dance into a rough hardrock with a bass that goes right through you.
When we finally do fall asleep around three we are in a coma until 10! Oeeehwaaaa… yawn-stretch… awake.
I believe it's 1-0 against the jetlag.
We try to shuffle in a disappointing breakfast on the roofterrace of the pension. This could have been something here, the view over the city, bridge and Cebu island is great.
After our breakfast we take a metertaxi back to the airport, Palawan here we come!
At the airport of Cebu we can find reasonable wifi, so let's check how we're going to get to our next destination, a guesthouse in the middle of a mangrove forest.
You need a lot of patience if you're flying with Cebu Pacific. After a long wait at the gate we finally board and after an hour waiting in the plane it appears there is one seat overbooked. The stewardesses ask for a volunteer to exit the plane in exchange for a free night and flight for the next day. One man stands up and leaves the plane while people are applauding loudly.
Overbooked, and they discover that an hour after boarding. Sigh… we're on our way!
The flight is quite relaxed. The stewardesses play a game of questions, you stick your hand in the air if you know the answer and win a little present.
Very entertaining.
After that of course there is the tax free products. The stewardesses have on ridiculous large sunglasses and an even bigger smile. This makes up for the delay.
The snacks and drinks are very affordable, a bottle of water or soda was €2,80 at the airport and here we pay about 80 cents.
When we arrive at Puerto Princesa airport we walk passed the shouting taxi drivers and take a tricycle, a sort of tuktuk, like the man sitting next to us in the plane said. To the busterminal, we tell him.
The tricycle driver asks us where we're going and says there's also a minivan leaving from the airport to Langogan. That's great, we think. But of course after 1,5 hours we feel really screwed, when we're finally on our way along with 12 other tourists.
When we arrive at the Mangrove resort, we are rewarded with a great view, good food and cold beer. We talk all night to the owner Claude and three French girls who study in Shanghai.
Our bungalow is very basic but is has everything we need. And with this beautiful green oasis surrounding us what more do you need?
The owner Claude has a lot of cats, 31 to be exact. They al have different colours and sizes, some limp and some miss their tail. There also is a domesticated 'wild' pig that listens to the name JuanJuan, he actually lives next door but he like to be here. He smells.
We will only stay here for two nights so we only have one whole day. We are going for a hike to a waterfall nearby, together with the French girls.
First we wait for the local bus. There are some local boys, with whom we have a little chat. Almost everyone speaks English because of the American colonial time.
They say the green RoRo bus will pass every ten minutes, but we've learned the hard way that time in the Philippines is not time as we know it, so it takes forever before the first bus arrives. It's very full so it doesn't even stop. Ugh…
Okay, we'll wait for the next one.
After half an hour the next rickety old bus stops, it's also full but with a little shoving we all fit in. The doors stay open while we drive quite quick. Jos is standing in the doorway so he has to hold on really tight.
Ten scary minutes later we're there. The chauffeur doesn't exactly know where he should stop but after consulting some other passengers we stop and see a trail starting near the road.
The trail is crossing water and climbing rocks and takes about an hour. Meanwhile the temperature has gone up to 34 degrees without a breath of wind.
We've only brought a litre of water per person so this is going to be a rough one.
When we take a small break we dip our feet in a small pool with nibbly fish. This feels weird…
All relaxed and cooled down we continue our hike to find a really nice lake with a somewhat disappointing waterfall.
We swim in the cool water for a few hours and talk to some locals who have also come here to cool down. They tell us about their country and the Dutch men that live here.
When we decide to go back to the resort we leave the girls behind. They'll stay a little longer.
The way back seems easier than we thought, although when we appear to be on the wrong track we get a little uncomfortable here in the middle of nowhere. But as soon as we get back on the right path we find the road within half an hour.
A minivan takes us to the next village for 20 pesos and without water we arrive at the Mangrove resort overheated and slightly dehydrated.
The rest of the day we just relax.
At the resort the food is delicious, fresh fish, different veggies and rice. Claude is very helpful and has many exciting tales about his years as a worldtraveller.
This will be our last night here so we enjoy it to the fullest.
Next morning after saying goodbye to Claude and the staff we walk to the bus-stop and after ten minutes we hop on a minivan with nice reggae music. It drives us to Roxas in less than an hour and we arrive at noon.
The boat to Modessa leaves at 14:30 so we'll have some time to fill.
Roxas is a nice little town, with shops and small restaurants. Other than that there's not much to do.
On this island there are not many places to pick up money, but we've heard they put an ATM here recently. Of course it doesn't work with our foreign bankcard but at the gas station we can withdraw money from our creditcard.
Today is incredibly hot and no wind at all, but we find a small restaurant with wifi and a free sea breeze, yeah!
Together with another Dutch couple we step in the boat and smoothly float to Modessa island. The water is getting clearer by the minute and the wind is a cool welcome.
Modessa island is like paradise on earth, WoW! White beaches, palm trees and unbelievably clear water. We have a cottage on the beach and three meals a day included. After a late lunch we explore the underwater world that surprises us with it's diversity of fish and corals.
The WiFi on Modessa is dramatic, but we don't care… our almost private beach is to die for and in our hammock we watch the sun sink into a perfect horizon. The sound of the waves and the brushing palmleaves make the dream complete.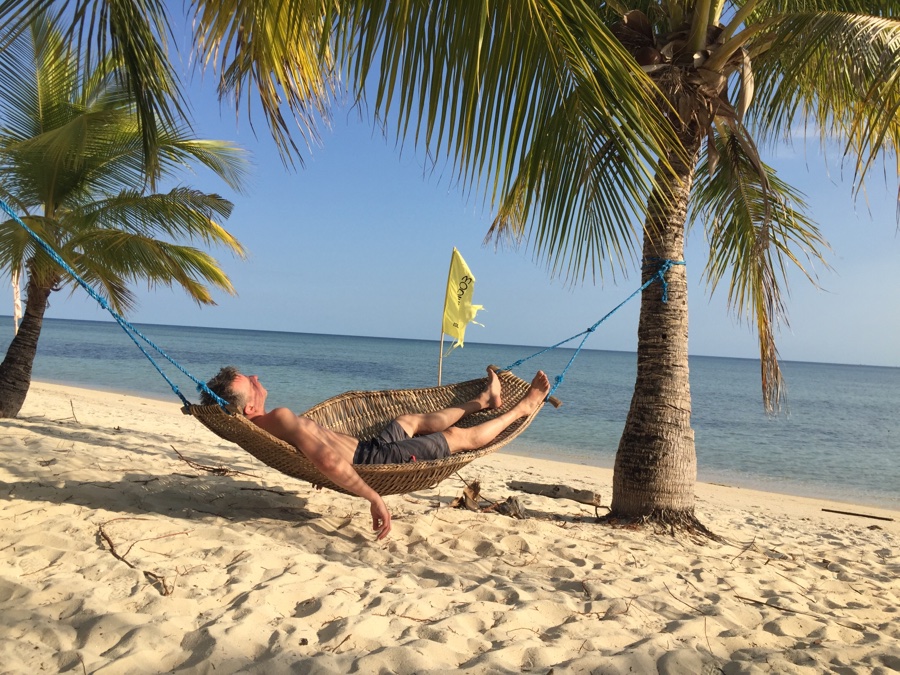 On the second day we are here, it is Jos his birthday. Due to lack of space it didn't bring him a present but I did bring some decoration flags, which I hang on our cottage before he woke up 🙂
When we go to the restaurant for dinner the ladies of the staff whisper they couldn't get a birthday cake in town. They went to Roxas asking for it but no luck.
lnstead they are preparing a special birthday meal, we get a special table by the sea with a white tablecloth and big red bows around the chairs.
After dinner we decide to sit inside for a while where we start talking to an Italian couple.
We talk about the Philippines, good food and great travel destinations. They are from Sicily and before we know it we connect on Facebook and get invited to visit them there.
Such a wonderful birthday evening!
In this area there are many blue spotted stingrays and rockfish, which they warned us for when we arrived. We keep our sandals on while we're swimming, also very useful when we want to put our feet down for a moment.
After an hour we see a stingray swim away just a meter from us while we sit in the shallow water, whoah…
The use of sunscreen with a high factor didn't really help a lot because my shoulders and chest are as red as a lobster.
During the snorkeling the sun also burns the back of my legs and lower back so I'm red on every side now, great.
The next day we go snorkeling again armed with clothes and sunscreen.
We take the GoPro and make some great movies and pictures. We see two divers below us and I see a great turtle twice but Jos and the GoPro are nowhere in sight.
Fortunately it's in my memory forever!
The heat is terrible and there's absolutely no wind at all. We're sweating like pigs as soon as we move a finger. Jos has a huge blister under his heel from the hot sand, yes it's possible…
We have been here for three days and there's not much to do besides swimming and reading, so that's all we do.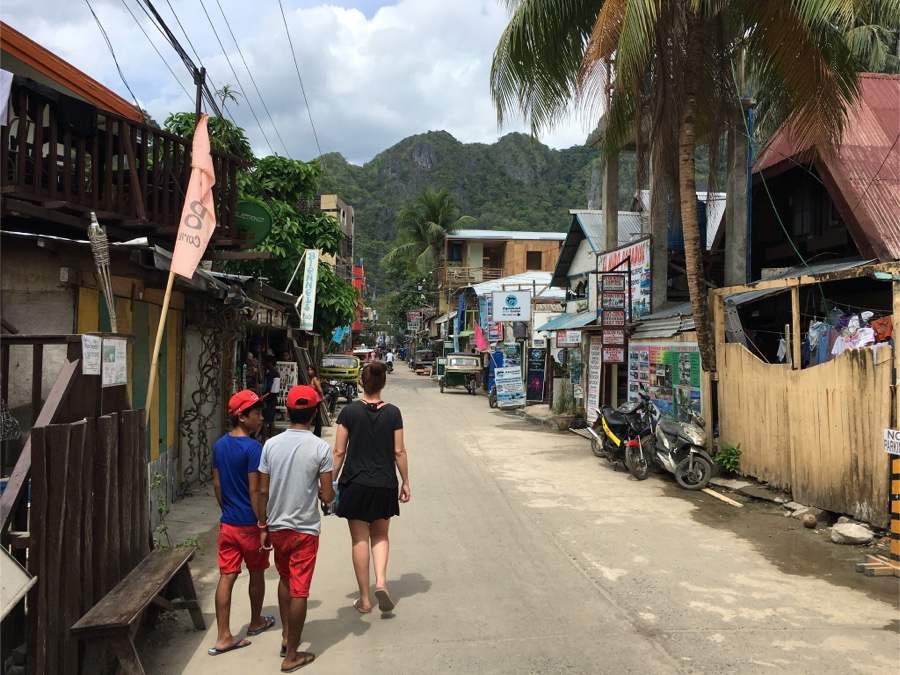 The following morning we take the 8:00 boat back to Roxas, where we catch a van to El Nido. We we were having doubts the last few days because everybody we've met so far goes to El Nido, so it must be a touristic misery. But, on the other hand, these people don't go there for nothing. It must be amazing… so, we are going anyway.
The van from Roxas to El Nido is 300 pesos. During the trip we can take a good look at the inland of Palawan. It's looks like an green oasis and certainly less dry than Langogan.
With the airco of the van at -10 and thinking the bus is full every five minutes someone else gets into the van, making a total of 17 adults, 4 children and a lot of luggage.
With our knees almost in our ears we drive another 1,5 hours before we finally arrive in El Nido. Thank god the roads in Palawan are fairly okay, so we get out of the van without any permanent damage.
The snorkeling got me burned quite bad so I expect my body temperature was a little higher than normal. Because of the airco I now have a terrible cold to add to that. Blehh, I feel ill.
El Nido looks like a nice town, as soon as we walk through the little streets we are glad we didn't skip this.
It's incredibly hot today and again there is no wind at all, so we seek cover at a little Italian coffeebar. They have a ventilator so we order some food and drinks.
A veggieburger for me, which is so enormous it could feed an orphanage. It's tastes so good, before I know it it's gone:-)
No more food for me for the rest of the week!
The next day starts cloudy so a perfect day for a scootertrip. We hire one through the hostel and ride towards some of the desolated beaches in the north.
De route is not always easy, the roads are narrow and bumpy and because of the drought and road construction we're covered in dust. Nearly there we see a couple that has fallen with their scooter, not much damage but it certainly scared the hell out of them.
The surroundings are great to see and because of the locals and the cool seawater we have a great day.
When we get back in the hostel we see more people with abrasions, so definitely roads that need attention.
Along the beach of El Nido are many different places to eat. At some cafes the music is really loud and the lights too bright, it ruins the ambiance.
I think in a couple of years this will be the touristic 'hotspot' you really don't want to be in when you're older than 20.
For now we love this charming little town and enjoying ourselves at the reggaebar.
There's a liveband but they've been soundchecking for half an hour… check, check, souuunnndcheck, sound, sound. When they finally start to play the sound is horrible but the band is actually quite nice.
For the following day we've arranged a boat. In this case we don't mind paying a little extra for a private tour.
The crew consists of two Filipino men, Bodi en Ernie.
At first we follow the other 30 boats, but when we explain we arranged for a private tour because we're not looking to see other tourists they suddenly get it and go their own way.
We see the most impressive mountains and clearest blue waters. The beaches are deserted and white.
Halfway the crew prepares a lunch on the small bbq on the boat. There's far to much food, shrimps, large mussels, fish, chicken, salads and fruit.
A magical moment to eat all of this delicious food on the boat, with nobody around. Just us and the fish. I think we'll stay here forever.
Just under the surface of the water there are a lot of curious striped fish. As soon as the crew throws some food in the water they immediately gather in a big swarm with us in the middle. Again we are so happy with our GoPro because this is something to watch back.
After lunch we move to an amazing lagoon with huge karst mountains surrounding us. The boat smoothly slides through the clearest water you've ever seen.
Again we go snorkeling, this time the bottom isn't that interesting but against the rocks under the water there's a whole world of shellfish and corals. The small mangrove area shelters a lot of little fish in different colors. Here the world seems to have stopped. Everything is calm, bright and peaceful, I'll never forget this tiny underwater village.
Tired but totally satisfied we go back to El Nido. What an experience!
In Palawan there are almost no ATM's, that is why we use WorldRemit. You pay online with your creditcard online and withdraw the money after a few hours at a local collection points.
Jos made a small mistake in the transaction using his first name initials in stead of his full names. The transaction cannot be accepted by the Palawan Pawnshop and even after a firm yet friendly discussion, we exit the building empty handed.
We need to cancel the transaction and make a new one. They refund the money in three days so we're going to have to pay it again. This time is I'll make a transaction, I fill in the online form as correctly as possible, tomorrow we go to Port Barton for one night and after that to an island where there is no such possibility.
First we try the only ATM in El Nido, very often it's empty and doesn't always work with every bankcard. Unfortunately… no succes…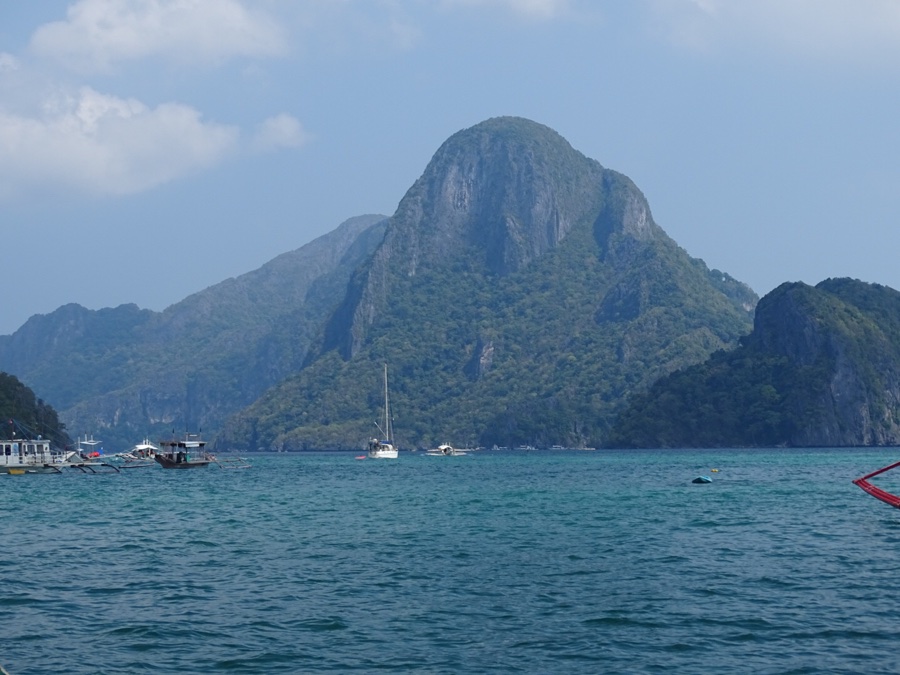 The Spin Designer hostel where we're staying is a great place to stay, great furniture, helpful staff, the beds and shower is good and there's airco and wifi.
There is a common area with musical instruments, books and board games. Also they have a program you can attend every night. Tonight is Jamming Night, some sort of karaoke without a screen.
Everybody is joining enthusiastically and the performances are hilarious. There's dancing and one of the guests teaches us a Brazilian dance. After a lot of drinks some start to limbo dance which makes everyone pee their pants.
We meet a Vietnamese guy who we make very happy with some juice from our powerbank. His phone is dead but he's dying to take some pictures.
He says he has a friend from Holland. When he looks up where the guy lives, I explain to him Helsinki is not in Holland… 😉
The following morning we try again to get our money but the new transaction is not acceptable yet, very strange… this usually takes just a few hours. We'll have to try again in Port Barton this afternoon. Fingers crossed…
Our bus leaves at 13:00 from El Nido and 12:00 is checkout time. We have some time to spare so we visit our favorite Italian cafe for the last time.
The road to Port Barton is very bumpy. there are a lot of hills and bends and a lot of construction going on.
In the bus we meet a nice Dutch couple who have just started their 5 month journey through Asia and New Zealand.
The whole journey we chat about great destinations and share experiences. Sometimes we need to look straight forward to avoid getting sick.
The ride is four hours and when we think the worst part is over after three hours we are so wrong. The road from Roxas to Port Barton very special, the biggest part of the way there is no road and the other part is just gravel and a big dust-cloud. The jungle like surroundings are green under a reddish layer of dust.
In Port Barton we've rented a small cottage by the beach for one night. When we arrive we immediately throw our bags in the house and walk to the Pawnshop to collect our money. Closed. Hmm, tomorrow morning we'll be the first.
Time to relax, how about a cold beer by the sea to enjoy the sunset. This is such a cute sleepy village…
We meet another Dutch couple and get along very well, so we decide to dine together. We have a great evening, talking and connect on Facebook before we go back to our cottages.
Our cottage has no airco, this is not uncommon most of the towns here have no 24-hour electricity, but the night wasn't too bad. I still have a bad cold so maybe a night without air conditioning will do me some good.
When we wake up at 6 we're quite fit and find a place to go for breakfast. Two pieces of bread, dry as a mouth full of flour and a extra salty scrambled egg.
The Pawnshop is next door, so we walk in to check out transaction. It appears it hasn't been confirmed by WorldRemit, so we try to call the 'reach us 24 hours' phonenumber but it doesn't work. Grrr!!
After a long morning in the hot office of the Pawnshop, together with a fly family of 50 and just an hour before our boat leaves, it works! We have money!
And Irene from the Pawnshop is our new best friend 🙂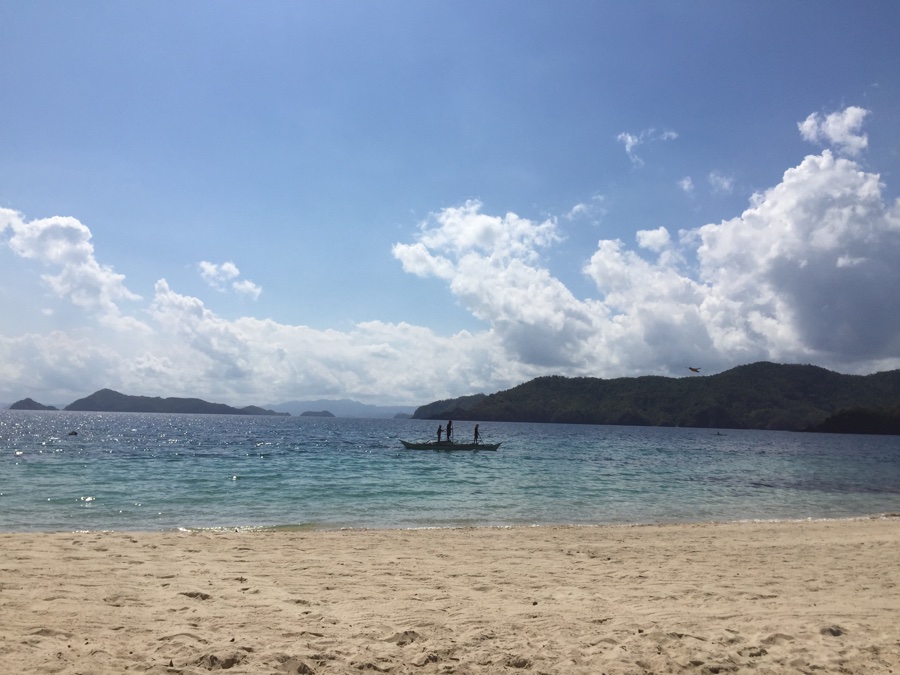 The Coconut Garden Island resort is on the island of Cagnipa, just an hour by boat from Port Barton. During the ride there's a lot of wind and in the distance we see the rain falling down. We stay dry and when we arrive it's still a little cloudy which is very nice. The temperatures here are not always pleasant.
The resort looks amazing, it's like a green park, with different trees and bushes surrounding some cottages by a lovely white beach. Through the back window of our cottage I see a huge lizard, quickly I get Jos, he's in time to see it but our camera isn't. Cool!
We have some high snorkeling expectations, because the water here is very clear and we've already spotted some fish. We borrow a snorkel to match our mask and enjoy the cool water and the cloudy sky. Not much sun means not much to see, but we enjoy it anyway.
The following morning we wake up really early again. Like all the other places we've been they have polyester sweaty sheets which feel far from cool on your skin.
We seek some cooling down in the wind on the lovely terrace of the restaurant. We can use a good breakfast for a change, so we order a fresh fruit platter, drink from a coconut and have some home made full wheat bread. Delicious!
Today again is a cloudy day so we take the kayak and paddle to a deserted beach, just on the other side of some rocks. When we arrive after a half hour paddle the beach is not really attractive but when we walk along the shore we start fantasizing about building our own resort here…
Our happiness is short-lived because the sky is turning dark so we jump into our kayak and immediately paddle back to our resort hoping to be ahead of the thunderstorm we can see in the distance.
The waves are getting higher and higher and we keep drifting off to the rocks. We paddle hard but we don't seem to be going anywhere.
When we finally feel solid ground beneath our feet we are quite relieved.
False alarm, because after two hours the sky is blue again and still no rain has fallen down. It has been four months since the last rain.
While snorkeling again we see some clownfish, they are soooo cute!
When we're relaxing in our hammock, there is suddenly a snake in Jos his hammock, SHOCK! Fortunately the snake is as frightened as we are and is gone before we know it. It was more than a meter tall and colored black and yellow. When we tell the gardener, he's impressed…
Here we go to sleep around nine and wake up at six o'clock, we like it. Breakfast starts at 7:30 so we hang around a little. After breakfast we immediately go snorkeling again, now that it's not too hot. Another guest has seen a turtle this morning so we want to see if we can find it.
We see a lot of beautiful fish but no turtle. We do see a big blue spotted stingray in a two meter distance, at Modessa they said these are quite dangerous. When it sees us it quickly swims away, pfieuw… close call…
After a hot, sunny morning with a bright blue sky, some clouds appear. Jos decides to go for a little kayaking while I stay here. My cold has now turned into a chest pain and a nasty cough so I better watch myself.
And then, in the afternoon while we're having lunch, it finally starts raining. Not long, not much… but it's something.
Just when we think it's over we go for another swim and all hell breaks loose. It's raining so hard it feels like the sky is coming down.
The following morning is our last morning here. Our boat leaves at 11 so we still have enough time for some snorkeling again. We are so glad we did, because we see a turtle!! Of course we decided not to bring the GoPro… hahaha
Wonderful, such a beautiful animal just gliding through the water. We enjoy the moment for a few minutes and then it swims away.
In my hammock I think about all the experiences so far. The end is still nowhere in sight but its great to run everything by me once again.
Coconut Garden is a great place where we would really return to. Who knows, we might come back during our worldtrip.
The boat of Coconut Garden takes us to our next accommodation, Sunset colors. The adventure starts real good, because as soon as I step out of the boat into the sea I step on some sharp rocks with my bare feet. There are a lot of rocks on the bottom, we did not expect that.
The resort is very small, four cottages and a restaurant with a familyroom on top.
The cottages are quite new and the best we've seen so far. The garden is barren and grey and there are some stray dogs. It forms a very disappointing picture. When the rocks appear from the water because of the low tide the picture is complete.
We have lunch in the restaurant, but this too is not really special. A piece of fish, some dry rice and three pieces of vegetable. After the promising reviews we expected a lot more.
After lunch we have a stroll along the shore. Next to Sunset Colors there is another resort. I asked the manager about it, but his first reaction was complicated and suspicious.
When we have a look at the resort we are greeted by a young man named John. He appears to be the former chef of Sunset Colors and says the good reviews were meant for him. He reveals some more details and we are beginning to understand the whole story. My god what a farce…
Now he's started his own resort named Prince John, on the land of a family he knows, right next to Sunset Colors. For now there are some tents but ambitious as he is, he has big plans for the future. It already looks great. It's green, lot's of palmtrees and ambiance. The last thing is what we miss in particular at our resort.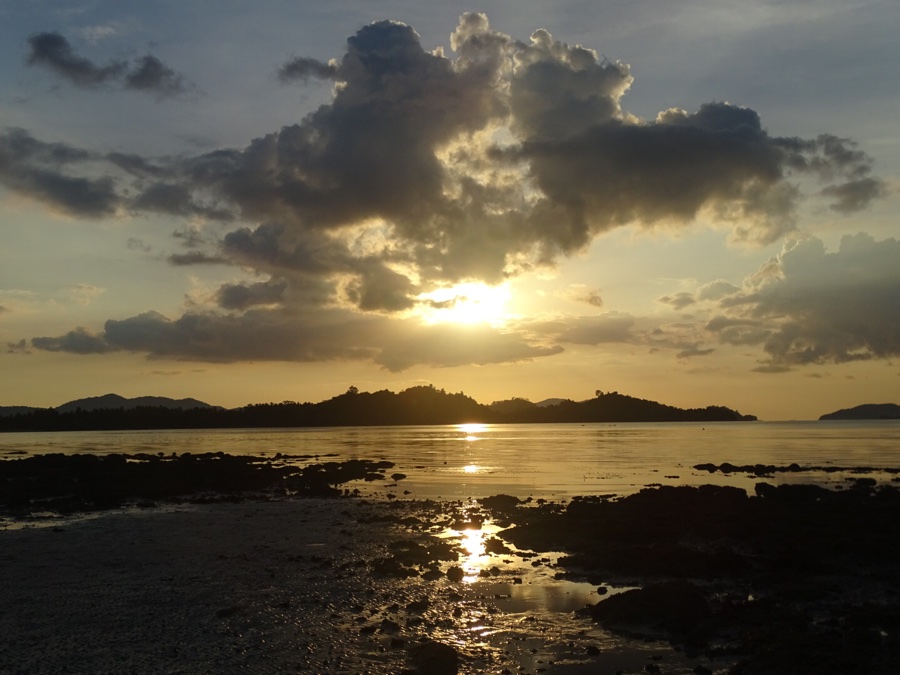 We decide to give our resort a final chance and have dinner in our own restaurant. After a sunset with (as promised) amazing colors, we eat an 'ok' meal and tell the manager we are checking out tomorrow morning.
Full of disappointment he makes some last attempts to make us stay and when I ask what time the boat leaves he says there is no boat tomorrow because there are no people checking out. I laugh to myself and say, WE are checking out and we want the early boat.
Ok, he'll take care of it.
At 21:00 the power shuts down and there's no air conditioning. The nightly heat is not too bad and when we wake up early in the morning we are very happy with our decision. Already paid for four nights and there will be no refund, but we expect to have more regrets when we stay than we'll have about the money.
At haphazard we take the 7:30 boat to Port Barton hoping to find WiFi so that we can look for a nice new destination.
After a two hour search we decide to stay in Port Barton for a night and book a room in a great place by the beach. Summer Homes is a small resort with 4 bungalows and a few rooms. They have a nice and clean room available for €20,- with 24-hour electricity, we'll take it! So we'll have airconditioning all night, whoah… this is very exceptional.
The resort has a cozy reggaebar by the beach where we enjoy our afternoon. After a cool swim we are totally happy watching the romantic sunset. Just before dinner Jos checks his e-mail and sees our offer on a house which we did before our holiday is finally excepted! Wow… we just bought a house…
Full of extacy we enjoy everything even more than before. After dinner we hire a boat for the following day and we booked our room for an extra night.
Happy as a child we stroll along the shore in the direction of some loud music. There's a bar on the end of the beach with a live band so we are going to have a look. The open-air café isn't crowded and the band is so terrible it's almost funny. We are looking at a strange little show and when a Guinea Pig walks through our view our evening is complete. Very very weird.
The bar begins to fill up and after an half hour break we start to wander why the band doesn't play now that the place is full.
We've seen enough and dive into our nice ventilated bed… we are so happy we left Sunset Colors!
When Jos goes to the toilet in the middle of the night a huge spider falls on his shoulder. In an attempt to catch it, it runs away and disappears under the bed… great… good night.
We did have a good night, in spite of the spider. Better than anywhere else this holiday, so with a fresh head we get up for some nice banana pancakes. Today we're going on a boat trip and lot's of snorkeling so we need some carbs.
We have a cute green boat with one boatsman this time. We call our vessel the green dragon, after the royal Dutch yacht.
The view is amazing and under water even more. We see a colorful rife with large and small fish. Unfortunately we have heavy rains today so we keep the trip short. After a few hours we have had enough and on the way back we visit a great sandbank with a lot of big starfish. This is really amazing.
Unfortunately we have heavy rains today so we keep the trip short. After a few hours we have had enough and on the way back we visit a great sandbank with a lot of big starfish. This is really amazing.
When we get back to Port Barton there is no rain in sight, hmm… but again we've had a very impressive day.
After the rain it gets very hot due to the humidity. We seek some cooling down in the sea and because of the unclear water we keep our head above the water just in case.
This is probably the last time we can swim in the sea this holiday 🙁
Again we sleep well in our el-cheapo room and after breakfast with home made bread we leave by bus to Puerto Princesa where we'll stay for two nights.
The hotel we've booked is very close to the airport and looks incredible. After a long morning in a small bus driving bumpy roads we can surely use some refreshment. So we jump into the nice pool and order a lunch and a cold fresh fruitjuice.
The room is also very luxurious, airconditioning, a fan and a bed that's wider than 130 cm.
For the next day we want to do a citytour, we are only here for one whole day so lets use it well.
Enrico, the owner of the hotel, is very helpful and tells us about the tour we were planning to do. The hotel has a regular tricycle driver, so Enrico arranges a pick-up for tomorrow morning. But first we'd like some dinner tonight. Enrico has made reservations for us with his favorite restaurant in town, Kalui. Because of the elections that where today, things could get unsafe for tourists. The driver Ryan will take us to the restaurant and will pick us up when we're done. Kalui is a huge fish restaurant with a great ambiance. We order the Special as we were advised by Enrico and a bottle of white wine, fish needs to swim right? Before we know it the first course is being served and the next and the next. The waiters are very busy so we keep telling ourselves 'no rush, no rush' but it doesn't help.
Once we're back in the hotel we do some afterchat with our feet in the pool. There's a good vibe here, colored lights in the water and a 90-ies music in the background. It feels so weird to just be here in the 'normal world' again. To have hot showers and electricity, airconditioning and a pool.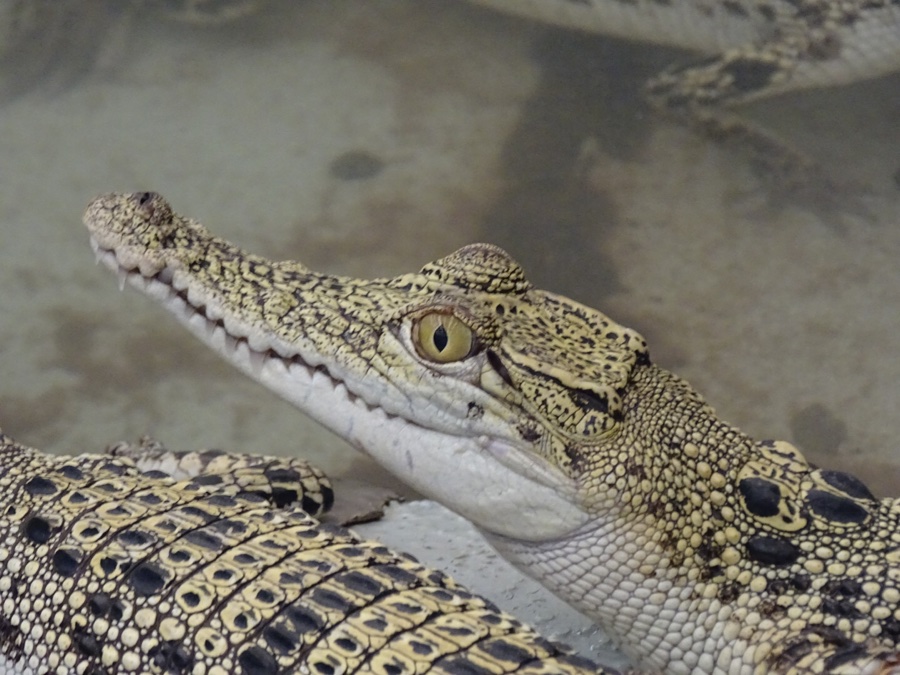 Driver Ryan will show us around town today. We are going to visit the open prison today, but first we visit the crocodile farm. Do you want to see enormous crocodiles in a tiny concrete tank, this is the place. Some are over 60 years old and about 5 meters tall. They are being captured for their own safety but I wonder if they are really happy here. We are (sort-of forced) having our picture taken in front of a green wall with a crocodile in our hands. They make it into a ridiculous jungle photo which you can buy for €8,-
In general people speak good English here, but when I ask about the well being and the future of the crocodiles, I get an answer I really don't understand. The girl that leads the tour shrugs and continues her story.
We see a lot of young crocs, who'll be here for at least five years, strange story.
Apart from the crocodile farm, there's a kind of Zoo with neglected cages and ignored animals. Not something to be joyful about as animal-lovers.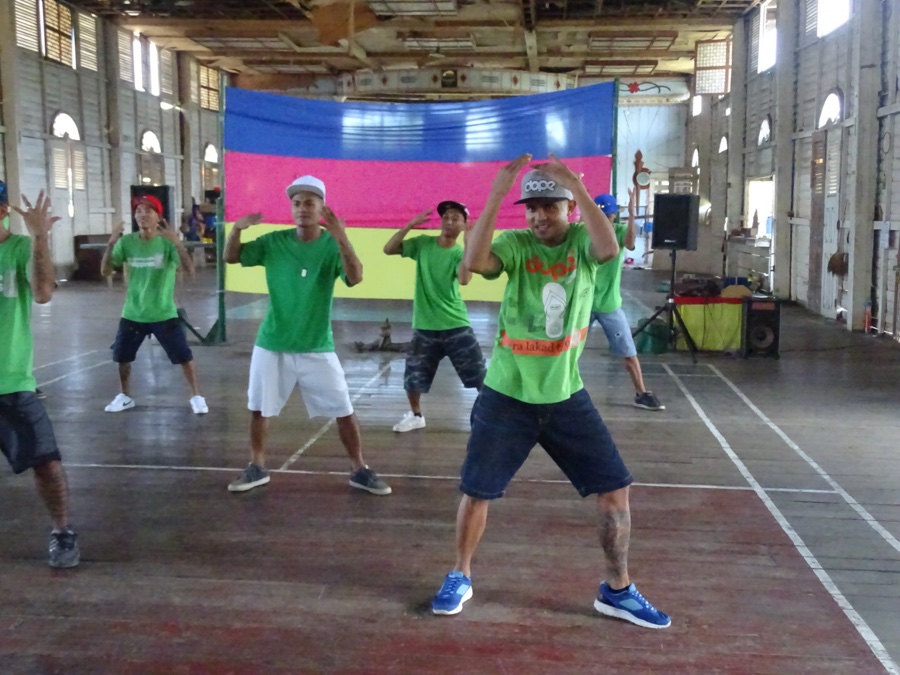 Quickly we get away from this depressing place and Puerto Princesa Prison and Penal Farm, a very interesting open prison where (seriously heavy crime) inmates never want to leave again.
After a maximum secured facility, they live on the premises to finish their sentence in peace and happiness. There are no facilities on the terrain so they'll have to build up their own home. Some of them live there with their wife and kids. They start their own shop by growing rice or vegetables and they enjoy their selves by making souvenirs to sell or a join a dancegroup, which is a really great thing to watch. Back in our tricycle we meet two very happy inmates that have just been released, after a 20 year sentence they are now free to go. They plan to stay on the premises to live with their families. Very impressive…
After the prison we drive to a disappointing viewpoint and a very touristic butterfly garden with a Traditional Village attached to it. Again we have our pictures taken in front of a green wall, the result: we are in the middle of a jungle with two huge butterflies on our hands, wauw! Even though its very tempting to buy this wonderful picture for only €6,- we decline.
As we look inside the entrance of the Traditional Village we expect another disappointment to we stay in the butterfly garden. There are not to many kinds but sometimes one sits on me, and that's quite enjoying.
When we're finally de-butterflied we drive back to the hotel. It's a long drive but we see so many interesting things along the way. Green views, little homes, people doing their things, children playing. A very impressive day again. We need some pool to process.
We have dinner at the hotel and go to sleep early. After breakfast the hotel chauffeur takes us to the airport in the luxourious van. Enrico comes with us and gives us a big hug as we say googbye. This summer they are planning a trip to Holland and want to visit us too.
At the airport we check in and of course there is a delay with Cebu Pacific. When we finally depart to Manila after an hour we say goodbye to Palawan.
Manila Airport looks very big and relatively new. There are stores and restaurants so we pick one to have some lunch, a sandwich with grilled chicken and bacon. There's some fresh lettuce and tomato on it but the chicken tastes like plastic.
We have a transition of three hours and it takes a long time before we can board the plane. Once everybody has found their seat we leave, all we have to do is wait for a sign from the air traffic controler… yep… no rush here either…
This holiday we haven't had a luggage check for our carry-on once. Now that we have our hikingshoes and warm clothes in our bag we must have a little overweight. But: no check, no problem 🙂