From the south of Zambia to the north of Tanzania by train, that was our plan. Zambia was, because of our booked flight from Tanzania, just a 'travel through' country. We chose not to fly, you don't see anything when you fly. After spending a few days in the south of Zambia, we took a long adventurous traintrip instead and didn't regret it for a moment. It was like a 48 hour National Geographic marathon!
We have had the pleasure enjoying this beautiful country for a week so we'll try to tell you as much as we can about this trip.
Zambia is very green but on the first day we got quite tired of seeing the same mixture of bush with an occasional palmtree for two days. We had to grow into it a bit, because the landscape changed, some lovely looking villages with markets popped up, we could see people doing their everyday things, laundry, kids playing… very entertaining.
The shops in the villages we passed look well maintained and nicely painted, but the streets are dirty. Everyone throws their litter on the street and in the gutters. This appears to be normal. Ok this does not sound very attractive, Zambia has got this vibe, a real undiscovered African country with a lot to offer and so much to explore. People might seem introvert and distant, but as soon as you start talking they will too!
In only four days we've had the time of our lives and we saw the beauty of this promising land!
From the Zimbabwean border on one side and the Zambian border on the other side it's about 1.5 km. there are taxis in between but when you walk you'll see a lot more.
Walking across the bridge over the Victoria Falls is very special. There is a bungeejump company on the bridge, where we stop to watch a couple jumping together. Whoah that looks TERRIBLE! I'm not ready for this…
The view from the bridge is amazing, on one side you can see the gorge and on the other side there's the Falls. Unfortunately it's very foggy because it is still early, so we cannot see much but in our minds it's gorgeous anyway.
When we get to the Zambian border we apply for a visa for $ 50.00 per person.
We enter Zimbabwe through the wrong border and now we can't get a combination visa as this is only available in Harare, Bulawayo and Victoria Falls-Livingstone. So now we'll need to apply for a new visa. The KAZA univisa costs $ 50.00 and the two separate visa are $ 80.00 in total. With this visa you can travel between Zimbabwe and Zambia as much as you want during one month.
There are no queues at the office and we are ready to enter Zambia after ten minutes. When we leave the immigration office there is no gate or check, we can just walk into Zambia… this is weird.
We crossed the border of Zimbabwe and Zambia by foot. Pretty cool to do that! You can see the Falls from a whole different angle.
After the Zambian border we take a taxi. When the drivers ask us where we we're going, to Livingstone town center we say. They tell us it is $ 5.00. Hmm sounds ok, that would we alright. The driver asks us which hotel, so we say Jollyboys Backpackers and suddenly the price is $ 10.00…
After some heavy discussing we tell him it is not a problem – we'll walk. So we walked… for ten meters, then he follows us and says ok-ok $ 5.00. This is the total price? – I ask. Hmm, yes.
Ha!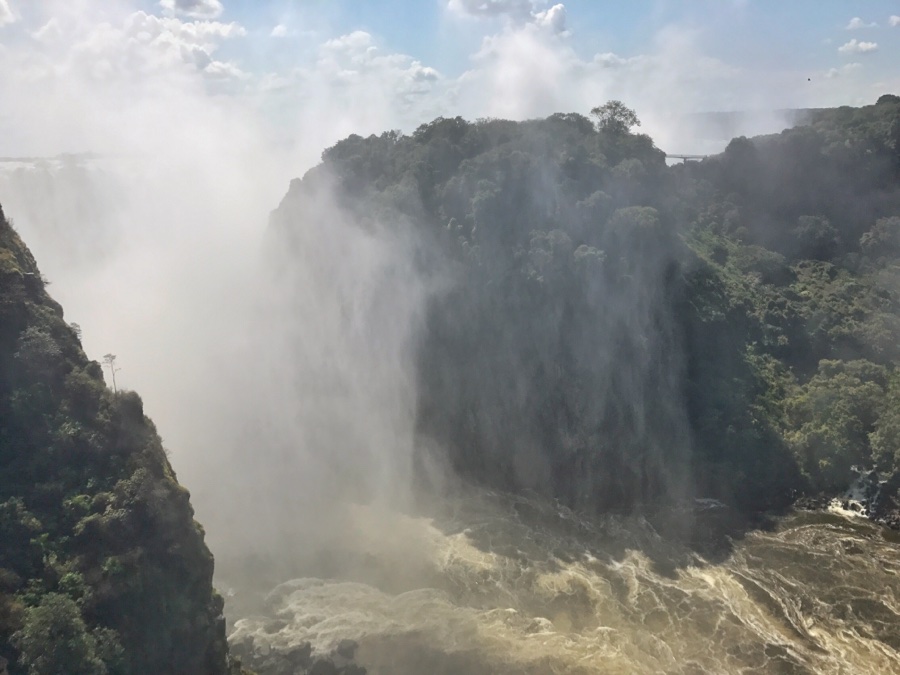 During the ride we tried to have a nice conversation with him to ease his pain a bit, but he seemed to have forgotten all about the discussion, happily telling us about his family. Hmm… did we still pay too much?
When we got to the hostel we asked the receptionist what we should have paid for this ride, $ 6.00 would be a normal price, he said… double HA!
So, taxis are fine, just negotiate and agree on the total price (all persons and luggage) before you get in 🙂
Livingstone is a small dusty city with a lot of litter and grey buildings. This is so much different than Vic Falls!
There are a lot of banks and we immediately pull cash out of the first ATM we see. Yay cash!
We stay at the Jollyboys Backpackers for one night, which was absolutely fantastic. There is a communal kitchen with everything you need, and a bar, a pool, a great terrace and a relax area with a lot of pillows. The place is clean, the personnel is friendly and the foodprices are a lot lower than in Victoria Falls. We loved it and we could have stayed here for a week.
We pay € 38.00 for a double room with shared facilities.
We want to go to Kapiri Mposhi where the train to Dar es Salaam starts in about two days, so we walk to the trainstation for some information. The time schedule we found online was not correct because the stationmaster says the train from Livingstone arrives much later than the train to Dar es Salaam leaves Kapiri, we'd better take the bus to Lusaka and to Kapiri from there.
The stationmaster tells us there is a Zambezi train every day, it leaves Livingstone at 20:00 and arrives in Lusaka the next day (Tuesday) around 14:00 and in Kapiri Mposhi at 22:00 that same night. This way we won't be able to catch the Tazara express leaving Kapiri Mposhi on tuesday 16:00, so we decide to take a bus to Lusaka.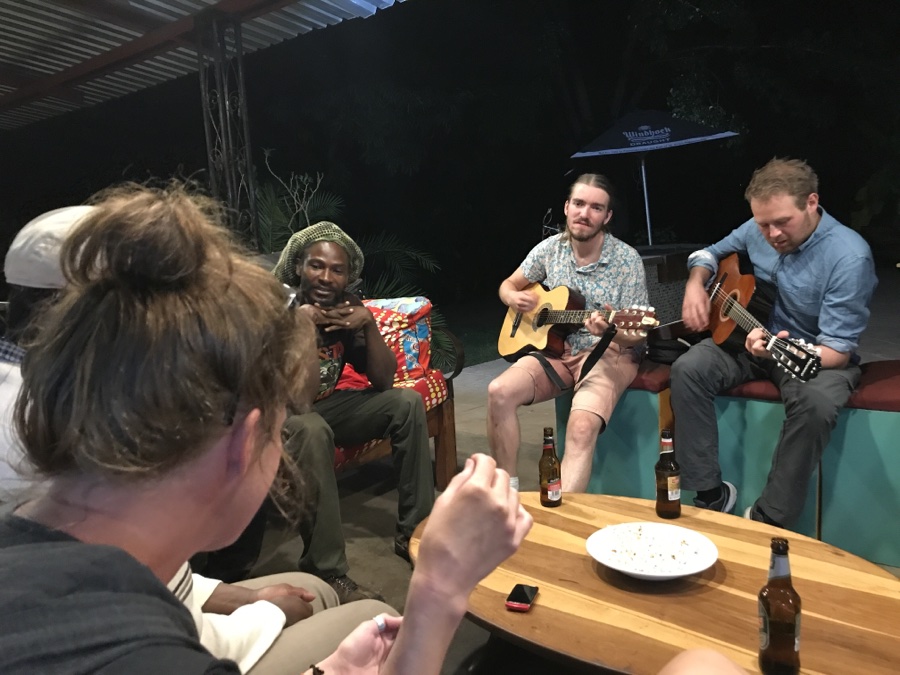 Hmm, disappointment… we wanted to travel by train all the way, but the next train is on Friday and that is the normal train which stops at every station. We'd rather take the express train on tuesday. This means we'll have to get on the bus first thing tomorrow morning and spend a night in Lusaka. Good, than we can see a little of the city!
Enough puzzling for one day, back to the hostel and into the cool pool because today is a hot day.
The hostel has some great couches to relax in, where we meet a few people, two Rastafarians and two Norwegians. Some of them have guitars and before we know it a jam session is born. We sing great classics and talk about the good life while enjoying Zambian beer.
The bus of Shalom coaches leaves the bus station at the end of Zambezistreet at 5:00 and 6:00 am and then 7:30 and every hour during the day. We did not book in advance and we were lucky because when we arrived half an hour before the departure of the 7:30 bus, there were only four seats left.
For this ride to Lusaka we paid $ 15.00 per person. The roads in the first part of this trip were very good. The second half was a lot more bumpy.
The bus itself was quite comfortable but the Zambian religious music was very loud and it took us about 7.5 hours to get to the Lusaka busstation. There were a few stops of which one at a restaurant.
The bus takes a long time and when we finally arrive at Lusaka busstation it's 7.5 hours later. The busstation is a total chaos and when the bus is getting unloaded we can't find Jos his backpack anywhere, what if someone took it. No panic, they took it out on the other side of the bus and it was just standing there. Pfooh… we wouldn't want that to happen.
We immediately look for a bus to Kapiri Mposhi for the next morning.
From Lusaka you can take a bus to Kapiri Mposhi which takes a little over two hours. We've heard there is nothing interesting in Kapiri Mposhi so we stay in Lusaka for a night.
There are a lot of men surrounding us trying to help, there can get us a taxi or simcards or even bus tickets. At first we try to ignore them but then we discover they are actually quite useful. They take us to the office of bus company, we book the 9:30 bus and let one of the guys take us to our hostel. The bidding starts at € 10.00 but finally we have an agreement on about € 5.00.
During our taxi ride we see this capital of Zambia as a big dirty city with enormous officebuildings and large slums. Our hostel is 7 kilometres away, which takes us 20 minutes because of the traffic.
We stay at Natwange Backpackers, the building is quite old and the garden has a dirty pool. It's got two smudgy bathrooms and two smelly toilets. The bedroom looks very ok, so we decide not to make a big deal out of it. We pay € 33.00 for a big double room with shared facilities.
On the terrace we order two beers and something to eat, hopefully we won't get sick…
We meet a German girl who is traveling almost the same route in opposite direction. We exchange some information and local currencies. Now we have Tanzanian Shilling and she's got our Mozambican Meticais.
After a good night sleep we have a taxi take us to the shopping mall near the busstation. We want to do some groceries for in the Tazara train. It takes about 48 hours to we buy some bread, snacks, fruit, wetwipes and water. There is a restaurant inside the train but the German girl said you can only pay with the currency of the country you are in at that moment. So we're happy to have the Shillings.
We also got her Tanzanian simcard and some airtime, so when we get to Tanzania we can look for a hotel if we might arrive in the middle of the night.
The next day we go back to the busstation where there is an office of Power Tools Logistics. Our booked bus of 9:30 appears to be full, no matter what our reservation says, so we are in the next bus of 10:30.
When we enter the bus and pick a seat I can feel mine is moist. The bus is full so I can't change seats anymore. I'll survive, it's only 2 hours.
The seat appears to be a little more moist than I thought, wet actually… and that smell… that is not a good sign. Yep, urine. Someone peed in this seat. Fuck.
My pants are already wet so what can I do. While I think of crying, dying, jumping our of the window and going insane, the bus trip takes four hours instead of two.
There is a kickboxing movie on the screens with a lot of blood and horrific bonecracking, but the small children who are watching are not impressed. Such a big contrast with the religious ballads they played in the beginning of this ride, but at least the sound is not as loud as before.
We stop at a small parking space by the roadside and I can see on my map it's not far now. But as soon as drive on and cross a railway I know we should have gotten out. The bus can only stop at a weighing station 5 kilometres further ahead so we'll have to get back to town again.
While I'm having a nervous breakdown after a ride from hell for 4 hours in a PISS SEAT we walk back towards Kapiri until we see a taxi.
When we finally get to the station it's 15:15 and we still need to get our tickets.
Traintickets in the pocket
When we get to the ticket office we have to wait in line. The Zambian people are very helpful when we don't understand what we must do.
We buy 4 first class sleeper tickets so that we can have a cabin all for ourselves and pay € 33.00 per bed which is still a lot cheaper than flying and hopefully more fun.
The Tazara train (Tanzania – Zambia – Railways) leaves Kapiri Mposhi on Tuesday at 16:00, this is the express train, it will skip a lot of stations and it will take two days to Dar es Salaam.
The other Tazara train leaves on Friday at 14:00, this is the regular train, it stops at every station and will take you about half a day up to a day longer.
App-ing the stationmaster
Two days in advance we send a WhatsApp to the stationmaster in Kapiri Mposhi for a reservation, we told him exactly which train, at what station to where and that we needed a first class sleeper cabin for two persons. We got a message back that he had written the reservation down and we just have to mention our name at the station. Easy! You can find more information about making a reservation here.
As soon as we enter our new home for the next two days it's already 15:45.
I change into something clean and while we get comfortable the train leaves exactly on time.
We are enjoying the beautiful surroundings of Zambia eventhough they are a bit boring at first. We see the same bush over and over again but after a while we also see some cornfields and villages. It's amazing though, what a dream to go on a train trip like this! 
The view keeps us entertained until it gets dark, then a train stewardess comes to take our order for dinner. We are not really hungry so we decide to skip dinner. With a bottle of whiskey, some music and a pack of cards we're having the time of our live! 
We sleep quite well on the train, eventhough it stops a few times accompanied by some loud honking and squeaking.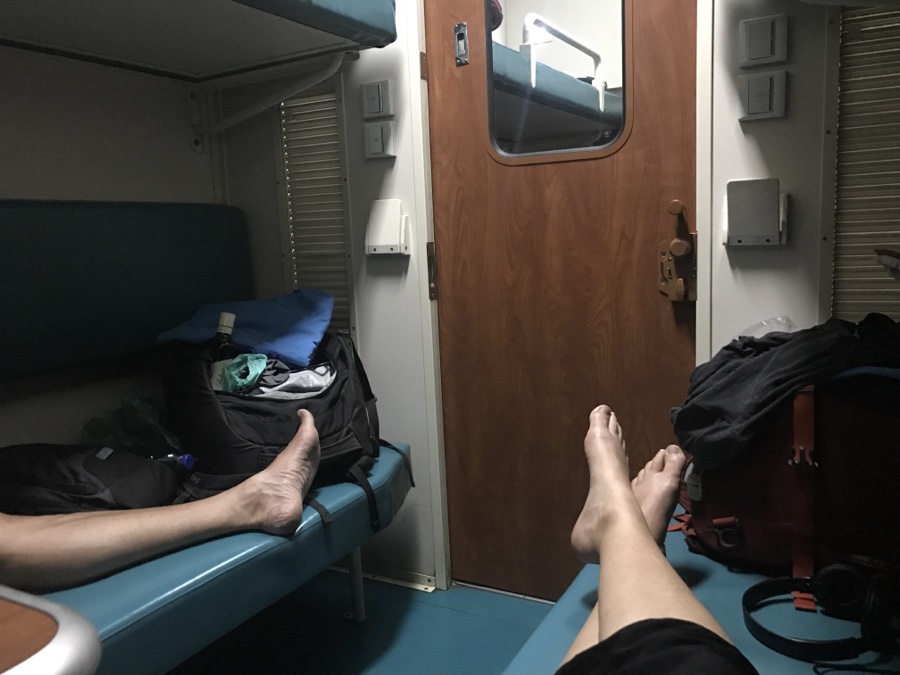 When I try to use the French toilet in the middle of the night I slip on the wet floor and almost kiss the ground… pheewww… I manage to keep myself dry holding on to the waterpipes and the doorhandle but I feel sore all over. My arm hit the windowsill, that's probably gonna leave a mark. Ugh, back to bed and to that great dream I was having.
On day 2 of our adventure we do nothing but hang outside the window looking at the beautiful changing view and waving to the many children who start to laugh and wave as they see the train pass by.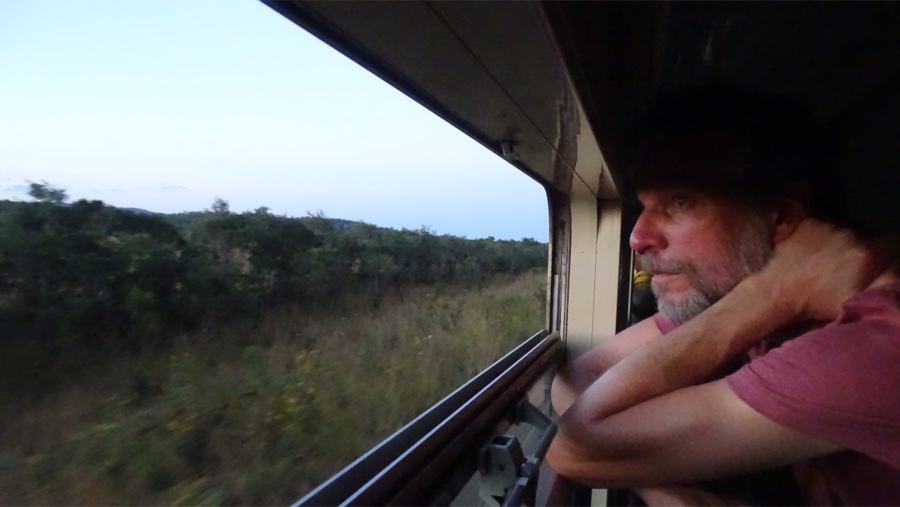 Some of them count the wagons and others run along side the train for a few seconds. While we life on cookies and water, read and write we are enjoying this amazing journey hugely.
We are supposed to arrive at the border at around 15:00, so we get our passports and money ready for the immigration officers. Our short but impressive Zambia adventure is over…
After a train trip of 22 hours from Lusaka we finally arrive at the border of Tanzania. We don't even have to get out of the train, the immigration officer comes to us.
We have the $ 50,- per person and our passports ready for our visa, but when the two immigration ladies come in they check the billets closely and reject two ten Dollar notes. These are not good, she says. They are a bit older than the rest but other than that they look fine. I tell her this is all the money we have, but she shows no sympathy and gives us the 'don't mess with the immigration officer' look
Yesterday we changed some Mozambican Meticais for Tanzanian Shilling with a fellow traveler going in opposite direction, so I show the immigration lady the Shillings and kindly ask her if we can pay the rest with this money.
They discuss the problem and take our passports the Shillings and the Dollars with them outside the train. When they come back we have a stamp in our passport and get some Shillings return. 
Shit, now all we have left is worth € 2.00, but at least we are in Tanzania!
Oh Zambia, although it was just a short visit, we want more!
We stayed in Zambia in may 2017, in this time we've had nothing but sunshine, in Livingstone it was hot, we even jumped into the pool at our hostel. In Lusaka it was a little cooler but still warm enough to sweat your pants off.
The rest of the country we've only experienced from the train but there was a warm breeze and a cloudless sky all the way to the north border, which gave us some pretty amazing pictures…
Currency: 1 Kwatcha = € 0.10
Our budget for Zambia is not really comparable with a normal journey through the country, because we barely did anything 'normal', but we'll give you an insight of our expenses anyway. In total we've spend:
Transportation: € 129.00 (incl. ½ train ticket Zambia – Tanzania)
Accommodations: € 73.00
Eating and drinking: € 67.00
Entrance fee: € 0.00
Other: € 90.00 (Visa)
That brings us to a daily budget of: € 89.75 for two persons including everything except international flights.
If we would have stayed longer we'd probably have needed a lower budget, because we now divided our visa by only four days.
In these 4 days we have stayed in two hostels with shared facilities where we paid about € 22.00 per night.
We have eaten simple restaurant meals and drank some beer. Everything was so much cheaper than in Zimbabwe, sometimes almost half the prices. AND you can get money from an ATM here… whoah…
Some examples of products and prices in euro:
6 small sandwiches in supermarket: € 1.00
Pizza in lunchroom: € 6.00
Coffee latte in a lunchroom: € 1.50
Bottle of wine in a restaurant: € 10.00
Beer in a cafe: € 1.20
Bottle of beer (340 ml) supermarket: € 0,80
Meat in restaurant (300 gr steak): € 6.00
Pasta in restaurant: € 5.00
Liter gasoline: € 1.25
Simcard with 1 Gb data: € 12.00