The peninsular part of Malaysia is located between Thailand and Singapore. We will start our adventure here in the northeast. In Kota Bharu to be precise and we'll spend a few days on the Perhentian islands. As you can see here, it's a terrible place…
After this we visit the absolutely breathtaking Taman Negara, the oldest forest in the world. A rough trail that leads us through this primitive jungle pleasantly surprised us.
With a few days in Kuala Lumpur we end our journey through Malaysia for now. 
Besides the non-touristic places we've picked out, we wanted to go to Tioman island, Cameron Highlands, Melacca and Penang Island… but well, we didn't. It's high season, that means fully booked hotels, tours and busses. Maybe in the end of our worldtrip, when we get back to Asia we will, but our love for Malaysia wasn't strong enough to keep us there. 
From Kuching in Malaysian Borneo we fly to Kota Bharu on the Peninsula. Our flight with Air Asia takes about one and a half hour and is quite relaxed. It started with us sitting apart from each other and me being squashed by a very big smelly man. Then a steward asks us if we want to sit in front. SURE!
We stay one night in Kota Bharu, where we've made reservations for one night at Ewan's guesthouse, which is cheap and has great reviews on TripAdvisor. We pay € 10.00 for a double room with shared facilities but get an upgrade to a familyroom with private 'bathroom'.
When we arrive we walk into the property of the guesthouse and get jumped on by three small children. They are greeting us with extremely loud squeaky voices. The lady of the house is very kind and shows us our upgraded room. It's… well… a room yes, with a double bed and two singles. Ok, but then there is the bathroom… it's got a smell and doesn't look inviting. Only for one night.
We go outside to find a supermarket because tomorrow we want to go to the Perhentians and there are probably not too many supermarkets around there. We eat a big tasty pizza at Traudi which is run by an elderly Swiss couple who has been living in Malaysia for 25 years.
We barely survive our stay and get up early to let a Grab take us to the jetty of Kuala Besut for € 12.00.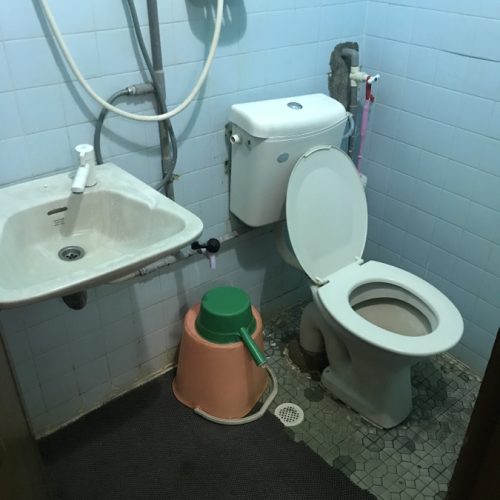 We have made reservations for three nights at Mamas Chalets on Perhentian Besar, besar means big, so it's the big island. Luckily we did because we hear from others that every accommodation is fully booked. Some travelers are even turned down and have to return to the mainland. We made our reservation by email and paid half of the costs by WorldRemit. We get a voucher at the office of Mamas Chalets near the jetty and wait for the next boat. The boat is quite expensive, but the price is set, € 14.00 person. When we reach the jetty we also need to pay a conservation fee, because the Perhentians is a conservated area. The fee is € 6.00 pp so we are broke before we've even reached the islands.
Our cottage is quite alright, it's got a small all in one bathroom and a double bed, it only has a fan but the windows open wide so we let in the wind to cool down after sunset. From our deck we have sort of a sea view in between the other cottages which is pretty nice for € 20.00 per night. We don't mind that the toilet sprays water every time we flush or that the bathroom sick is leaking. We don't care about the lock of our door not opening when we want it to. And actually we don't really care that the shower only has cold water… do you know how HOT IT IS HERE? Pfoohhh… The only thing that takes some time getting used to is the fan. Especially in the evening the heat seems to have gathered in our cottage and is in no way going to leave our bedroom.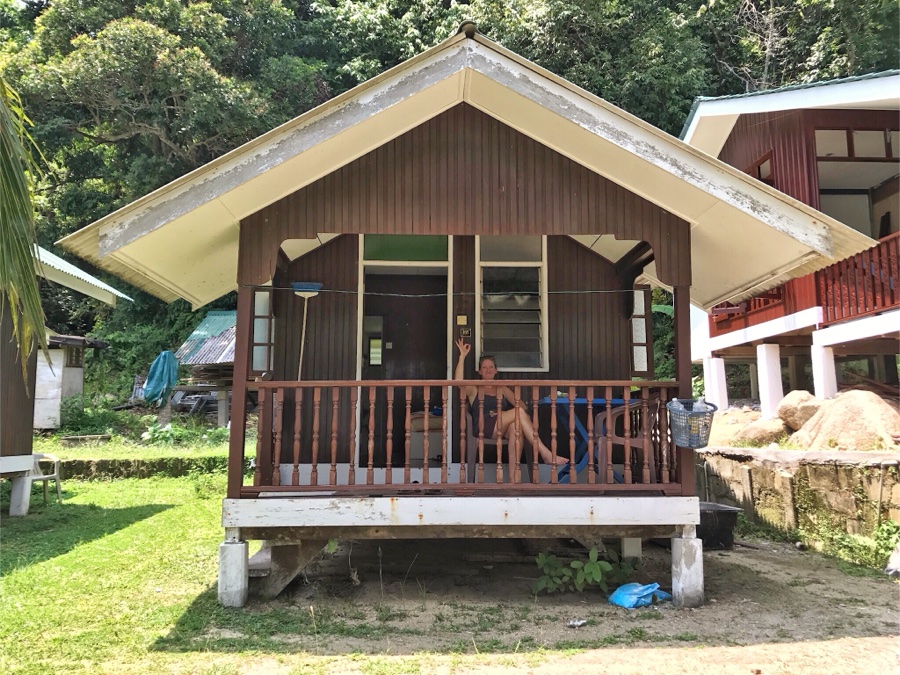 Next to Mamas Chalets there are a few other lodges, for a meal we can choose from four restaurants. The menu, the quality and the prices are all the same, we pay about € 2.00 for a plate of noodles and € 2.00 for a beer. 
The coral in front of our lodge is all dead, pretty sad but not that strange when you see how many boats arrive all day. Actually almost all of the coral on this side of the island is dead. There was also a turtle found dead last week, killed by a propeller of a boat. Hmm… what to think of this?
Our plan was to do a diving course here, but it's so freaking hot we have no energy for doing anything so we don't. We decide to hang around on a beachbed at Perhentian Island Resort which has a very nice beach with a okay snorkelling area closeby. Here the coral is mostly reviving so there's good things to see. 
When we come back the next day, there is nobody in the water because there are a lot of small jellyfish who pretty much ruin everything. Especially when I got stung in my upper lip by a bigger one, I'm done swimming. So, we back down into the shades for the rest of the afternoon. 
At the end of the day we walk back to our cottage with a red face and chest… just from the shade… ugh what a day. 
Next day we walk through the jungle behind our lodge to another beach on the island. It's not very far, a 20 minute walk up and down through the bush. We reach the Coconut Chalet, it looks good, nice cottages and a small white beach with palmtrees. In the water there's a big reef that's really worth while. We stay here all day and fortunately this side has no jellyfish to bother us.
We have our GoPro with us and see some amazing fish, big ones too! One fish is as big as my lower leg…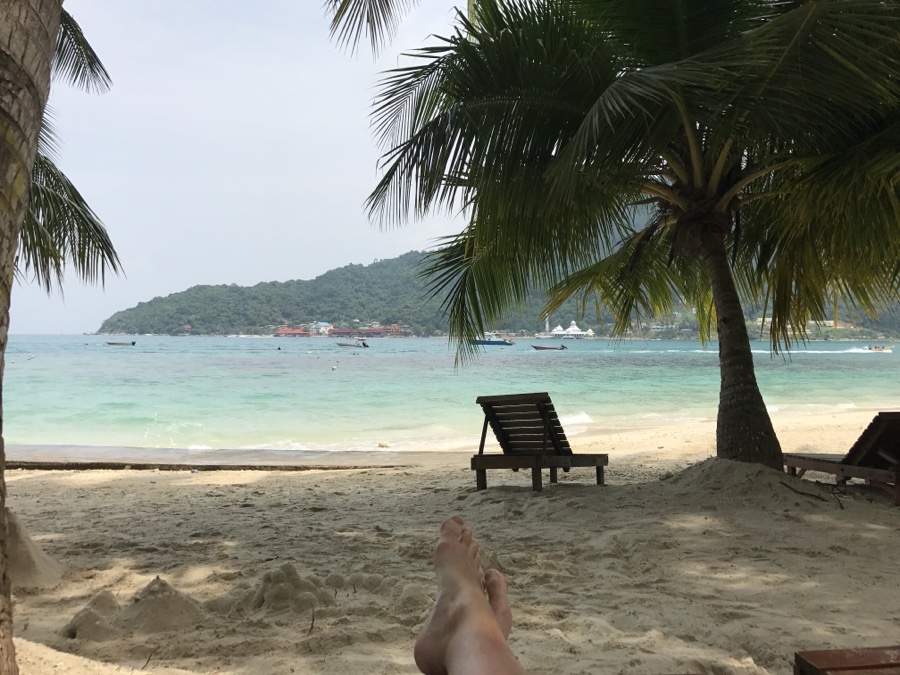 when it's low tide we snorkel again and swoosh over the water just above the coral. It's amazing, the fish are so close now we can watch them easily! 
In the end of our stay we arrange a boat for to Kuala Besut at 8 am.
We want to go to Taman Negara, so back in Kuala Besut we buy tickets for a luxurious coach of HAN travel to Gua Musang. We can also buy tickets all the way to Taman Negara but we'd like to travel in two days and stop somewhere in the middle. For the locals this seems to be something new. Why would you stop in Gua Musang? 
And indeed, Gua Musang appears to be a town with not much to do and is not very travelfriendly, no taxis, no Grab or Über, no busses. 
So… we get out of the coach at some roadside restaurant and ask the driver how to get to town. Town? Which town? Well euhm, Gua Musang. Yes you are there, he says. Duh, but we need a bus or a taxi. There aren't any. Ooooohhhh'kay….
Then we ask the waiter in the restaurant. Same conversation, but then he asks why would you want to stay in Gua Musang? There is nothing here!
Ah, we figured that out by now.
So, here we are. It's hot and we need transport. We can just hitchhike but as we pass a autoshop I ask a guy cleaning an engine if he knows where we can find a taxi. Yes! He knows a guy…
So we make some calls to a friend that doesn't speak English, location, price and then we wait for him to show up, which he does. He brings us to our hotel on the other side of town for € 4.00 with a huge smile. He is happy and so are we.
The owner of our hotel, Tan, is surprised we arrive without a car. Why didn't we call him, he could have picked us up! Ahhh is that how it works here… 
The GM Villa hotel where we stay is a part of a new building district. New small and big tached villas in a row. Dull as dishwater but ah-well, we pay € 15.00, we can't complain. We have a new room, a hot shower and airconditioning… haleiluja! Tan is superfriendly and helpful. He offers to bring us to the bus tomorrow so we gladly say yes! 
Nearby there's a supermarket and some cafes. There is a lot under construction but Tan expects it will be booming here in two or three years. 
Taman Negara, which actually means National Park, is the oldest forest in the world. For us jungle lovers this was enough reason not to skip this piece of nature. 
From Gua Musang we book bus tickets with HAN Travel again, they have offices at different places in Malaysia and arrange transport from several highlights throughout Malaysia. We have contact with an office employee through WhatsApp and book two seats to Kuala Tahan, a small town in Taman Negara. 
The owner of our hotel gladly brings us back to the bus stop on the other side of town next to Mamak Spicy restaurant.
The office girl said, be there at 12 am and wait in the restaurant. So we are a bit early but decide to have some lunch first. After 45 minutes, at half past twelve the bus arrives but also takes a lunchbreak first. At 1.30 we are finally ready to go. After three hours we stop at the office of HAN Travel in Jerantut. We didn't know we were going to stop there, but okay. We have to register inside for the transfer and the park. There are two ladies at a desk, they give each person separate information about the park we already know and let us fill in a from we later apparently don't need. After an annoying one and a half hour we are finally back in the van and on our way again. 
The last part of the journey is terribly nauseating, bends and bumps for more than an hour make us pray we'll be there soon. We have a new luxurious minibus with good air conditioning but still we are not quite comfortable.
When we arrive at HAN Forest resort we walk towards Tebing Guesthouse where we will stay for two nights. It's a little further than we thought and after about twenty minutes we are there. The hotel is only half a year old and has nice rooms with a private bathroom. We pay € 25.00 per night without breakfast.
We booked these nights only a few days ago but had some trouble finding any affordable accommodation, almost everything was full. So this is a loss we have to take.
The next morning we leave early and walk to the jetty, there are some restaurants there and a lot of small boats. A boat to the other side of the river where the park entrance is costs € 0.20 per person and the entrance itself costs the same. For bringing a camera you pay € 1.00 which is unbelievably acceptable.
We walk towards the canopy first. When we arrive it's after nine the entrance of the canopy isn't open yet, so we wait. There are some Asian tourists laughing laud and making a lot of noise. There goes our chance to see any animals… we see that we get the first tickets and go up the canopy just behind to very quiet Swiss girls. Good. 
After this we try to figure out which trail to do. We decide to hike towards the Bukit Indah village alongside the river. It's a hike of about two and a half hours through an amazingly rough part of the forest. The path is not always that clear and here and there we need to guess which way to go. We are in jungle heaven, it's magical here! As the sun starts to make its way through the trees we are warming up inside and out. When we arrive at the village we have to walk further up and or towards the next village. We decide to take a look at the river bank where we can take a break and hopefully can cool down. After walking for four hours without resting we are tired. 
At the river we find a small deserted beach with some enormous boulders and a fantastic view over the river and the jungle. We stay there for a while and as our drive to walk any further starts to decrease we hear a boat coming. We try to hint it to stop but the boatsman obviously looks the other way. Hmmm… that's not nice. Convinced the next boat will stop to pick us up I give it another go. I wave my arms around and the boatsman just waves back, but doesn't stop. Right… this is not as easy as we thought. Maybe we'll have to walk back. It's quite hot on our beach and the nearest shade it back into the jungle where the boats can't see us. So we'll have to be patient. After a while another boat comes along. 
I desperately wave, as is we are about to die. The boatsman stops! YES WE ARE SAVED! While thanking him we get into the boat, then he asks if we can pay. Pay…? Ehh how much is it? € 20.00 he says. WHAT? I try not to laugh, this of course is way too much. Ao I tell him we only have € 2.00 left. Okay, then I go, he says. 
What? We are like Robinsons here on this island, you're just going to leave us behind to die?! I try to look as dramatic as possible whilst holding my breath, so I won't laugh. The boatsman looks at me and starts to drift away.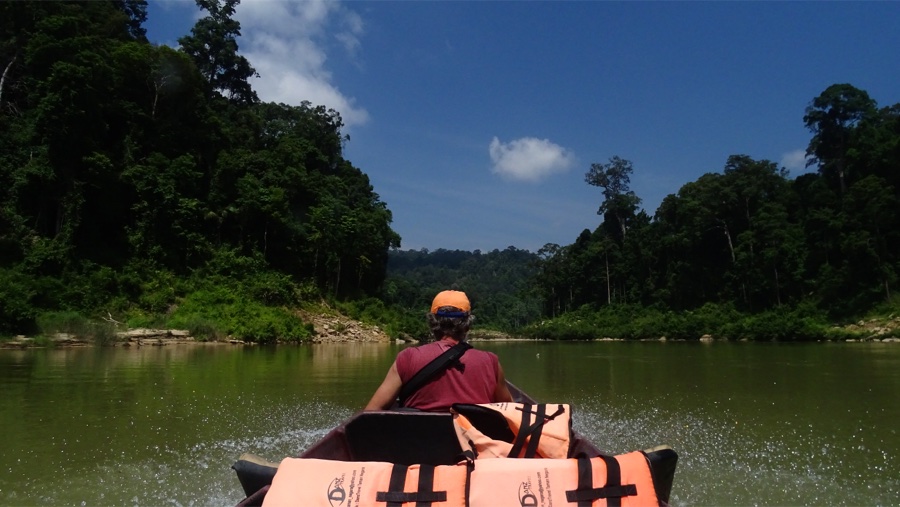 I tell him to please take us to wherever he is going because he's going there anyway. While I'm still in the boat I hint Jos to also step into the boat and then we go… pfieuw… we are off! He doesn't look very happy so I try to make a conversation. This he likes. Our boatsman was born in this area and now he works for a local lodge. 
As we try to understand each other he stops the boat at a lake. There are two boats full of tourists stuck in the middle of the river a little further away. It's a really funny thing to see. The water isn't very deep so everyone needs to get out of the boat.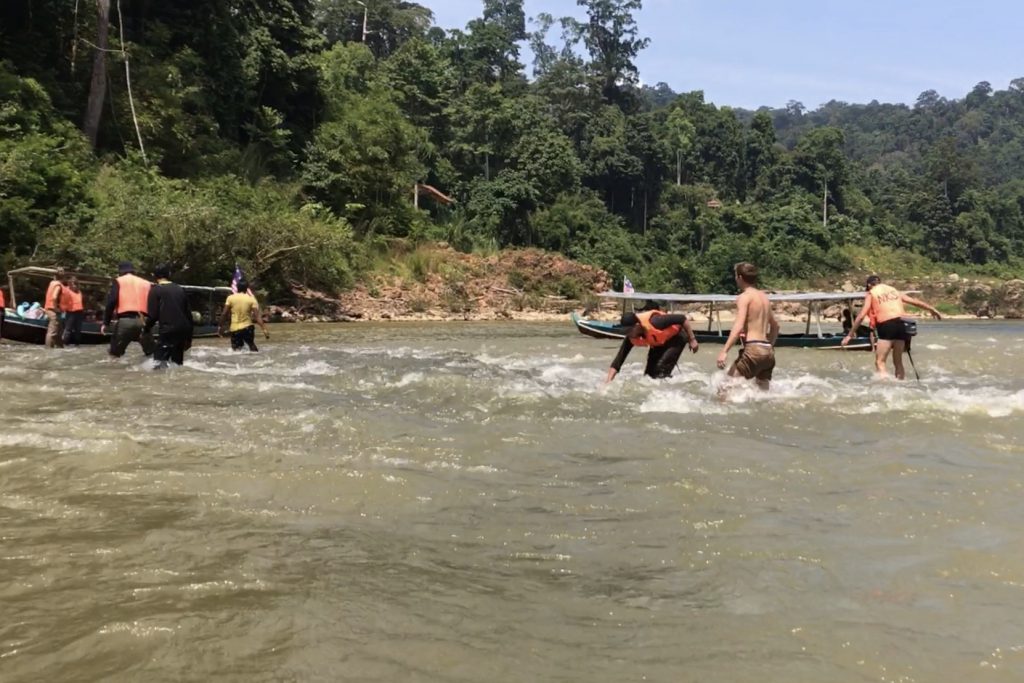 As soon as there is more room we pass the two boats and we drive on through the thick jungle. We get dropped off at the canopy jetty where we began our hike, so now all we have to do is walk back to the entrance of the park. We pay our 'chauffeur' the € 2.00 and thank him for being such a noble man.
Well that's about it, our adventure in Taman Negara. We have a great noodle lunch by the riverside and back at our guesthouse we drop dead on the bed.
Next morning the owner of our guesthouse is happy to drive us to HAN rainforest resort where we've booked another transfer. 
We've had an amazing three weeks and although we had planned to stay another two weeks we decide to leave Malaysia. It's high season, everything is full, expensive and crowded. We are starting to dislike Malaysia and that is not a good sign. We wanted to see so much more but this just isn't the right time.
Our transfer from Taman Negara took a long time. There are busses from NKS driving directly in four hours, but because we couldn't reach them we booked with HAN Travel, who have a stop in Jerantut.They leave at ten am and arrive in KL around four pm. We pay € 15.00 pp, which is the same as the direct bus. 
Last year we stayed two days in KL in the Bukit Bintang area. We really loved the city but want to stay in Chinatown this time. We find the Amigo hotel, the rooms are € 15.00 with private bathroom and well located in the centre of Chinatown just at the beginning of the night market. After our long trip we deserve a beer so we check out a nice cafe nearby, The Toast Co. has not only got beer, it's got sandwiches to die for.
We sit by the window and stare outside while we enjoy our goodies.
The next day we want to have a good Western breakfast, not easy to get while staying in Chinatown so we walk towards Bukit Bintang again. We find a great place called VCR, the most delicious coffee and I have a big bowl of home made granola with fresh fruits and yoghurt. 
Oh my god, this is to die for! Jos has a mushroom quiche with some salad that makes him hungry for more. We had to wait quite long for our food and coffee because the place is totally full so we decide to leave it at what we had and go.
We walk towards the shopping area to get some new clothes. We separate for the morning and meet a few hours later during a heavy shower.
When we walk back towards our hotel we have some lunch at Leaf 'n Co. a great bar which also has a hostel above it. I think it's called Mingle. Jos orders a plate of spaghetti from a picture on the table, it's a new dish it says. With some veggies, garlic, mushrooms and cherry tomatoes. The meal looks delicious and is exactly like the picture, wow, that's a first! I order a baguette chicken saté and get a plate full with salad and French fries. My baguette is black, no not burnt… it looks black. It's coloured with charcoal, the waiter says. Not the one you make a fire with. This is eatable charcoal. Okay… 
It tastes just like regular bread but looks weird, so why would you do that?! Ah well… ZENNNN.
We get back to our hotel and the next morning we decide to have breakfast again at VCR, that granola was delicious. Good times in Kuala Lumpur!