Enormous distances through deserts and jungles, rough mountains and bold flats. We knew Peru was big but phew this country is enormous!
I'll tell you now that you've just started reading, this page is probably the least interesting of our whole website. During our long bustrip from Ecuador to Peru we made lots of fantastic plans about what we should do and see in Peru, but unfortunately the weather mixed up everything. So our adventure in this incredible and promising country was short. Very short.
We've put off our trip to Peru because of strikes around Cusco in September. But now that the strikes are over and we are finally on our way, the weather has decided to butt in. Usually the rain season in Cusco doesn't start until December, but it has been raining cats and dogs since a week and the weather forecast doesn't predict any improvement for the next 2 weeks. Bugger!
So, after making so much effort to get to Cusco and seeing only cold and rainy destinations ahead, we decide to end our trip through South America for now and fly to warmer places…
First, our one and only week in Peru!
After a terrible 14 hour trip from Machala, Ecuador, crossing the border in our Cifa International daybus we finally arrive at the bus terminal in the center of Piura. It's only a kilometer to our hotel Ixnut Inn but it's 1 am so we'd rather not walk. The streets look very well lit there is nobody around and we'll have to walk through some small deserted alleys, so we take a taxi. There are some drivers waiting, we agree on $2, because we don't have Peruvian Soles yet and it's past midnight this seems an okay price.
At 10 am we arrive at the terminal de Terrestre in Machala, Ecuador. Our 10:30 bus to Piura comes from Guayaquil and is of course late. The lady at the terminal who arranges the international buses is nice company while we wait. She speaks some English and wants to know all about our trip. Before we know it an hour has passed and our bus has arrived. We are the only ones to pick up so after five minutes we are on the road. The bus is not very luxurious but quite ok. It's only an hours drive to the border through banana plantations and military grounds. When we arrive at the border we receive instructions by the bus assistant in Spanish which we cannot understand. A customs officer enters the bus and asks who entered the bus in Machala. While the bus assistant (whom we'll call bus-guy) signals everybody from behind the officer, everybody raises their hand. Everybody entered the bus in Machala. What? Is? Going? On?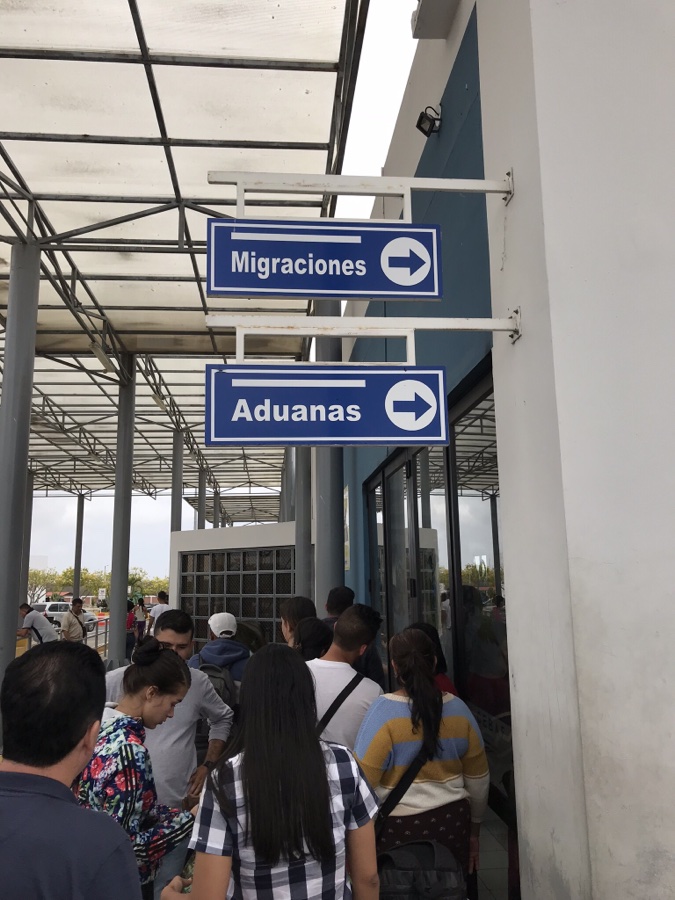 After a thorough luggage check we move on to the next stage. We get divided into four groups. Jos and I are in group 1. When we exit the bus we have to leave our big luggage behind and only take our small carry on. We've put all our valuables in our carry on because we've heard things tend to go missing while waiting at the border. Great.
The area between the two borders is full of people. It's total chaos. Those are the Venezuelans, they are waiting here because they can't enter the country, says a girl in our group. They have fled their country and want to go to Lima where they can find a job and hopefully a better life. We see a lot of people with their luggage and using blankets at a tent. Some have been here for weeks. This is so sad…
We are the only gringos so the bus-guy accompanies us to the office where we get an exit stamp for Ecuador. We wait in a short line and when we are up, the officer says our 90-visa will expire tomorrow. Ehmm… oh we've forgotten all about our visa, that is so weird! Phew, close call then.
After five minutes we are back outside where the bus-guy is still waiting for us.
Now, the bus-guy says in simple Spanish, now you go to the Peruvian border, get an entrance stamp and return here. Okidoki.
We walk 500 meters to the Peruvian customs office where we have to wait in line. The line just reaches outside the building and within 20 minutes we can enter the building. We stand in our line, in a row of about 40 people. Right, this could take an hour or so… two hours later we've reached the next level and wait at the customs counter while the officer takes our picture and fingerprints. He enters some information in his system and browses through my passport looking at my collected stamps. Then some more typing. Pfff I am so tense… and then CLACK, a stamp. Yeah!
Now Jos, same story, no problem. CLACK! Easy. No questions, no onward ticket, just a stamp with a 90 day visa.
We hurry back to the bus and our backpacks. Bus is still here, bags too, but where is everybody? After waiting for an hour group 2 comes back. Now we wait for group 3 and 4, says the bus-guy. And so we wait, and wait… waiting…
Four hours later the people of the last groups return one by one. Sad faces. Obviously been crying. They won't join us to Peru. They are Venezuelan refugees and didn't get their visa. They take their stuff from the bus to join the enormous group of others outside and get ready for a long and patient wait for a permit to enter Peru.
We had no idea…
After waiting at the border for seven hours we finally continue our trip to Piura in a half empty bus. This is so sad.
With the border crossing behind us, we think we've had it all, but no… there is another safety check point. Police search the bus with flashlights, probably for drugs. After having driven for another half hour the bus stops and picks up a big group of Venezuelans, with their baby's and arms full of pillows and blankets. They look exhausted and pale. This bus, these people. It's so impressive, are we part of an attempt to help people towards a better life?
The roads in Peru are evil, bumpy and shaky and it seems to take forever just to get to Mancora, very tempted to just get out and stay here. Mancora looks nice, there are great looking bars but they're all empty. Hmm, low season.
Ugh, we have a flight to Cusco tomorrow so we need to stay strong!
14 hours after leaving Machala we arrive in Piura. A hellish ride and not a great way to continue our adventure in a new country but what an impressive experience this was.
The hotel is closed but has a night guard that opens the door and checks us in. Our room looks great and we sleep like a log until 8 am. We have two hours to spend in town before we need to get to the airport, so we get some breakfast and enjoy a peaceful moment at the nice town square watching people do their thing.
What looked like a grey and dusty town when we arrived last night appears to be quite a nice town. Piura is not attractive to the eye but the square looks very nice and the people are incredibly friendly, a great welcome to Peru!
Piura to Lima with Viva Air
We fly with Viva Air to Lima. Viva Air doesn't have a good reputation for it's very strict, unkind personnel and old material. In our opinion, this reputation does not fit their performance. Viva Air is actually a very acceptable company.
We flew with Viva Air in Colombia where we had some discussion about the carry on size but we had only ourselves to blame for this. The flight itself was good. Kind staff and on time flights. Not too much leg space but you'll fly what? 1.5 hours tops?
Viva Air's carry on size is smaller than the standard sizes we are used to so we added one bag per person to check in. For this we've chosen the VivaSuper fare, which is the second price in a row of three to choose from when booking online. This price includes standard carry on luggage of 6 kilo, check in luggage of 15 kilo and priority boarding. Adding the extra luggage to the basic price will cost the same as the VivaSuper fare.
The plane leaves ten minutes late after waiting for two lost passengers and then we are on our way.
We had our worries, in Lima we have a connecting flight with Avianca so if we would have a delay we'd miss our flight to Cusco. We arrive in Lima on time, get our bags (yes everything is still there) and check in at the Avianca counter.
Lima to Cusco with Avianca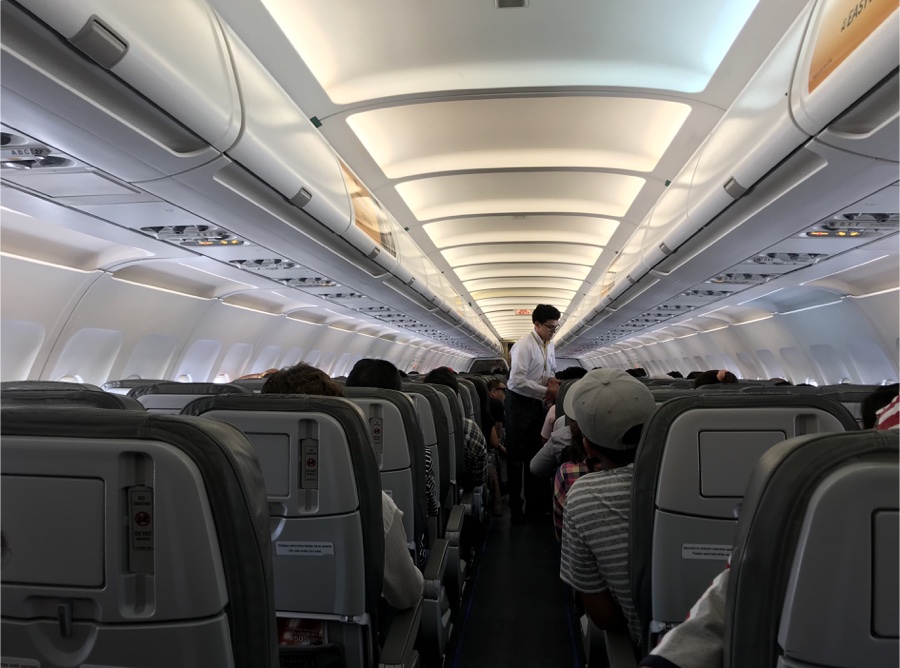 Lima city has over 17 million people but its airport is not too big, so it's not hard to find the way to our next gate.
Avianca has check in luggage included in the fare, so the price you see is all you need. Eventually this could mean you pay as much as you pay for VivaAir tickets but this totally depends on how far in advance you book your tickets. The prices of VivaAir tend to go up the last week but Avianca is much more stabile.
Seats on the Avianca flights are comfortable and offer much more leg space and you even get a drink on short flights.
Before we know it we are there and outside of the terminal we are flooded by taxi drivers. We planned to take a bus which stops opposite the street of the terminal and costs a fraction of a taxi. A taxi costs 10 soles so we randomly pick a driver. Our driver José is a bit older but his English is excellent and he doesn't come across pushy, so we like him straight away.
We have great conversations during the short ride and ask him for a price if we would like to hire him for a day. He says he used to be s guide and now asks 550 soles for two full days. Well, we'll see about that. He gives us his business card and we tell him we will think about it.
When we arrive at our accommodation there is no sign on the door and no doorbell. José helps us find the owner of our apartment Muyacha, Angela lets us in and we instantly fall in love with this sweet and charming Peruvian lady.
We have a small apartment within a traditional courtyard living community. There is only one tourist apartment so it feels very special to be here. Peruvian neighbors greeting us and no noise. Great!
Cuzco or Cusco what is it? Well, in short, the traditional name with an S is preferred by the locals and the Z is made up by the Americans. So, now that we have this out of the way, let me tell you some more details.
Cusco is large town in the south-east of Peru with about 350 thousand inhabitants.  The city locates itself at 3400 meters above sea level, which means you will probably feel the effects of thin air and less oxygen in your body. Especially on the first day you can feel, woozy and dizzy. Weird in the head… After twelve hours this could get worse with headaches and fatigue. It is important to listen to your body and eat light the first day or so. Walk slowly and take some coca tea, made of coca leaves which are sold everywhere or take a Coke, 'Coca Cola' is made from coca leaves 😉
The beautiful 16th century historic center of Cusco with impressive buildings and heaps of charm has a lot to offer. From here there are lots of cool things to do and see in the wide area and Cusco is the best ánd definitely the most charming location to start your tours from.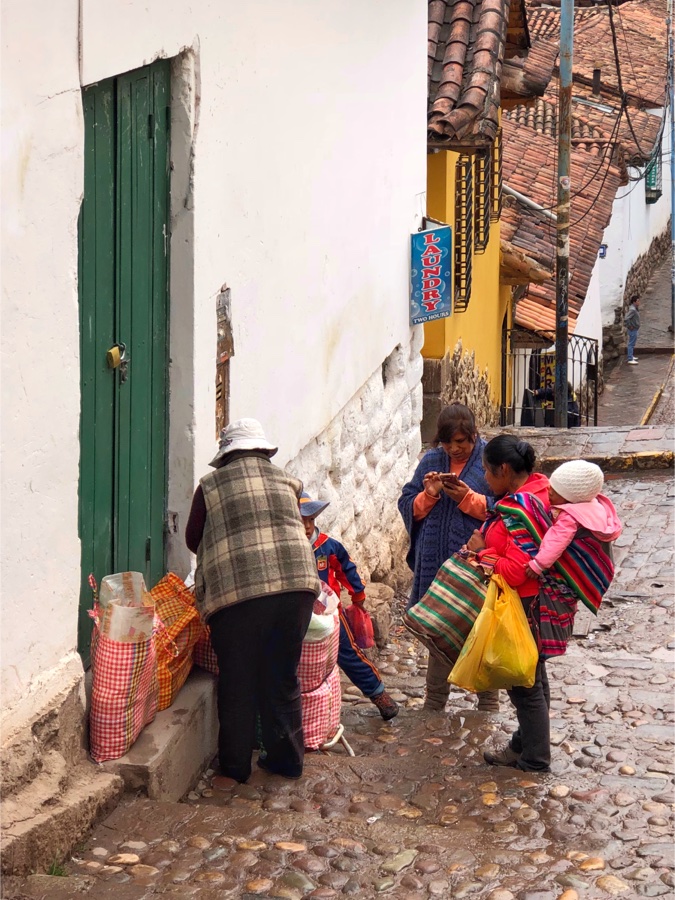 There are a lot of great restaurants and bars, all with a great atmosphere. We especially like Paddy's Irish Pub close to the big central square 'Plaza de Armas', where you can also get a great meal. Try the vegetarian pizza, it's delicious and enough for two small eaters.
In the four days we are in Cusco we have only one dry morning in which we happily take some dry pictures of the gorgeous historic streets. The rest of the time it's raining like… like… it's just raining. All the time. A lot! And it's cold, around 8 degrees Celsius, so from the moment we arrive we have a sore throat and a runny nose.
Accommodations in Cusco don't always have heating and warm water in the shower. In our apartment Muyacha we are in luck with at least the last. There are about a hundred blankets on the bed so the nights are warm enough.
Around this time there are a lot of interesting sites closed or inaccessible due to rain or snow. Rainbow mountain closed because of it's unsafe slippery paths and how great is it to see a rainbow mountain covered in snow? No, for us this visit to Cusco was an unfortunate month too late and we'll definitely come back to this amazing country.
We have run out of energy, a bit of cold rain and we immediately go snotty and sneezy. So, from the beautiful but cold and wet Cusco we decide not to travel on towards the south but instead we book two tickets to Cancun, Mexico. Our first flight from Cusco to Bogotá takes only three hours and the next day we are in Cancun in another three.
What a difference a day makes!
During this short time in Peru we have enjoyed the friendliness of the Peruvian people the most. Of course our adventure has been too short to really get a good opinion, but our first impression was fantastic. We have tasted the atmosphere and now we want more. So when we are back to our old energy level in the future and we are ready to do some extensive hiking again we will most definitely go back to Peru to see every little gem it has to offer!