During our roadtrip through Victoria we cross over by ferry to the only island state of Australia. This island south of Australia has a surface of about 68,000 square kilometers, that's 1.5 times the Netherlands. 
Pristine beaches, lush forests and colorful hills. Tasmania is a popular destination for hikers and vivants. The cheeses are good, the wines even better. Fresh oysters at every street corner and oh those cherries!
An Island with incredible unique nature and wildlife but unfortunately also a reputation of being roadkill capital of the world. 
Yearly 500,000 animals get hit by cars. That's 1,500 a day!! Even on narrow dirt roads there is a speed limit of a hundred kilometers an hour, so they could start saving some lives there.
Luckily we've been able to see a lot of these animals alive and well in the many incredible places we've been.
In our three weeks we made a roadtrip along the north- and eastcoast down to Hobart and right through the center on to the west coast and back north again. We explored the pristine beaches and discovered what they mean when they call this area the roaring forties… 
We chose to travel to Tasmania by ferry because we want to take our car/mobile hotelroom. A few months ago we booked a return ticket with our car in a special offer for $ 450 (€ 300). At the time we thought it was a lot of money, but now we can see the regular prices are twice as much. When we would book today for somewhere in the next month we'd pay $ 820 for the cheapest option. Good thing we booked when we did. We sail during the day and have no seat reservation. That was the cheapest way. The dates are even online changeable for free.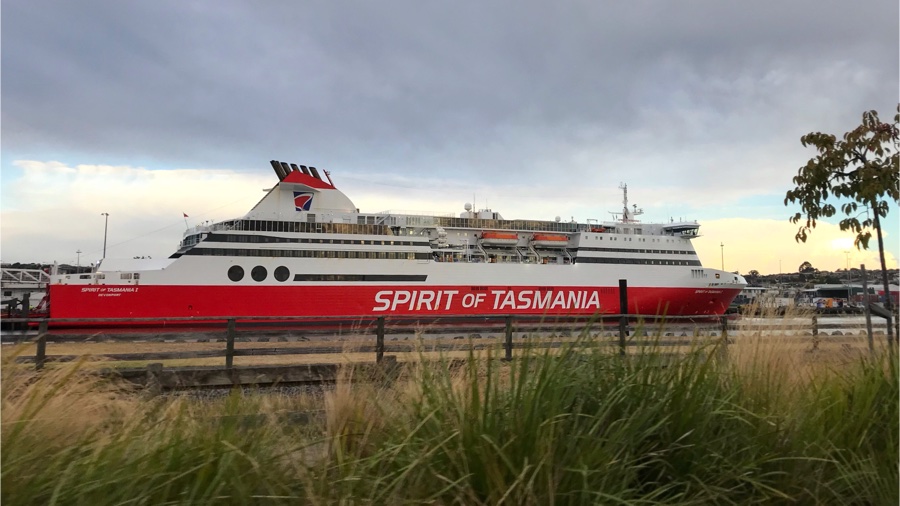 So now the moment has come, we are leaving for Tasmania! We've bought heavy duty tablets for motion sickness, for the journey over the Bass Straight is said to be relentless.
The ferry leaves at 9 am from the Melbourne harbor and we need to check in at least 45 minutes before departure. Because it's a Monday and the first schoolday after the summer holidays we decide to stay in an Airbnb in Saint Kilda, very close to the ferry. We won't have to get up too early to dodge the morning traffic. 
We leave the Airbnb at half past seven but almost immediately get stuck in traffic. Shit. 
Check in closes at 8.15 but when we finally arrive at 8.25 we can drive through the bordercontrol and onto the boat. Yay we are on!
Tasmania has a very strict import policy concerning fresh fruit, vegetables and fish. Particularly fruit flies are a big pest in Australia and can ruin entire crops. Tasmania will do anything to keep them off their island. At the bordercontrol just before embarking we need to open the car for them to check. If you bring a gas bottle aboard it needs to be fixed to the car or in a locked compartment. The officer tells us to cover the bottle and we can go through. Phew! 
During the journey we have to leave our car and can't reach it during the sail.
So we take with us whatever we need and go to deck 7 to find a nice spot to sit. There are many areas with different chairs so we find two with a nice view.The ferry has multiple restaurants, a movie theater where you pay $ 10.00 for a ticket, but also different free tourist activities. We just read and relax.
After sailing for 3 hours we can see how slow we actually travel as we still see the Mornington Peninsula on our left.
The notorious crossing from Victoria to Tasmania is better than we expected.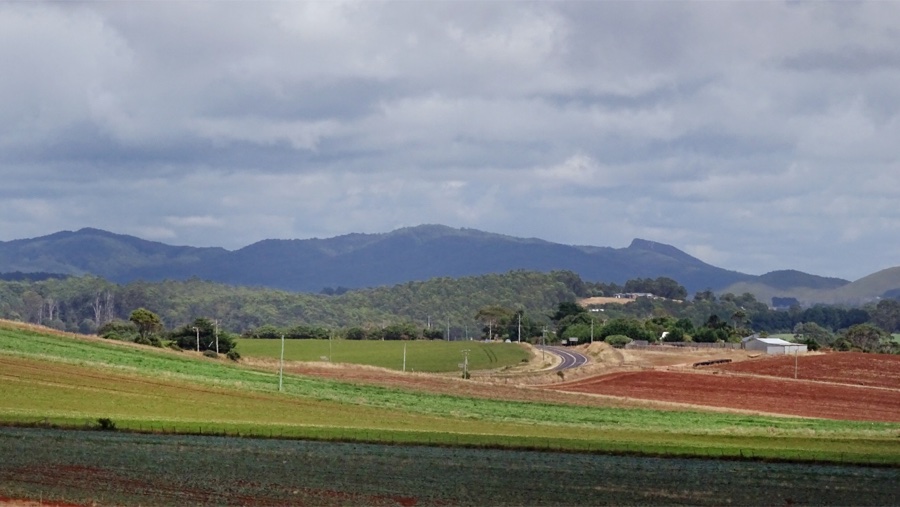 After nine hours we disembark the ship after a quite relaxing day. Our first glance at our new location is not bad… the island looks quite flat but as soon as we've done some grocery shopping the landscape changes quickly. Tonight we stay at a campground in Forth not far from the port. But the scenery shows us how diverse the island is. 
There are just toilets but it's for free so fine for a night. The terrain around a cricket field is full by the time we call it a night. The sky is full of stars and the temperatures have dropped quickly to 15 degrees.
Peggs Beach Conservation Area
We've picked up a flu somewhere so with sore throats and runny noses we take it easy the next few days. We stop at different beaches along the way and drive towards Stanley on a small peninsula. A dry and unattractive area where we decide not to stay.
Our journey today brings us to Black River Campsite in Peggs Beach Conservation Area, with sites very close to a beautiful white beach. The fee is $ 13.00 per night and the sites are huge and separated from each other. What an awesome discovery!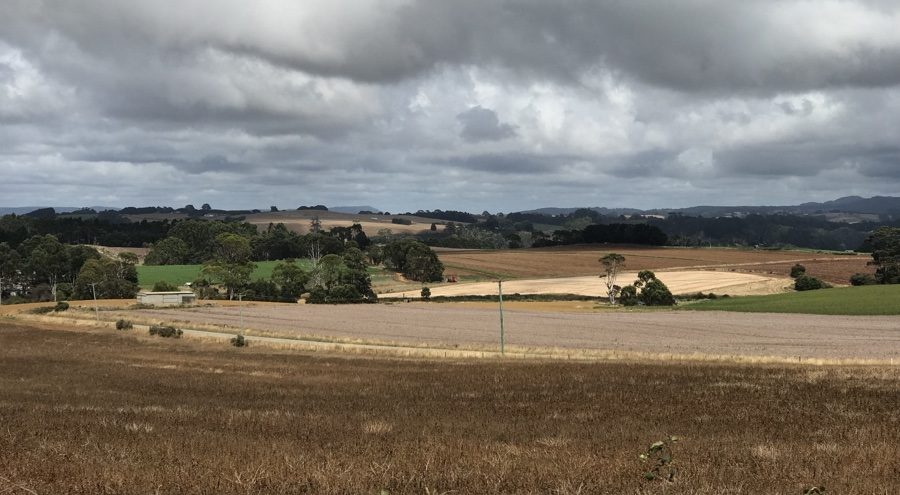 While we enjoy our campfire, a thousand stars appear. Not just stars… we have the feeling we are being watched. The cracking sounds from the forest get eyes as soon as we use our flashlight. Stunned by the light a wallaby looks at us from in the bush. Ahh here's our little stalker… and there are more. Even a small cat-like creature watches us from a tree. As soon as we shine our light on it, it jumps down and runs away. What was that?!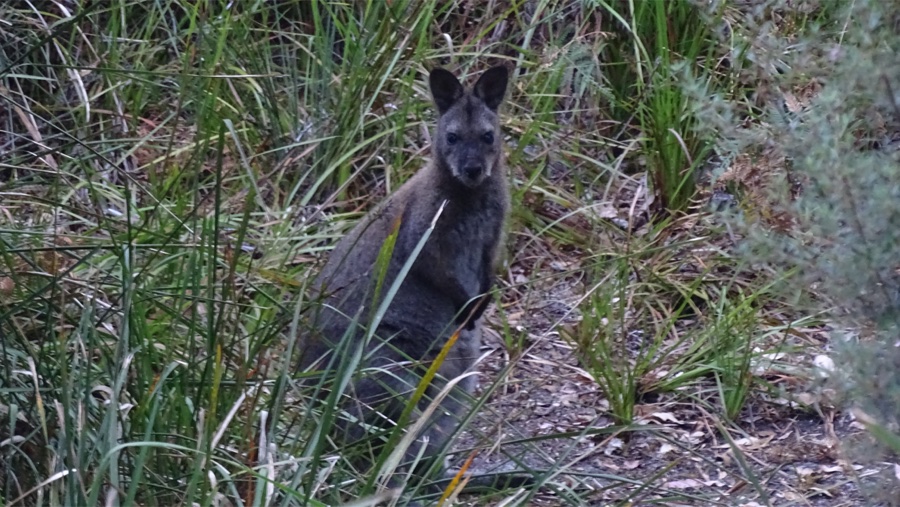 We drive towards Arthur Pieman National Park, a huge heather area with loads of wildlife like Tasmanian Devils, pademelons, wallabies, quokkas and what else? 
We were planning to drive towards the south along the west coast but discover you'd have to cross a river by ferry. The ferry costs $ 40.00 and takes 10 minutes… ridiculous of course so we decide not to go via that road. We'll drive back to Burnie and go south from there.
We stop at Boat harbour beach where we find a fantastic (and I mean FANTASTIC) free campsite by an incredibly white beach. This must be a dream… ánd it's for free!
There is a cold shower and the toilets are clean. What else do we need…
After watching an amazing sunset the kangaroos appear. Small wallabies and pademelons watch us carefully from a short distance. They are so cute hopping around and looking at us.
This place is awesome so we stay another day. While we are reading a guy gets stuck with his vehicle and we help him out. His name is Gunther and he's incredibly thankful so invites us over to his camper for a wine. We share our travel stories but his are the best. This man is 74 and has been everywhere. We enjoy each others company for the rest of the evening.
The following morning we decide that we háve to see more of this island and leave this gorgeous spot.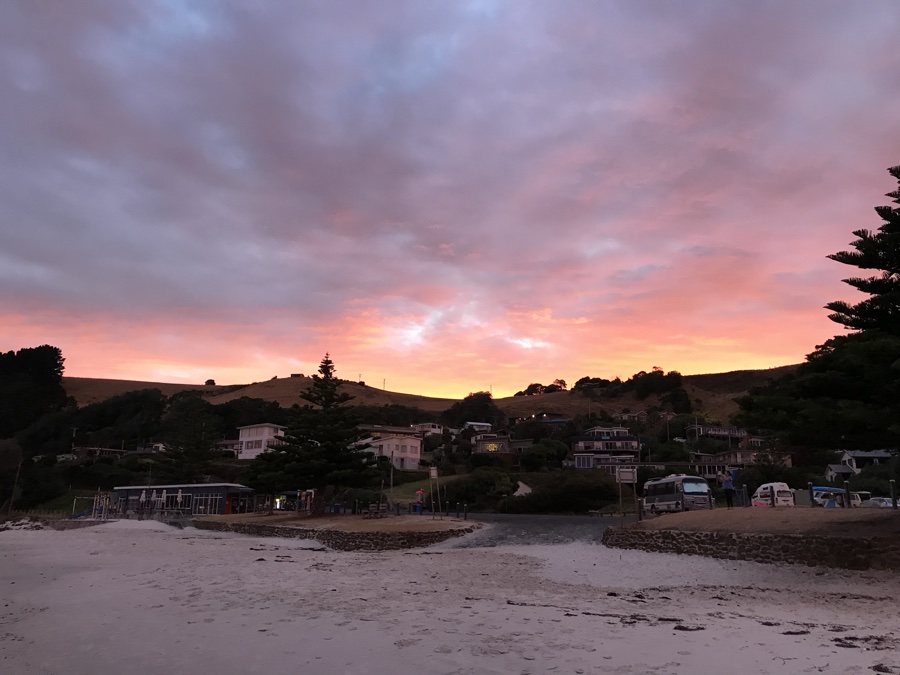 We spend one night in a hostel in Launceston. We booked in advance and expected a great deal from this town, but unfortunately there is not much to do. We are still not feeling well after we've picked up a flu en besides that, it's raining all day. In between the showers we walk to our friend Dan Murpheys for a bottle of wine. As soon as we want to walk back it starts raining again. A lady in the carpark gives us her umbrella. Wow, that is so kind! We arrive back at the hostel with wet feet but dry clothes.
The Launceston Backpackers is an old classical building with no air-conditioning and obviously no range hood in the kitchen. The whole building smells like burned toast and rotten fish. Jos is quite happy with his blocked nose…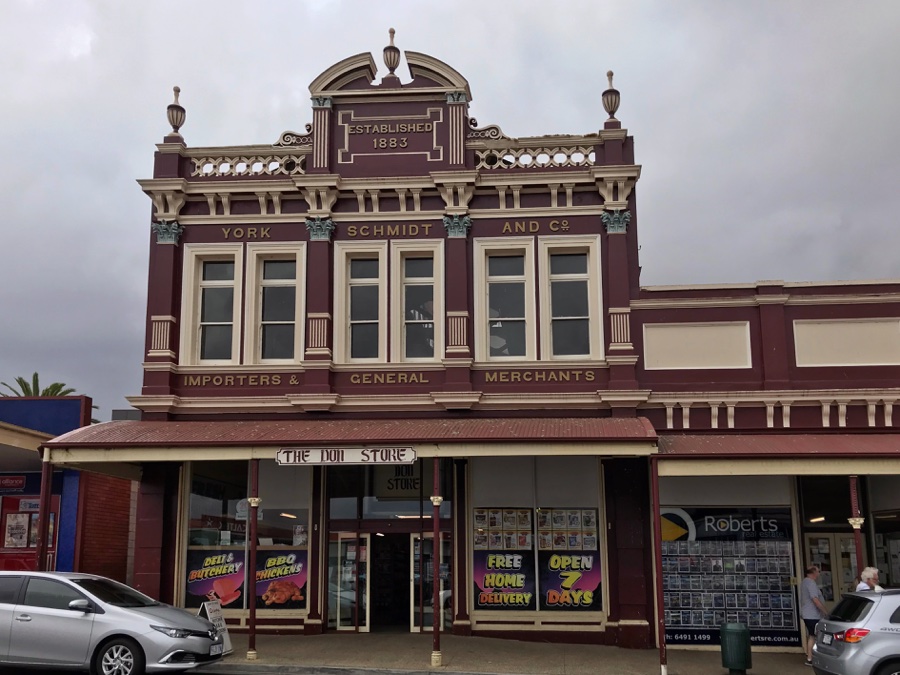 From Launceston we follow an unsealed road for 35 kilometers, it's a beautiful route the sun is shining and we feel happy. Our plan to drive to Waterhouse Conservation Area. There is a free campsite and it's supposed to be fantastic.
After another dirt road of again 15 kilometers we are finally there and look for a spot. There are five campgrounds with each 6 to 10 spots. We start at the last one and work our way back until we find an available spot. After 45 minutes we give up. Full is full. Shit.
These beaches look absolutely breathtaking…
Now that it's still early, it's 3 pm, we decide to drive more inland towards our next destination, Bay of Fires.
In Pyengana we find a free campsite in a panoramic painting. Lush green scenery, some cows hanging around and the birds… ooh! Two yellow tailed black cockatoos are in the tree next to our car. So cool! 
Unplanned we stay for three nights because… because we can!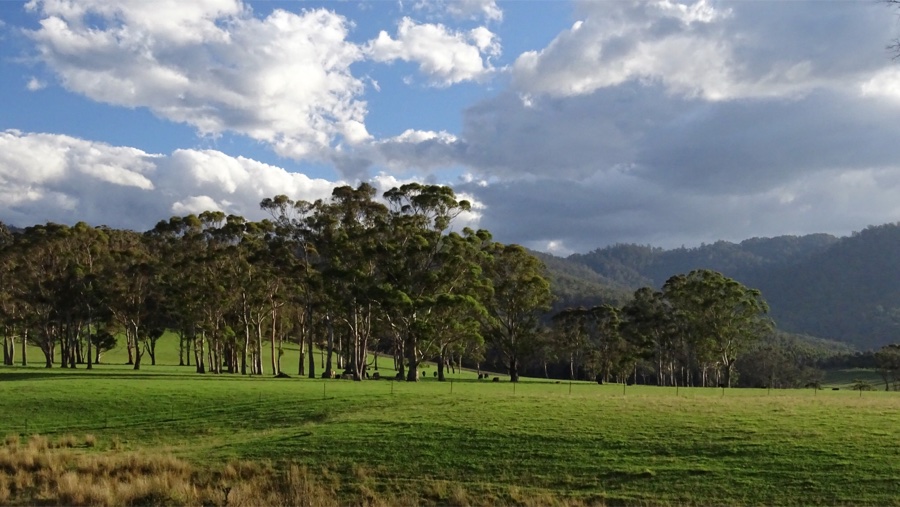 Bay of Fires Conservation Area
Just when we think it just cannot get any better we stumble upon the best free campground ever! 
South to the Bay of fires we find a spot between the trees with immediate access to the beach. Centuries of fires have made the ground black from charcoal (thus the name), the beach however is the whitest we've ever seen. The ocean is azure and the view over St. Helens is memorable. Staring into the ocean with nothing in between us and New Zealand, we don't ever want to leave!
Eventhough we are on the east side we watch the sunset from the beach hoping for a colorful sky, but the wind is relentless so we need to seek shelter behind our car. There are some bunnies hopping around and an opossum tries to steal our garbage bag. Hmm better lock everything in the car tonight. 
While we drag ourselves away from this amazing place we follow the Great Eastern Drive, a magnificent coastal road from St. Helens to Orford. 
A hail storm surprises us and we need to stop by the roadside until we can see again. Woow where did that come from…
Just before Bicheno we see a sign beware of crossing penguins, haha haven't seen that one before! No penguins unfortunately.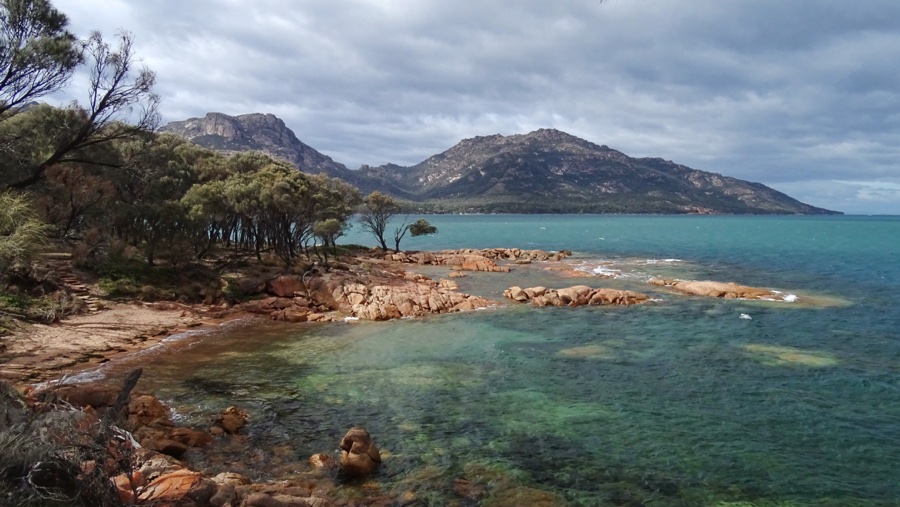 The rough sea with fishing boats swaying back and forth like crazy. The weather for the next week doesn't look very attractive but what can we do. We'll just follow our route and try to enjoy as much as we can.
At the beginning of the park we book our National Parks pass online. This way you don't need to print it and put it in your window, for it's got your car registration in the system. The pass costs $ 24 for a day or $ 60 for 8 weeks. We choose the last option because we'll probably be needing the pass in other parks too. The pass is eligible for every park in Tasmania.
At the parks visitors center we ask about the campsite and consider ourselves lucky, there is only one site available for tonight and tomorrow there are none.
Oh my… We pay a camp fee of $ 13 and drive to our spot in Honeymoon Bay where penguins are supposed to celebrate their 'honeymoon'. 
The roaring forties, they call it. The ever blowing 40-knot wind on this island is so annoying but has definitely got it's charme too! Although today the storm is crazy and wild and when it also starts to rain we seek shelter in our car. It's far too windy to cook anything outside, so we picnic inside our car with shelled peanuts and cognac. A book and some jazzy music make our Valentines day complete. Great place this Freycinet NP!
It's still windy and showers poor down upon us like crazy so it's best to make this a driving day. On a dry sunny moment we stop at the cosy little Spikey beach along the way. We enjoy great views from this rough coast.
After our short coffee break we back on track. The winding roads lead us through idyllic villages and a superb area of pine tree forests to Kimberly Cottage Campground near Levendale. 
The campsite next to the owners home has a small cottage with a communal kitchen and a bathroom. 
Time for a real shower! A warm one this time… 🙂
At night we seek shelter inside the cottage with some other guests. They are originally Dutch but have been living in Australia since the sixties. They love bringing back their memories to Holland, we have a fantastic night by the fireplace with wine and good company.
This capital city of Tasmania has it all, culture, restaurants, bars and shops.
Attractive touristic spots like the huge Salamanca market on Saturdays, a steam-train museum (if you're into old trains, Tassie's the place to be), old colonial buildings wherever you look and you can even take a tour through the Cascade Brewery. Build onto a hillside the coloured houses offer a warm and welcoming view.
We find some fantastic cafes and restaurants and the art throughout the city is awesome.
Art Gallery Mona north of Hobart is definitely worth a visit!
Just ten kilometers south of Hobart there is a bush camp, Lea Scout Center. For A$10 a night we find our own spot high up in the bush with a campfire and a lot of wildlife.
We set up our camp and just after sunset while we sit by our nice warm campfire we get visitors. A couple of wallabies, a Brushtail Possum, a Bandicoot, a Bettong and a Pademelon present themselves.
This is so absolutely unforgettably cool… and we try to take some pics of them in the dark, but that doesn't really seem to work. Wow it's like a zoo here!! We end up staying there three days. Absolutely recommendable 🙂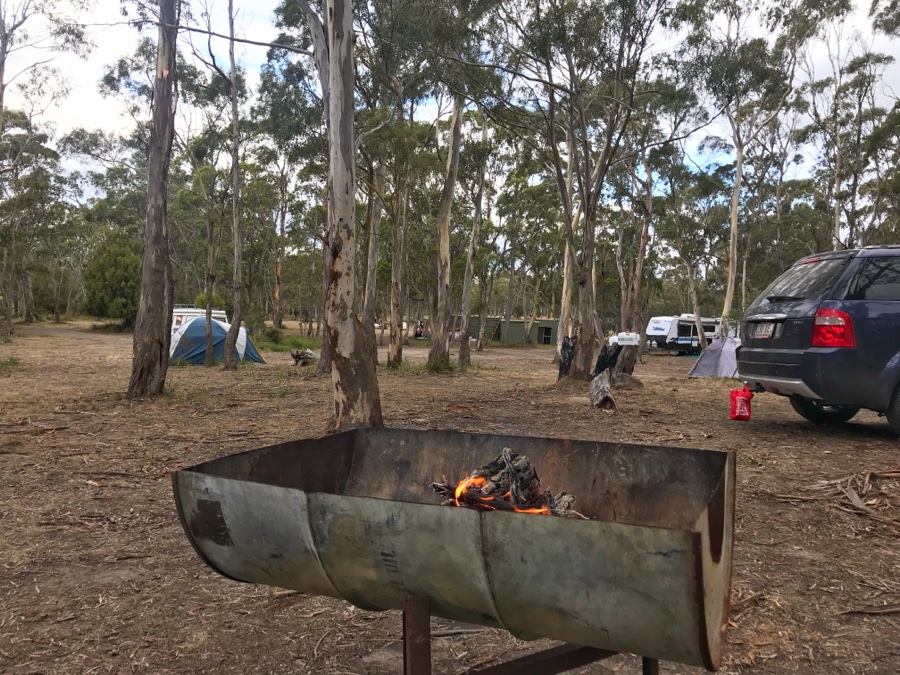 From Hobart we drive back towards the north. We've seen so much beauty already, we don't expect it to be exceeded. We still have one week to go so we need to start planning our last days. We decide to spend the night in a small town called Hamilton. Next to a small river with a brilliant view. We follow the platypus trail that starts there along the river and enjoy the scenery and some very welcome sunlight.
We stop because we see something moving in the water. And again… was it… could it be? Did we just see a platypus? A small black head pops up onto the surface for just a second and it's gone again. And again. Wowww…!!! We've expected them to be much bigger, they must be about 40 centimeters tall.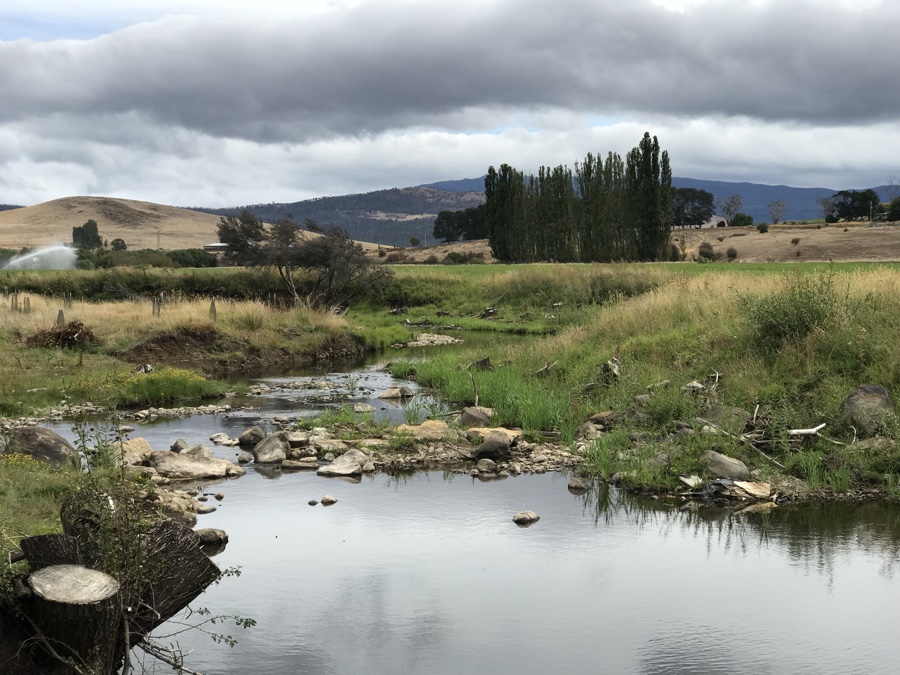 We walk back to the camp and stop along the way at the cafe for some coffee. Nope we are closing, the lady says. But it's just three o'clock… ah well, we'll make our own fresh brew!
The view from our camp is fantastic and it's free! Yay for camping in Tasmania again.
We pass the beautiful lakes of the central plateau between Taralea and Derwent Bridge. Lakes with black swans and probably lots of wildlife surrounding it. 
There are a lot of free camping areas here but it's only 10 degrees at the moment and still early in the day so after we've enjoyed a coffee with a view we drive on. 
Just after Derwent Bridge we finally reach the evergreens, green green greener scenery that never seems to end. Enormous trees, mountains and deep green valleys. WOW we thought we've seen it all but this is magnificent! 
Breathtaking depths echo alongside the winding roads while the sun has finally found its way back to earth. There are no campsites in this area, there is nothing but mountains and valleys, so we stop every once in a while and then drive on to the nearest camping area.
At the large lake Burbury in Crotty Conversation Area there is a campsite with one very special site in particular. Just one campspot with a view to die for. We arrive around noon and that spot is available for us to enjoy the impressive farsights of the lake and surrounding mountains. We are happy!
The rest of the campground is a big grassy area with some trees and of course you can see the mountains here too, but we have definitely got a unique spot. 
In most areas in Tasmania the absence of flies is compensated by the presence of wasps and mosquitoes because of the islands humid nature. Here on our unique fabulous spot there are so many wasps it's ridiculous. 
Fortunately they don't seem to be as bloodthirsty as they are in Holland so we don't fear and relax while reading and enjoying our private view.

This idyllic town lies in a valley surrounded by rough mountains. The town itself is a typical country town. Some fantastic old buildings and a classical railway station give the town that attractive vibe.
We find two IGA supermarkets just 30 meters apart. We take the first one to get some groceries. When we go to the next IGA to find something they didn't have we see that this one is much cheaper. From our just spend 17 bucks we could have saved 2 dollars! Unbelievable…
We'd love to stay here but the only campground in town has terrible reviews and it's still early. We take a walk through town, drink a coffee and get moving again.
We drive towards Strahan, a slightly bigger town with a lot less charme. Tourists everywhere and the town centre doesn't seem to have a lot to offer. From here you can join a boat trip to Macquarie Harbour which would probably be fantastic if it wasn't so expensive. 
We try to get an idea of what the harbour looks like by driving to Macquarie heads, where the sea enters the land. It's flat and bold, the sea is rough as an approaching football team and it starts to rain again. Very impressive but, let's get out of here!
The small town of Zeehan 45 minutes north of Strahan has many interesting things to offer, fantastic colonial structures, an 'old stuff' museum, a theatre where they play black and white movies and even an old railway tunnel with glow worms!
We stay at the campsite there where we pay the sweetest owner $ 27 for one night. The amenities are clean and modern and we can make a campfire at our own spot. It's stays dry but we can feel the humidity rising as the night falls. Our campfire only keeps us warm that long so before we know it we are in bed and into a deep sleep.
There is a lot to do in area around Zeehan. Drive up to the coast where the original harbour to Zeehan used to be, the beaches are gorgeous.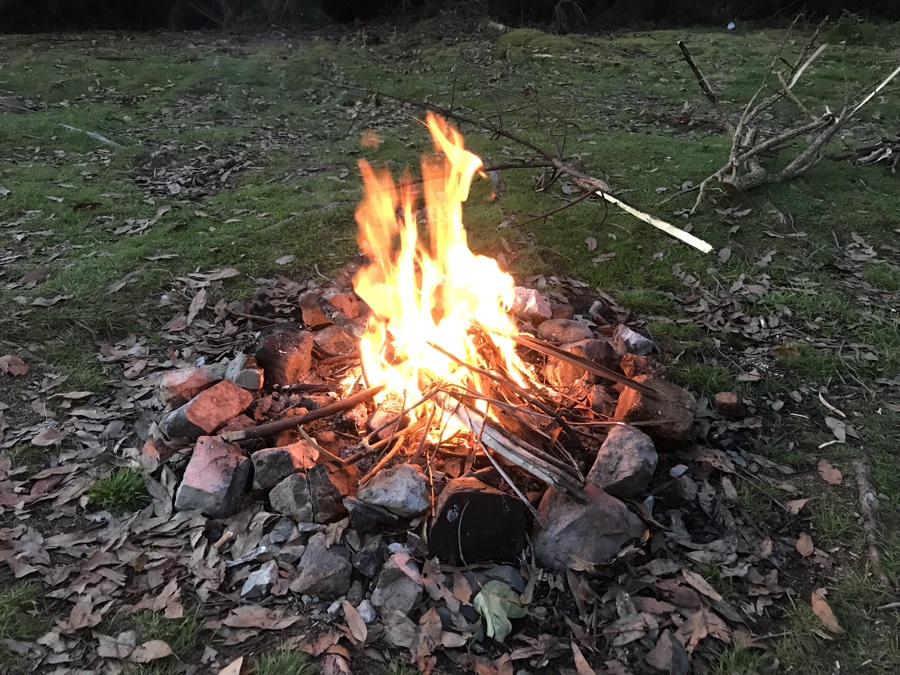 As we drive from Zeehan towards our next destination we pass the Montezuma Falls. The biggest waterfall in Tasmania. With regrets we have to pass this one. It's rainy and we are still not well from our flu, we want to safe our energy for a hike around Cradle Mountain. 
We pass some copper mines, the green coloured rocks and soil are unmistakably result of the oxidation. When we stop for a while at a nice rest area we see an Echidna! A sort of small hedgehog with a long nose. It's trying to cross the road so I can't help it but stand there and wait until it has crossed safely.
Did I tell you it's cute? That is an understatement, it's adorable!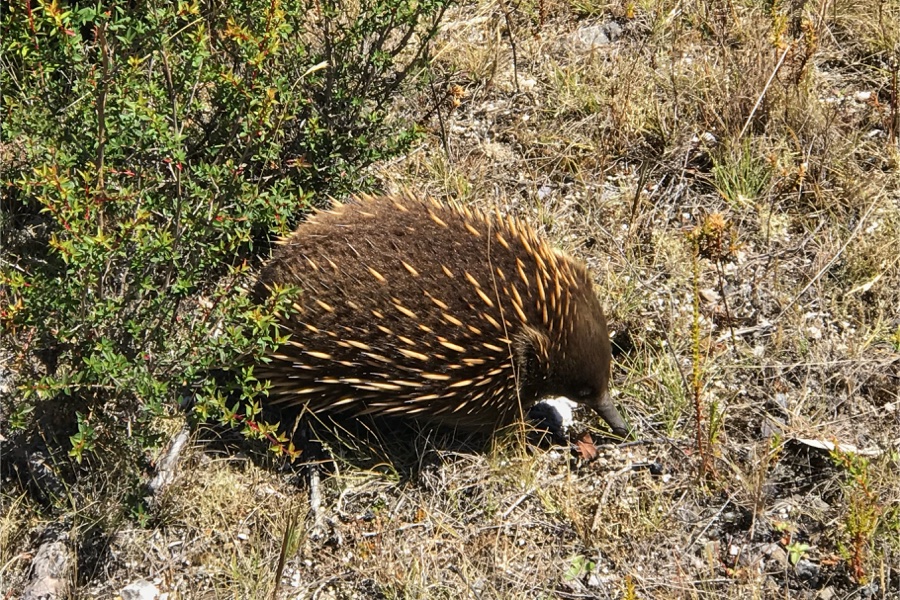 When we pass the highest road point of Tasmania at 930 meter altitude we stop at the Valley of Vale and Cradle Mountain view point along the road. A short walk to an impressive panoramic view over the multi-coloured green valley. We can see so far, unbelievable.
Unfortunately just like in any other place in the world big parts of this beautiful forest is destroyed. We see a lot of cut down trees and piles of wood. So sad…
Trying to enjoy the trees that are still vertical, drive on and find an exceptionally relaxing spot in the middle of the Vale of Belvoir Conversation Area.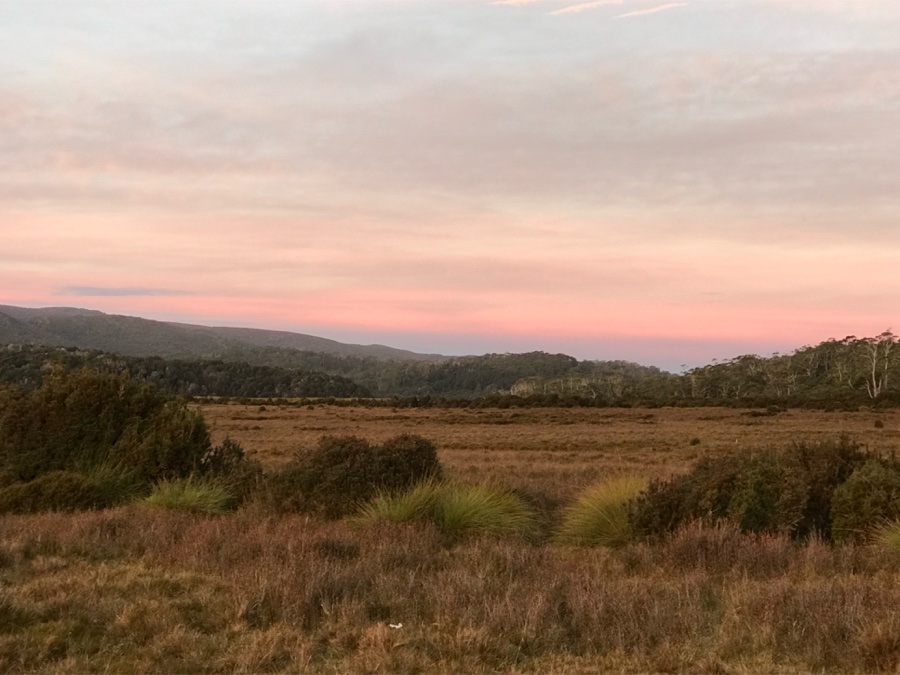 Just off the main road there is another campground but when we see how many backpackers there are we decide to drive on to the next campsite about four kilometers of the main road. No facilities but animals of all kinds, it's by a lake and the vegetation is varied. The dirt road isn't as good as we hoped but in 20 minutes we are there and it's absolutely gorgeous. This is the Tasmania we were dreaming of!
Cradle Mountain National Park
On the other side of the main road there is Cradle Mountain, the most popular mountain of the island. Being there makes us understand why. The entire area is gorgeous, lush and green. There are a lot of tourists, but well… sometimes you have no choice. If you can't beat them, join them.
We have a National Park Pass for all parks in Tasmania so we can enter this park for free and even have free use of the shuttle bus. The park is huge and we are so lucky with the weather because today's expectations are sunny and about 28 degrees. Wooh!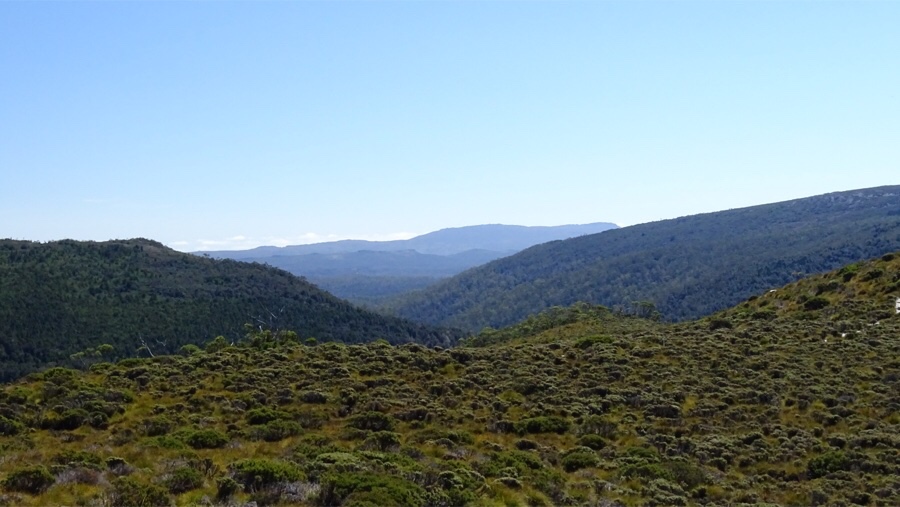 The parks shuttle stops at four different parking zones from where different trails start. We exit at the for last stop called Ronny Creek and follow the overland track to Crater Lake. It's a beautiful route with a partially wooden path through the mountain ranges. The view on top is spectacular! A 180 degree panoramic view that takes our breath away.
When we walk back down we take another route, towards the last busstop. We walk past Wombats Pool, a small lake which reflects the surrounding mountains like a mirror.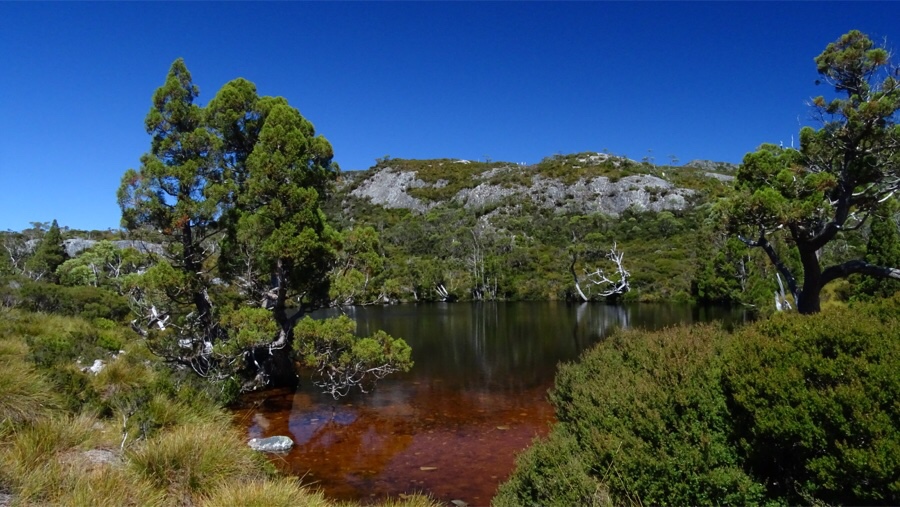 Hopefully there'll be wombats there, because we've looked and looked… but no wombat in sight. 
We meet a gardener working on the path and ask him about the wombats. He says they're only here early in the morning or at dawn. Especially on a nice summerday like this. Shit,  no wombats.
We walk on down and the rest of the hike is absolutely fantastic. Eventhough our energy is not what is used to be we walk for four hours and arrive at the busstop in one piece. The shuttle bus comes every ten minutes to we wont have to wait too long. After a ride of half an hour we are back at the carpark tired but satisfied.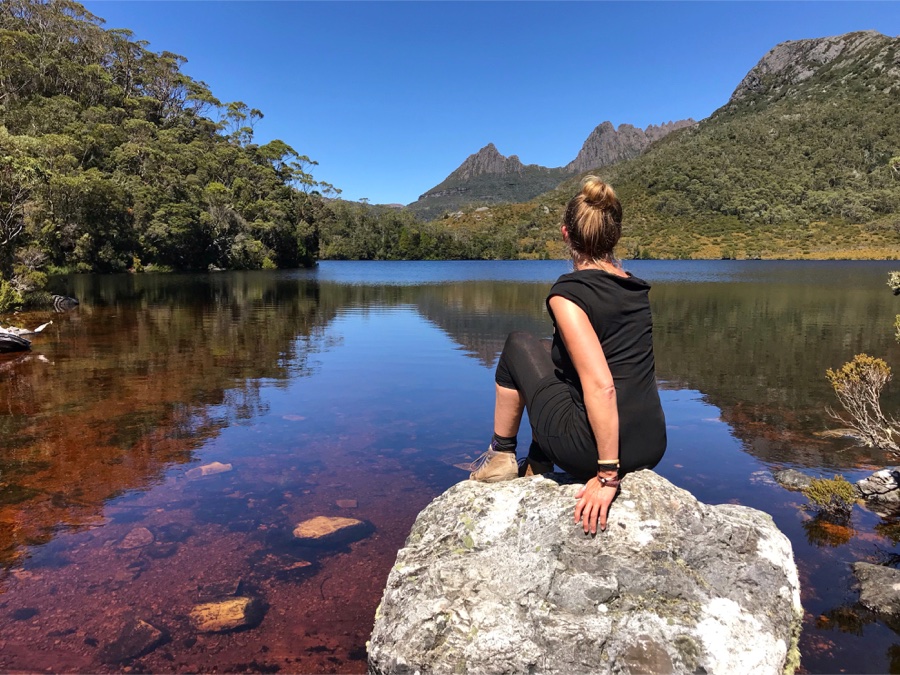 With only two nights to go and a lot of rain coming our way we make a quick decision and book a hotel for one night. Our choice to stay a night in Burnie immediately gets rewarded when we get an upgrade on arrival from a budget room to a seaview deluxe in the Voyagers hotel. Not bad for a rainy day! 
The hotel is slightly outdated but our room is huge and looks very nice. Trying out the big luxurious shower is the first thing we do.
Burnie is a nice town to visit. Great old buildings and a beautiful beach. We have a beer in the Europa cafe and at night we join the free Penguin tour on the end of the beach. It's still raining like crazy but the little penguins don't seem to care…
when it starts to get totally dark we can see them climb out of the water and find their way back to their burrows between the rocks. They have been eating a lot of fish obviously, their bellies look ridiculously round. So cute! They must be around 25 centimetres high…
The rainclouds have disappeared and we are ready for the hopefully pleasant sail back to Melbourne. The weather looks good, after days of rain we wake up to a perfectly blue sky and no wind.
Just in case we have our tablets for motion sickness closeby and we've done some shopping for snacks at Coles. On the boat there's a shop and few restaurants so you can buy nearly anything for an ok price, but the tickets were expensive enough so Coles it is.
The ferry leaves at 9.30 am and we need to be there 45 minutes in advance to check in. They also need to check your car for fresh fruit and veggies and gas cylinders which takes some time as well.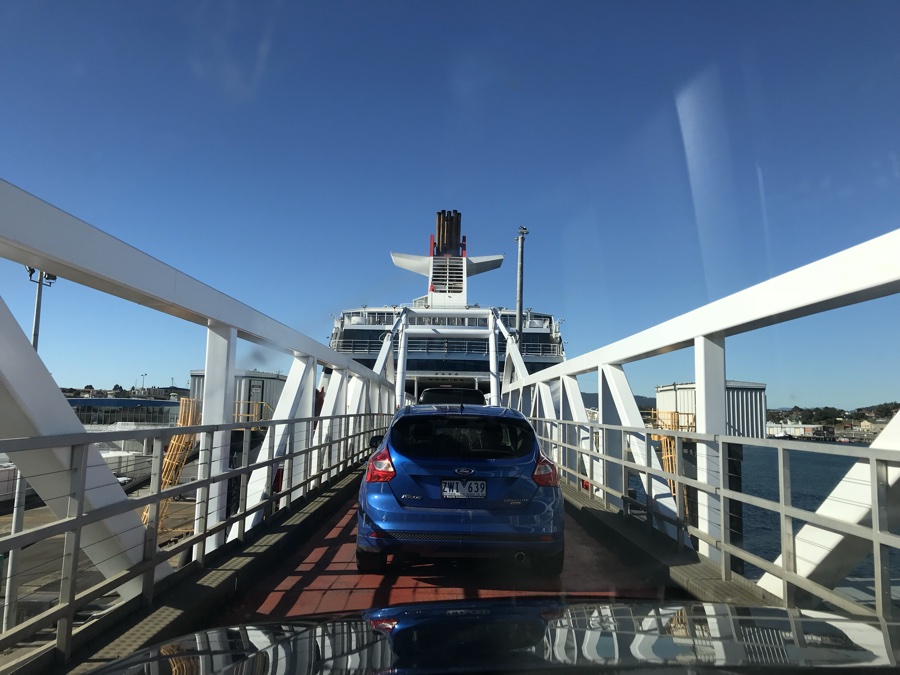 We remembered from our first journey, that we couldn't take a gas cylinder if its not fixed. So we cover up the gas cylinder and lie when the officer asks us if we carry a cylinder. 
Getting to the harbour in Devonport is easy, there isn't a lot of traffic and its easy to find the way. We are there one and a half hour before we sail and have to wait after checking in. It takes a long time and when its time to sail we are still in the waiting lanes on the dock. When its 9.40 we can finally board the ship and at just after 10 we are ready to leave the harbour.
Aboard the ferry there are chairs all through the ship, in the restaurants and waiting areas, but on our first boat trip it was quite crowded we couldn't find many empty seats. So now we've treated ourselves to some comfy chairs in a special area on the 8th deck. We've added the chairs online to our excising reservation and paid $ 29 per person for a recliner with footrest and USB port. Very comfy! You get a swipecard to get into the room and a seat number. But after a few hours we see some people sitting in the wrong seats and we wonder if they even paid for the chairs… Maybe we are too honest.
Ah well, we better enjoy, the weather is so relaxed there hardly aren't any waves so we don't need our pills. Again we reach the other side without any trouble. Hello to Victoria again!