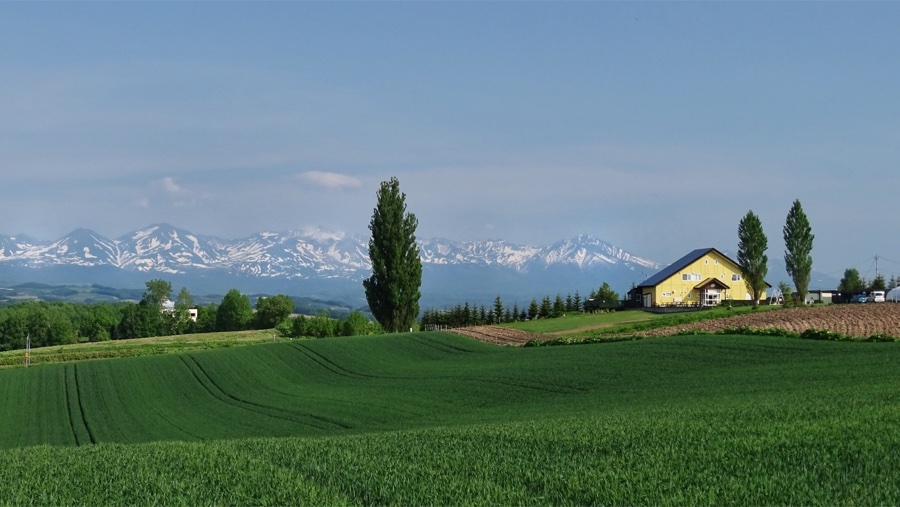 We start our Japan adventures in Hokkaido, the Northernmost island of Japan and probably the least touristic one. This island is about double the size of the Netherlands and is only connected to the rest of Japan by a tunnel under the Strait of Tsugaru to the island Honshu.
The smaller islands north east of Hokkaido are officially still in possession of Russia but claimed to be Japanese. This ongoing argument has never been solved and a peace treaty between Russia and Japan has never been signed since World War II.
Hokkaido was developed in the end of the nineteenth century with help from a few governors from the United States. Japan didn't know what to do with this huge island where up until then only warriors lived. The village of Sapporo got a school and soon after that a clock tower giving the people a guidance in their day. In 130 years Sapporo grew out to a city with almost 2 million inhabitants. This island doesn't have the obvious historical sites likes temples and castles, but it's got nature… whoah!
We thought we would never get here… not just because we would visit Japan somewhere in the end of our worldtrip but also, our journey to get there was quite a long one. From Tahiti we flew to Auckland and decided to book a flight to Shanghai first and then flew to Sapporo. This was the cheapest ánd the most interesting way for us, but we made a lot of miles in just one week.
Anyway, we are here! The flight from Shanghai with Spring Air was above expectations. Strict on rules but we had less luggage than allowed so we immediately got big smiles and great seats.
The flight is nothing but dull, after a good turbulence the stewards get everybody ready for some flight gymnastics. It looks very funny but it's actually quite refreshing. Everybody join in and before we know it we've started our decent.
We enter the passport control where they don't even ask us about an onward ticket. We've made one out of an old ticket and because usually they don't really check it, a fake ticket will be sufficient.
Our bags arrived alive, always extremely happy to see them ever since my bag got lost once and ended up in Portugal…
We enter the customs where we are submitted to an interrogation. Why are you here, what is in your luggage, where do you live and when did you leave your country, where are you going and when are you leaving. Still nobody asks us about an onward ticket though… they want to x-ray our phones and electrical gear separate, no problem, go your gang 😉
We stay relaxed, nothing to hide and answer every question with a smile, and then he says, you have many stamps… 
Ahhh of course, that's it… 'haha yes we collect them!' Now he laughs, very interested in where we've been and with his colleague they check every single stamp. We tell them we are on a worldtrip and with every stamp I tell them where we've been. Safari stories and tropical islands and now: their beautiful Hokkaido!
This they find amazing! 'Enjoy your trip!' 
And we are in.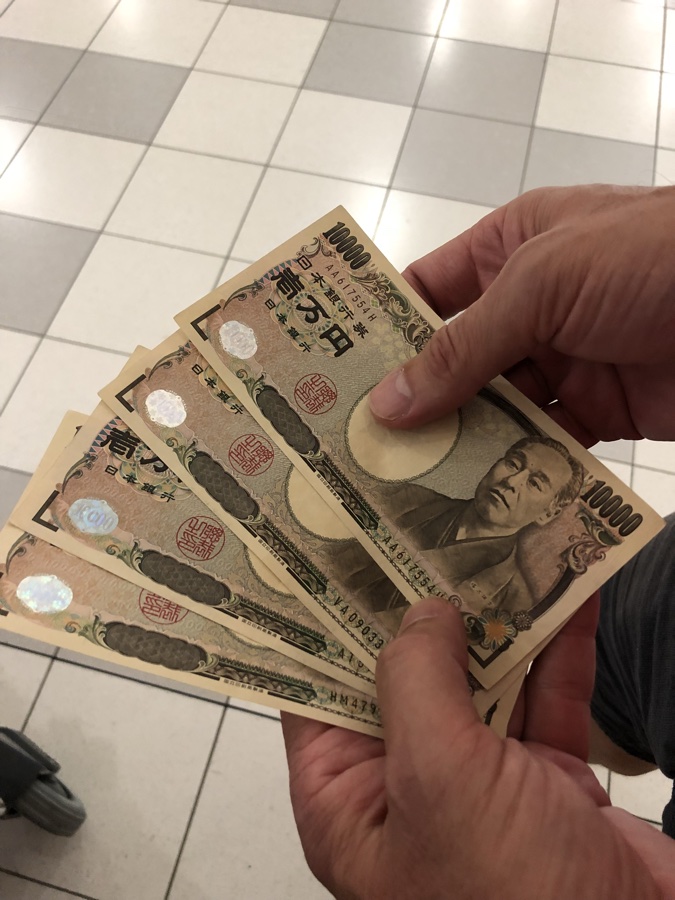 We buy a train ticket to Sapporo, we have a JR Train Pass but we'll be in Sapporo for three days and we don't want to start using the pass yet. The train isn't too expensive, we pay ¥600 (€5) per person. After 40 minutes we're there, we get off at Sapporo Station and immediately enter Japanese city life. High buildings, flashing commercials and a lot of men in suits.
Our hotel Nest Hotel Sapporo Odori is basic but relaxed. There are a lot of these middle class hotels with tiny 'all you need' rooms. This hotel is a good start sweet personnel in a great area.
We find a nice Irish pub to celebrate our first afternoon in Japan. Jazz music and happy hour.
We drink a Sapporo beer because that is what the city is famous for and they know it, even in happy hour we pay ¥750 (€5.80) for a pint, this is usually ¥1200 (€11.50)!
It's always great to visit a supermarket when we're in a new country, but here I get quite overstrung by the many undefinable products with unreadable names. We just need food and I see stuff of which I'm not sure it's wise to eat… a bottle that looks like washing detergent but can actually be lemonade or soup. Or the other way around! Some weird looking flakes of which we thought they were crisps, turn out to be for making stock.
We haven't got our Pocket WiFi yet, so we'll have to take a wild guess… we see some yummy looking sushi: check! Some bread, can't go wrong with that, butter (at least we hope so) and cheese for breakfast.
Hokkaido is known for its freshest seafood of Japan. We check out what the supermarket as to offer, beautiful red tuna, salmon and others, but the crab is definitely the most awesome thing we've seen. Tiny cute little aahhhwwwww-crabbies and humongous hairy horror movie crab monsters with 50 centimeter long legs with a hook in the end that can easily rip your hart out without you noticing. Let's get out of here!
After a good night sleep, we walk through the city to explore a few of the highlights. Sapporo is the biggest city in Hokkaido and the fifth in Japan, there are many great interesting points but we have to choose.
We visit the Clocktower, this building from 1881 has the oldest unmodified working clock of Japan and was the first public clock in Hokkaido. There is not much history in Hokkaido so this is interesting stuff. A senior citizen of Sapporo is a volunteer at the clock tower and gives us a free tour and his English is quite good. Finally we can ask some questions about all of this… anything! His Japanese accent makes it a bit hard to understand his English and it sounds quite funny too.
Odori Park is 1.5 kilometers long and was made to decide the city in case of a fire, separating the homes from the commercial district. The 147 meter high TV tower is excellent for a view over this park and the rest of the city.
The entrance to the observation deck is ¥500 (€3.90) and the glass elevator shows a sneak preview of what you can expect once up there. The Odori Park looks beautiful surrounded by the high buildings and the mountains on the background. The streets are straight and build in squares and go as far as we can see. What a concrete city… It looks so… Japanese!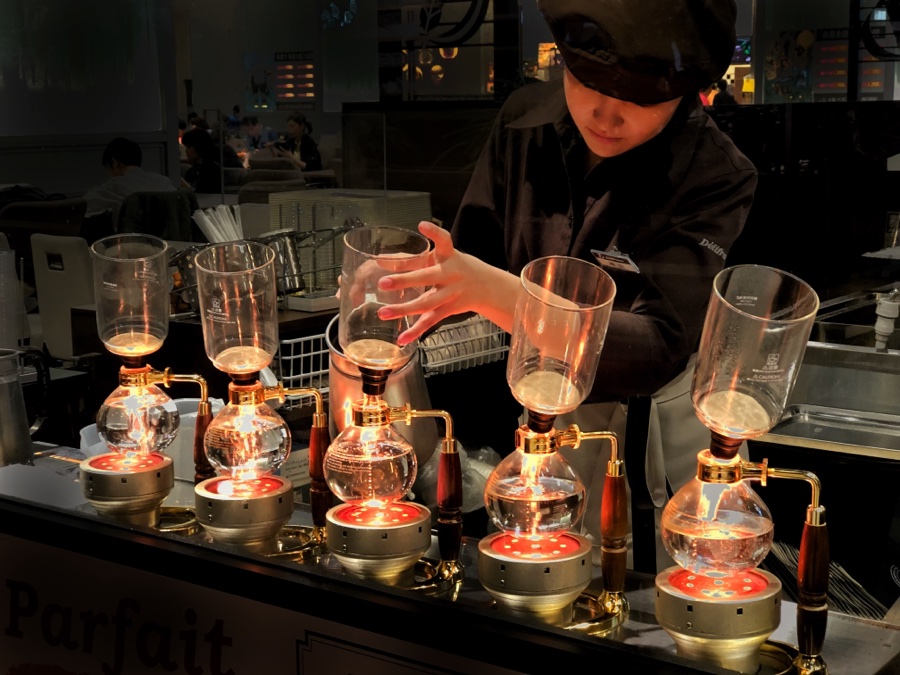 We've found the nice and affordable Court hotel very close to the train station where we'll stay for three nights.
We have a full schedule because there is so much to do in this area. Especially when you have a train pass it's so much easier to do things from one location.
Asahikawa is one of the bigger cities in Hokkaido, here you'l find anything you need except things to do. There aren't much. As any other city, unattractive modern buildings and a lot of concrete.
We choose to go to Furano and Biei today. We take the train to from Asahikawa station to Furano where there is a flower farm which is supposed to have beautiful fields full of flowers, from the beginning of June they said. The train takes 45 minutes and we get off at Nakafurano station.
In the station we see an add for renting bicycles, it's very close to the station so explore the area on wheels. The bikes are ¥500 (€3.80) for two hours so we get going towards the Tomita Lavender Farm where we hope to see those colorful hills. Unfortunately as we secretly expected it isn't the right time yet and the flowers are non existent or very disappointing.
We are probably just a few weeks too early. SHIT.
Doesn't matter, the bike tour is incredible. The scenery is amazing between the snowy mountains and the rice fields.
We take the train back to Biei, where we hope to see fields of flowers part two. This time we go into the tourist agency where a nice lady tells us what we don't want to hear. No flowels blooming yet…
Naaaoohhhhh, what is wrong with us?!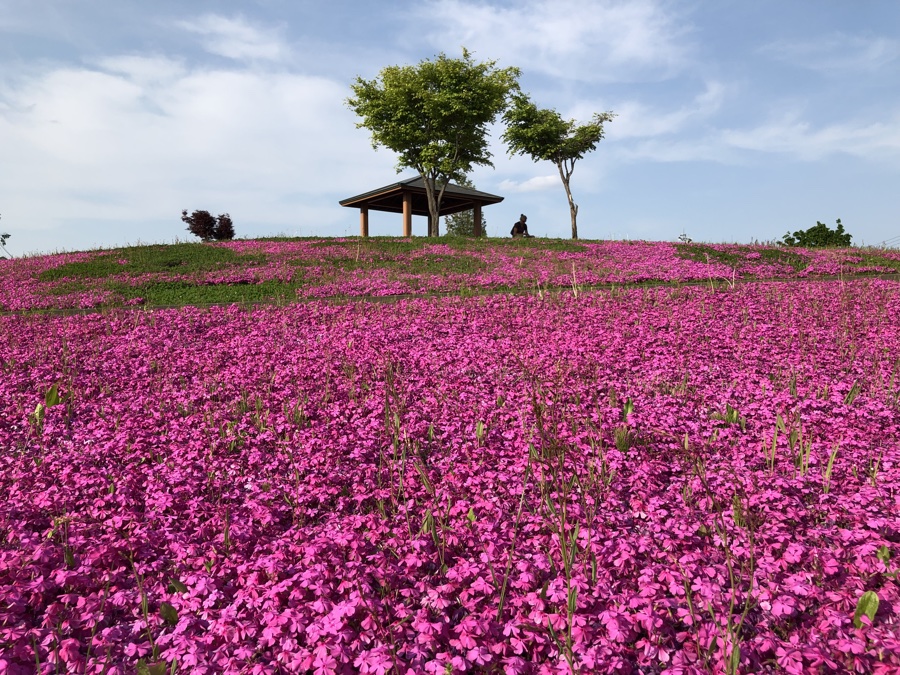 So, next train back to Asahikawa is in an hour… let's rent a bike again!
The rental company only has two electric bikes, cool! Never rid on one of those before! So off we go, wooooshh… a firm kick-start sends us easily through the steep hills of Biei. You still need to paddle but just not that hard. Perfect. I want one!
We explore the Biei area and even though we only see some pink moss and no other flowers, we have an amazing day. We have a picnic in the pink moss and then it's time to bring back our bikes and catch the train.
We wake up at half past eight, too late to catch the train to Kamikawa… we wanted to go to Sounkyo today but we'll have to change plans. The train from here towards the north goes about three times a day. The trains towards Sapporo go every hour, so I think we'll have to focus on that area. We've wanted to go to Utaru, a small charming harbour town south west of Sapporo so maybe we should go there today. At least we can do something.
Otaru it is! We switch trains in Sapporo Station and after another two hours we are there.
The local train from Sapporo to Otaru is fantastic, almost all the way we ride along the coast and we see the ocean just a few meters away.
At the station we see a bakery with the tastiest looking French bread ever. We buy some for lunch and get going.
From the trainstation we walk towards the harbor, here you have some great points of interest and while we walk we enjoy some of the beautiful historic buildings. Otaru has some nice canals, we could call it 'The Venice of Hokkaido' but we won't. Because it's nowhere near Venice… One canal but a lovely one.
Anyway, we romantically stroll along the canal and meet a nice fellow with a young boy on his arm, we instantly fall in love with this cutie when he smiles at us. MELTTT…
We give him a high five and continue of stroll. The dock of the bay behind the canal is filled with fishermen and women spending their Sunday with the family.
It's a concrete dock without any ambiance but we see families with barbecues enjoying their freshly caught fish.
Close to the harbor there is the building of Utaru Brewery. It looks exactly like you'd expect from an old brewery, an authentic wood and metal vintage style warehouse with cozy wooden interior and German schlager music. We walk around and check the menu but the prices are quite high. They have a small shop where we buy two bottles of beer for half the price as on the menu and also a bag of licorice! Katjes Drop!!
Outside we enjoy our Weiss beer and some licorice while we are entertained by some Japanese tourists walking around and taking pictures.
After this unforgettable intermezzo we walk towards the long shopping street parallel to the canal. It has some beautiful old houses with shops inside, a bit touristy but it's nice to look around.
Such a great day in Otaru!
The train back to Asahikawa takes 2.5 hours but the comfort is high so we absolutely don't mind the long trip.
Today we leave our hotel with our backpacks and head further north. In the train we do our first online hotel booking on an all Japanese site with help from our best mate Google Translate. Confirmation is in, now we hope everything went well. We'll see tonight…
Our train stops in Kamikawa where we take the bus to Sounkyo. We don't want to take our backpacks with us all day so we leave them in the stationmasters office at the station for ¥420 (€3.25) per bag for a day. Most stations have lockers which cost about double but these will probably fit two large bags. As soon as we've paid we hurry outside for the bus that leaves in just a few minutes. Just like the train, the bus is totally empty and the views are excellent!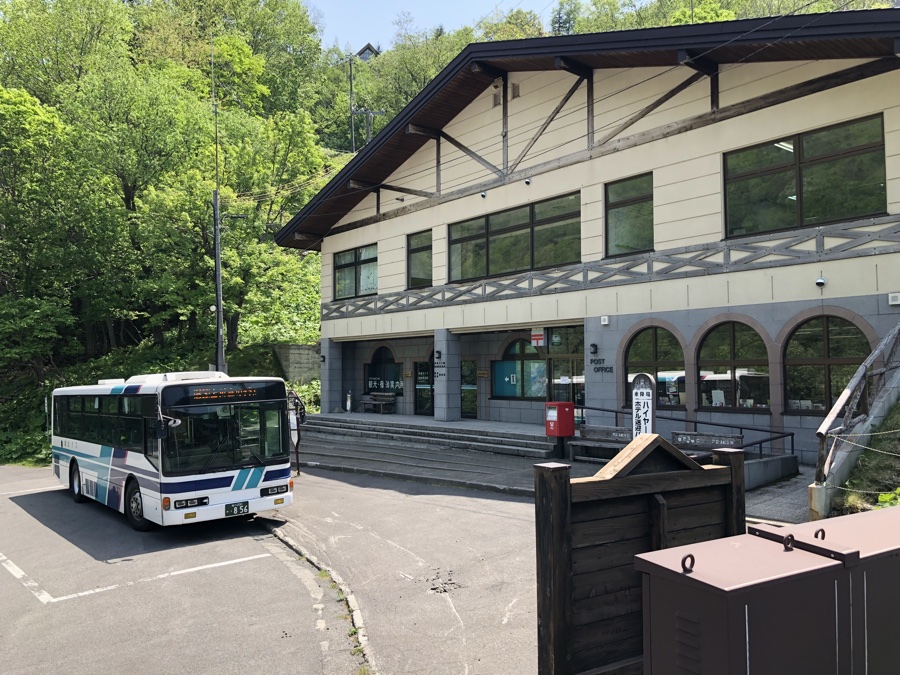 The bus stops at the post office from where we walk up to the cable cart station in five minutes and when we get there we have no time to lose because they're already waiting for us. We quickly buy a ticket… ehm wait what? ¥1950 (€15.20) per person round trip, shit… we didn't come all this way to see nothing! So we enter the cart and up we go.
The views get better and better. A panoramic far-sight of green mountains with snowy tops and deep valleys, we can't wait to walk around up there!!
When we arrive there is not much more to do than check out an amazing viewpoint and walk to the next cable.
It's a chairlift and we discover that it is not included in our ticket… shit 2.0!
We pay the guy another ¥600 (€4.65) per person and try to enjoy the lift as much as we can, which is not very hard because from here it's starting to look breathtaking… the sun is shining, bright blue sky and there's just a light breeze, I'd say 23 degrees… perfect. With our bag full of warm clothes we walk around in just our t-shirt, shorts and sandals.
The lift takes 15 minutes but when we get up there and enjoyed the view we discover there is not much more to do there. The hikes are closed so we sit here for a while and then go back down.
The sky and the snowy scenery is so bright my sunglasses can hardly handle it. It is beyond beauty up here! We're on top of the world!! Let's take a moment here… mmmm… zennnn…
The way down is just as enjoyable as the way up and eventhough it was a lot of money, we're glad we did it!
In Sounkyo town is not much to see.
While we wait for the bus we buy a postcard in the post office for our nephew who's getting married soon 🙂
After our visit to Sounkyo we take the bus back to Kamikawa and then the train to Kitama where we can hopefully check in to our online booked hotel…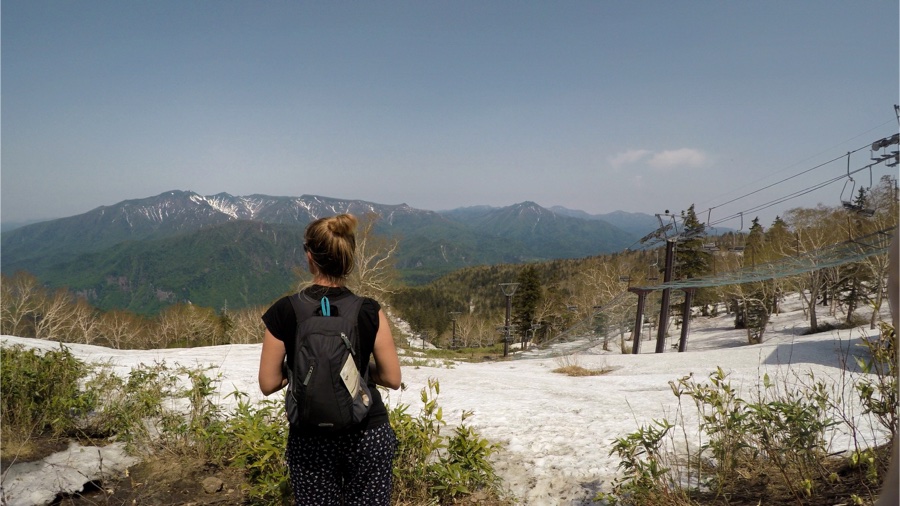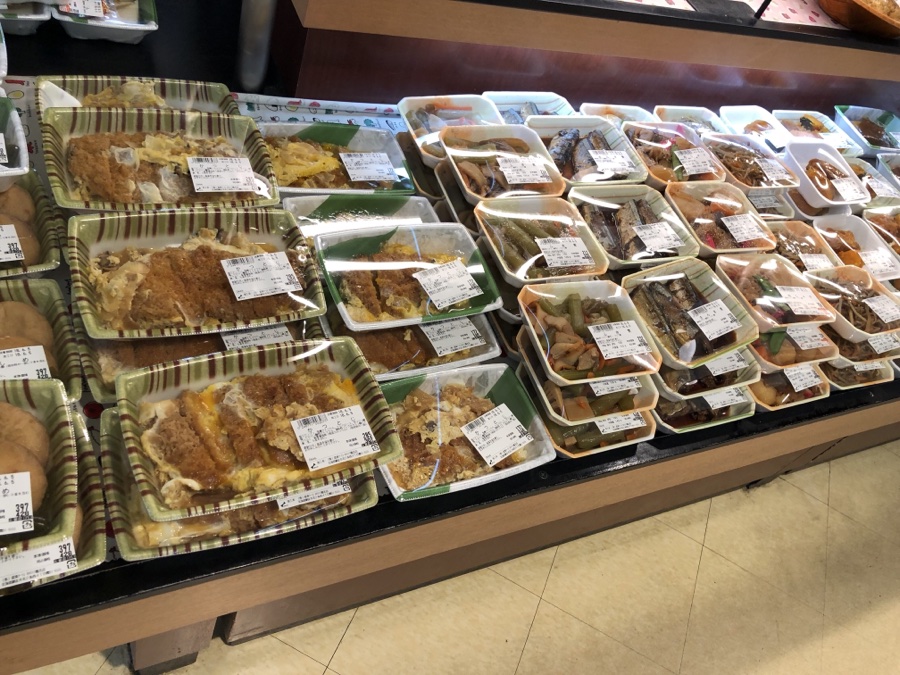 When we arrive in Kitami it's just a short walk to our hotel, the booking got through and we pay ¥6600 (€51.50) instead of ¥12,000 (€94) on the different booking sites. Yay! These booking sites probably take advantage of the fact that this hotel does not have an English site. But we know how to handle that!
Kitami is a big town with a lot of shops, bars and restaurants. We are only here for one night so the only thing we explore is the local supermarket and that is a disappointment. Fresh fruit and vegetables are incredibly expensive in Japan and most supermarkets only have a small range. They love fermented veggies though so this you can find in every form possible.
For us it's an absolute no go so we'll go for sushi again. In supermarkets sushi is very affordable but the quality isn't always eatable… so, we leave our sushi for what it is and have a bag of crisps for dinner. Potatoes!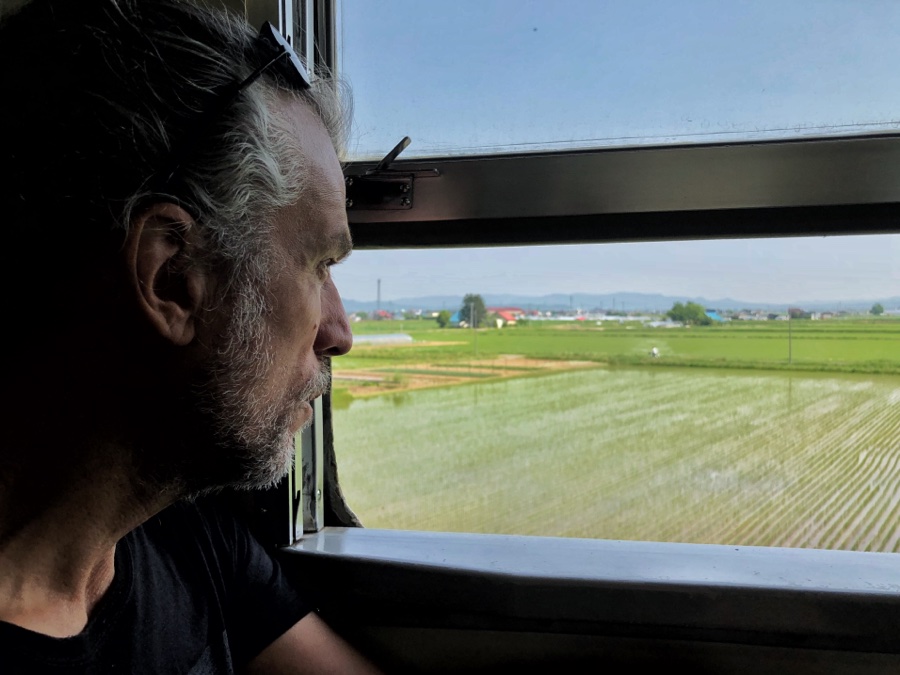 We want to go on a whale watching tour. We did this once before on a holiday to the Azores and didn't see any bigger fish than a dolphin, which was enormously disappointing for the price we paid there. Here the tour is not cheap as well, but the area north of Hokkaido is famous for its variety of whales. Actually we wanted to do a tour in Rausu a small town on the Shiretoko Peninsula which is supposed to be whale paradise, but without a car (which we cannot hire here) it seems incredibly difficult to get there by bus. And besides, it would cost us at least three days to get back and forth from a train station. In Abashiri there is a whale watching company as well so we decide to go with them. There aren't as many whales in this area but still an 80% chance to spot at least one.
So, off we go. There are no tours going this afternoon but there is one in the morning so we've booked a hotel in Abashiri. The train takes only an hour so we have enough time to walk passed the Abashiri Information Center by the harbor to arrange the tour for tomorrow.
Whale Watching in North Hokkaido
D-day! The sea is smooth like a mirror and not a cloud in the sky, what can possibly go wrong… with four other people we leave the dock and head to open sea in a nice large boat.
We are in our t-shirt because well… the sun is shining and we are not cold. Good reason 😉
The people on the boat find this quite disturbing. You are not cold? They ask us while wrapped in a Siberian down coat to their knees. They laugh as if to say, you wait stupid Dutchies… you'll soon find out how incredibly freezing it is on board!
We've got a long sleeve in our bag but still, we're not cold. The sun is our friend and the wind… there is no wind.
Actually it's a perfect day, if only we would see some humpbacks!
Finally there is some action. We see something, large fish… could have been a humpbackwhale… a dolphin maybe? No, too big… We see it again, this time I'm in time for a picture. Hmm… what is that? Orca? Just a tiny piece of it's back, does that even count? Well at least we see something!
The tour would take two and a half to three hours but they search and search and find none. The floating refrigerator is the closest we spot to a humpback whale…
We pay afterwards, ¥8000 (€62.50) per person for 'just a boattrip'.
We've decided to continue our trip through Japan in Honshu, the island south of Hokkaido. We've enjoyed our first ten days here a lot, but we are curious about the Japanese history and more traditional buildings and we cannot seem to find it here.
So, from the northern tip of this elongated country we travel back to Sapporo by train and then tomorrow we will take the bullettrain to Tokyo. There is probably so much more to discover in between but choices have to be made…
We take the train from Abashiri to Sapporo at 2 pm, right after our so called whale watching tour. It takes ages, 6,5 hours to be exact, so by the time we arrive at our hotel in Sapporo we are totally exhausted.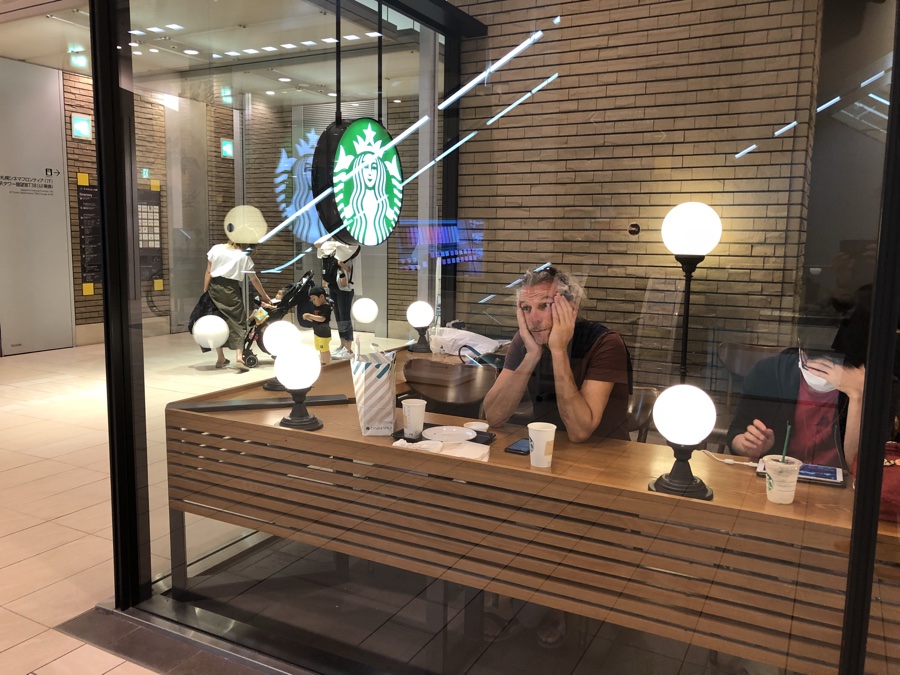 We book an extra night in our hotel in Sapporo, tomorrow we have an off day. Ehh day off 😉
We have chosen a different hotel than before so we'll see a different side of this city. This time our hotel JR Inn (not sure if it has anything to do with the JR trains) is very close to the station. So we exit the station and we are already halfway there. The rooms are small but like most other hotels here, convenient and clean.
Very close to the hotel there is Sapporo Factory shopping center which we pay a visit. This shopping mall is build in and around an old factory. It's absolutely huge and complicated, just the way they like it here.
Getting lost is quite easy, we ask the way to the supermarket in the basement at the reception and get a map with a route through hallways up and down stairs, left, right… finally: jackpot!
So we buy some snacks for our long train ride tomorrow and of course dinner! We are too early, the sushi is still full price but we can't wait much longer, we need to eat.
The Shinkansen or Bullettrain is incredibly cool! I consider it mans wettest dream. Streamlined, slick an superfast. With a maximum speed of 443 kilometers per hour this monster will bring us safely from Hakodate in the south of Hokkaido to Tokyo in only four hours. WOOOSHJJJ… crazy! And free! With our JR Rail Pass we reserve seats at the station (necessary for this trajectory) and hop on.
We take the train from Sapporo to Hakodate, passing some nice mountainous areas and nice ocean views. The ride takes three hours because it has many stops along the way. There are a lot of tunnels along the whole route, and eventhough we're in this supersonic train we have no internet in the tunnels, quite disappointing and incredibly annoying.
But we forgive easily because not only does it look like a tornado on steroids, inside we immediately feel like VIP's. Seats that go all the way back and legspace for a BFG. An electricity socket, large tray table, jacket hooks (more than one), cup holder and a beautifully designed window blind for the airplane-look window. Wow… this is all too much…
And as if it isn't enough, the toilet! Each hallway in between the trains has three luxurious super clean toilets with the whole shebang, heated seat (who ever likes a warm toilet seat?!) sprays, dryers and that is just ínside the toilet, wait till you wash your hands!
So, time flies by with 400 something kilometres an hour and before we know it we are in Tokyo. JEEEEZZZZ… what an adventure!!
Continue this story on our Honshu page!
*Roald Dahl's Big Friendly Giant <3