The island of Borneo is divided in three parts. The Indonesian Kalimantan covers the biggest part, about two thirds, and then there's the Malaysian part with in the middle the small state of Brunei. The Malaysian part is divided in two provinces, Sabah in the top and Sarawak on the bottom. The highest point of Borneo is Mount Kinabalu which lies in the northeast. It's about 4100 meters high and very popular for climbing. Mostly because of the heat in this period we decide to skip the mountain climbing and focus on the animals. Borneo is widely known for it's primates, orang-utans in particular. So our expectations are high and our mood is good!
The airport of Kota Kinabalu where we arrive from Singapore is bigger than we expected. There are busses going to town until 8 pm, After this we can only take a taxi, Über or Grab. We order an Über for about € 2.00 to the city centre. We are only in Kota Kinabalu for one night, then we go to Sandakan by bus. 
We spend the night at the Red Palm Hostel. It's small and in a street with a few restaurants and bars. The hostel has five rooms, three bathrooms and a large balcony. It's clean and we pay € 13.50 for one night.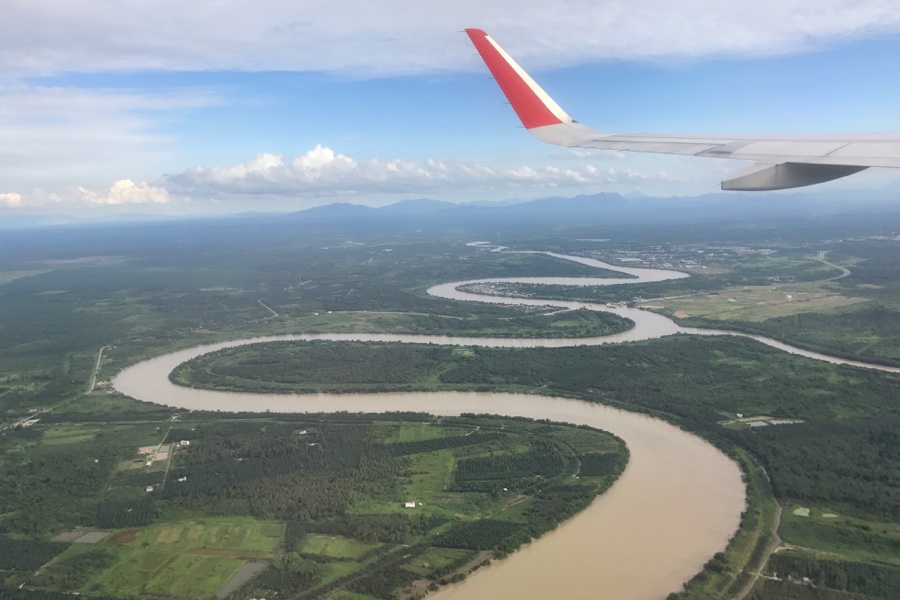 At night we eat at the Party Play Lifestyle Cafe where the large four cheese pizza looks like a small margarita and tastes like dry cookies. After eating half we decide to make a remark to the waiter. He orders us a new pizza which takes twenty minutes and looks exactly the same but now it's whole again.
So one and a half pizza for the price of one 😉
A group of Malaysian guys at the next table is getting more and more drunk, it looks like fun and before we know it we join their party. We have a lot of fun and roll into our bed on the other side of the street.
When our alarm goes off it's 7 am. Breakfast is from 6 but nobody's there, we help ourselves to some bread and find our way out the door to get to the bus terminal. When we leave the streets are full with a market so we first make a round to buy some food for the bus trip.
We've only stayed in Kota Kinabalu for one night but to us it didn't look like a beautiful city, besides that it wasn't very cheap. What you can do from here is visit the amazing mount Kinabalu, it is supposed to be amazing. We've only seen it from the bus… looked impressive! And high too…
In Kota Kinabalu an Über takes us to Inaman North bus terminal for € 2.00 where we immediately get send to the bus to Sandakan. This big bus ride costs us € 8.75 pp and takes a good 6.5 hours. With Deep Purple and Kenny Rogers meeting on the radio and volume on max we have a very bumpy rollercoaster ride. We arrive in Sandakan after this bustrip from hell. I was nauseous most of the way because of the bends and the crazy driving of the chauffeur. The coach, eventhough it looked quite luxurious had no suspension so the comfort was… well, just not there.
At the bus terminal we get off the bus and for € 2.00 we take an Über to Sandakan Backpackers hostel. 
A simple room with a shared bathroom and a great rooftop terrace. There are some people hanging around in the hammocks, good vibe.
We only booked for one night but we can have the same room tomorrow too. We pay € 13.50 per night.
Sandakan is a town with a disturbing reputation. In the last few years there have been kidnappings (and attempts) of tourists from hotels and restaurants in Sandakan by the Phillipine terrorist group Abu Sayyaf demanding high ransoms. The last incident was in may 2017.
The governmental advice is to stay away from the islands between Sandakan and the island of Palawan in the Philippines where most incidents occur.
At the bus terminal we get off the bus and for € 2.00 we take an Über to Sandakan Backpackers hostel. 
A simple room with a shared bathroom and a great rooftop terrace. There are some people hanging around in the hammocks, good vibe.
We only booked for one night but we can have the same room tomorrow too. We pay € 13.50 per night.
Sandakan is a town with a disturbing reputation. In the last few years there have been kidnappings (and attempts) of tourists from hotels and restaurants in Sandakan by the Phillipine terrorist group Abu Sayyaf demanding high ransoms. The last incident was in may 2017.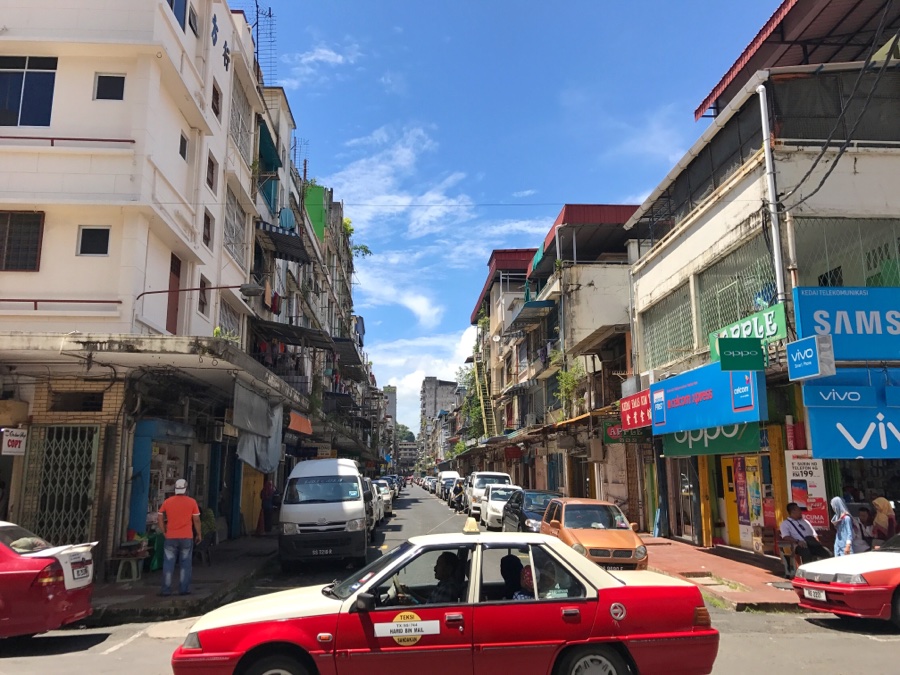 The governmental advice is to stay away from the islands between Sandakan and the island of Palawan in the Philippines where most incidents occur.
Furthermore, there is a lot to do around Sandakan, but it's not a fantastic city to see. At the dock there are many restaurants but the water right besides the terraces smells and looks bad.
We eat at Buhari Curry house opposite of the shopping mall. Here you can eat until you explode for €1.50. We have a really good Roti with chicken and fried noodles with egg and chicken and two cokes for € 3.50. Great place, has no atmosphere but great food. Eventually we ended up eating here every night we were in Sandakan…
After we've gone to Kinabatangan river and Sepilok we return to Sandakan where we stay at the Four Points Sheraton hotel for two nights. There are policemen guarding the entrance of the hotel, so we feel relatively safe. We have a super luxurious double room with a kingsize bed, a nice bathroom and a view to die for. The hotel has a infinity pool on the roof where we spend a lot of time. We pay only € 25.00 per night, which is a special offer rate. It is still more that half of our daily budget so we eat at Buhari Curry house again to compensate. Not a problem because we love the food there!
Hoping to see the Pigmy Elephants and Proboscis monkeys we want to go to the Kinabantangan river for a few days. There is a small town called Sukau where you can find some lodges. 
We book two nights at the Greenview lodge in Sukau and look for the best way to get there. We decide to use their transfer, it might not be the cheapest but it's quite relaxed. Their office is in the Sandakan centre so it's easy for us to drop by. With six others in a van we pay € 10.00 per person for a 3.5 hour trip. As I said, not the cheapest way… but ok.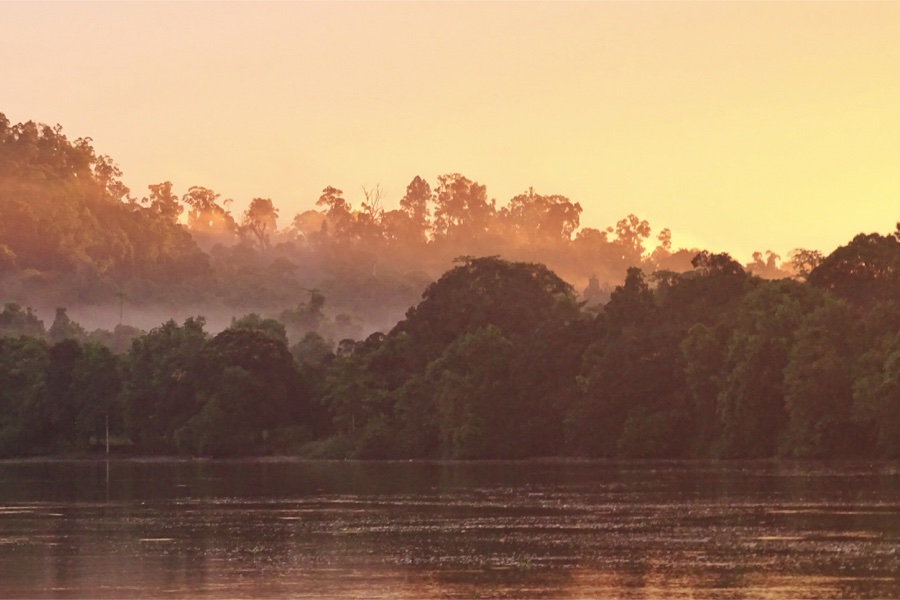 After we've picked up the other passengers we are on our way. The driver is about 70 years old and drives very cautious, we arrive in one piece.
Sukau is very small, one street with a school and a small mini-market. We take a walk through the village from one side to the other and see some black squirrels and a macaque. Jos tries to take his picture but obviously pisses him of, because he makes a move as if he's about to attack. His eyes turn red and the size of his teeth say 'walk on by'. We'll do just that. 
The B&B looks very nice, it's basic and clean and it's got a big restaurant. Our cabin has a double bed and a small private bathroom. We pay € 21.00 per night with breakfast included. For dinner there is a great meal for € 2.00 pp and there's a lunch buffet. Having the time of our lives here.
In the morning we do a cruise from 6 to 8 am. The boat goes up the river and stops at some Proboscis monkeys. It's still to shimmering to we can't take good photos but they are fantastic. Proboscis monkeys also carry the Indonesian name Orang Belanda, which means Dutch Monkey because of the colonial days they looked like Dutchmen with round belly and big noses. They have red fur and their arms are thin. Watching them makes us realise they are so much like humans. The way they move… And they are excellent swimmers, which is fortunate, because a little baby falls into the water from a tree and immediately swims to the bank. The others all go mad, making loud pig-like noises.
During this cruise the monkeys and some kingfishers are all we see, it's slightly disappointing but that is the deal, you never know what you're going to see. We pay € 12.50 pp and decide to go on another cruise in the afternoon. 
Here we see a lot, more Proboscis monkeys, silver moustached monkeys, long tailed macaques and even an orang-utan! It's slightly hidden in a tree but we see just enough to be happy about it. Seeing an orang-utan in the wild is such an amazing experience…
But when it's time to return to the b&b we are somewhat disappointed, we would have loved to see the Pigmy elephants which only live in Malaysian Borneo. 
On the river near our b&b there are some boats filled with tourists waiting and tensely watching the jungle just across the river. Branches are moving and the reeds are swishing, there is an elephant! Yayayay we yell inside our heads, thinking we are so lucky. We keep our eyes on the moving spot in the bush but there's nothing to see. 
After 10 minutes we finally see something, it's a grey hump of what they say it's the elephants bum. Ahhh… Dozens of tourists stand up in their boats to photograph the 'thing' and we can only watch how these people go crazy over a grey hump. The boat has to go back so that's it, no Pigmy elephants. Bums don't count.
In the end of our stay, the Greenview transfer bus drops us in Sepilok. We have made reservations with the only accommodation still available Uncle Tan's B&B. When we arrive we get a little quiet because the so called 'new B&B' looks like a pig barn that hasn't been maintained since 1980. Our room is very cozy, it has a bed and two old curtains covering the glass shutters. Just lovely.
Our bed doesn't have sheets to we use our liner to sleep in, quite alright. There are huge ants on the wall busy walking up and down and underneath our door, so we spray a line with our mosquito spray… who knows it might help.
There is not much to do at the B&B so we decide to walk up to the rainforest, which is about 2.5 kilometres away. It's hot and humid so sweat is dripping from every pore. 
At the rainforest you can book all kinds of tours, tonight there will be a nightwalk we want to join, it costs € 4.00 for two hours including entry. We make a reservation and walk through the park to see what it's like. It's a beautiful piece of rainforest where you are supposed to see many different animals including orang-utans. It has a high canopy from which you have a wide view over the forest, it's amazing!
Eventhough there are signs stating every bird species, we see none. Wrong time of the day… it's bloody hot!
At night we walk back to the rainforest where we join the night hike. At first we go up to the canopy, here we wait for the giant squirrels. They wake up around 6:15 pm and fly from tree to tree. As if they can tell time.. ah well, we hope to see at least something. Unfortunately it starts to shimmer when there is finally some action so no pictures, but the flying squirrels are awesome, they can fly a 100 meters and land against a tree. We see four of them! Flying from tree to tree.
During the hike we see a lot, slow loris, a sleeping kingfisher (too cute!), lots of weird reptiles and two snakes! It was goooood…. a green baby viper was just half a meter away and in the end there was a big viper also about a meter away! Pretty awesome eh!
Next day we visit the Orang-utan sanctuary. It's just a small park, really not worth the money if it wasn't for our close encounter with one of the inhabitants. Walking over the path we met this young Orang-utan walking over the balustrade, passing us at just a meter distance.
WOW! We are just in time to take a picture… oh my, this is SOOOO COOOL!
We see a few others, hanging in the trees, playing with eachother. Orang-utans are so incredibly funny! They are like your little brother, joking and running around. Same emotions, same expressions as humans… almost scary how alike they are. Here in the sanctuary there are many young Orang-utans. They rescue the wounded and help the little orphans, such good work.
We enjoy our visit and decide to donate the € 10.00 we got through our webshop here. Thank you Naomi, you've helped these cute buddies a lot!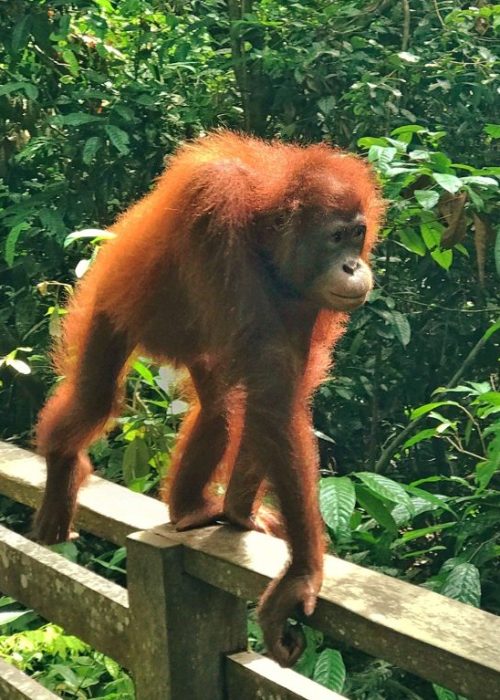 From Sandakan we fly to Kota Kinabalu with a small airplane of MasWings and then we fly to Kuching with AirAsia on the same day. For these flights together we pay € 45.00 pp in two separate bookings.
We stay at the Imperial hotel for one night, it's close to the airport and we need to go to the Consulate of Indonesia in the morning to apply for a visa so for now the location is perfect.
The hotel is attached to a big shopping mall with nice clothes-stores, some small fast food restaurants and a large supermarket.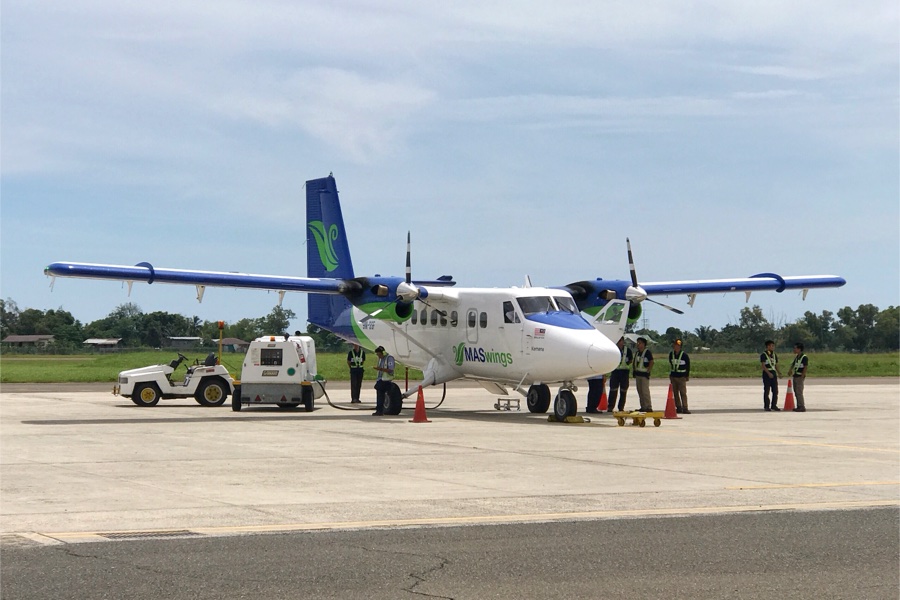 Our room at the Imperial Hotel is big and the kingsize bed is VERY comfortable. We have a big bathroom with bath and separate shower and the large breakfast buffet is included in the price of € 26.00. The hotel has got free wifi but it's slow and so is our 4G.
After a great night and an amazing breakfast we take a Grab taxi to the Indonesian Consulate. After our meeting there we can pick up our passports at 4 in the afternoon.
Want to know the details of applying for this visa? Check our blog here!
Back at the hotel we discuss our next step. On our list is visiting the Gunung Gading National Park, the
main reason for this is Rafflesia flower, the biggest flower in the world that blooms from time to time for only a few days. Unfortunately it doesn't bloom this month, so after thorough consideration we decide to skip the park.
We want to stay closer to the city centre so we are staying at Abell Hotel for the next two nights. A Grab taxi brings us to the Abell Recidence but when we go inside it is definitely not what we booked. Yaiks…
No worries, there appears to be a Abell Recidence ánd an Abell Hotel, which is a 100 meters away. 
So we walk up to the right hotel and are relieved to see it looks quite alright. Our room is small but it looks clean and renovated and it has a private bathroom. We have a window that looks out on a wall so we leave the blinds shut. We pay € 22.00 per night, no breakfast but free fast wifi in the room.
After two nights in Kuching we change hotels again to Marco Polo hostel, on the other side of the city centre. Why? It's a little cheaper and we like to see something different for a change 😉 It's only a 700 meter walk so we arrive early but our room is ready for us. We pay € 15.00 per night for a room with a kingsize bed and shared bathroom. The hostel has a cozy balcony where a basic breakfast takes place. 
Everything is a little outdated but if you don't mind that it's a nice place to stay. The owner likes socialtalk so we're totally up to date about the weather, the news and the Malaysian history, which was quite interesting. At least the part we could understand…
When we walk up to the waterfront we enjoy the view over the State Legislative building of the Malaysian government. It's a very cool architectural highlight that you can even pay a visit. We admire it from a distance and walk along the riverside instead. At the riverside there is a bazaar in the weekends, sometimes accompanied by live music. There's a market with food and snacks from 4 pm until midnight. 
In Kuching there is a big rooftop terrace called Topspot, it's got different kinds of food stalls mostly with seafood. We eat at stall number 33, choose a fine looking red snapper of 800 grams. It is weighed before our eyes and they they tell us the price immediately which in this case is € 8.00. Not bad for a big yummy snapper. So we find a nice table, order some rice, mixed vegetables and a beer and wait for our fish. After ten minutes we get a plate with a brown shrivelled thing that couldn't possibly be OUR fish… yes it is, the lady says. 
We look at it and turn it around, it looks like a shrunken piece of plastic. We can't even tell if it's a Red Snapper. 
The vegetables look very good so we try to make the best of it but after one dry piece of fish each there is no more eatable meat on the fish so we discuss what we're going to do. We are still not sure if we are mistaking or if we are being conned. So totally flabbergasted we pay for our meal and walk away, € 17.00 in total for a fish, rice vegetables and one beer. Stupid. 
When we head back to our hotel we are annoyed, we shouldn't have accepted that plastic fish… 17 Euro… this will be one of those things we'll never forget. 
Luckily the Topspot is not the only place to eat. Lots of great restaurants like a Vegetarian place called Zhun San Yen where we have a fantastic well filled noodle soup lunch for only € 1.50 including a drink.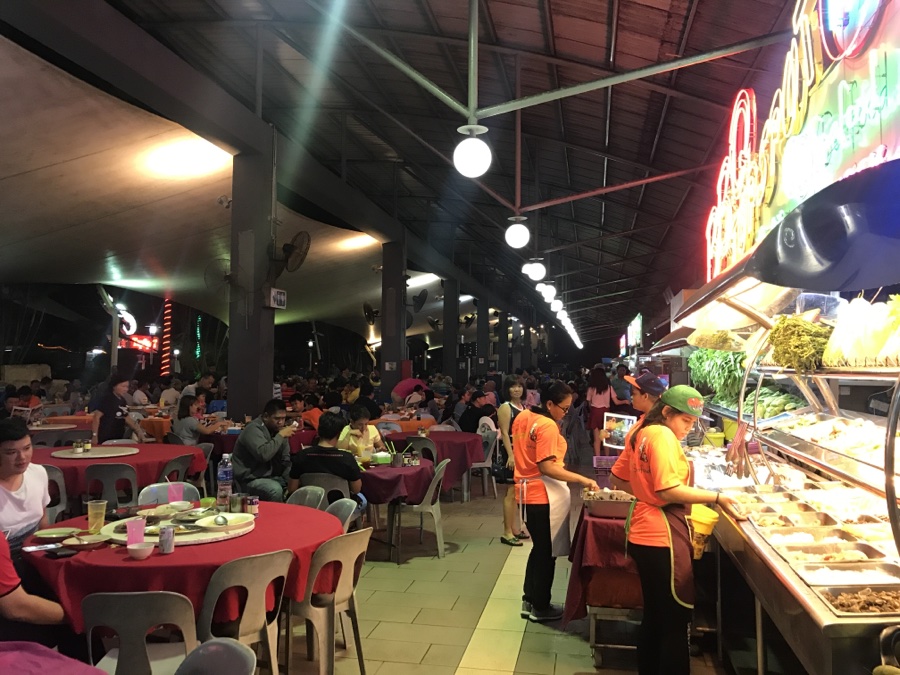 They also have a buffet where you pay for what your food weighs. The place is open until 4 pm so don't miss it!
We've also found a great little lunchroom called the Coffee Garden, a cool interior filled with plants and they have amazing coffee latte in an XL cup. For two coffee and one club sandwich to share we pay € 7.30. Not cheap no, but great if you are in need of a 'normal' sandwich and good atmosphere.
Actually Kuching has a lot of great places; Bing Coffee is superchill. A cafe with loungy couches, great for hanging around with a huge coffee and a nice muffin. Good music too. 
A little further down the same street we found Life Café, it's got good Chinese food for budget prices and a relaxed ambiance. 
In Chinatown there is Black Bean Coffee, here you'll find absolutely the best coffee in town. Cute little cafe with different kinds of beans to choose from.
In the evening there's Big Bottle, a big cafe with great (in the weekends live-) music, cheap self service beer in all flavors and food. Don't order the rubber balls, go for the pizza!
At 7 am we are ready for Bako National Park! A Grab taxi brings us to the Bako jetty for € 4.00 which is only € 1.00 more than going there by public bus. When we arrive we are surprised we are theonly ones there… 
We buy our park entrance tickets at the small counter for € 4.00 per person and a bottle of water. The boat ticket counter that was supposed to open at 8 is still closed at 8:10. We've been waiting for half an hour now and the crowd starts to queue behind us. As soon as we've bought the tickets for € 8.00 pp, we walk to the pier and await further instructions.
The boats are not ready yet, they are being fuelled and I don't know what else… it takes a long time. Why didn't they do this earlier?! At a quarter to nine we are finally on our way.
We arrive at Bako National Park about 15 minutes later where we register at the reception. There is nobody to check if we've bought entrance tickets so we might as well have skipped that part. 
From the reception we walk back to the jetty where the trails begin. Again, no checks whatsoever. 
We decide to walk the 800 meter trail. It's not too long and it's a beautiful hike through the jungle, up and down many different boulders and over big tree roots. 
We hope to see a lot so we take our time, but we don't even see a bird. After a little over an hour we arrive at the beach where we we're hoping to see the Proboscis monkeys but the only monkey we see is one cocky longtail macaque. It's a nice beach with a good view so we sit down to eat an apple. The macaque wants an apple too so he hits the apple from Jos his hand. Grrr this means war… we swing our bag his way but he is unstoppable, my apple is next.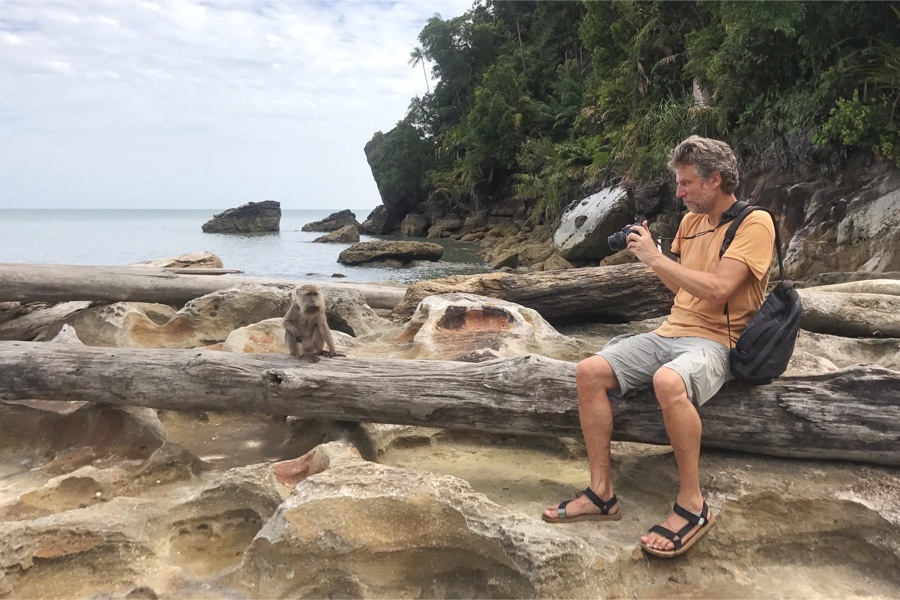 I throw my applecore far into the sea and tell him that he needs to swim if he wants it. He looks at the apple in the water and then slowly walks away. Tail between it's legs. Ha, we've won. 
After waiting for an hour we decide to walk back. Maybe we'll see some of the Proboscis Monkeys along the way…
Still nothing to see on the way back but boy it's a nice route! When we are almost back at the jetty we suddenly see something orange jump on the jetty waiting house. We spurt over there and see a Proboscis Monkey sitting in the bush eating leaves just a few meters away. Yay!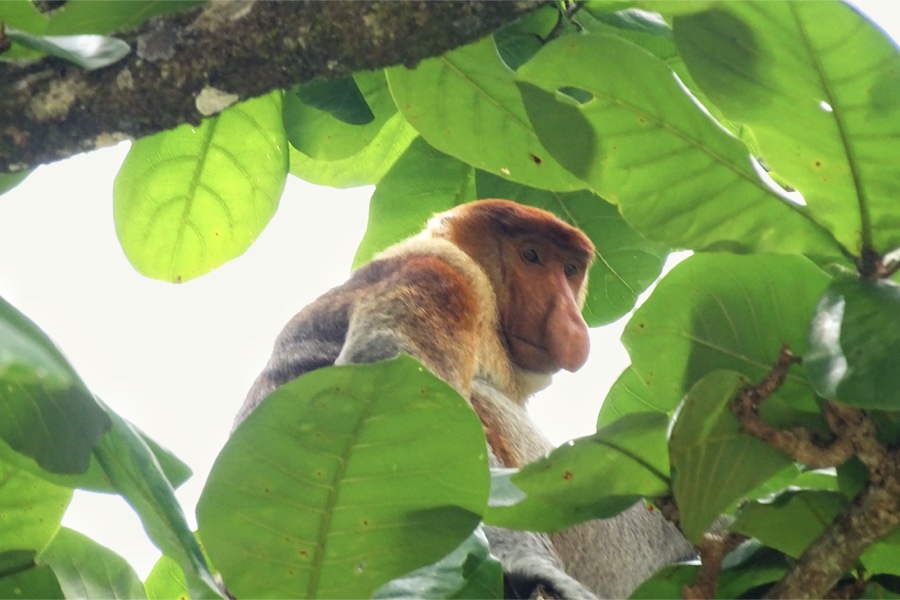 We take some pictures and watch him silently. He moves around from bush to bush and we follow him where we can. He doesn't seem to mind. Whoahhhh this is so cool! 
We sign off at the reception, buy a refreshing ice cream at the restaurant and take the boat back to the Bako village. Unfortunately we can't find a Grab or Über car around but we meet two people from Holland who are in the same hotel and have arranged for a taxi to come pick them up. We share the taxi and the costs and pay them for the ride, € 2.00 for twenty minutes back to the hotel.
We paid € 12.50 per person for this full day.