December 2014 - January 2015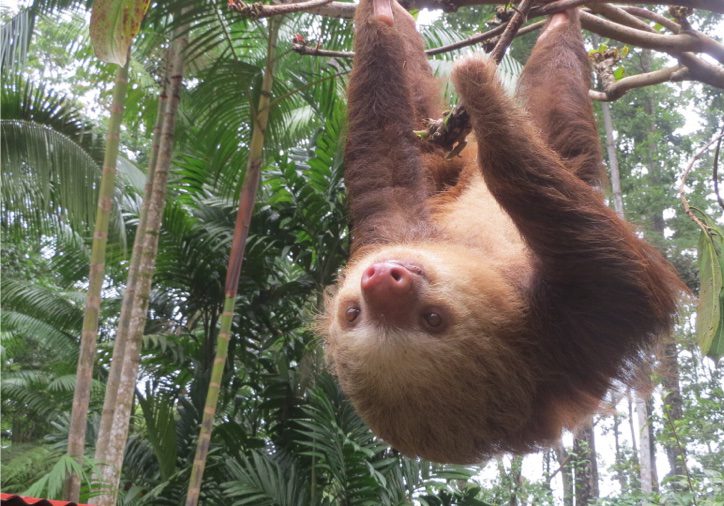 During one of the last days of our holiday in the Azores we came to the crazy idea to celebrate Christmas and New Year's in Costa Rica. We immediately booked tickets from Amsterdam to San José with a short stop in Panama City.
As soon as we got home we started reading, all excited about our new destination. Great plan but isn't Costa Rica full of Americans around that time? Yes! Super high season with prices to match… great.
A lot of Americans spend there their scarce holidays in Costa Rica, so going totally unprepared would not be an option around Christmas.
We decided to prebook almost everything. Definitely not our game, but we don't want our trip to be a disappointment because everything is fully booked when we get there. At this point it is quite clear that this will be our most expensive holiday ever…
After some planning and a lot of waiting, we finally fly to Panama December 19th with KLM and with Copa Airlines to San José in Costa Rica.
We have chairs at the emergency exit, which means 2 meter legroom and a private stewardess at our disposal!
The night flight passes smoothly and before we know it we are in Panama City. We've only slept a few hours so during the two hours of transfer time, we are staring to feel like zombies. As soon as we are in the plane to our final destination, our eyelids fall down and we forget about the world around us.
When we arrive at 22:00 in San José Airport, we take a taxi to our hotel nearby. A mid-luxurious hotel with a large pool and a nice restaurant where we can relax and recover from the flight and workstress our first days here.
The hotel is located in San Antonio, a small town with big hotels. There is a hardrock café, a shopping center and a supermarket so we'll survive these next two days.
We enjoy ourselves in and around the pool and in the evening the hardrock café also gives some entertainment. Our first night we discover that everything in this area is crazy expensive, so we've decided to just take it easy by the pool without too much food of beer.
Alright, we are back in the land of the living! We've done our relaxing, got a tan… now we feel fresh and ready to see Costa Rica!!
We have to get to the office where we can pick up our rental car, but the office is a few kilometers away. We thought we'd walk but there appears to be no other way than along the highway. Hmm, not such a good idea.
We raise our thumb to hitchhike and immediately a taxi stops in front of us. Errr… no-no, this wasn't the plan.
We tell the young driver we have no money, but he gestures with his hands to come in. There are some young boys in the back of the care car that try to talk to us. We don't speak any Spanish and their English is minimal but still a conversation is born.
Holland, that's what they understand, so one of the guys yells Amsterdam! Yes Amsterdam hahaha. After a minute or ten we stop in front of the entrance of the rental company. The guys wave and say goodbye as the move along.
Ok lol, our first Costa Rica local introduction!
We have rented a Suzuki Jimny at Alamo, a small 4-wheel drive that is easy to drive and affordable. Suspiciously we check every corner of the car and make photos with our mobile phone so that there cannot be any discussion about any possible damage, because we planned to bring back the car on another location. We have some problems with our credit card because the transaction for the deposit does not come through. Eventually, it's good and we're ready to go. Our first roadtrip in Costa Rica, Woohooo!
We didn't hear anything attractive about San José, so we've decided to skip this city.
We cross a green oasis full of colorful bird and flowers. It's huge here and we have to search for the right route. After a few hours driving we find our destination: San Gerardo de Dota. A small village with a few houses and some rental cottages. Our cabin is very excluded. Over a wobbly path we drive a few kilometers towards the cabin. We sort of regret that we didn't leave the car in the village, but after all the stories about car burglaries have decided to bring our vehicle and park it close to the cabin.
The cottage is located right in the jungle with a wide view over an impressive valley. Unfortunately the cottage itself is slightly less impressive. Upon arrival we find a dead bird in front of the window and there's a strange smell in the cottage. We made some effort to get the old wood stove burning but clearly we're no survival experts yet.
It's getting very cold in the evening and while we continue trying to put the fire on we sniff around to see where the smell comes from. Suddenly I realize that I'm smelling a gas smell and discover that the gas bottle under the cookingstove is not properly connected. Jeezzz… we are so freaking lucky that the fire didn't burn!! We immediately open all windows and close the gas cylinder. When the sky is cleared and we try to relax we see a mouse running through the living room. Whaha, what a joke… whats next?!
When Jos goes to the toilet later on, he finds the mouse lying dead in the toilet… what a farce.
We spend the evening listening to some music amongst the enjoyment of a nice bottle of wine.
When I go to the toilet a bit later I'm eye in eye with a big rat. He is sitting on the shower wall and looks at me with its beady eyes. Just a few seconds and then he's gone leaving me standing there with my mouth open.
The bedroom is upstairs under a slant roof. It's dark and creepy and feels like Siberia there so we try to sleep close to each other with our clothes still on. After a restless night with weird undefinable scratchy sounds (mice, rats, dead birds?) we wake up at half past five and make a refreshing walk through the peaceful cold jungle where all the animals are waking up.
Parque Los Quetzales is home of the nations pride: the Quetzal. A beautiful red-green colored bird with a long tail that does not show itself too often.
At sunrise we are incredibly lucky and spot two of these beautiful majestic birds. In silence we enjoy the sight and forget all about our terrible night.
Back in the village we arrive at Miriams Quetzals, a cozy mini-restaurant with a flower garden full of butterflies and birds. After the standard hotel breakfasts we are looking forward to our first real local breakfast: well-prepared gallo pinto (rice with beans, delicious if prepared in the right way!), fresh fruit, fish, baked banana, fruit juice and much much more.
We meet a couple who has also been here for a few days and have not seen any Quetzals yet. We realize how lucky we are!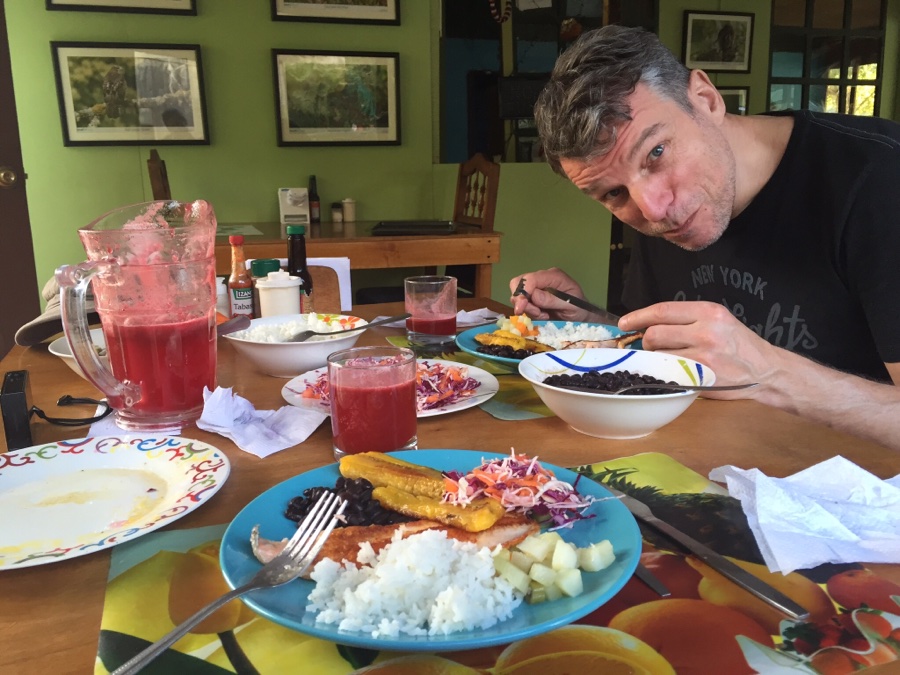 The garden at Miriams fantastic, the different birds eat their breakfast while we observe them.
There are a lot of hummingbirds in various colors and sizes. Some are as small as a bumblebee and others have the size of a finch. We also spot a big squirrel. Happy times!!
Miriam rents out the cottage for its owners and when we tell her about the gas leaking stove, the dead bird, the dead mouse and the big rat she says she doesn't want us to pay anything.
After this enjoyable breakfast experience we leave for Dominical on the Pacific coast, where we will bring back the car.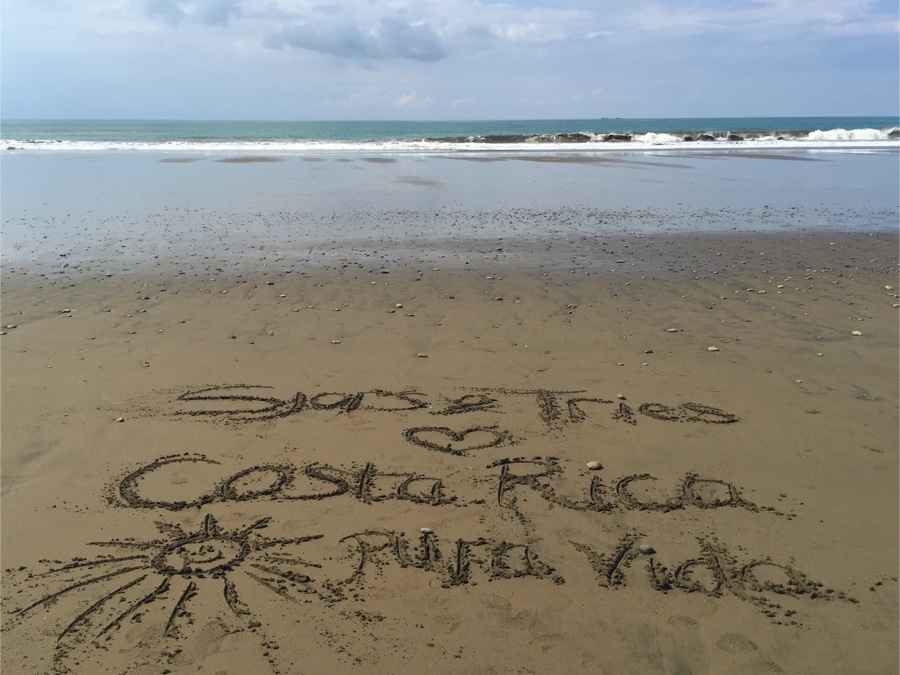 First a winding road through gorgeous green scenery and later a trip along the coast where we spot some monkeys. We won't stay in Dominical too long because we're taking the local bus towards Ojochal where we have booked our next accommodation. There are different Alamo offices and this was the closest to our next destination, for the one in Uvita is closed for some reason. The Alamo office is very close to the Parada de bsses too and we don't have to wait too long because buses pass this town regularly. Bringing back the car is easier than we expected. The guy walks around the car, writes down the mileage and gives us a receipt. Right… ready to move on! The Pacific coast is very touristy at some points. The highlights like Jaco, Quepos and Uvita can be a crowded but everything in between is just laid back and calm. Even the ocean is calm. Now that it's December. We've been told this can be totally different in July.
The bus is very relaxed and not full. For a Dollar per person the driver takes us towards the south where we get off in Ojochal. A short walk and a bit uphill and we are there! Our guesthouse El Castillo is located outside of the village in a higher part of town and has a magnificent view over the beaches and ocean. A super-fancy white building with five guestrooms and an infinity pool overlooking the coastline. Whoahhh, perfecto! This is our place!
The guesthouse is run by two young men who takes care of everything. The food is a bit expensive but supertasty and creatively made. After entertaining ourselves easily in the pool we walk down across the road towards the beach. Just below the trees are some locals with foodstalls, they sell fresh vegetables, fruit and baked delights.
We buy some bananas and mandarins and finally walk with our bare feet through the fresh fresh water.
It's low tide and there is a large flat beach covered with just a millimeter of water. A very special sight because it looks like we can walk on the water. Cool!
Piedras Blancas - Finca Bellavista
After checking out of our room in Ojochal we walk to the bus stop two kilometers away and wait for the bus to the National Park Piedras Blancas. Piedras Blancas is also a tiny village, this meaning: a bus stop, a few houses and a supermarket. We do exactly as we were told by the accommodation, and ask for a taxi to bring us to Finca Bella Vista.
After half an hour the taxi arrives, or actually I think it's a taxi, it barely drives… It's only a fifteen minute drive and we are there! A treehouse comunity in the middle of the jungle. Here we will spend our hopefully most special Christmas ever.
Upon arrival, we see the community really looks like a small village, a farm village.
One of the volunteers is assigned to guide us on the property and tells us everything about the place.
The will bring us to our treehouse, but first, a delicious lunch is waiting for us in the restaurant. We should not have taken that beer because the way to our treehouse is long and rough. It's somewhere over thirty degrees Celsius and the humidity is a thousand. Boy this is not going well… After a 45 minute hike we are there… our treehouse is amazing! There are no glass windows but a mesh material all round our bedroom which gives us a 360 degree view. We are in the midst of green so it's a complete jungle experience. From our balcony we see monkeys, birds, reptiles and squirrels. We've told the staff we would join for dinner and relax on our balcony until we have to get back to the restaurant.
The supper veggie biological dinner is a buffet with many different dishes. Ooh someone is very happy with this!
After dinner we join the nighthike. With our headlight on spot the most scary huge spiders, snakes, walking branches and other creepies. A scorpion, and sleeping birds… utterly impressed we roll into our beds and sleep like a bear until we are woken in the morning by the birds around our house. It's Christmas! This is so weird…
There is Christmas decoration in the banana trees and it's hot. Something in my head says this isn't exactly right. For me Christmas equals cold weather.
Today we do a hike to a high viewpoint nearby. The route is not easy because it's not always clear where the path is and there are no signs, but we eventually reach your goal. The view is breathtaking. We brought a picnic lunch that the cook prepared for us and enjoy it while sitting on the top of the hill.
Back at the house I can't find my sunglasses. After some research it appears that I probably lost it during our walk. Fuuuuck, stolen by the jungle. Note to self: do not take your Ralph Lauren sunglasses into the jungle. Sigh.
It is very special to celebrate Christmas in the jungle. The crew of Finca Bella Vista have prepared a delicious meal from their own garden.
The cicades have set camp around our treehouse and produce quite some noise, but still, we sleep like a log again.
The next day we make a small walk through the gardens and we see a capibara, a kind of giant cavia. We decide to go swimming in the stream running through the site of Finca Bella Vista. The water is insanely cold so we do not hang in there very long. When we relax on our balcony, we see a white-nosed coati, whoah cool!
Our final night in Piedras Blancas passes and upon checkout the bill is presented. Although they were very transparent about all costs we stop breathing when we see the total. The nightly rate of the treehouse is pricey but the costs of the meals at least double that.
Fortunately, we can pay with the Paypal because our creditcard is still on no-go. Despite the high costs, it was so worth it to stay here!
We take back a taxi to the village where we take the bus to Palmar Sur. There we switch buses to Sierpe because we are going to Drake Bay!
In Sierpe we buy a ticket for the boat to Drake Bay. It takes two hours before the next boat, but when we start talking to another group they say we can join them on their boat. The canals look beautiful but the bush alongside it is quite thick so we can't spot any animals. Finally we reach Drake Bay after a long travel day and walk through the nice village to our accommodation located on a hill. We are so happy we didn't take too much stuff in our backpack, because the walk is quite steep.
The guesthouse Vista Drake Lodge has a fantastic view over the village and the sea. There isn't much to do in the village, a few cafes and shops. After having pouring our feet in the water, we drink a fresh fruit juice at Gringo Curt and we check out our possibilities for visiting Corcovado Park for tomorrow.
Unfortunately, you can not enter the park without guide so we have to pay $90 per person for a day tour. Our expectations are high.
Here we go, into Corcovado!
Corcovado National Park is one of the most untouched parks in Costa Rica that is open for visitors.
We haven't really checked if there are differences in the tours and when we meet the rest of the group there are two elderly people and one couple with a child joining us. Great.
A boat takes us to the entrance of the park where we get some information about the park and the rules. There are some curious monkeys there, woohoo good start!!
Our guide is a bit stupid and slow and doesn't point too much out for us. When we see a nice bird, he says oh yes, as if it's some regular bird you'd see every day.
Even when we spot some monkeys again he says he already saw them. WELL POINT THEM OUT YOU IDIOT!
This is definitely not the Corcovado experience we were hoping for.
The child in our group is tired and the elderly couple is nagging about everything.
When we see some crocodiles they are 'too far away' and the huge spider we see is of course nothing compared to what they saw before. Oh god, what a day.
The park itself is amazing. We see (no thanks to our guide) so many different animals, frogs, monkeys, birds.
When we walk along the beach of the park we meet another group.
Our own group has sort of divided itself in two so we join the other group for a while. Their guide is very friendly and helpful and shows us two Tapirs lying in their 'nest' in the bush. Wow, now we're getting somewhere!
After a long somewhat disappointing day we are brought back to Drake Bay and return to our bungalow.
Puerto Viejo de Talamanca
From here on we haven't really decided what to do next. We want to go to the Caribbean coast and found a great town called Puerto Viejo where life is supposed to be very Caribbean…
From Drake Bay we fly to San Jose in 35 minutes. It's a small plane with 10 seats and the airport is only a shed in the middle of a field. We have to weigh ourselves and our luggage and we receive a handwritten boarding pass.
As soon as we arrive at the airport of San José, we decide not to pick up our reserved car and charter a taxi for less money.
The many different drivers waiting for a ride listen to our offer but none of them find it interesting. Only a young driver wants to drive up and down to Puerto Viejo for a hundred bucks. Although we made sure he knew how far it was he's never been there and does not realize that a 6 hour drive is a long time. He looks desperate and tired but drives to Puerto Viejo without a break. By the time we get there it's 17:30 and it will be dark soon.
We are completely exhausted when we arrive in our lodge in Playa Cocles where we have rented the Honeymoon Suite 😉
The American owner of Caribe Town Resort welcomes us and totally astonished she checks out the tired driver. Cold beer for everyone then?
Our room is huge and has a large open kitchen and relax area. We will stay here three nights, including New Years eve. Looking forward to that! Weehooo…
Puerto Viejo is a great sleepy reggae town with a chilly vibe and is within walking distance of our lodge. Here we enjoy a great Costa Rica coffee while we watch a few surfers between the high waves. The sea is too wild to swim in and the firm wind does not tempt us to get wet but God it's nice here!
All we need to do here is hang around, enjoy delicious fruit shakes and sandwiches and take some photos.
Just a little walk up the road we visit an animal rescue center. There are many different animals take care of by a number of international volunteers including a Dutch girl. She leads us around and tells about why the animals are here. We see a few sloths that are supercute. There are also a lot of young monkeys of various breeds, they are in a huge cage with ropes and climbing racks. Good to see they're having fun. While we are looking at a baby antieter, there are two young raccoons running around our feet. A multi colored toucan also takes a look. What a great afternoon!
After a nice dinner, we go to bed early and sleep until rudely woken by an enormous cockroach. It's walking through over bed and has the size of my thumb.
We are wide awake and sit upright in our bed. My worst nightmare: cockroaches in bed! We shake the sheets and put the mosquito net extra tight under the mattress.
A new attempt to get some sleep, but shortly thereafter, Jos is back sitting straight up in bed, I felt something on my face…
Oh God, this is going to be one of those nights.
We check all the corners again, tuck in the sheets and the net, attempt three. We keep a small light on and again, there is a cockroach running across Jos' face! We are not going to surrender to a cockroach that easily. This time we cover all edges of the mattress with rolled up towels and we sit in the middle of the big bed. Before we know it, we hear birds whistling and the sun it up.
We manage to reach the morning with three hours of sleep and make our complaints with the owner, who immediately sends the handyman to the rescue.
Under our mattress, he finds a whole family of cockroaches that are soon to be exterminated. All clean and cockroach-less, so we have good hopes for tonight.
Today is the 31st of December. We are incredibly tired and do nothing but hang around. Near our guesthouse we find a luxurious hotel on the beach. It has a great terrace where we find a comfy deck chair to rest our body in.
It's 6pm. Tonight we are going to have fun in town, watching fireworks and drinking cocktails or something, but for now we want to call home. Because it's six hours later in the Netherlands, we call our family to wish them a happy New Year. So weird… we are relaxing on the beach while they actually have snow!
Back in our lodge we can hear the howler monkeys close by and with the sound of the birds we fall into a deep deep sleep until we're brutally awoken by some loud bangs and noise. Pff what is that?!
It takes some time for us to realize it's fireworks we are hearing. It's passed midnight, we've totally missed New Years eve! A sleepy mind makes strange decisions, so we decide to go back to dreamland…
We have a fantastic time in Puerto Viejo. The atmosphere is so relaxed we almost don't want to leave! But, more to see… we want to go to Tortuguero National Park on the North East coast of Costa Rica. It is possible to fly via San José but the last minute tickets are very expensive so we take the bus. On internet we find a company that arranges transfers between Puerto Viejo and Limón so we book two tickets for the next morning. The bus leaves at 6 am, not a problem because we need to change buses in the Limón bus terminal. Limón is an unpleasant and unsafe city and we are very happy to catch the next bus towards Guapiles immediately.
In Guapiles we change buses again and take an incredibly uncomfortable ride to La Pavona. There are so many potholes there is almost no road left to drive on. The driver obviously knows what he's doing because with a high speed he zigzags through the potholes like a chased hare.
Nauseous and tired we arrive at the small port of La Pavona where we wait for the next bout to town. This public boat takes us to the Tortuguero town center where we are picked up by another boat of the resort we are staying in.
Tortuguero is a small town on an island surrounded by canals and a fantastic rain forest that houses many different creatures.
The town doesn't have too much to offer, most people stay in an accommodation that offers meals as well as tours.
We've booked three nights in the Turtle Lodge. A great but weird place. It is managed by an older couple who run the place like an army.
All guests eat together at the same time, there there is a large dining area with big tables where everybody sits. After a bell rings you can go and get a plate of food at the buffet. You'll get some of each sort, whether you want it or not. Everybody gets the same piece.
One piece of meat, one potato etc. Then you sit on one of the long tables where they tell you to set. We are grouped with a nice family from Norway with whom we have great conversations every night. Don't think you can go back to your room as soon as you finish eating, no no, you don't get up before everybody is finished. Then a bell rings and you bring your plate to a rack with dirty plates. Good night.
Whet on earth did we get ourselves into now?
The lodge is in a fantastic location surrounded by jungle and nice canals. We decide to book some tours although it's not really necessary in a place like this. There is so much to see just walking around.
We do a guided tour through the jungle, with our borrowed rubber boots we are up to our knees in the mud. We don't really care because we see a lot. Little frogs and beautiful birds. Really worth while, this tour!
We've booked a kayak tour with our lodge, our guide Juan and just us. Juan is obviously in a hurry because his tempo is quite high. We can hardly keep up and can in no way enjoy the surroundings. He takes us to a small deserted beach but as soon as we're there he turns his kayak and returns to the lodge. Well this was fun.
Fortunately we can borrow the kayaks for free and after returning to the lodge we decide to go back on our own. This time we take it slow and are able to fully enjoy the beautiful rain forest surrounding us. There are huge iguanas on the riverbank very close to us, we can watch them without scaring them off. This is excellent!!
There is even  one on a big branch above us…
The Turtle Lodge offers many different tours, because we are on a holiday we don't mind spending some money so we book an early morning boat tour. With just the sound of the birds we slide through the water and enjoy everything we see. A Red trailed parrot, some iguanas and the rising sun make our day.
This is just such a beautiful area, we are happy to be here. Although we aren't very pleased with the way the lodge is run, the location couldn't be better!
We've booked a flight back to San José from the small airport of Tortuguero. The airport can only be reached by boat so the lodge brings us to the town center where we catch a taxi boat to the airport. We are the only ones there and there is no terminal. We wait.
And wait…
The weather is not looking good, it's incredibly windy and it is starting to rain. What if the plane doesn't come, we won't even know it if it's cancelled… and we don't have a simcard. Great.
Luckily just an hour after the scheduled time we see the tiny plane arrive in the distance.
While the small runway is covered in seawater the plane lands swooshing from left to right.
It is a nasty flight. The turbulence is hefty and I feel sick. Fortunately it's only a 30 minute flight and land in a dry and sunny San José airport.
We will stay in San Antonio again and pick a nice hotel with a pool to spend our last night. Here we have to say goodbye to the Costa Rica we've enjoyed so much for there is nothing attractive or authentic about this area.
We've had a fantastic holiday in this stunning country. Sweet people, awesome animals, amazing nature… we must come  back one day because there is so much more to see!