The flight from Raiatea to Huahine takes only 10 minutes. 10 spectacular minutes over panoramic reefs and pristine beaches. Very different from the enchanting Raiatea… the island looks more open and still there are enough mountains with dense forests.
Huahine is an atoll between Raiatea and Mo'orea with about 6,500 inhabitants. The island is protected by a large reef surrounding the blue lagoon. The bright blue water from up above is stunning but from close up it's even better… 
Our host Moe picks us up in his tiny blue car. We have booked three nights at My Island Home just outside the village of Fare. Indigenous Moe and his American wife Marty have two bungalows filled with ambiance. Our bungalow (The Gallery) is huge, a large livingroom with kitchen, a bedroom and a bathroom. We have a patio and even a small pool. Wow. Wow. Wow! We pay 9000 Franc per night for this pearl. 
We could stay here for two weeks but we've already booked another bungalow too. So, we have three nights here to enjoy… 
Moe takes us to the supermarket for some groceries. We have our own kitchen and we're not afraid to use it!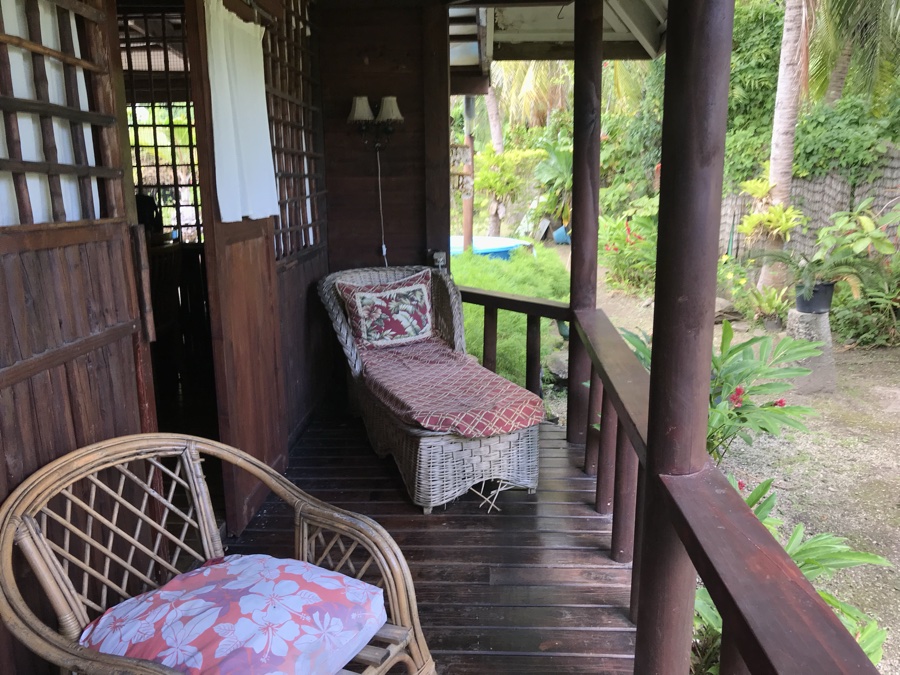 Marty has provided us with a environmental friendly cotton shopping bag, Polynesian style and we are on our way. Outside the supermarket there's a lady selling fish, she only has red tuna left and it looks delicious. So we buy a big chunk, enough for three days. This must be a kilo or something… whoahhh! We pay her a 1000 Franc and with the rest of the groceries we return home.
The one and only dive center in Huahine is owned by Annie. Mahana Dive is a very small center with excellent gear and an even better guide. We have made an appointment with Annie online because Annie is the only guide. She has been guiding dives on the island since twenty years and knows her way around the reefs better than anyone.
By boat we leave to our first location. She warned us that the first part of the dive doesn't look very attractive, the coral is recovering but there are many fish. A good sign.
The second have is definitely better, colorful healthy corals and a great diversity of fish.
For our second dive we have to choose between an area with beautiful corals or an area with big fish… we go for the big fish!
This drift dive is about 30 meters into the deep blue and brings us to a place where the current is very strong, this is where the big fish like to hang out.
We hold on to a rock while we enjoy the view over Reefsharks, Grey Sharks and a school of 9 Eaglerays! WHOAH!!
We want to see the island so we rent a scooter in town for 3600 Franc. Moe takes us there and will also pick us up when we are done.
The rate for renting a scooter is quite high but still cheaper than a car. It normally costs 5000 Franc but when we say we bring the scooter back at six they only charge us 3600 Franc. Raiatea Locations is located next to the Super U supermarket and just twenty meters from there is a petrol station, where we can fill up the tank when we get back.
We are on our way to see more of this promising atoll. More blue waters and green mountains, but the sky doesn't look too good.
Before we know it it starts to rain… and not very frugal. In a few minutes we are soaked and can only enjoy paradise through our eyelashes. 
Heroic as we are we drive on like nothing happens. Eej we are not made of sugar 😉
The rain actually gave us a good mood and after half an hour we've driven past it. 
We reach a small town called Faie. It is famous for its Blue Eyed Eels that swim around in the river. We try to spot them, but I think they are hiding from the rain. We should do the same because it has started again. Great day for a tour de isle!
The sun is back as we pass the bridge to Huahine Iti, the small southern island. 
There is a pickup truck in the ditch and some people trying to get in out. We stop to help but the truck is in too deep. When the driver finally gets out of his car he holds a beer bottle and can hardly stand on his feet. Idiot. We done all we can, let's go. Yep, it starts raining again.
We've almost reached the southern tip of the island in between the showers we decide to jump in the very inviting looking sea with a gorgeous white beach.
We are wet anyway and we haven't brought our snorkel for nothing…
The fish are amazing, many different kinds and super colourful. The visibility is excellent but the current takes us everywhere. I spot a tiny yellow boxfish, my favourite! So cute! Ahhhh why didn't we take the GoPro…
Driving through the small towns is very entertaining, everyone waves at us and there is a lot to see.
All over the island you can find foodtrucks where you can order a meal for about 1000 Franc. We're not hungry so we drive on and enjoy the many viewpoints and great atmosphere.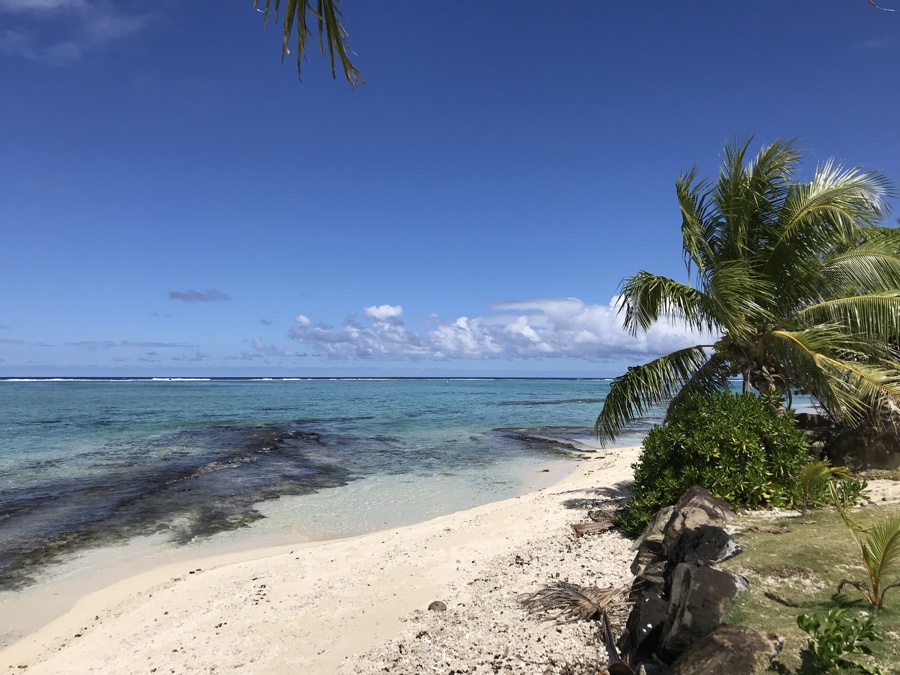 Export product number one here on Huahine is vanilla. We visit a small plantation to see what vanilla actually looks like. The owner of the property is happy to show us around and tell us about the process. 
On our way back to town we fill up our scooter at the petrol station and buy a fresh coconut from freezer. The juice is cool and almost sparkling, delicious!
Our last night at My Island Home, again we could have stayed a week! Except for the mosquitoes, they are everywhere…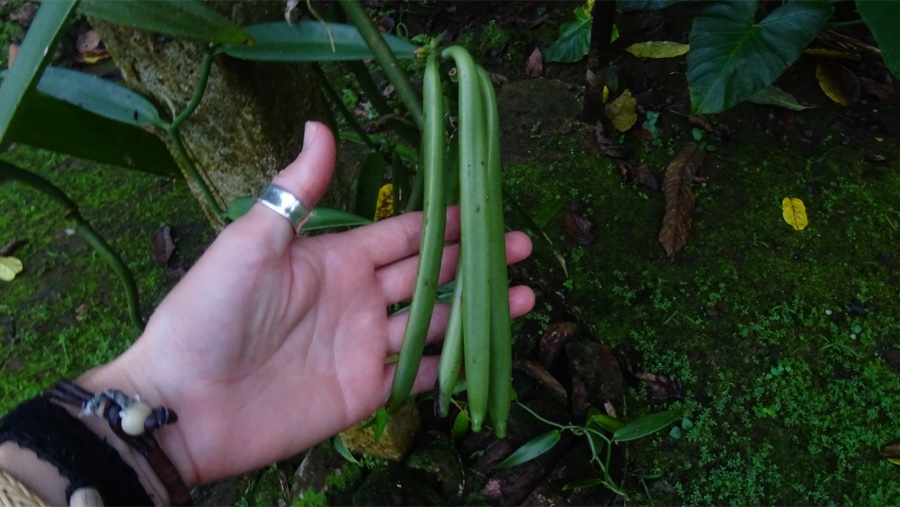 lucky for us there must be fifteen geckos on the ceiling of our bungalow. We give them a pep talk to save us from the mozzies. GoGoGo!
We haven't heard much good from Moe about our next host Gwenn. He's weird and charges you money for everything. Hmm, that doesn't sound appealing. After contacting Gwenn about a transfer to his B&B, Moe offers to bring us there, for free. 'Ridiculous, Gwenn charges 2000 Franc for just 8 minutes drive' he says.
It ís ridiculous, but we cannot cancel and it will cost us too much not to go.
We've also asked Gwenn in advance about the use of his kitchen, but that's a no go. Shit. 
So, Moe takes us to the supermarket to get some snacks and fruit. He says the meals at Gwenn's are very expensive. Looking forward to our stay.
We've decided to meet Gwenn without prejudice, and he appears to be a pretty nice guy. His B&B or shall I say Bee & Bee has a huge tropical garden with fruits (we cannot touch) and beehives (also a no-go). It smells delicious here, the YlangYlang fragrance is so romantic… 
Gwenn likes to talk, a lot. He is friendly but there's something about him. He shows us the menu but I see there is nothing on there we would order.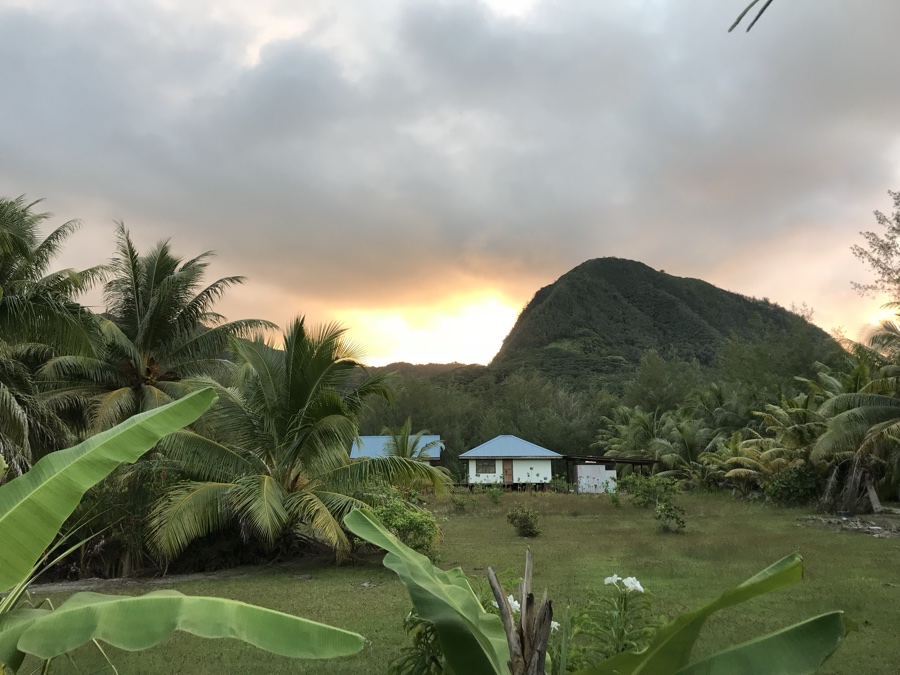 His 'table d'haute' costs us 3800 Franc per person. And that's just for a dinner… so we are glad we got some snacks and fruit. Meanwhile I'm being eaten alive by mozzies, damn there are a lot here.
We are going snorkeling. Close by there used to be an expensive Sofitel resort that apparently bankrupted after 9/11. All that's left is a ruin and a white beach with a huge and gorgeous coral-garden. We are stunned! 
We get into the water on one side and let the current slowly lead us to the other side of the resort. We see so much different fish and it's addictive to try to spot a new kind.
Hungry, wet and satisfied we walk back to the B&B. We have some leftover French cheeses stinking in our room and some French bread, so tonight we're good. 
What we'll eat tomorrow… we'll see.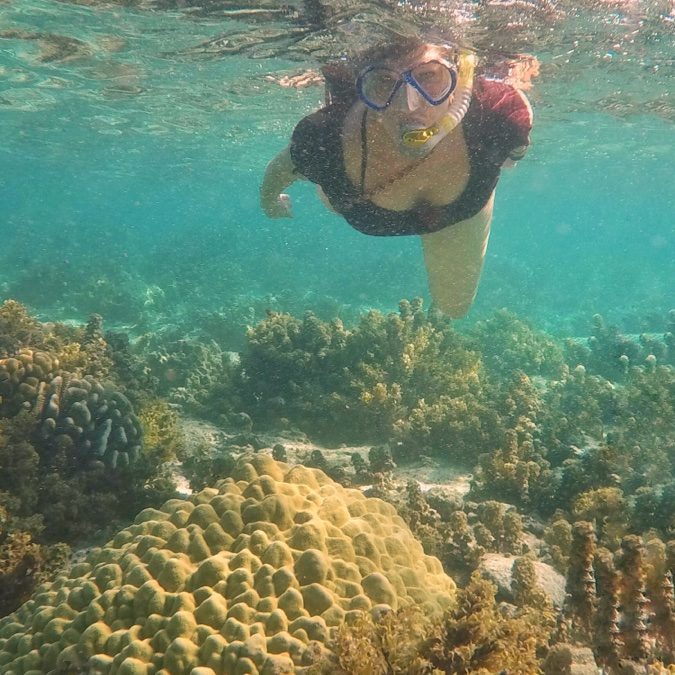 After having an enormous cockroach walk over Jos his back and continuously trying to creep in our bed, we wake up tired and slightly broken.
Breakfast is disappointing. Six roasted slices of French bread with jam, one passion fruit, a quarter of an old dry grapefruit and a tiny banana… to share. 
Oh ánd a cup of coffee, about 10cl. With powdered milk, yummy! The luxury… 
Yesterday Gwenn showed us his garden filled with tropical fruit… but it's obviously look look, no eat. 
After this exciting breakfast we go back into our room, because we are being sucked dry by a swarm of mosquitoes. So, now what are we going to do?! We can rent bicycles from Gwenn but they cost almost the same as a scooter. We just don't feel like paying Gwenn anything.
We read and write the entire day, we have no internet in our room so we'll just have to accept our temporary new life here in this mosquito safe shelter.
In an attempt to see some daylight we walk through the garden. Gwenn's dog Parea is very sweet, he follows us everywhere and when we sit on the patio he waits patiently outside until we are finished eating. 
Unfortunately we have to disappoint Parea, the mozzies are relentless so we need to hide inside again for our three different sprays do not hold them back from sucking our blood.
Our last night on Huahine we stay at My Island Home again. Moe is happy to come and pick us up from Gwenns, early in the morning and even takes us to the supermarket for some new groceries.
We are incredibly happy to be back and even happier to get away from Gwenn and his Mozzies.
We have a great day, we take the bicycles out to the beach for free and enjoy a relaxing afternoon outside without any unwanted guests.
Our plane to Mo'orea leaves at 14:30 and we can stay in the room until then. Moe will take us to the airport for free. He thinks that is how it should be on this island. Not charging tourists for every little thing, you'll scare them away, he says. He's right, I just hope people won't take advantage of his generosity. Such sweet people and such a fantastic place to stay!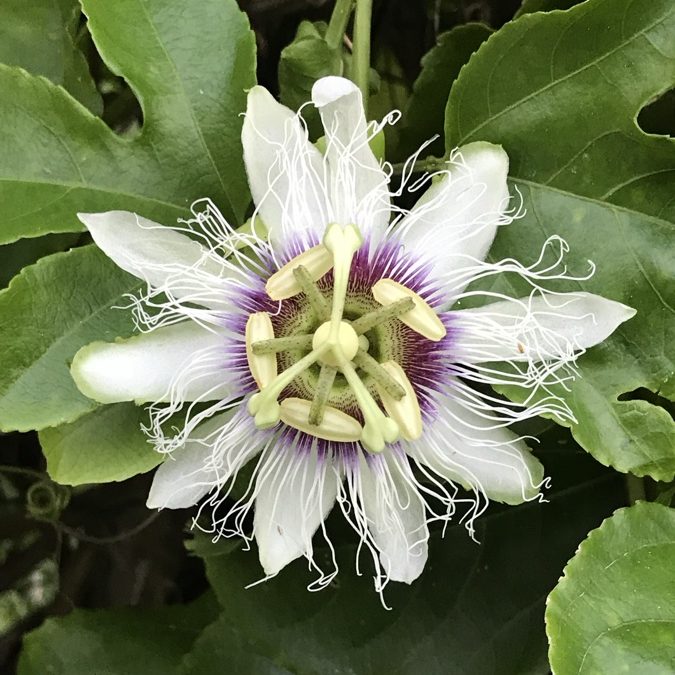 And so we end our adventure on Huahine with the good feeling. A week filled with stunning corals and gorgeous beaches, the panoramic views, the people… what a wonderful island!