March 31 until April 24 2017
Arriving in Australia after traveling through Asia for four months and three and a half months in Africa was a pleasant culture shock. It's so much like home and yet so different! We loved it instantly… big supermarkets, tidy streets and the silence, ohhhh… 
Our very first stop in Australia was actually going to be Darwin in the Northern Territory, but due to extremely hot weather we decide to start our adventure in Cairns where the temperatures are somewhat better. With JetStar Airlines we fly there from Bali in four hours for only € 100.00 per person, comfortable is something else but with a price like this we cannot complain. 
After we've bought a big SUV, a tent and some camping gear in Cairns we are off to explore this huge island!
The plan to travel from Cairns to Melbourne along the eastcoast changed along the way, as adventure was calling us…
We fly from Bali to Cairns with JetStar Airways, although they are very basic they're not as bad as we expected. The plane is filled with overweight tattooed Aussies but everybody's very friendly and it's only a four and a half hour flight so, who cares! We only pay € 100.00, so who Cairns 😉
Through Airbnb we've booked an accommodation in Edge Hill, north of Cairns. A beautiful green area where Ben and Emma have a luxurious new apartment on the ground floor of their home. When we arrive the fridge is filled with goodies and there is even fresh coffee! We get along perfectly with our hosts and they are extremely helpful with everything.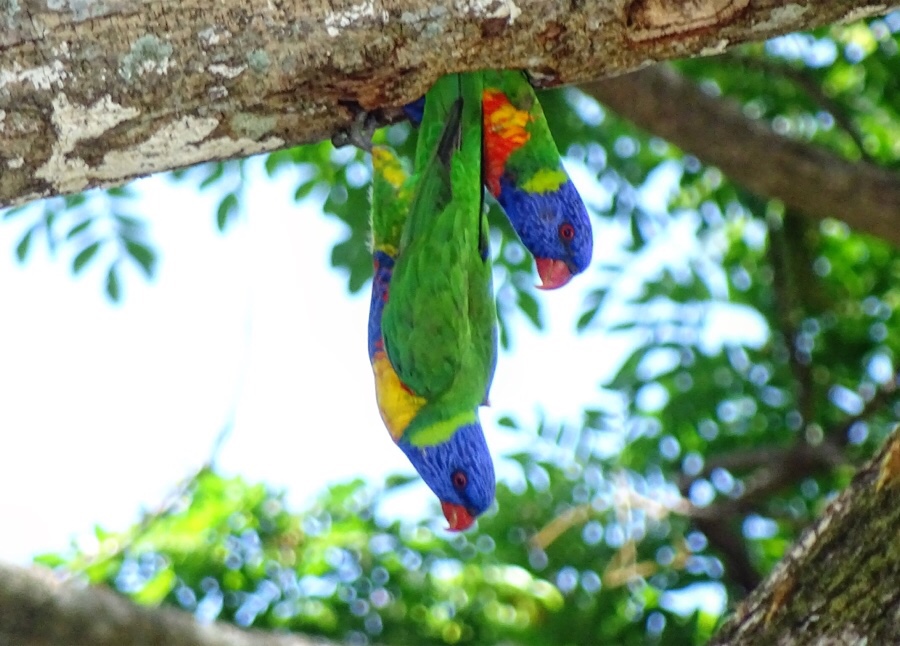 Cairns has a tropical climate but the weather is very acceptable. It's hot, a bit humid, but still we've had much worse. Luckily we are still in a good period, from December on the humidity will be much worse. 
The apartment comes with free use of bicycles which we use everyday because we are looking for a vehicle to buy. There are many many car dealers but the it takes a while for us to find the right car with the right price. The centre of Cairns is only four kilometres away so our location is excellent, between the mountains and the botanical gardens which are really worth while ánd free. So when we're not visiting car dealers we find enough relaxation in the park. 
Cairns is a medium size city (130,000 inhabitants) on the eastcoast of Queensland. It's got wide tidy streets, not too much high-rise buildings and a very small centre. The Esplanade along the coast is great for picnics and there is a free lagoon pool on the end of it. 
On Friday until Sunday there is Rusty's foodmarket, where you can buy fresh fruit and veggies for so much less than in the supermarket. A vitamin walhalla! 
Actually the foodprices aren't as high as we expected in the supermarkets. During our two weeks in Cairns we have prepared all meals ourselves and for that we paid about € 10.00 per day average. Very acceptable I'd say!
After a week we have to leave our apartment at Ben and Emma's, because it's booked by someone else. We move to another Airbnb apartment just two streets further.
This apartment is a bit older but host Charlie is quite helpful. We haven't found a vehicle yet so we book with Charlie for six nights. 
Meanwhile we are invited to an Australian barbecue at Ben and Emma's house, it's so great to meet their friends too!
We've been cycling through Cairns for more then a week and we've seen almost every street. After almost buying a dodgy car (long story, gladly this lesson didn't cost us anything) from a guy named Robert, we finally find what we are looking for. At Adam's car dealer we buy a Ford Territory 2008 with 3 months total warranty throughout Australia.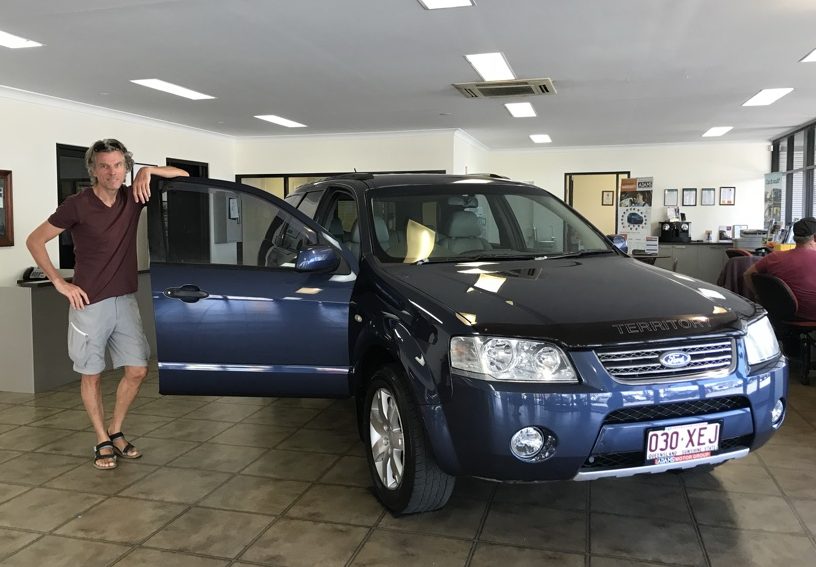 A unique offer, or well negotiated if I may say so 😉 This car is big enough to sleep in so we add a tent and some camping gear for extra comfort and we are ready to go. 
We give the car a good clean and we borrow a tape measure from host Charlie to see if everything will fit. As soon as I pull out the measure a cockroach falls out and immediately crawls under the backseat. YAIKS! I empty a can of cockroach spray which it hopefully won't survive…
There is an Ikea collection point in Cairns. We order a mattress and some kitchen stuff online and after a few days we pick up the car and our order at the Ikea Collection Point. 
Finally we are ready to go roadtripping! 
Fully packed with our new gear our first stop is Port Douglas, a small town just an hour north of Cairns. On the way we pass some amazing nature around Kuranda.
From Port Douglas you can do diving and snorkelling trips on the Great Barrier Reef, but the prices here are much higher than in Cairns. Everything is more expensive here… 
We stay at Tropic Breeze Campsite, run by two couples of which a Dutch woman who's been living in Australia for twenty years. The campsite is nice and tidy, the spaces are big, it's got a pool and a communal kitchen and I haven't seen the sanitary that clean before, anywhere. We pay $ 32.00 per night for two persons.
Unfortunately in the days we are here we get a lot of rain, but if gives us a good chance to test the waterproofness of our tent! Yep everything remains dry. Even the frog seeking shelter in our tent agrees. It's dry.
Our spring mattress is just a bit too wide on the back where the carwheels stick out on the inside. The mattress has a zipper so we open it up, cut away some of the springs and we have a custom made mattress for our bedroom on wheels!
Port Douglas has a small centre, one street with shops and restaurants, a harbour form where the tourboats leave and a beach. 
The campsite has a by nets enclosed swimming area where there are also lifeguards present during the day. The nets are especially to keep the stingers (poison jellyfish) out. Due to crocodiles it's discouraged to swim outside this area. Only two weeks ago a lady was eaten by crocs at this very beach… yaiks.
We decide not to go on an expensive diving trip now with this weather. It would cost us about $ 280.00 per person for just one day, so we decide to pass. Our plan was to drive up north to the Daintree area and Cape Tribulation. Unfortunately the weather forecast says no. There's more rain is coming this way, so on a dry moment in the morning we make a quick decision to pack up the tent and drive back to the south. 
From our slightly disappointing experience in Port Douglas we drive south passing Cairns for our next stop in Mission Beach. The town looks quite tidy and touristy. We camp at Mission Beach Caravanpark tonight, it's right on the beach and has only a few campers. There's a violent storm so we quickly check out the somewhat messy beach and go to sleep early. 
There is not much to do in this town, a supermarket, a restaurant and a bar. There's a nice hiking trail nearby but the weather still won't give us a break so we just relax in the communal area of the campsite and read our book during the rain. 
Eventhough the facilities are old and the weather is not much fun we decide to stay another night before we head to Townsville. The beach doesn't have a net for the stinging jellyfish so swimming is not advised. Ah well, the sea is too rough anyway and we have a great time watching the waves in between the rain showers.
During a relaxing and beautiful three hour drive from Mission Beach to Townsville we make a stop in Cardwell where we spot a nice local market along the beach. Fantastic home made products like marmalade and pies are sold. Just when we are about to order a freshly brewed coffee it starts to rain again so we run back to the car. No coffee, let's go to Townsville.
In Townsville we stay at a basic campsite on the terrain of the Riverside Convention Center which you can find on CamperMate (free must have app!). We pay $ 15.00 for a fantastic peaceful spot in between mango trees and with a very clean sanitary block. The big Coles supermarket nearby provides us with some veggies and we cook a delicious meal on our two flame campingstove.
When we leave for Magnetic Island we pay at the receptionist and explain that we'll probably be back after our island visit. You're gonna love Maggie, she says. She is going to be right…
We park our car at the secured car park of Fantasea barge at their jetty in Townsville. We arrive 15 minutes before the barge leaves to Magnetic Island. 
We booked two tickets online for $ 27.00 per person return. The return date needs to be filled in but we can easily change it online if we want to. We checked if we could take our car but that would cost us $ 149.00 extra, so we'll go without it. There is another passenger ferry terminal, SeaLink, but is just a little more expensive and their unsecured parking costs $ 7.50 per day. 
On bookme.com.au you can find many good deals including ferry tickets to Magnetic Island, so best to check that first.
Accommodation on the island is expensive, if we would have taken the car we could have camped quite cheaply but well, we already booked an accommodation with Airbnb and can't cancel anymore.
Murray, our host, picks us up from the barge with his old dirty car which he rents out for $ 40.00 per day. We'll think about it…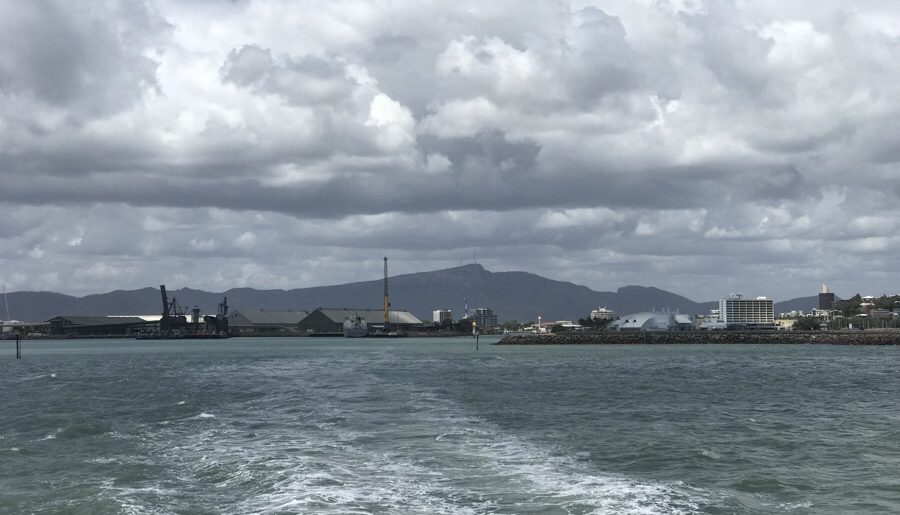 Renting a car on the island is expensive and not really necessary because the hop on hop off bus drives around the island all day. Magnetic Island is only 10 kilometers wide, so nothing is really far away. If you do feel the need to hire a car there are pink Barbie cars, with an open roof for the ridiculous price of only $ 80.00 per day. An all day bus ticket costs $ 7.00 per person so we do the tour de Isle by bus. 
We stay in Picnic Bay, in the south of the island. Murray and his wife Rhonda are very hospitable and we have great conversations every day. The drive with Murray towards his house is only three kilometres so we are there in a few minutes.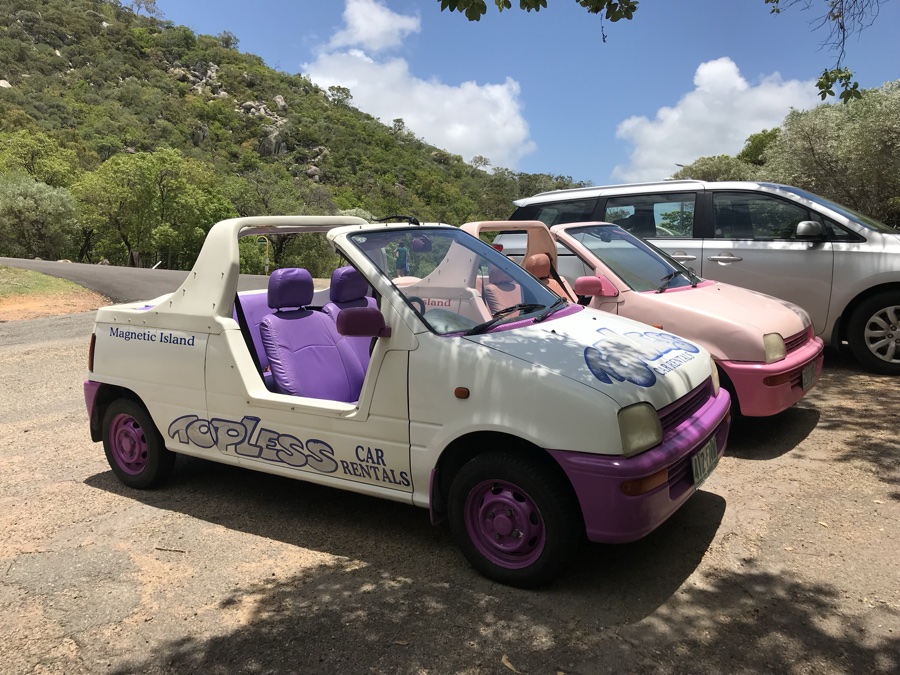 We get a room with a private bathroom inside his house and a small guest kitchen. If we want we can use the big kitchen, the pool and the sundeck with view over a green park with lots of bird species.
On our first day we see a beautiful Kookaburra, Angry Birds must be inspired by this cool bird. He is just sitting there like he owns the place.
We are on a good location. The Picnic Bay beach is at a few minutes walk from the house. There's a stingers net for swimming and it's got a beautiful long beach. 
Next to the house is a nice short hiking trail up to Hawkings view point, from where you can enjoy an amazing panoramic view.
The bus stop is just two minutes away, it takes us to:
Horseshoe bay on the north side has a nice long beach and a stingers net for swimming. It's a popular place for backpackers eventhough we can't see why. There are some overpriced restaurants and a few bars near the beach. 
The bus also stops at the Forts, a nice short hiking trail to some remains of the Second World War. 
During this hike we see four Koala's! They are so incredibly cute. They are just sitting in the eucalyptus trees sleeping and sometimes they move their paw to re-sit. We even see a mother with a baby, a tiny creature of no more than 20 centimetres high. This baby knows exactly what life expects from him: sleep, eat, scratch, repeat… cuteness overload!!
In the centre of the island near the Arcadia Village Hotel there's a rocky area where there are supposed to be some Wallabies.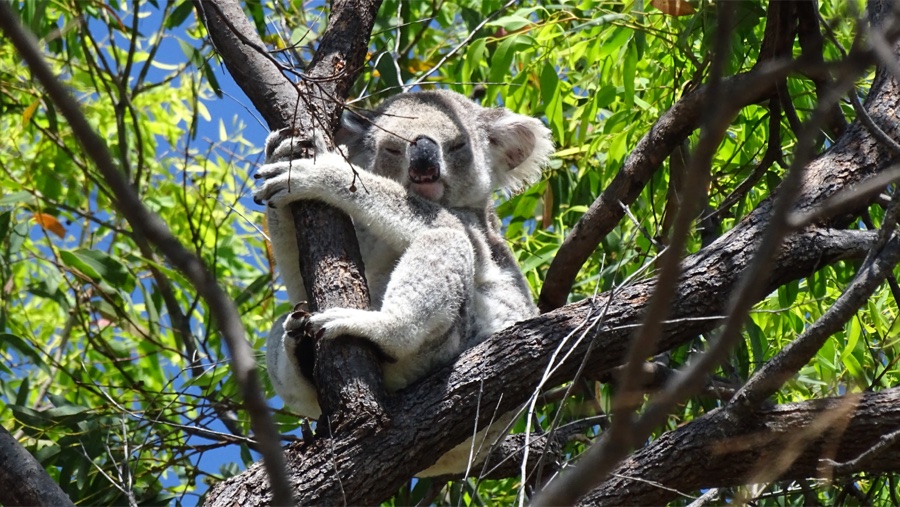 Of course we'd love to see these tiny too so we walk along the coast until we get to the feeding point. Daily around four o'clock they feed them here to prevent visitors from feeding them bad food. This way everyone can get to see the Wallabies without spoiling or harming them.
We are there too early so we take our chances and go there anyway. We see two of them! They are really shy and we can understand why people would feel the need to feed them in order to get them out of their shelter. We stick to our credence 'never feed the animals'.
Want to see something weird? On Wednesday nights at 8.15 there are toad races for charity at the Arcadia Village Hotel. Yes really, and it's just as funny as you might expect. Big fat toads are being auctioned for bets, and with the profits go to different charities all over the island. 
Our time on the island is up. Four nights is actually a bit too long, nevertheless we've had an amazing time!
After our wonderful stay of four days on Magnetic Island we take the barge back to the Townsville harbour where our car is waiting for us.
Unfortunately we discover the engine has died. We call the mechanic and after trying some things they tow the car to the garage. It's Friday so we have to leave it there until Monday. No it's not the battery…
We're going to stay with Wayne a few days. He is a friend of our Australian family that invited us to be a guest at his house in Townsville. 
Wayne picks us up but he can only transport one of us at a time but he insists to drive twice. 
He's is such a sweet guy, sharing his home with two total strangers. He lives alone so he's delighted to have some company. A real Homestay experience I can tell you!
On Monday we hear the car needs to stay there another day. The problem? An invasion of millions of sugar ants that decided to live in our engine. Nests in the relays made everything stop working. Little bastards! 
Shit, tomorrow is my birthday and I'd love to get away from this place before that. But mechanic says no. So we wait. 
We go for a walk around town. There are some beautiful old buildings and we see on the map there is a park with botanical gardens.
When we get there we see it's actually meant for driving through… that's not a park, that's cheating! 
After staying with Wayne we check into Civic Backpackers guesthouse. A nice hostel in the town center with a communal kitchen and dining area, clean rooms and a shared bathroom. We buy some groceries at the Woolworths around the corner and have a great evening on their terrace.
My birthday is not what I expected while we wait at the garage until four o'clock. We've got our car back but it's too late to leave now. Let's hit the pub! We can finally celebrate my birthday during happy hour in the Townsville brewery. Both ok pizza and tasty beers at half price, don't need anything more…
We would love to dive the Yongala shipwreck that has sunken for the coast of Ayr in 1911. It's a 110 meter long wreck that's still in relatively good condition and is supposed to be full of life. Arriving in Alva, a small coast village near Ayr, we settle in at Alva Beach tourist park. It's a nice clean campsite with a great pool. In this town there is no supermarket but fortunately we did some shopping in Ayr at the huge Coles. We have enough groceries for the next few days.
We walk towards the Yongala dive center but to our big disappointment there are no spaces left for the next five days. Fully booked. Ugh, now what?!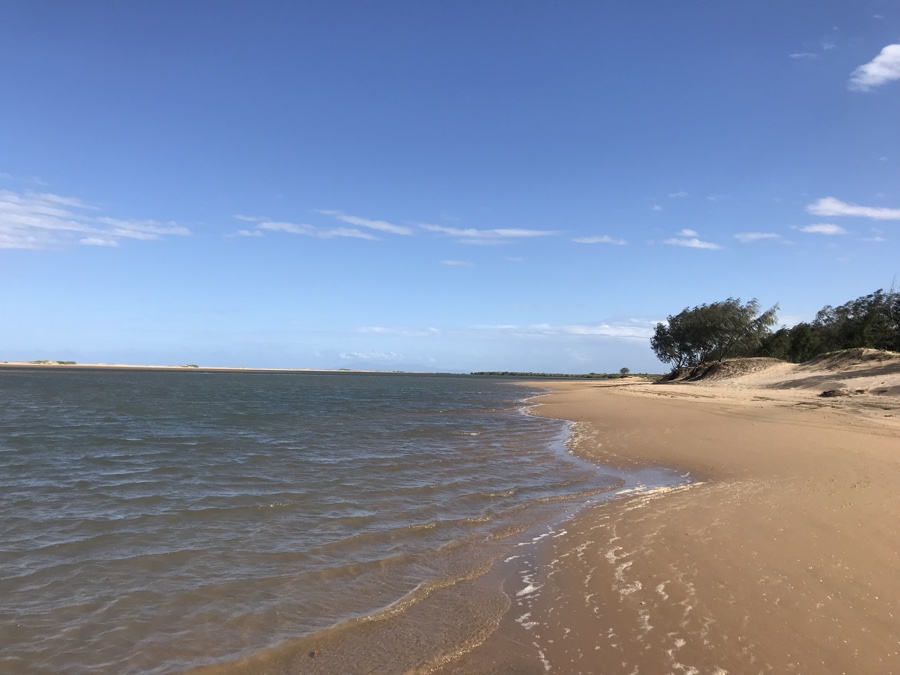 We stroll through town towards the beach to decide what to do there. The beach looks really good. A long wide yellow sandy beach with a sandbar alongside the coast that keeps most of the stingers away.
At the campsite there is a nice communal kitchen where we prepare our meal while coming up with a totally different plan… 
Destination: Ayers Rock, 2565 kilometers to go. 
Follow us into the outback
Annndddd we are back in Queensland!
After driving through the country for more than 13,000 kilometres we've now re-entered Queensland to sell our car. 
We book a nice Airbnb in Gold Coast for three nights and bring our camping gear inside the house to give the car a good clean. We've had our car for sale on Gumtree in different cities the last few weeks but we've had no reaction so we've decided to lower our price to A$ 5900…
Hopefully this will give better visibility to the car in searches of people looking up to A$ 6000. It's just been on gumtree for this price for an hour and we already get a reaction from someone in Brisbane. Eventhough it's a 1.5 hour drive in evening traffic, he wants to see the car the same evening. After a short test drive he immediately buys it. Oh my, this is such a relieve!! So now we can plan our next move and enjoy the time we have left in Australia.
The buyer can't take the car with him to Brisbane because he's came by car on his own, but he pays for the car and we agree we can keep it for a few days before we drive it to Brisbane ourselves. This is good, now we can book a plane ticket from (the cheaper) Brisbane and don't have to think about going there by bus. For our last night in Gold Coast we book a nice apartment by the sea. We haven't seen much of the city, it has rained terribly and now it's incredibly windy. So we stay inside and enjoy our fantastic view over the city.
Gold Coast is one of the most attractive cities we've been. There are a lot of canals, beautiful houses by the water and tall buildings with nice architecture.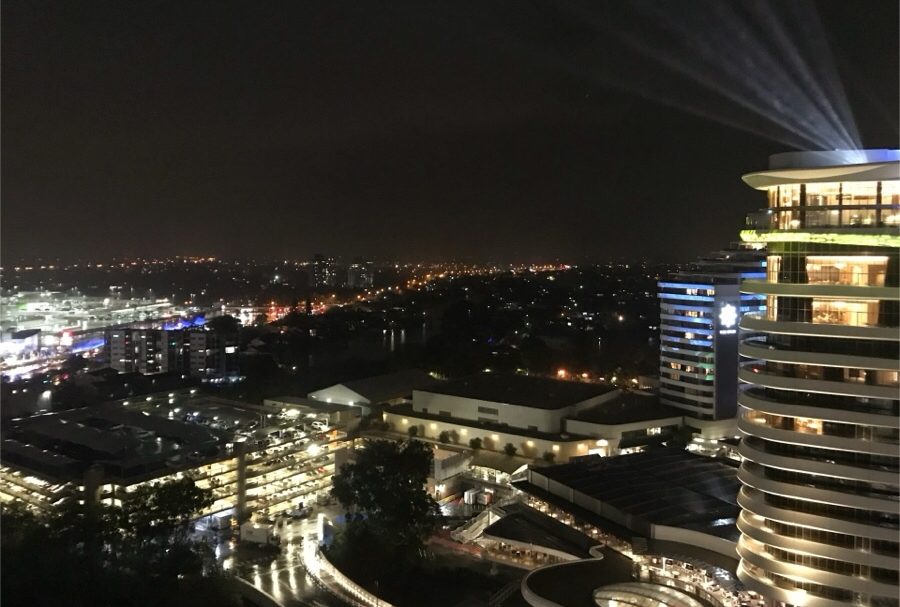 The beach was rough and windy during our stay, but they don't call it surfers paradise for nothing!
The next day we take our car for it's final drive to Brisbane. We have driven our big blue friend for 13,250 kilometers and we were so lucky not having any trouble during our adventures.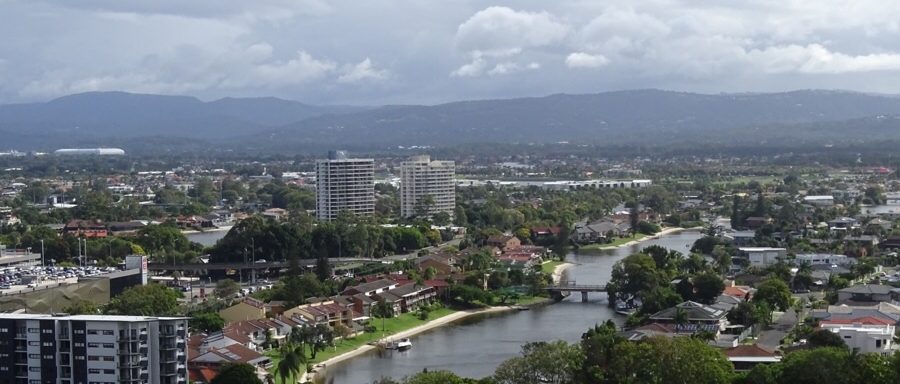 Finding a cheap hotel in Brisbane is a real challenge, so we thought, if you can't beat them… join them. We booked two nights in the luxurious Mantra Richmont Hotel in Spring Hill. Closeby you can find the cosy Fortitude Valley with nice bars and shops and on the other side the real city centre is only fifteen minutes walking distance. Not just hotels in Brisbane are expensive, a beer for ten bucks and a nice meal costs more than we can afford… 
Brisbane is a fantastic city, a lot of things to do and it's got a great vibe. There are many different ferry wharfs through town where you can take the free red-white cityhopper ferry and enjoy the city lights at night.
Southbank is a popular area just across the river from the city centre. Here you can find many cafes and restaurants, a big ferris wheel and interesting museums.
Another great place to visit is the beautiful botanical gardens. There is a small riverside market with nice food stalls inside the gardens where we enjoy some fantastic Dutch treats. I choose a Dutch herring and Jos has a Frikadel. This is gooooood!!!!
We are in luck because this weekend there is a Brazilian festival in town, live music and dance in the streets! We love Brisbane!
These few days in Brisbane were a cherry on our über fantastic roadtrip. But now, new adventures are coming. After an unforgettable roadtrip of 5 months through this varying and unpredictable country we've sold our trusted steed, our bedroom on wheels. We've booked a flight to Port Vila in Vanuatu, an island group east of Australia. We are very excited to explore some of the South Pacific tropical pearls! 
Bye Oz, see ya mate!
Spending a lot of your travel savings abroad isn't fun. For us, the decision between buying or hiring a car for our roadtrip through Australia was easy. Hiring a car is very expensive in Australia, especially in high season. If you go to Australia for a longer period like 3 months or more, the depreciation of the car is often less than the rent including insurance. If you can make a good deal on your purchase and resell, it doesn't have to cost you much, or nothing at all if you're lucky…