Mo'orea, that paradise right next to Tahiti. This island has it al, rough proper shaped mountain like oomf! and Côte d'Azur-ish lagoons surrounding it. The nature on this piece of paradise is unique, there is a lot of biological research done on Mo'orea and the underwaterworld is wild and healthy. 
Mo'orea (meaning: yellow lizard, important stuff) was discovered as a holiday destination in the early seventies. Because Tahiti (the real Tahiti island next door) doesn't have any white beaches (no it doesn't, what a shocker ehh?!) wealthy travelers picked Mo'orea as their new little favorite bestie.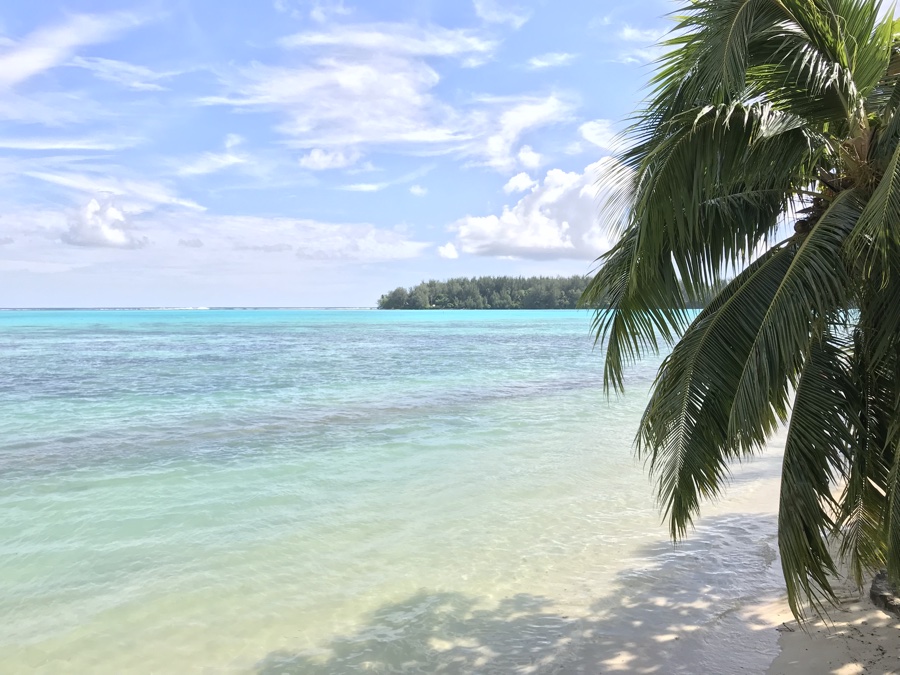 Unfortunately it was no everlasting love, after many years of high popularity the majority finds their paradise elsewhere. Especially after 9/11 the tourist branch got slapped in the face. Many resorts had to close down, beaches were left neglected and the bungalows were abandoned when American tourists stayed away that first year after the attack. While some resorts barely survived and re-birthed, for most people Tahiti was not that exclusive destination anymore, the beaches weren't that perfect after all and the authenticity was gone. Go figure…
So what is left after a 30 year touristhype. What is there for us? 
We've booked a bungalow for three nights in the old Club Med. What used to be exclusive and gorgeous, now is in decay. But… it's right on the beach and the location is one of the best on the island. Uh-uh! Let's see if that's true.
In 35 minutes we fly to Mo'orea from Huahine. A nice relaxed flight, panoramic views of blue lagoons and surrounding reefs. We have arranged a pick-up from the airport. 
Mo'orea doesn't have a capital or one big town, but has a 60 kilometre road around the island with houses, shops, restaurants and anything else you need along it. Our accommodation is in Tiahura on the north west corner of the island and our host Claire offered a transfer for €12.50. 
When we arrive at the former Club Med our heart nearly stops. Everything looks like it is going to collapse any moment. It sure doesn't look like it is going to be approved by any commission in the next decade. 
Clare gives us a small tour around the premises. There is a communal kitchen with more rubbish in it than your neighbors toolshed. We can't see the countertop underneath the pots and pans filled with last nights (of last weeks) dinner and there are at least a dozen cats hanging around.
Courteous as we are, we smile and continue the tour. Along a small path and through a gate we find the beach! Yay! Well beach… it's kind of small (4 square meters) and just a tad disappointing but the sea… oh my the sea is blue and looks inviting. We'll just have to accept.
So, short evaluation…
Pretty beach: sort of check
Palmtrees: half check
Blue sea: oh yes, check!
We cannot complain, let's call it paradise!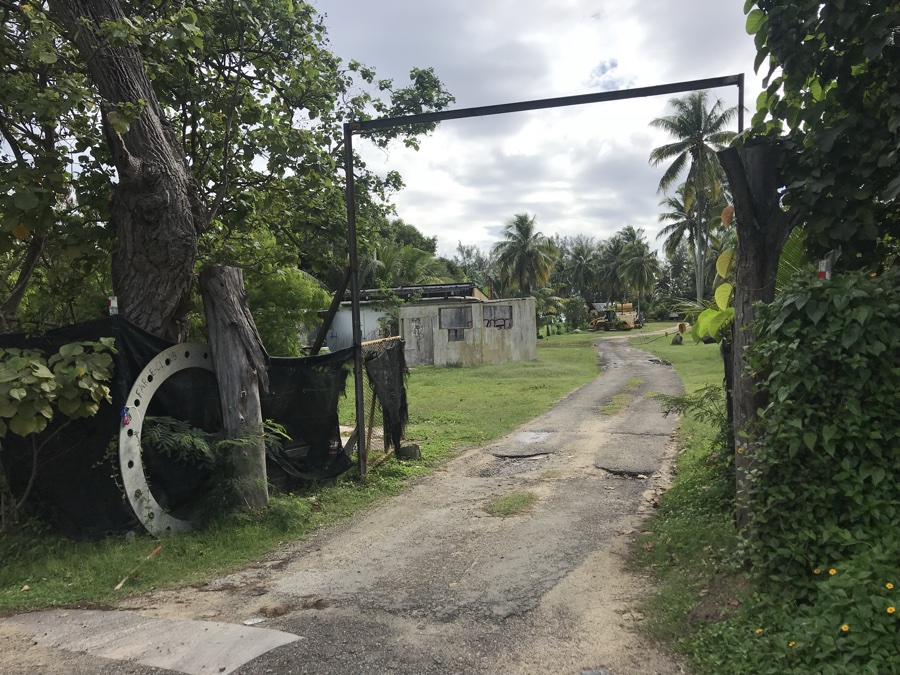 Our bungalow is one of five in Claire's care, they have just opened a few months ago and not everything works as it should. The mattress that used to be about 10 centimeters thick, is now half its size, so I decide to sleep on the extra bed that's there. At least this mattress still has some meat on its bones. The original Club Med ceiling fan looks like it can decapitate us any moment but fortunately it's not working at all so we get a standing fan. It doesn't have a protection cover over it so we have to be careful with the blades. At least we have some wind now! Ehm, actually we already did because there are so many holes in this house we hope it's just the wind coming in…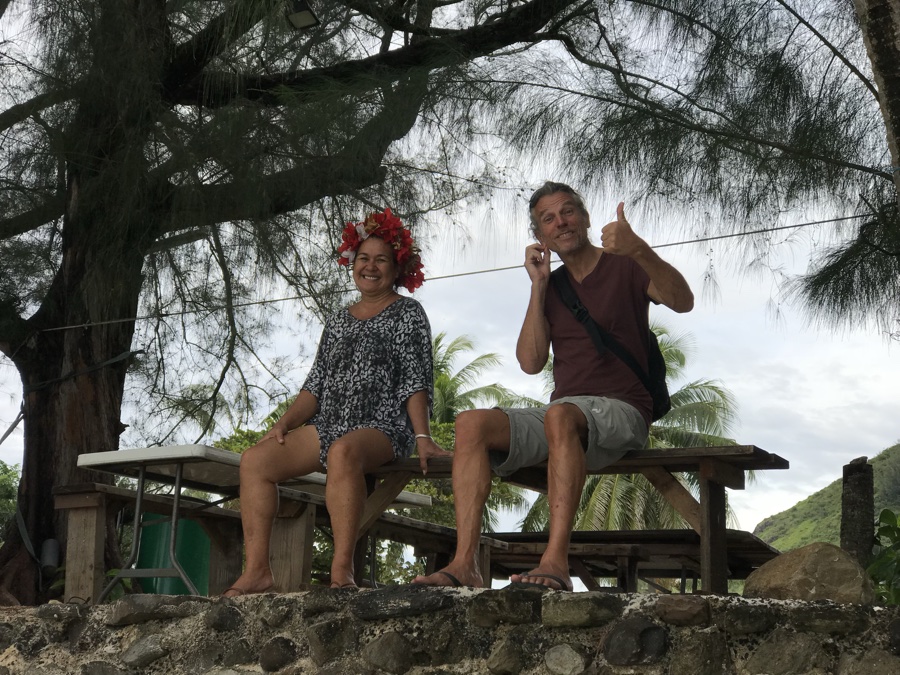 Not everything in the bungalow is bad though, we have a huge fridge and a nice bathroom with a powerful hot water shower. 
It is still raining so we relax and read for a while and try to become one with our new home. 
It's ok, we only pay €90 per night for this hut. 
At least we have an excellent view…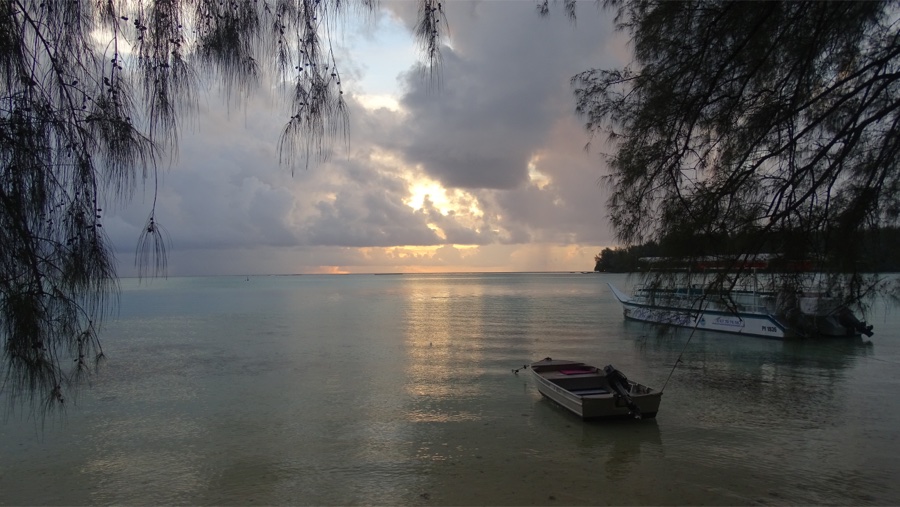 We've booked two dives with Moorea Fun Dive. A small dive centre owned by Christian and Marie.
It's only a short walk so before we know it we are there. We get introduced and pick out our gear. It's raining like crazy again so we leave all our stuff in the office of the dive centre when we get on the boat. As soon as we are on the water we turn on our GoPro to film the amazing scenery but OH NO… the battery is empty, we charged it last night but now it is dead. SHITTTT! 
Our first dive to Eden Park just outside the reef near Opunohu bay. We are here to see the Lemonshark but it's not always there so we hope we are lucky. 
And we áre! The moment we jump into the water we immediately spot one!
This 3.5 meter long gigantic grey beauty is slowly flowing through the water just two meters away from us as we descend. No GoPro… 🙁
The corals look healthy and there are many different fish. We are surrounded by Blacktip Reefsharks our whole dive and other smaller fish swim along with us. So cool, they see us as the big fish you swim along with… 
Our guide Christian takes the other two divers back to the boat after 30 minutes because their air pressure is low, already. We stay down on the bottom and see the Lemonshark again… YAY, it's gorgeous. So incredible to swim with a huge fish like that…
After fifteen minutes we go up to the boat as well.
We wait for 40 minutes in between the dives and we drink tea with 'one' biscuit. 
The next site is not too far from the first and is a breathtaker as well, huge lava flows grabbing the bottom like fingers. Totally overgrown with hard corals and surrounded by Blacktip Reef Sharks and numerous colourful fishies. We spot a mother and baby Spotted Eagleray and seven (!) Turtles. Scuba heaven! 
These are maybe our best dives ever and we don't have footage of it. Boohoohoo… one of the other divers has made some pictures with his GoPro so we ask him if he can send us some. He will as soon as he gets home, in two weeks… (October 2018: we are still waiting)
It's Ascension day today and everything is closed. Luckily we got some groceries yesterday so we can prepare a basic meal. We don't want to use the kitchen because… well… it's just really nasty. So, a salad and a sandwich is good enough. 
We've already had two public holidays in the last week, so a lot of people are off and hang around all day and there are small parties everywhere. By the sound of it they are all having a great time, the music is loud, basses thumping from all sides… yay, great.
At our Club Med there are a few other guests from France, they only speak French and we can't get in contact with them. They are in quite a lively conversation and we are being ignored completely. So… if you are not French you don't fit in. Fok it, we are going to the beach. 
We can still hear the music from different sides but at least we have a serene view over the water. Sigh…
Claire and her son probably feel a bit bad after all, because in the morning we are being spoiled during breakfast with fresh pineapple, coconut and passionfruit.
Today we switch to another hotel (thank god!). The Fare Vaimoana is just 600 meters away so getting there is a piece of cake. Our bungalow has 'ocean view' and looks so much better than the last one. The ocean looks pretty good but from our bungalow we only see the next bungalow blocking our view. The friendly lady at the reception says, those are beachfront bungalows. Ok, ok, we don't care, this looks gooooood!
The hotel Fare Vaimoana is right on a gorgeous beach with bright blue water swooshing gently over the sand. Owwwyeah!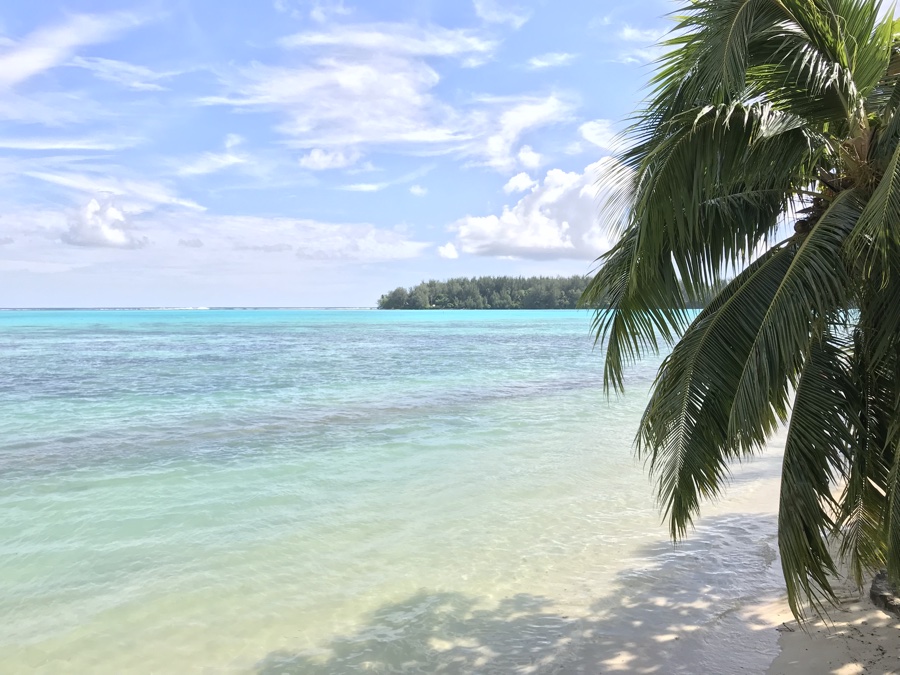 It's early so we enjoy ourselves in the water. There are so many fishes, but the current is quite strong. This makes the water so bright and clear, but it's not very comfortable. Back to our beach then.
Meanwhile we enjoy a moment of melancholy with BASTOGNE COOKIES!!
A few kilometers from here there is the Tiki village. On the island there are many similar places that offer terrible 'you know it's so traditional' Tahitian entertainment for tourists.
Dancing by the fire and workshops with pareo making. Of course there is a souvenir shop and a restaurant too. We see busloads of people visiting the place. My worst nightmare, please… no. But for people who believe that authentic Tahiti still exists, go to the Tiki trap!
That said, we are almost done relaxing here at our magnificent spot by the sea… tomorrow we have to switch hotels again. We have booked everything just a few days before but this weekend there is an important marathon on the island and last week was holiday week in French Polynesia so we've had some bad luck with availability. Now it's Sunday and everything turns back to normal tomorrow. Hopefully because boy do they have a lot of holidays here…
A bit further down the west coast we've rented a bungalow at Faré Manureva.  
A bungalow? A whole house with a kitchen a bathroom and a separate bedroom. The luxury!  
Just across the road there is a fantastic small beach. The sand isn't very nice coloured but just a few meters into the sea the water is the brightest blue we've seen so far. We go there at dawn to relax. There are some fishermen cleaning their fish and they call us over. There are two stingrays hanging around in the shallow water. We can touch them, they're like doggies… they keep coming back for more petting. We are totally flabbergasted and in love! This.is.so.cool!
The rest of the evening we sit on a huge rock and listen to the shushing sound of the calm water while the sky slowly turns from yellow to pink to black.
Our bungalow is perfect, the bed could be better but still, we paid €70 per night so this is an improvement from all our former accommodations in French Polynesia. 
We go kayaking today. The owner Marc has a double kayak and says we can throw out the anchor and snorkel near the reef. Good plan, we take our goggles and snorkel and get going. The sea is very rough as we get closer to the reef, the water is so clear we can't believe it. We can see every piece of coral below us… and the fish.. oh…
We are not sure we can get back into the kayak after snorkelling so we decide to paddle around and snorkel closer to shore when we get back.
The view of the island is gorgeous, WOOW FRENCH POLYNESIA!!
At night we return to the sea with some old bread. Hopefully the stingrays will be back! They are, but they are not interested in bread… after circling around for a while they give up and disappear. Ah well, the many many other fish do stay for dinner. We get back on 'our rock' and enjoy the sunset… this place is just so soothing.
The next day we want to rent scooter, the company delivers the scooter to our bungalow but the weather doesn't look very promising. It's our last day on Mo'orea so if we don't go today, we can't see the secret little spots of the island anymore.
There is hope, after breakfast the rain has stopped and the sky slowly turns blue again. On y va!
The nature is amazing on this island, high mountains with green and red colored brushes, very Bob Ross. Red leaves of the Mangotrees color the mountains.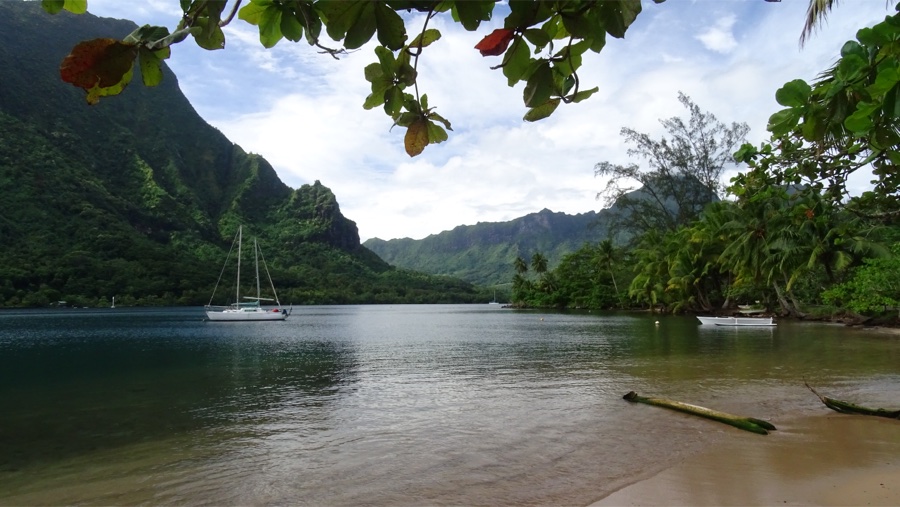 At the Opunohu Bay we turn into the road to the Belvedere viewpoint. A zigzagging way to the top where we find the most awesome panoramic view of the island.
There is a hike up to another viewpoint but the path is not very safe after the rain, so we skip this.
As we drive back down we choose to take the pineapple path towards Cooks bay, the other inlet of Mo'orea. The road is absolutely terrible but we pass some awesome pineapple plantations that look incredible. Whoah this is Pineapple Paradise!
The scenery is unique and we are so happy it is not raining while we are driving on this clay path.
In Cooks Bay there is a huge Super U supermarket, here we can finally get some new mosquito spray and some lunch material. 
Before we know it we are already at the airport on the north east corner of the island. Immediately after that we reach what is supposed to be the most beautiful beach of the island: Temae Beach.
When we pass the Sofitel hotel we decide to take a closer look. The gate is open and the guard looks the other way. In the corner of my eye I can see him shout at us but we drive on and act like we know the place.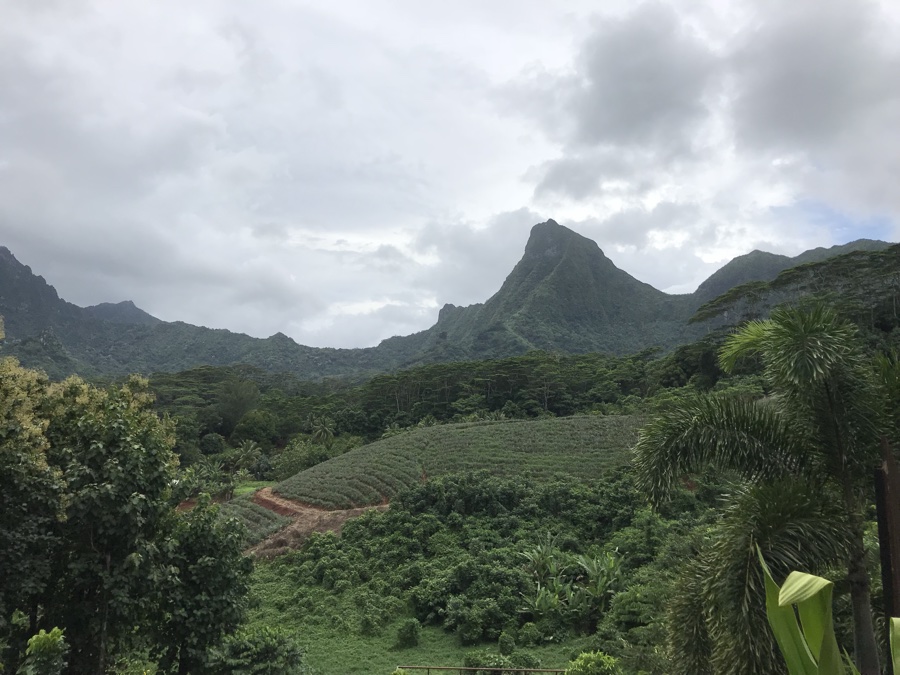 We park our Harley and walk around the premises as if we are guests, haha 't is is heaven! The beach looks gorgeous but still not as perfect as we expected for a €500 per night hotel. There are some sharp stones in the sand and did I just see some fallen leafs on the ground?!
There is an infinity pool facing the beach and the houses over the water. In the distance we see Tahiti. 
We walk over the pier with the waterbungalows and imagine we would stay here. Pff we'd ruin our total budget within a week! But whoah the water is so clear and those corals look pretty inviting… 
Unfortunately it's still very cloudy today, we have to miss the enchanting colors of the sea when the sun lights up the water, but this is already so amazing!
Enough dreaming, let's continue our roadtrip. 
In our kitchen we can cook great meals. Most kitchens in French Polynesia have some of the basics like olive oil, salt and pepper. At a small vegetable stall on our way home we've bought some fresh greens and now we prepare a yummy pasta for our last night in Mo'orea.
After this early dinner we enjoy the last sunset on Mo'orea from our rock. We don't see the rays anymore but there are plenty of other fish and we even have a French reggae background music when a local guy comes to the beach to watch the sunset. Good vibe… good times. 
Cheers, to Mo'orea!