Through the trainwindow the Tanzania nature looks breathtaking, so much different from all the African countries we've visited! The lush green mountains crossed by red soil roads, coloured rooftops and small rivers make it look like a poster. There is so much to see, clayhuts with people doing their laundry or working on the field, schools with children playing outside and as we hang out of the window everybody's waving at us. They are so happy to see us, ahh there is that train again. The train of happiness!
We expected Tanzania to be so much more touristic but we were wrong. In the two weeks we were there we only met a handful of other tourists of which almost all we've met before in another country.
When going to the beautiful Tanzania with its friendly people you really must know how to speak some Swahili, so here's a good start for you:
Karibu (welcome) reply: Ahsante (thanks)
Sana (much) example: Ahsante sana (thanks a lot) or karibu sana (very welcome)
Jambo (hello) reply: Jambo
Mambo (how are you) reply: Poa (cool)
Habari (anything new?) reply: Nzuri (all is good)
Kwaheri (goodbye)
Did we tell you WE LOVE TANZANIA? (tunapenda Tanzania!)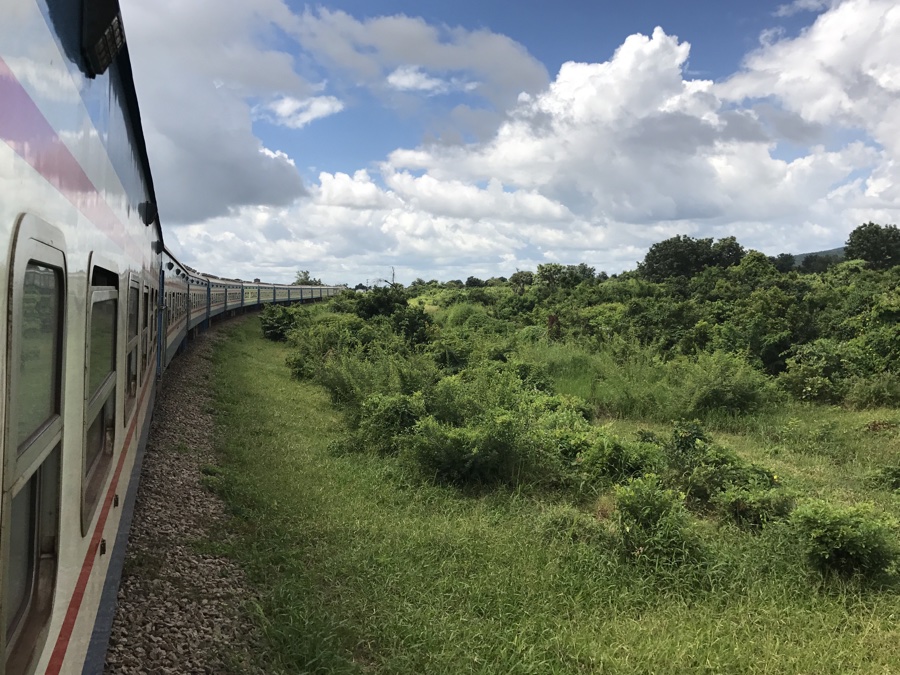 After a train trip of 22 hours from Lusaka we finally arrive at the border of Tanzania. We don't even have to get out of the train, the immigration officer comes to us. We have the $ 50,- per person and our passports ready for our visa, but when the two immigration ladies come in they check the billets closely and reject two ten Dollar notes. These are not good, she says. They are a bit older than the rest but other than that they look fine. I tell her this is all the money we have, but she shows no sympathy and gives us the 'don't mess with the immigration officer' look
Yesterday we changed some Mozambican Meticais for Tanzanian Shilling with a fellow traveler going in opposite direction, so I show the immigration lady the Shillings and kindly ask her if we can pay the rest with this money.
They discuss the problem and take our passports the Shillings and the Dollars with them outside the train. When they come back we have a stamp in our passport and get some Shillings return.
Shit, now all we have left is worth € 2.00, but at least we are in Tanzania!
After a while a train lady passes by to take our order for lunch… can we pay with Dollars? Nope. Ok, we skip lunch. Only 23 hours to go.
Passing our time with reading, playing cards and watching people we enjoy ourselves quite well. At 18:00 the train arrives in Mbeya, where it fills up the watertanks. The water has been finished this morning so we couldn't wash anything.
Lush green hills, ricefields and palmtrees
We use our drinking water to wash our hands now and we've got some wet wipes, those are a winner! We wiped everything as soon as we got into our cabin in Kapiri Mposhi.
When we wake up it's 7:00 pm, we've had a reasonable night, the train shakes which feels like you're in a cradle but there's the noice and the stopping at stations along with a loud squeaking and honking. After we eat our last 'weet bix' breakfast we see the landscape has changed again, there are now high mountains as we pass the Udzungwa National Park.
Tanzania is amazing, almost looking Asian with its huts in the lush green hills, banana trees, ricefields and palmtrees.
It has rained last night and today is hot, we have a fan in our cabin that helps a bit but it's quite uncomfortable and sweaty. The humidity is not pleasant but the kids waving at the train like they see a spaceship makes everything okay.
Bruised and tired but filled with joy we arrive at Dar es Salaam trainstation exactly 48 hours after we left Kapiri Mposhi. Whoah, what a ride!
With a couple from Zambia who stayed in the cabin next to us in the train, we share a taxi and book a room in the same hotel, the Rising Sun in the Kariakoo aria. The hotel is clean and the personnel is very friendly. The deluxe room is only € 27.50 but we resist temptation and choose the cheaper also large double room which is € 25.00 per night including breakfast.
At night we decide where to go next and check some plane ticket prices. We book a flight to Kilimanjaro with Fastjet for € 102.00, in two days we would pay € 30.00 but we don't want to stay in Dar es Salaam much longer, it's quite a crowded and dirty town and the traffic through this town is terrible. So the next morning we take a taxi to the airport and fly to Kilimanjaro airport.
At the end of our journey through this beautiful country we stay a few days in the Kiota Jungle hotel near the airport. The garden is amazing with all kinds of tropical trees and bushes. There is a big pool and it has a bar and different sitting areas.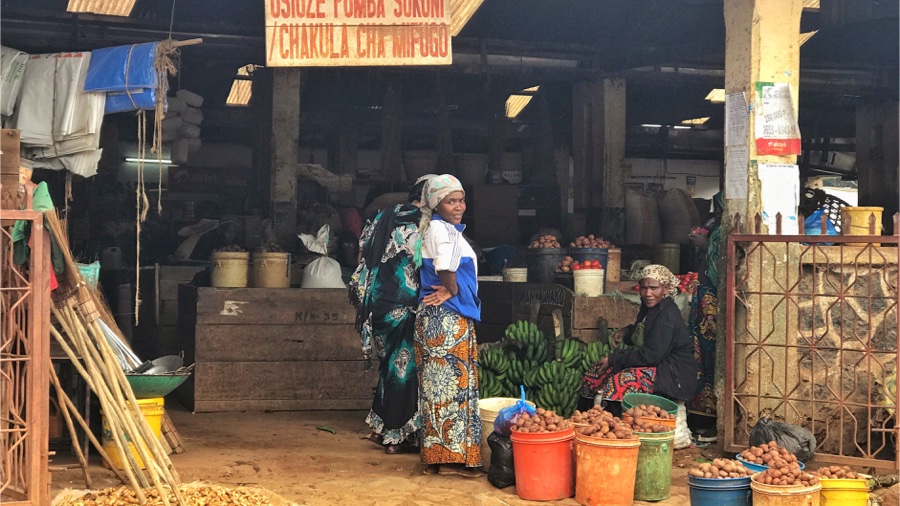 Sometimes locals come to swim here, for this is the local swimming pool, but we've only seen 3 or 4 youngsters there. They behave and it's great to watch them do their thing. The water doesn't look too fresh so we decide to stay dry.
The service of the hotel is excellent but some of the rooms need some attentions. We didn't have any warm water in the shower and they immediately came to fix it. When they couldn't, we got another room with a lot of apologies. As soon as we get into our new room the power breaks down for the rest of the day, so inside our room it's hot but outside it's even hotter.
We eat at the this hotel every night for $ 8.00 pp because the food is that good. There is only one meal but it is worth every Dollar. Great stay!
From our hotel in Kariakoo we the a taxi to the airport and pay € 12.00 for a 20 minute drive.
After our long traintrip we chose to book a flight instead of going by bus. The flight with Fastjet costs € 98.00 per person to Kilimanjaro which is a huge cut in our budget, in fact, two days later this flight would be € 27.00 per person. We have only two weeks in Tanzania and we don't want to stay in Dar es Salaam much longer.
The flight with Fastjet is on time and quite comfortable. We have one checked in bag, because we have some things that are not accepted as carry on. For one bag we pay € 9.00 extra. The lady at the check in asks us if we have any valuables in our bag, because 'sometimes they open them'… uhhhh… we give her a nonchalant no, but the thought of your bag just being opened won't leave our minds.
In the plane we meet a girl from Manchester who has lived her whole life in Tanzania until two years ago, so she could tell us a lot about the country. She says she's experienced her bag being opened twice…
When we arrive in Kilimanjaro airport we take a shuttle bus to Mposhi for € 4.00 per person. There are guys with signs with prices on them at the entrance. Cheaper than a taxi and more comfortable than a regular minibus. It takes about 45 minutes to get to the busstation in Moshi.
Our stay is at 'We Travel Hostel' for two nights on the top floor of a building in the middle of town where we pay € 22.00 pppn. The hostel is nice and the personnel is very friendly. It has a rooftop terrace where you can see the street below.
Our room is a double room with private bathroom. The bed is very narrow but we sleep ok.
Close by are some nice restaurants and bars. We have lunch at a place called Pamoya cafe, a great place with reggae music and nice meals.
Great coffee at the Coffee Union cafe, which is a bit more expensive but has a great ambiance and some nice pastries.
We meet a couple from Canada in the hostel who we've met earlier in Tofo in Mozambique, that is so weird!
These three days we stay in Moshi the most iconic mountain of Tanzania, the Kilimanjaro stays hidden in clouds so we are not going anywhere. On the rooftop terrace we enjoy a Fanta Pineapple (LOVE IT) and we decide to surf internet for some information about a safari to the Serengeti and the Ngorongoro crater for seeing some wildlife here in Tanzania.
The Canadian couple give us the number of a guide with whom they did their safari.
Is send the guide a message but he's doesn't respond so the next day we take a dala dala, a minibus to Arusha, which is a bit closer to the parks and we'll see from there.
A week later, after our safari and stay in Arusha we pass the Kilimanjaro just one more time and just when we decided it doesn't exist, we can see a little snow covered tip of this enormous mountain. At least it's something… we'll drink Kilimanjaro beer to make up!
At the busstation in moshi there are 'medium size' busses to Arusha, they look like a regular big bus only shorter. Just ask where, there are plenty of guys who lovingly want to show you where to go. People of Tanzania, we love you!
The driver confirmed us he was going to Arusha. The 1,5 hour trip is reasonably comfortable and for only € 1.00 per person we cannot complain. The bus is quite high so our bag fits perfectly inside the bus on the baggagerack.
After one and a half hour in a public bus we arrive at the Arusha busstation, where we immediately get overrun by taxi drivers and people who try to help. We walk away from the bus station and then take a taxi in a more quiet street.
Our hostel, White House of Tanzania is just three kilometers away, so we're there before we know it. We pay the driver 5000 Tsh (€ 2.00) and enter a small street where our hostel is at.
It is, as the name might have revealed, a white house.
There is a large courtyard with a long dining table and some loungy seats. We booked a twin room, but get an upgrade to the double room with an enormous bed. Nice and comfy!
Staying here at the White House is full board so we're in luck because lunch is just about to start. After a nice spaghetti we relax until dinner and enjoy the company of Junior, the owner and his brother Johnson and the other guests. Everybody dines together at the long table in the middle of the room which makes us feel like home. We love it here!
The hostel is in a part of town that is still very authentic, a piece of the real Tanzania, no tourists, everyone is very kind and try to talk to us when we walk through the streets. There is a small primary school next to the hostel so in the afternoon some kids come to see who the new guests are. What a great way to get to know the real Tanzania!
We like the hostel so much that we spend another night there after our safari. The place is just how we remembered it and the personnel is happy to have us back. If you ever get to Arusha, this is the place to stay!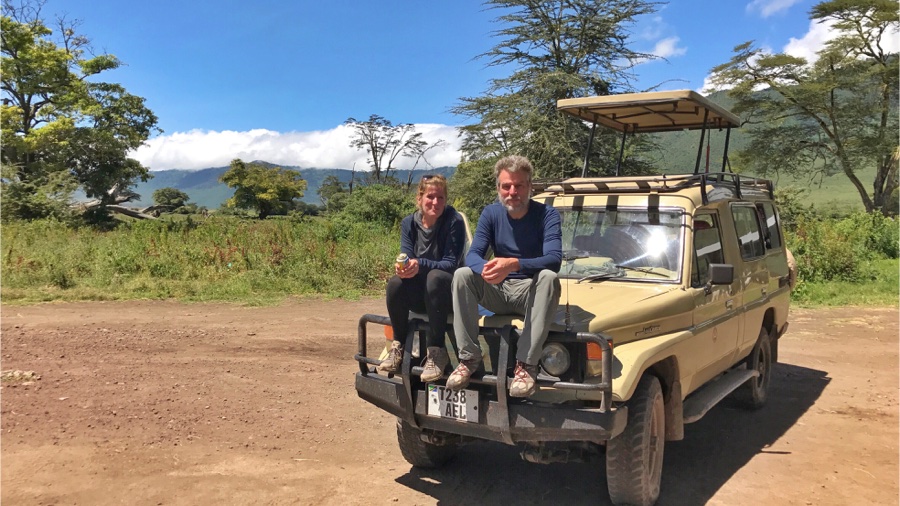 When going to Tanzania, you absolutely cannot skip the Serengeti and the Ngorongoro crater. Wildlife here is at its best!
From Arusha we book a four day safari through the Serengeti and the Ngorongoro crater. The prices are absolutely ridiculous but eventually we choose to do it anyway… sometimes you have something high on your list that just isn't available for a lower price and never will be. This is such a big wish, we had to do it. Pay and look the other way.
Our guide picks us up from our hostel at 7 pm. Unfortunately the cook of the hostel is not there yet so we have to leave with an empty stomach.
First we pick up the other couple and we get some food at a supermarket where we also buy some breakfast. Hopefully the rest of our tour is better organized.
The other couple is from Russia and we immediately get along.
We drive for hours through typical green scenery of Tanzania, Maasai villages and lake Manyara. The trees here are filled with storks, thousands of them! The leaves and the streets are white of their droppings.
To get to the Serengeti we drive through the beautiful green Ngorongoro conservation area, a little sneak preview for the day after tomorrow… this looks promising!
The Serengeti is amazing, wide dry savannas with different herds as far as the eye can see. Zebras, gazelles, wildebeests. We even see our first lion! Whoah!!
On the flats feel like driving through a dessert on an endless road. Our Toyota Landcruiser is very cool and has everything we need. Together with the other couple we're having the best time.
When we open the rooftop we can easily take pictures of anything we want, beautiful scenery and many close ups are saved in our memory and that of our cameras.
Our first camp night in Tanzania is quite comfortable, although we're not used to camping anymore we sleep well and get up at 6 am. After a huge breakfast we go on our first safari of the day.
What a winner, we see three cheetahs eating their catch of the day. Unfortunately it's just a little to far for my camera but we fill in the missing details with our minds.
Next are more lions, some male lions are relaxing in the grass and when we get really close we can shoot as many pictures we want because they totally ignore us. Our day is already unforgettable as we keep seeing lions. One walks along side our car up to a dead buffalo it probably caught the day before.
One big happy documentary
The whole day is one big David Attenborough documentary, so unreal. We see a leopard hanging in a tree, pretty cool! And the zebras, there are so many of them…
On our second night at the camp we make a campfire. There are now other guests as well so with about ten people we make ourselves comfortable by the warmth of the fire.
The night is nice and cool and when our alarm goes off it's 5 am and ready to get going. A sunrise gamedrive through the savannah where animals are waking up and the sky turns orange just before it gets light.
Today we have a few other close encounters with the amazing wildlife of the Serengeti, a huge group of elephants cross our path and more lions hanging around. Lions are so cool.
At 11 we go back to the camp for a brunch and pack our gear. The rest of the day will be one big happy gamedrive towards the Ngorongoro!
The heat, the endless yellow flats and that well placed tree make amazing pictures. Whewwww Tanzania rocks!!
After our amazing adventure in the Serengeti we move on to the Ngorongoro conservation area where we camp for one night.
This area is 8300 m2 big and has three craters, two small craters where there are no roads, these are very a suitable for hikingsafaris. And one big crater with a width of 19 km. 
Our camp is 2300 meters up on the rim of the crater with a beautiful view over the lush green valley. While the cook prepares dinner we set up the tent and put on some warmer clothes. It feels like it is going to be a cold night. 
After three days in the Serengeti we have gotten used to the heat, but here it's a lot colder. 
After a chilly night we wake up at 5 am for breakfast. We will see the sunrise in the crater so at 6 we're on the move.
When we enter the biggest Ngorongoro crater we are surprised by the breathtaking nature. The crater is like heaven, soft silky green lined mountains with flat top acacias and enormous fields of yellow flowers. The valley, a colourful flat area of 260 m2 filled with animals.
In the middle there is a big salt lake and a lot of other smaller fresh waters surrounding it. The animals here have always got enough to drink.
We see a lot of zebras, elephants, gazelles and wildebeests. After a few hours we finally see what we came for, the black rhino. The black rhino is almost extinct but here in the area there are about 20. We are lucky to see five of them of which one really close as it walks along side our car and crosses the road right in front of us. YIIIHAAAA!!!
Our perfect day gets even better when we see a pack of hyenas dismembering a buffalo and of course a little further away we see the buffalos alive and well.
We have had such an amazing time these last four days, we would love to do that again if it wasn't for the ridiculous high prices. What a fantastic experience…
When we're back at the Arusha busstation around 10 a.m. we've decided we want to go to Lushoto in the North East of Tanzania. But there are no direct busses that go there anymore. We're thinking, it's only one direct road up to that area, about 300 kilometres, how long can that take? 4 hours? Nope we were so wrong.
At the busstation lots of people immediately come to the rescue and advise us to take a bus to Mombo and from there to Lushoto. We find a seat in the basic coach and pay € 12.50 per person. The bus leaves the station almost an hour late so it's almost 12 o'clock when we're finally on our way. Just before our exit in Mombo we stop at a restaurant for dinner, because this bus moves on to Dar es Salaam. Ugh, we are almost there… this may take a while. Again we just need to accept this Tanzania way of life, hakuna matata.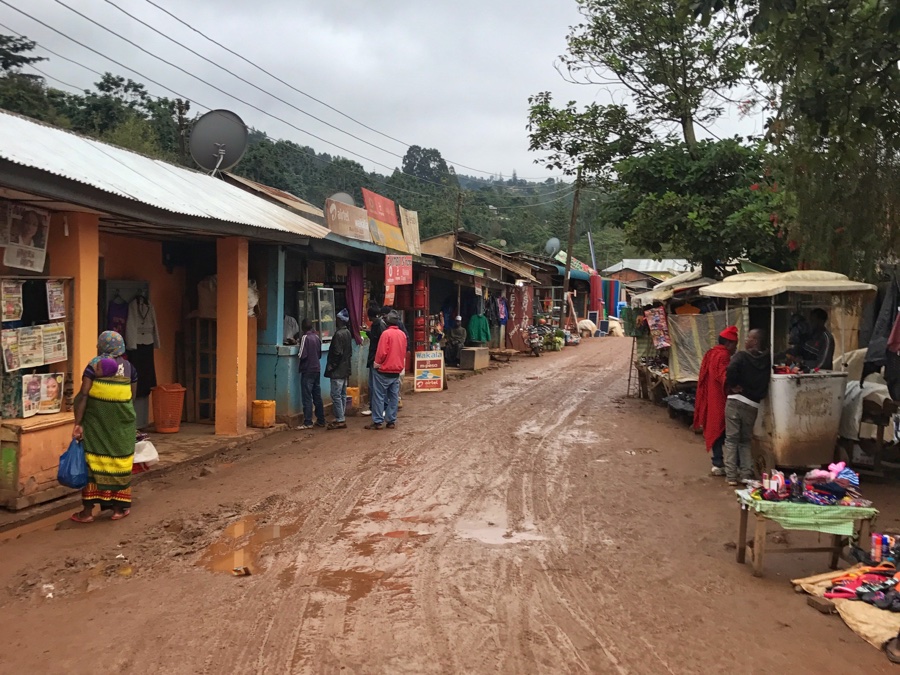 At 18:00 we get to the town of Mombo where we immediately catch a smaller bus on the same road to Lushoto. We pay € 1.20 per person. It takes some time before the bus is full and then we go. The ride is amazing and we've instantly forget all about the long trip. While we drive over a narrow mountain road with a not inviting depth on one side and a landsliding mountain on the other we can't help but feeling a bit uncomfortable. As long as nobody else in the bus seems to care, why would we?
In about 1,5 hours we arrive in Lushoto after seeing a spectacular sunset. Everything has turned pitch black. We get off the bus at the sign of our hotel Lawns just after the petrolstation. From here it's only a few minutes walk to the hotel. When we arrive we are welcomed warmly and the receptionist brings us to our room for a fresh up.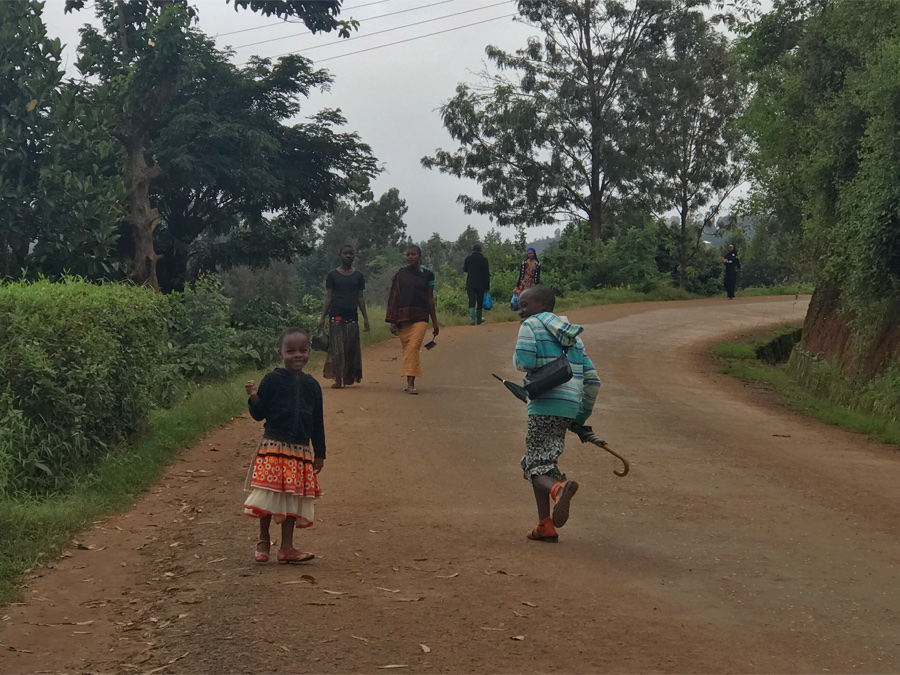 Our room has two separate beds and a private bathroom. It's clean and basic and costs only €18.00 per night. We dicide to have dinner at the restaurant in the hotel for €10.00 because we've had such a long day. The three course meal consists of a soup, a burger with fries and a chocolate pudding. This all fits in our stomach perfectly because we haven't eaten anything but cookies and an apple.
The next day we walk through town. There is a viewpoint a few kilometres away but today is rainy, so we'll do the hike tomorrow.
While walking through the typical Tanzanian streets people all say hello and welcome us to their town. The kids are so cute, they are waving and shouting Jambo at us.
Lushoto, the definition of lush
The next day we leave early to walk to the viewpoint. The route is fantastic through little villages and beautiful scenery. We meet an old man who decides to walk with us to the viewpoint just in case we get lost. He helps us cross some muddy pools from the rain and nearly at the end he knows a shortcut passed another viewpoint. Unfortunately the clouds are thick so we can't see anything but the ground we stand on. We give the sweet man some money and by the look on his face we can tell he is a happy man. We get a big hug and say goodbye.
Irente viewpoint is also not very satisfying and when we have to pay at the restaurant to go further up, we decide to leave it at that. We've seen so much beauty the last two hours, let's go back.
An amazing morning has passed and we have lunch at Mama Mia in town. The vegetarian pizza is great but a bit hot, so we need some beer to cool down…
We book two tickets at Burdani coaches to Dar es Salaam at 6 am. Near the busstation there is a market with fresh food where we buy some fruit for the bustrip and some bread. Our hotel fixed us a breakfast package so we are all set.
After a stay of three nights we leave this little Tanzanian paradise and take the bus back to Dar es Salaam. What a fantastic discovery, this place! The real Tanzania, I'd say…
There is a bus from the busstation in Lushoto leaving at 6 or 8 am. With the long trip to here in the back of our heads we choose the early bus and buy a ticket one day in advance, we pay € 6.00 per person.
With only a few seats left, we luckily can sit on the fifth row. Our bag fits under the chair so we don't have to worry about losing our luggage. The bus of Burdani leaves exactly on time and doesn't wait for latecomers. Without any delay or long breaks we arrive in Dar es Salaam at 14:00 and get out just before the busstation to avoid the crowd and hectic.
We'll stay at the Kiota Jungle hotel again for our last night, but unfortunately (as we later find out) it wasn't the success we experienced earlier and leave with a nasty bug.
From Dar Es Salaam we fly towards a new chapter of adventure, a tropical paradise: the Seychelles!
Tanzania, it has been a huge pleasure!