July 6 to October 26 2017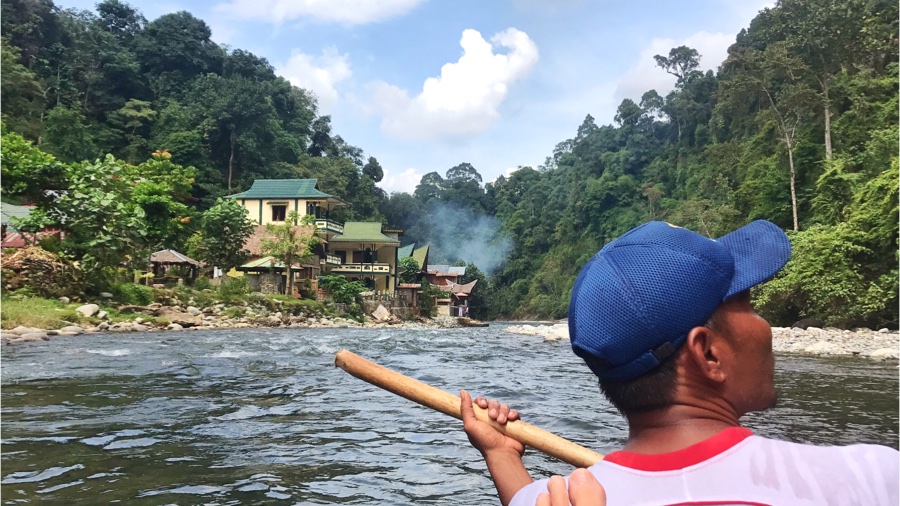 In 2015 we first fell in love with Indonesia. A three week holiday left such a big impression, we were eager to go back for more.
On our worldtrip we wanted to travel from the top of Sumatra all the way down to Australia… We booked a flight from Kuala Lumpur to Medan and from there we traveled up to Pulau Weh and down again through Sumatra, Java and currently we have reached Bali.
If we want to see this entire country, we'll have to speed up, because Indonesia is huge.
With it's 14.572 islands this archipelago is worlds largest island state. About 260 million inhabitants of which more than half living on the island of Java.
Indonesia is also one of the biggest Islamic countries in the world. 87% is Muslim and that is noticed by the large amount of Mosques. On every street corner and at least seven times a day you can enjoy the sound of chanting from the prayers through their loudspeakers. Not always charming, but mostly acceptable. This country being as Islamic as it is doesn't mean ladies need to wear a headscarf, a burkini or long dresses. It's all about respect, a normal covering bikini on the beach is mostly fine, but not on the boulevard. There is no strict dressing or behavior code for tourists, just apply the over all rule: try not to offend anyone 😉
The most northern and second biggest island of Indonesia situated on the equator and definitely one of the most stunning ones. Sumatra is beautiful with it's pearly white beaches, clear blue seas, untouched rainforest and sweetest people we have ever met. Sumatra is awesome! This might be why we stayed here for 46 days…
You know those little pieces of paradise in between Bali and Lombok? The totally stunning Gili Islands are whet you call a tropical paradise. Perfect palmtrees hanging over white beaches, a fluorescent blue sea and a chill vibe. Doing nothing but relaxing, snorkeling and drinking fresh smoothies on the beach our days were much too short.
During our worldtrip we were in Indonesia from the end of July until the end of October. The temperatures in the first month (about 24 degrees centigrade) were fantastic, especially in Sumatra the nights were much cooler (about 18 degrees C) and even during the day we could be much more active. An occasional shower cooled things off and the fresh breeze was sometimes even a bit chilly.
Traveling southwards ánd further into the season the temperatures in Java were much hotter, but most days of September the temperatures were still an acceptable 28 degrees. Almost no rain. Reaching Bali and especially further east around Komodo Island in October the heat was a disaster. No wind and a relentless burning sun on your skin all day long of 34 degrees plus.
The best time to visit these southern islands is probably in may or june at the beginning of the dry season.
In Indonesia there are many forms of transport. Airplanes, trains in some of the islands, coaches, public buses, mini buses, taxis, becaks and (horse) rickshaws. Our favorite is Grab, is easy, cheap and safe and very comfortable. For those not familiar with Grab, Go-Jek or Über (which is not available in Indonesia), this is how it works: You download the app and make an account. Fill in you creditcard number if you want or choose cash payment. At the homepage of the app fill in your location if it doesn't do that itself, if it does check if your own location is correct. Then fill in where you want to go and if a car is available you'll see the price on the bottom of your screen. You order the taxi and get a name and a car registration number, so you can look out for the car. On your screen you see the car moving towards you and sometimes they will call you for your exact location, so entering your local sim number is quite useful. Also when you order the taxi you can enter a note for the driver like 'at the hotel entrance' or 'I have an orange backpack'. Also while you're waiting you can send the driver a message or even cancel your order. When you've been brought to your location you exit the taxi and the amount will be withdrawn from your credit card if you don't pay in cash. You can give stars to the driver in the app and maybe give a compliment or a comment about the ride. Easypiecy! Safe? We have never felt unsafe or uncomfortable. With Grab, all cars we had were very new, actually we think there is maybe a opportunity for the drivers to drive a new car if they join Grab. Costs? We estimate the Grab costs to about € 1.50-2.00 per 5 kilometers.
Currency: 10.000 Indonesian Rupiah = € 0.64 In these 89 days in Indonesia we've spend:
Transportation: € 1074.50
Accommodations: € 1035.00
Food and drinks: € 1268.00
Entrance fees: € 84.00
Other: € 302.00
That brings us to a daily budget of: 
€ 42.25 for two persons 
including everything, except international flights and diving activities. On Bali everything is overpriced and it's hard to find a restaurant with 'normal' Indonesian prices. We've stayed in a double room with private bathroom, pool and including breakfast. Here are some examples of products and prices in Euro:
White bread in supermarket: € 0.60-1.25
Coffee latte in a lunchroom: € 0.90-1.90
Beer (650 ml) in a cafe: € 2.50-3.50
Beer (650 ml) supermarket: € 1.50-2.00
Coca Cola in restaurant: € 0.60-1.50
Fresh fruit salad in restaurant: € 1.50-3.50
Fried noodles in restaurant: € 1.00-3.50
Applying for an Indonesian 60 day visa
Because our stay in Indonesia will be longer than the regular 30 days for which you get a visa upon arrival, we need to apply for a 60 day visa in advance. This Social Cultural Visa can later be extended at any immigration office in Indonesia for about € 25.00. 
When we get to the Consulate of Indonesia in Kuching on Malaysian Borneo the office is very…
Extending your Indonesian 60 day visa
The bureaucracy has reached it's unexpected low point when we went to the immigration office in Yogyakarta the extend our 60 day Social Cultural Budaya Visa. Our visa would expire on Friday so we thought going to the immigration on Monday would be early enough. The visa costs enough and every day we wait would be a day longer in Indonesia. There are many places in Indonesia where you can extend your Visa…