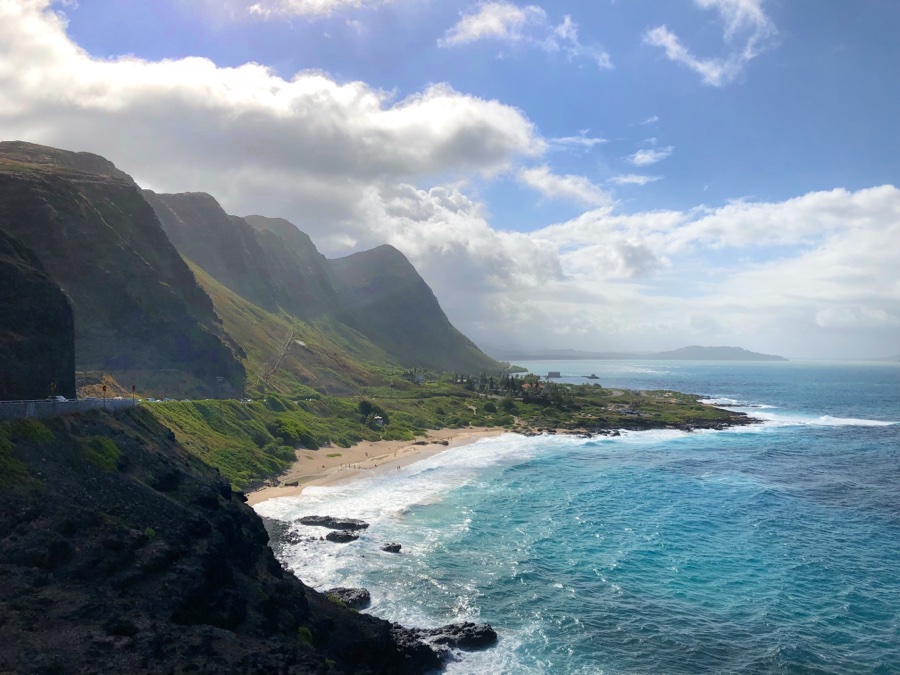 Aloha Hawaii… Ha-waiii! Weeeehooo!! HAWAII!! That sounds so goooooddd.
I have dreamed about going to Hawaii for like forever and now we are here, for real!
We cannot spend too much time on Hawaii, the prices are high and we can't go to the Big Island Hawaii because of the volcanic eruption just a week before our arrival. Too bad because we would have loved to see the lava flowing, but it's almost impossible for a tourist to get to the other island now. After thorough consideration we've decided just to stay on O'ahu and leave the other islands for what they are… for now.
O'ahu is better known by its capital city Honolulu, also the capital of the Hawaii state. Honolulu makes O'ahu the highest populated island in this island group in the North Pacific.
All together the state of Hawaii has just under 1.5 million inhabitants but hosts about 25 thousand tourists per day all year round. Most of these tourists visit the island of O'ahu because Honolulu is a large international hub, and generally only for a day or two. We've experienced that tourists go to the famous Waikiki Beach and the historic Pearl Harbor and then immediately to one of the other islands. As if O'ahu doesn't have beaches… nice beaches… fantastic beaches… ah well, stay away then and leave all this beauty just for us!
Entering the United States
From Osaka we fly to Honolulu with AirAsia. A cheap but not very comfortable 8 hour flight. It is a 19 hour time difference between Japan and Hawaii so we arrive yesterday morning, which is totally weird. We barely slept during the flight so our jetlag hangs around like a fague cloud in our head. Because we expected this we've arranged for the hostel to send us a taxi to pick us up. The price for this luxury: 20 Dollars, ugh… but still much better than waiting for a bus and having to walk a long way. There is a bus from the airport to Waikiki for $5 each but it doesn't stop close to our hostel combined with jetlag. Ergo: arranged transfer.
First customs… easypeacy. We applied for a B2 tourist visa when we were still at home at the Embassy of the USA in Amsterdam, because we expected to stay in the United States for at least three months. The B2 visa has a validity of 10 years but costs $140. With this multiple entry visa you can stay for a maximum of 180 days. Easier ánd much cheaper would have been to apply for an ESTA, a visitor visa that allows people from most EU countries to stay for up to 90 days. Ah well, with our B2 tourist visa we approach the customs officer and after some cozy small talk we are in.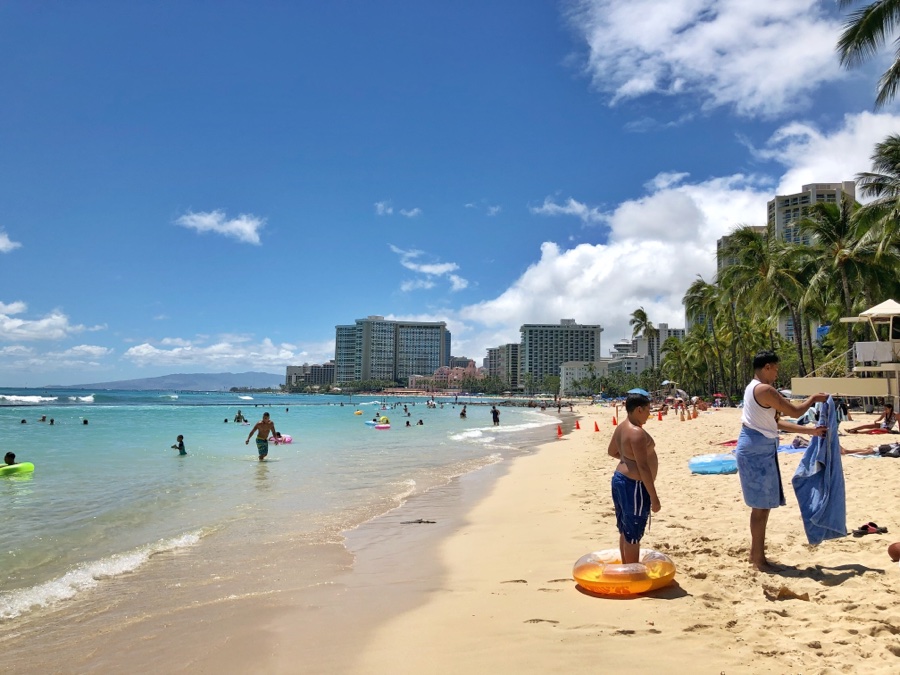 We start our week in O'ahu right next to Waikiki Beach. We've made reservations for a private room in the Waikiki Beachside Hostel which unfortunately isn't directly on the beach as the name might suggest, but it is only five walking minutes from this famous beach. Can't wait to have a look!!
When we arrive our room isn't ready yet so we leave our bags there and hurry ourselves to the water, forgetting our swimsuit… ugh jet lagged idiots.
It's hot and the beach is incredibly crowded but the water feels soooo nice! So this is the famous Waikiki Beach… ah well… it's blue, it's cool ánd it is for free!
We haven't had breakfast yet so we check out some restaurants. Phew, this is going to be a hard one on our budget. Can't eat for less than 10 bucks per person. Luckily there is a McDonalds on every corner that offers a 'cheap and healthy' breakfast.
The streets of Waikiki look very expensive, exclusive boutiques and luxurious hotels. Posh cars and crème de la crème restaurants. This is definitely not the place for us while we're on this tight budget.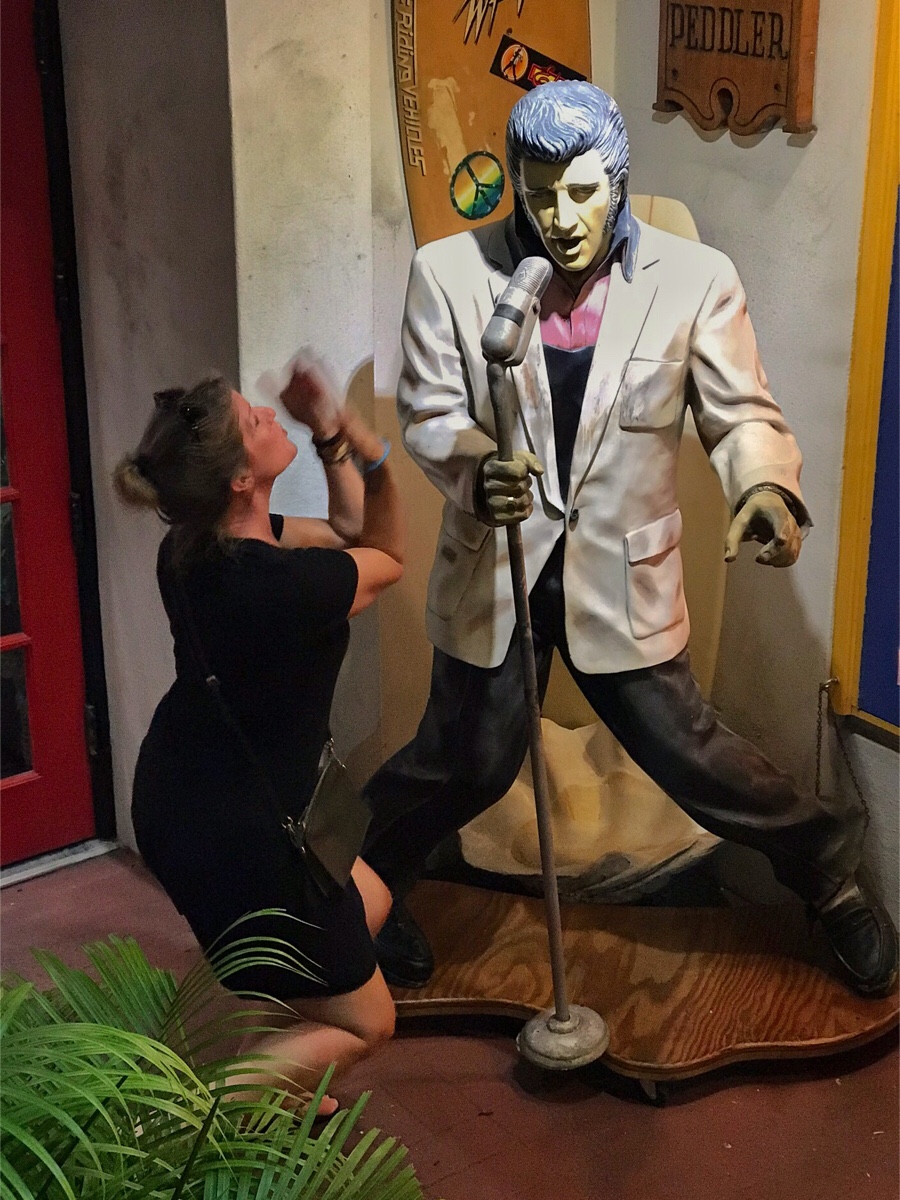 With the salt dried up on our skin we return to our hostel where we can check in to our room. It's a private room within a shared apartment, that meaning our room is inside someone else's bedroom and has a shared bathroom. There is a kitchen and an incredibly loud air conditioner which we definitely need because my-my it's hot! Sweat gushes from our every pore.
The building has a lot of rooms and a big communal area downstairs. There's a fantastic breakfast included consisting of bad coffee and dry toast with peanut butter or jelly. Or both, which makes the whole thing a bit more bearable.
Even though it is fantastic to be here, we can't spent any money so we decide to wander off this expensive boulevard. Here we discover  some small food stalls that offer a meal for 'only' $7, a performance by Elvis included…
We are picking up our rental car at the Alamo office in Waikiki. It's just a short kilometer walk and before we know it we exit the terrain in our brand new sparkly white Nissan Sentra.
AIRCONDITIONING!!!
Today we are off to explore the island!
In between Waikiki and the airport lies the huge and not very attractive capital Honolulu. High buildings surrounded by an enormous 6-lane highway, each direction…
We pass Honolulu and the airport and see the huge bay where the war monument and Pearl Harbor are located. This area is extremely busy and touristic so for now we'll skip it.
O'ahu suddenly looks so much bigger. It takes forever to pass Honolulu and the traffic is horrible!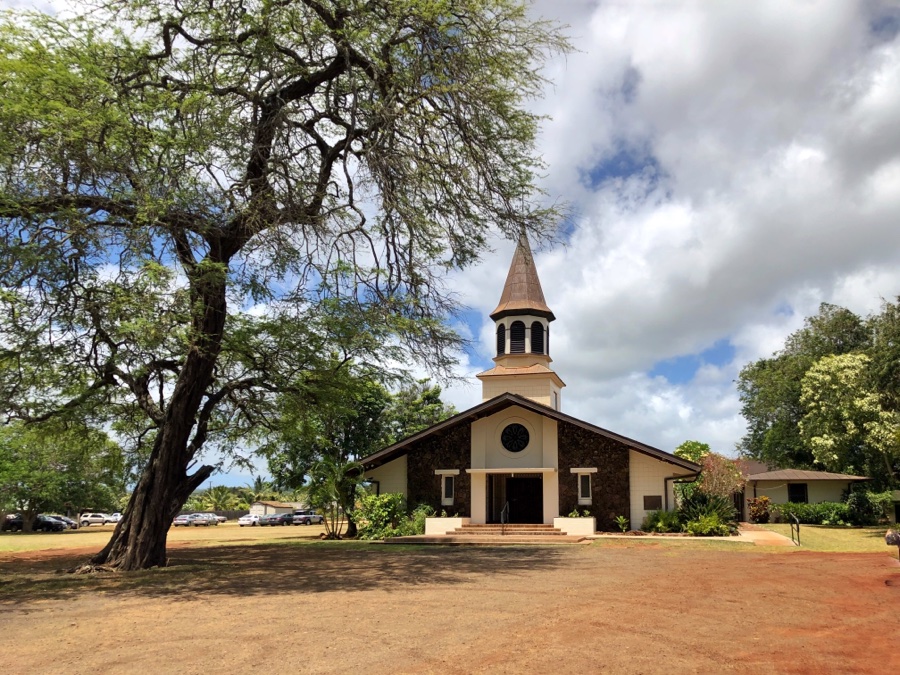 We want to visit the big Walmart in Honolulu for some groceries but the disappointment is enormous when we enter the store. Most of the shelves are half empty and the vegetable department is non existent. Two racks of old wrinkly veggies and fruits. Or at least, we think it's fruit. We expected so much more freshness here in Hawaii… we could cry… 
There are three paths of snacks and candy, no wonder obesity is such a big problem here. The healthiest bread we can find has 9% salt and 6% sugar, what doesn't kill you makes you stronger, right?
Groceries: check.
We move on towards our accommodation in the north of the island. The inland is really very stunning. We see large mountain ranges on all sides with mysterious clouds hanging around their tops.
The temperatures are far above 30 degrees so for now we skip a long and exhausting hike. Just some short walks and picknicks today.
Hawaii has a lot of hermits, loners that gave up on society and have chosen a life on their own in their own little shack, hut, tent or cabin. Usually surrounded by a large amount of trash and hidden away off road. Unfortunately some of these people are known for stealing and robbing, so we are discouraged to leave our car with belongings at a hiking area. We decide to stay with our car and backpacks today until we've checked in at our accommodation.
In the center of the island there are many small cities and villages, all equally touristic and American looking. The names of the towns sound and look alike, Waipahu, Waipio, Wahiawa, Waimanalo, Waikane, Waialua… oh help… 
After some pre-exploring we drive on to the North Coast where we are expected by our host.
Our Airbnb apartment is in Kahuku, a small town along the Eastern North shore. Our apartment has a small pantry and a big bed. We expected a kitchen but there is no stove, so can't really cook here. We are able to prepare a nice salad with the groceries we bought. This is going to be a though one for the next few days, seeing we bought some pasta and things.
Kahaku is very close to a beach but this North East side of the island is not the best we've seen. Again we go for a drive and discover there are some absolutely stunning beaches on the West-North shore.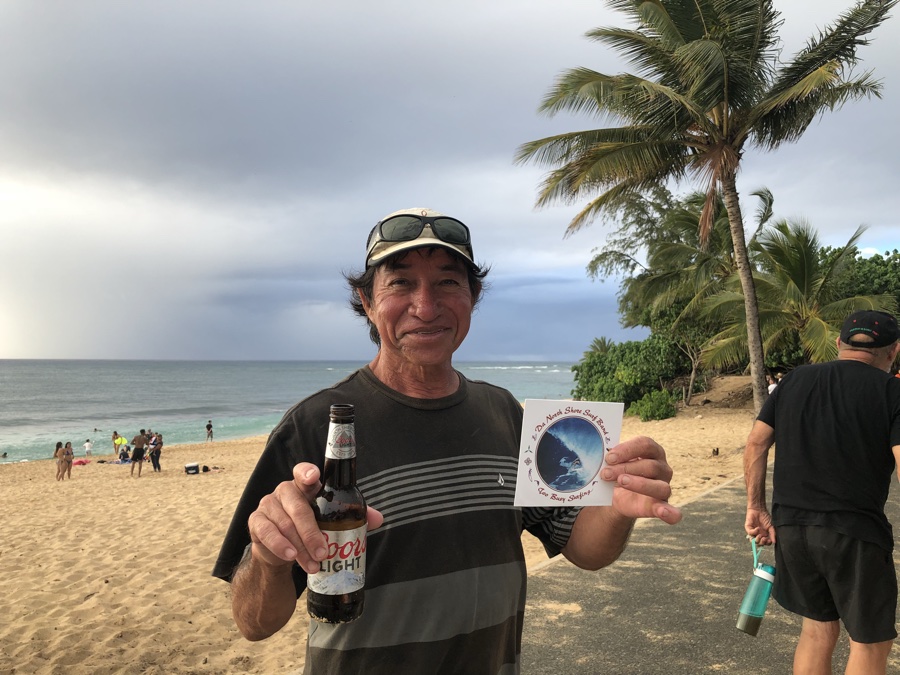 Sunset beach is supposedly the best one around, a golden sandy beach with one of the most gorgeous sunsets we've seen. We chitchat with some of the locals that are hanging around and meet this happy fellow who gives us a cd to listen to. My old band, he says! He's kind of a stoney dude and the music doesn't sound like it would hit the chard's straight away but this bunch of guys are quite interesting. They used to be thé surf dudes around here and now all that's left of that is the booze and chill.
A bit further to the West we find Waimea Bay. A huge picture perfect beach and right next to it, a volcanic bay with hundreds of colorful fish just underneath the surface, super inviting. The views are perfect and so is the water temperature.
Waialua Beach is another ten minutes further west and again you'll find a stunning location to spend your day.
We follow Likelike highway towards the East Coast, where the most breathtaking views await us. 
High fierce cliffs are connected to the icy blue ocean by gorgeous soft sandy beaches. The scenery is extraordinary, wild waves flooding the beaches and volcanic rocks. We are absolutely stunned.
We walk along a small path through the mountains to a viewpoint where life gets even better. Here I could die peacefully…
I think I'll just stay alive for a bit longer, so after a nice long break we continue our road trip.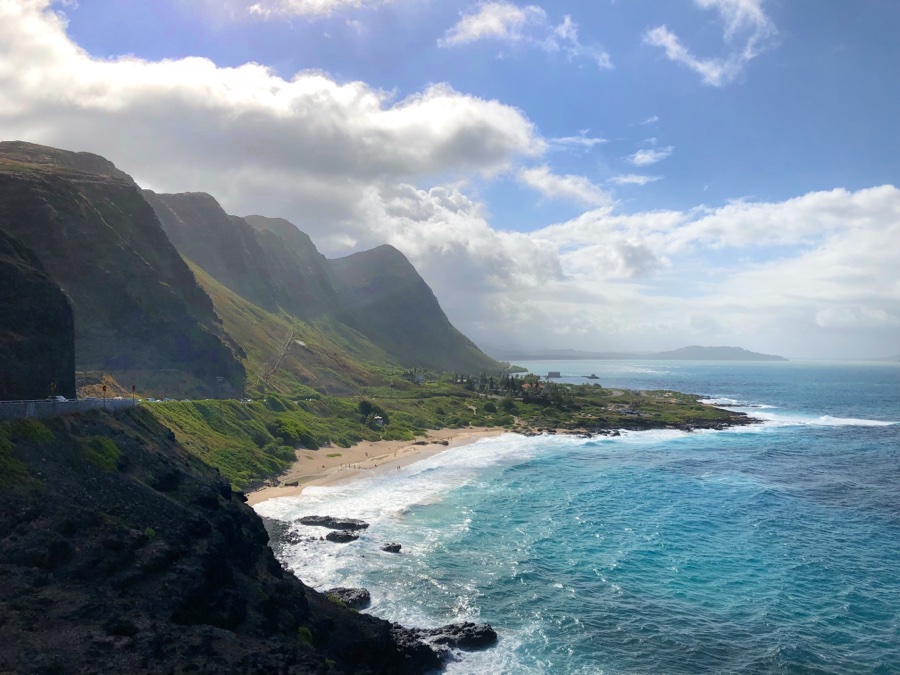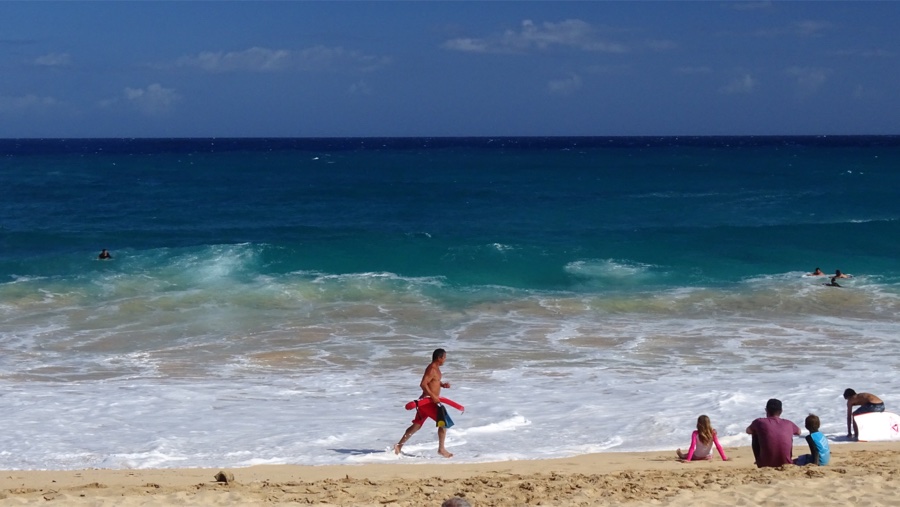 We drive further towards the East where more impeccable beaches await us, and this time they come with free entertainment.
At Waimanalo Beach the waves are higher and the surfers are definitely more skilled. Cool moves, backflips and wave tunnels. We enjoy ourselves all day watching the spectacle and a sexy lifeguard now and then.
There are no food stalls in sight but we've brought some sandwiches and juice. I can't believe how often I want to repeat this: I love it here!!!
The western mountain ranges
Another hot day in paradise, so we seek our refuge in that cool looking ocean.
From our accommodation in the North Shore we drive down towards the Mokule'ia forest reserve. In this area the roads are quite bad, but we have all the time in the world.
The West Coast is much drier than other parts of O'ahu. Nevertheless we cannot believe the beauty this island has to offer. 
After some stops in the mountains we drive around the ranges and find more beaches. This road obviously isn't very popular because we find some peaceful spots with just a few people. Don't get why, the water is calm, the scenery is paradisal.
Rough mountains, red soil and the bluest sky… not to mention this matching sea!
Today is our last day, we have to bring back the car at 4.30 pm so we still have the whole day! So taking things easy, we wake up late, pack our bags and go back to that fantastic beach we discovered yesterday. The ocean still perfectly calm as we left it, waves swaying us back and forth with in the distance a couple of surfers really making art! They fly through the sky on their board, whoah! So while we are enjoying our last hours in the Papaoneone waters our car is cooking in the hot sun.
Honolulu Airport is enormous but very empty, we are there much too early for our longgggg flight to Colombia. The only thing we can do is enjoy the super quick WiFi and our new memories of this undervalued piece of heaven!
While in Hawaii we get a special delivery from the home front. Friends or family? No, this package is send to us by strangers. A few months ago we contacted DHL Express in the Netherlands for information about a package.
We kept chatting about our worldtrip with DHL employee Rick, who was very curious. What do you miss the most from the Netherlands? 'Stroopwafels? Hagelslag? Drop?' Ohhh Rick, stop it! 
You know what, Rick said, we will send you a homesickness-survival kit! So, we figured out where we would be at what day, his department put together a tasty package and sent it to the DHL service point in Honolulu, where we've just picked it up. We are incredibly excited and cannot wait for the taste of real peanut butter on our bread… not to mention the liquorice!! DREWL… Weeehoooo!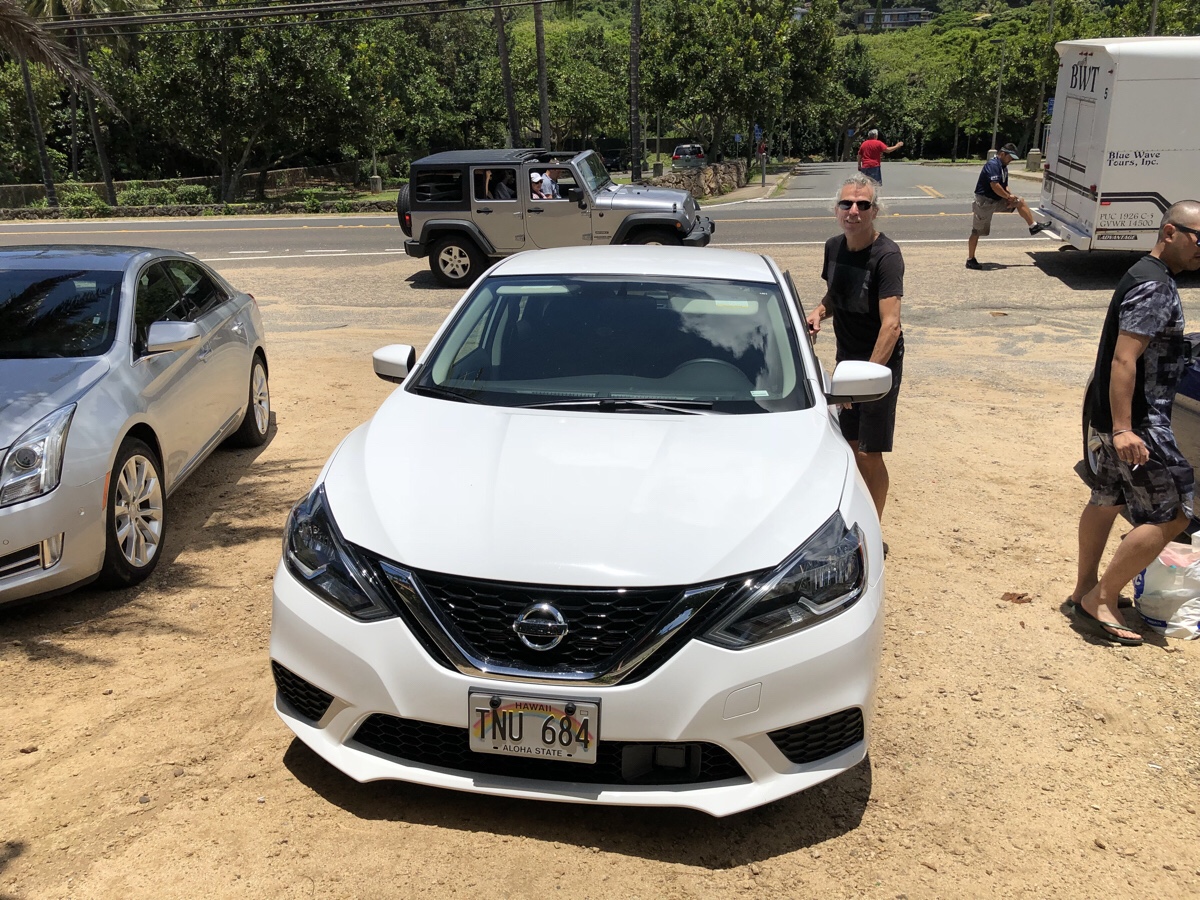 O'ahu has a local bus called ' The Bus' and some minibusses, both of which drive in irregular times.
We did not use any of these because we've made reservations for a rental car at Alamo in Waikiki. We made this reservation through the Dutch Alamo website which offers an all inclusive rate with 0 excess and full insurance and is much cheaper than most others.
Alamo has two pickup points in Waikiki and Honolulu and one on the airport. We've chosen the pick up in Waikiki and we bring it back at the airport just before we leave.
The lady in the office shows us our brand new sparkly white Nissan Sentra.
Suspicious as we are we take pictures of the entire vehicle but she says there is no need for that. 'If you'd see how cars are return here, you wouldn't bother' she says. Hmm…
In Hawaii, just like the rest of the US you drive on the right side of the road. This would be quite normal for us too, but the last countries we've driven in were all lefties, so it takes a bit of getting used to again when we exit the parking lot.
For those who are used to kilometers, the traffic signs take a bit of getting used to with their ¼ and ½ mile indications.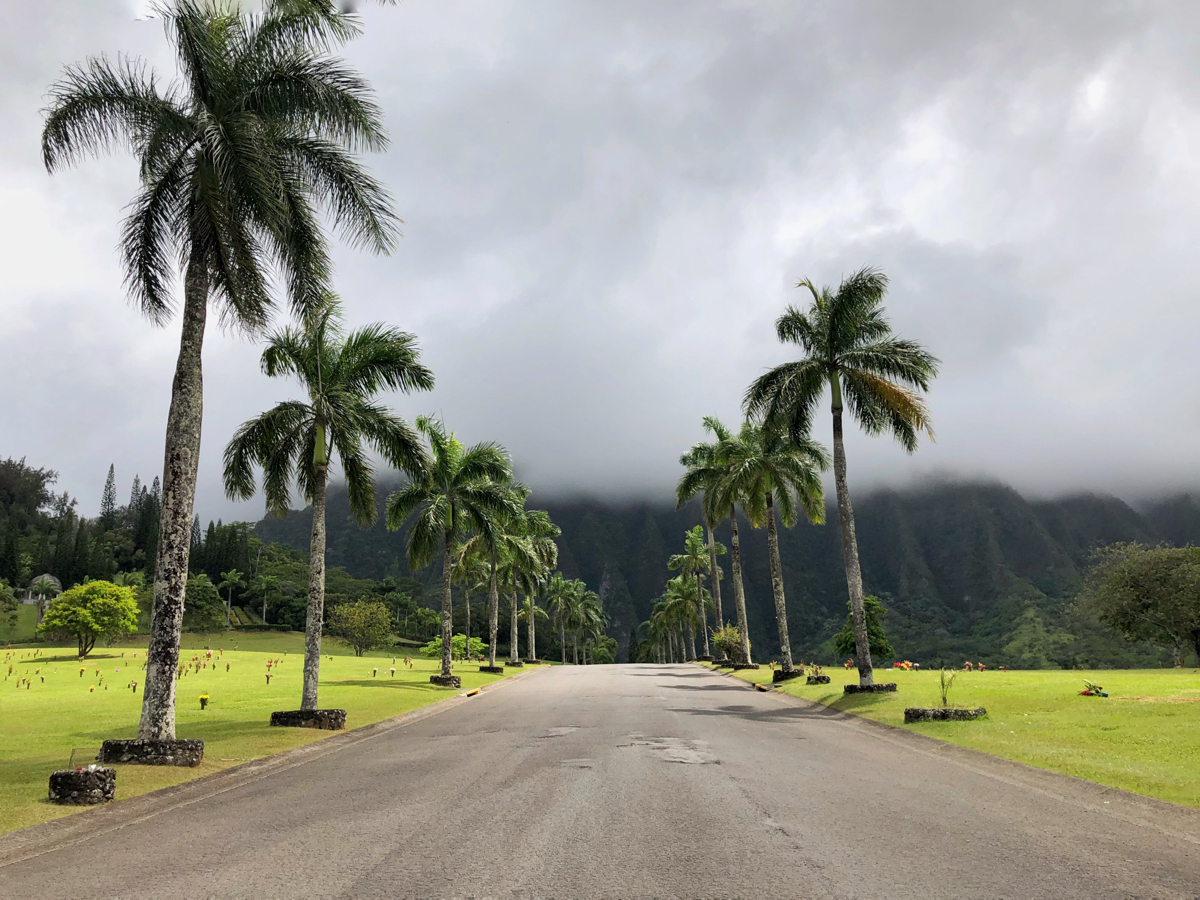 The road network on this island is extremely extended and of good quality. Although the distances might seem short, getting from A to B takes longer than you'd expect. The maximum speed is about 80 kilometers and traffic is terrible. There are so many cars that you won't be able to drive straight to your destination without delay at any time of the day.
We've been warned not to park our car anywhere unattended and definitely not leave anything inside. Car break in happens a lot and even if there is no visible stuff in the car 'they'll' break a window just to check. So going hiking in the mountains, do not leave your car unattended, according to locals.
Having a car on this island did have its advantages. Busses drive very unpredictable and irregularly and being able to drive wherever you want and visit any beach you'd like gave us the ultimate freedom. For this paradise you need a vehicle!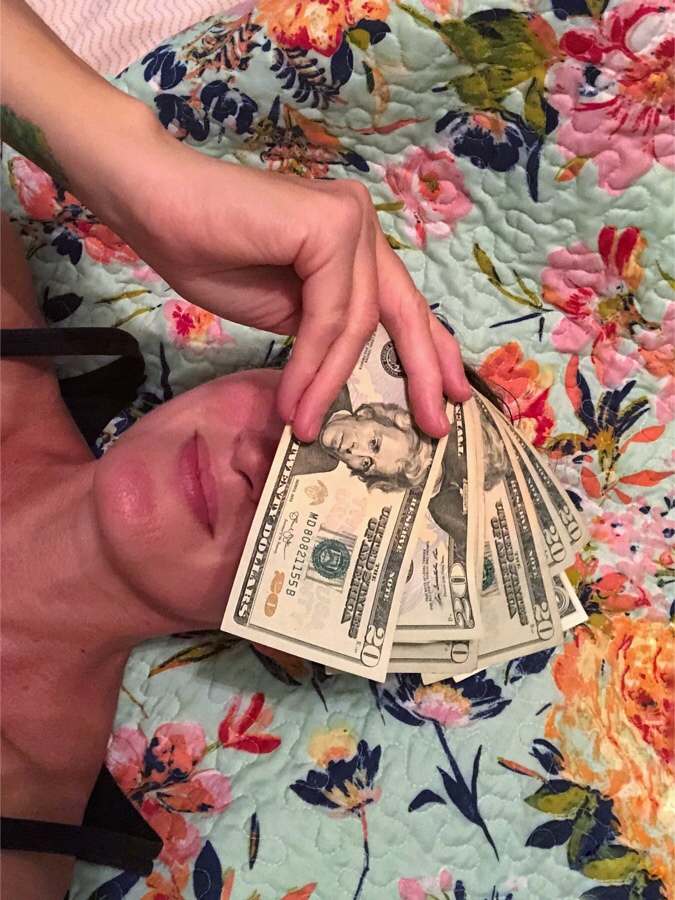 Currency: 1 United States Dollar = € 0.88
In these 6 days we've spend:
Transportation: €165,00 (car rental and petrol)
Accommodations: €251,00
Food and drinks: €235,00
Entrance fees: €
Other: €4,50
That brings us to a daily budget of: €109,35 for two persons including everything, except international flights. Ugh… painful…
In O'ahu we made reservations for a private room with shared bathroom in a hostel and picked out a very nice Airbnb apartment with a pantry on the popular North Shore.
Here are some examples of prices in Euro and Dollar:
White bread in supermarket: $1,50/€1,34
Coffee latte in a lunchroom: $3,00/€2,68
Beer (220 ml) in a cafe: $2,50/€2,23
Beer (220 ml) supermarket: $1,50/€1,34
Glas of Coca Cola in restaurant: $1,30/€1,16
Fresh salad in restaurant: $15,00/€13,40
Hamburger in restaurant: $11,00/€9,83
Simcard unlimited data, 30 days: $23/€20,55
Petrol per gallon (3,78 liter) $3,14 /per liter: €0,74