Traveling through Java is fantastic. It's not just each destination but getting there is what makes it complete.
With an extended railway network you can get almost anywhere fast, easy and comfortable and the views from the train are entertaining.
We are not saying Java is our favorite destination. Indonesia has got 260 million inhabitants of which more than 50% live in Java. 130 million people call this island their home.
That's 1130 people per square kilometer. So, you could say it's a crowded full island. That is not entirely what we experienced. Yes there are a lot of people, cars and motorcycles, yes the noise is maddening, but to say it's crowded? We've seen worse…
The only thing on this island that never seems to stop is that noise, everywhere you go. Loud music in buses, loud elevatormusic and tv's, loud traffic, people talking LOUD… of course you get used to it, but after three weeks we were begging for some silence. I realize this does not sound very appealing… yet…
Despite this inescapable imperfection we loved Java very much, the diversity, the many hidden gems and the popular highlights. People are super friendly and it's just so well travelable.
We say, Java is a must!
Jakarta might be our biggest surprise this trip. We feared this city formerly known as Batavia, to be dirty, ugly, crowded and smelly… but we were wrong! We actually like this city. A beautiful green park in the centre, clean streets and modern buildings. People with big smiles and believe it or not, empty streets…
Yes there is a lot of traffic, but to say it bothers us? No.
To get into the city was a disaster, our bus from Bandar Lampung in Sumatra to Jakarta was quite fast but the last 20 kilometres took forever. But once we got into the city center all we saw was peace and quiet.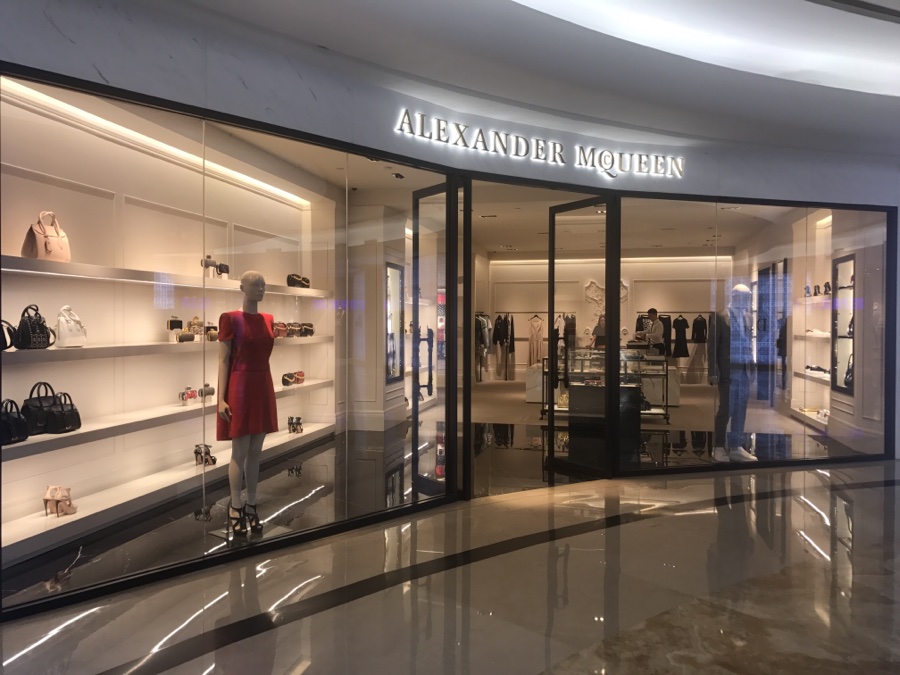 We are spending two nights at the Citi M hotel, a little outdated but very ok for Rp250.000 per night including a nice breakfast. Not bad for an expensive metropolis city like Jakarta. The location of the hotel is good. Very close to the Merdeka Square park but a little further from the restaurants and shopping malls. This has it's advantages, there's less traffic but you'll have to take a Grab to the shopping area.
Jakarta has some great Dutch historical buildings we want to visit. But first we let a Grab take us to a shopping mall. Not just any shopping mall, the biggest one we EVER seen in our lives. It's huge, no wonder we totally got lost in there.
Sarina Mall, Grand Indonesia and Plaza Indonesia are almost attached and with their 8 floors they offer about a million square kilometers of stores. An unexpected shoppingheaven! Once we've seen enough we are tired of walking and have no energy left to visit the historical buildings. They will have to wait, next time.
We buy our train tickets from Jakarta to Bandung through tiket.com, an easy way to buy any ticket. Whether it's a plane or a train ticket, it's fast and easy. They have an app that actually works too! For the trains in Java there are three classes, Economy, Business and Executive. We choose Business class, for this first part of our route.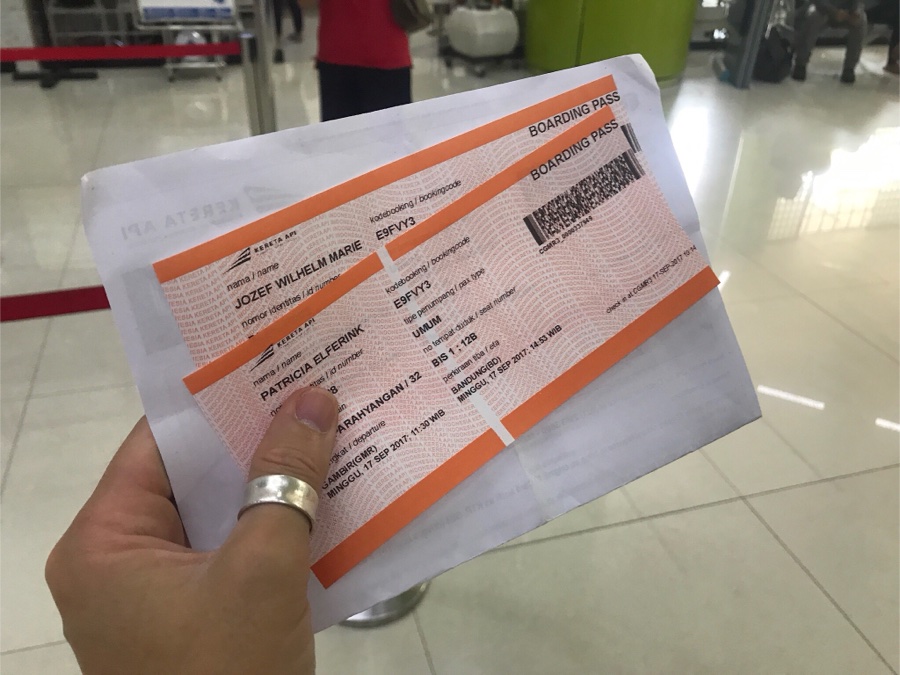 Our tickets for the 11:30 train cost us Rp80.000 (€ 6.25) per person.
The Gambir trainstation is surprisingly clean and not as crowded as we expected. There are even restaurants and cafes. We walk to a check in point, a station employee is there waiting to help us. She scans our printed ticket and prints two boarding passes. Easy as that. We are an hour early as the recommended but we decide not to spend it at the Starbucks, we save our cash and sit on the platform where the earlier train is boarding. Our tickets are business class, the middle class, but we see that even economy looks quite good.
The train leaves exactly on time while the people arriving just at the last minute jump in. The employees at the platform are helpful and professional. But once the doors have closed, nobody gets in. Though luck.
Our train arrives at 11 pm, it looks a lot older than the last one. Our train unit is almost at the beginning of the train. Inside it looks quite alright, it's got aircondition and even an electricity sockets at every seat. Our backpacks fit in the racks above our head, so it's actually more comfortable than flying. The windows unfortunately are not very clean, so it will be hard to spot any beautiful scenery out there. Ah well, it's a way of transportation… nice surroundings are a bonus.
During our holiday in Indonesia in 2015 we visited Bogor, here's our story about that experience…
After a few relaxing days in Bali we fly back to Java where we spend two nights in Bogor. Jos his father has been stationed here a long time ago, so we want to see it with our own eyes.
Bogor, formerly Buitenlust, is not very special but has a large botanical garden that was built two centuries ago. It was designed by a Dutchman, and in the middle of the park is a huge hidden palace.
Bogor smells awful and we can't find a lot of restaurants. Nevertheless, it's a beautiful experience to be here.
We fill our last day by hiring a driver through the hotel for a trip along the tea plantations. Unfortunately our driver does not appear to speak English so we get little explanation for what we see.
The tea plantations in the area are beautiful. The sun shines on the hills and an occasional cloud gives the valley a mysterious look.
On the way back we end up in a traffic jam. It is a narrow road, and what exactly is going on, nobody knows, but we are standing still. Once the cars in front of us start to drive again a police officer parks his motorcycle right in front of our car, in middle of the road.
The agent slowly walks towards a small bar by the roadside accompanied by the necessary arrogance. He orders a cup of coffee and takes a more comfortable position on his stool, while our driver patiently waits. This may take a while.
After an hour the policeman returns. He starts his engine and drives away. So…. I guess we can go too. Tired but satisfied we return to our hotel for our last night in our Indonesian bed.
Our traintrip from Jakarta to Bandung takes 3.5 hours and is comfortable but disappointing. The windows are dirty so we see nothing of our surroundings. The train stops at two station along the way, Purwakarta and Cimahi. We exit the train in Bandung and walk a kilometer to our hotel. We've booked three nights at the Favehotel Hyper Square. It's a nice modern hotel next to a big new shopping mall.
The rooms in the hotel are very ok, we stay on the seventh floor with a great city view. We pay Rp275.000 per night. The breakfast, like the hotel itself is ok. The free coffee is like water from an old ditch and the tea has the same color. You can pay Rp175.000 extra for an Illy coffee. We decided to resist this temptation.
Renting a motorcycle in Bandung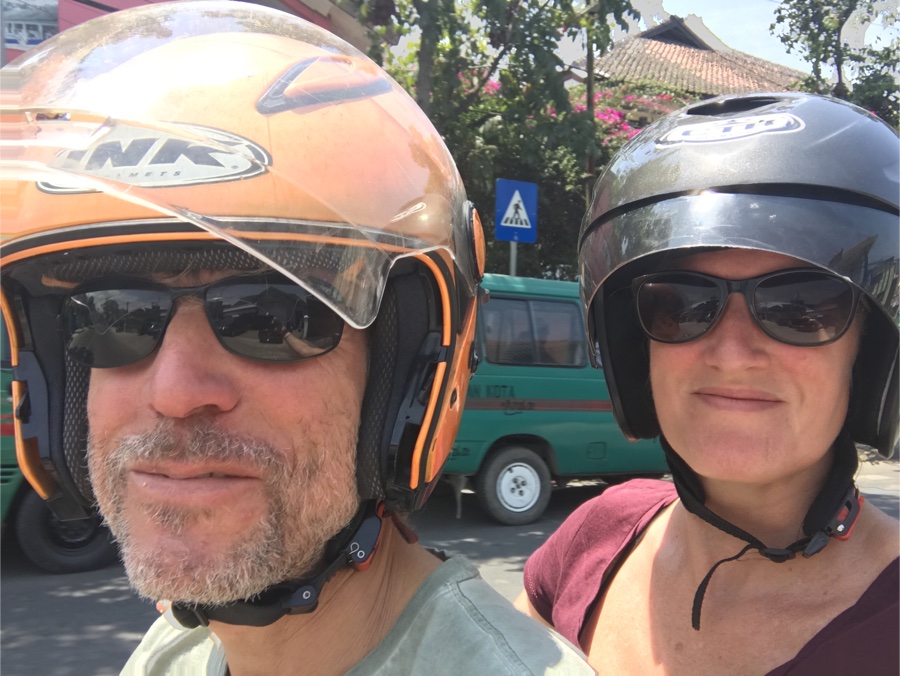 After an extensive search we rented a motorcycle with Bandung Sewa Motor. There are only a few companies that rent to foreigners, but this company does… and being Dutch almost makes us a local, right?
This cost us Rp150.000 including a delivery and pick up from the hotel. Absolutely the highest price we've ever paid but well… what can you do. Supply and demand.
With our motorcycle we ride towards the south. It takes us an hour to get out of Bandung but after that things get better very quickly. Traffic is much less, nice little villages and breathtaking tea plantations. First we arrive in Soreang, a small town with a nice vibe. The authentic horse rickshaws contribute to that.
Next we drive on to Ciwidey, a photogenic town surrounded by scenery as if it was a movie. Ciwidey is a strawberry town. A farmer must have once thought, hmm those strawberries of my neighbors ground do look rather tasty. And now everybody grows them. You can buy a box of these delicious red snacks in every house in town. On our way back we'll buy a box!
We drive on to Rancabali where the bright green tea plantations never seem to end.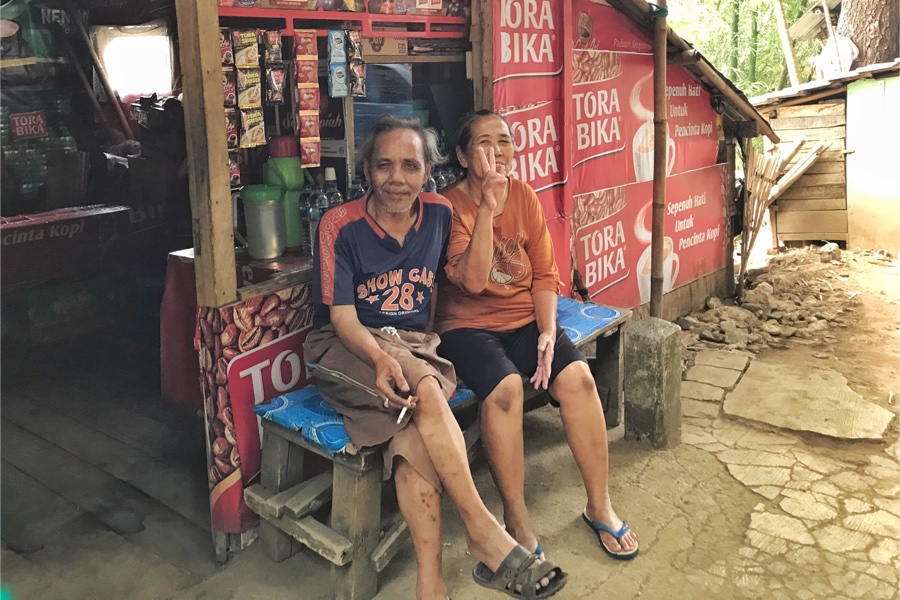 On our way back we take a short brake by the side of the road. When I take a picture of the view a man comes up to me and tries to make a conversation. He suggests us to come over to his small warung by the road where he sells coffee and water.
We sit with him and him wife for a while, they are so sweet and funny. Although we don't understand everything he says he has a lot of fun making jokes. He sits there in front of his place all day, he doesn't hear the noise of the road anymore but he has shade, a lot! When we leave totally relaxed he runs after us to say, don't forget me… Marius!
So people, if you ever rent a scooter and drive along the road to Ciwidey please stop for a coffee at Marius and his wife, these are the coordinates 7°03'03.8″S 107°29'57.2″E.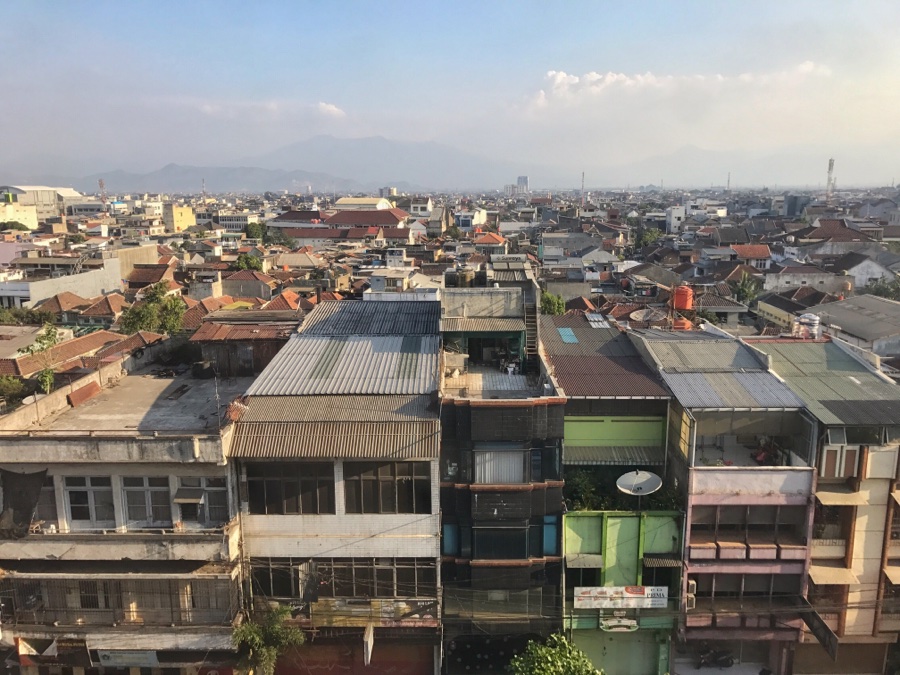 With our bought strawberries, some cheese from the supermarket and grainy bread from the bakery we have a dinner picnic on our bed at night. We have to relax after this impressive day.
Bandung is not a real attractive city. In our search for some colonial buildings from Dutch history we stumble upon the Wiki Cafe, vintage decoration and good coffee. We walk through Jalan Braga, with many many fantastic looking cafes and restaurants. We have a drink at the Braga Art Cafe, this is amazing, very instagrammable and nice food. Oh and… in this street they sell beer!
I would definitely recommend a hotel near Jalan Braga.
On the end of Braga street there are a few old buildings from around 1900. Nice to check out, but unfortunately we couldn't have look inside.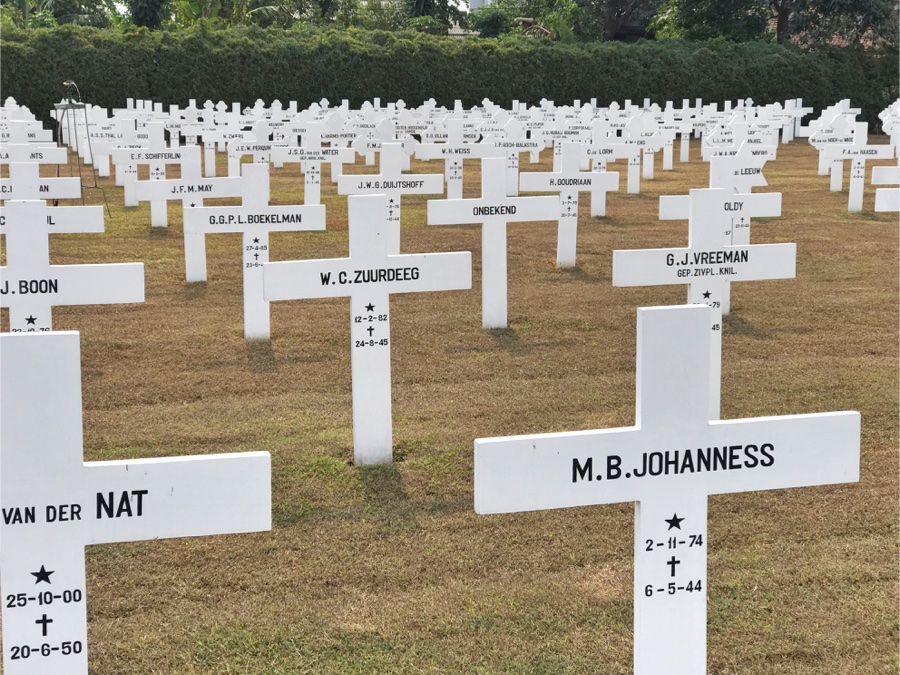 On the other side of the railway there is an old Memorial for Military East Indian war casualties, 'Ereveld Pandu'. Jos his father, who was 20 at the time, has been stationed in this area so we want visit the cemetery. We pay our respects to those who have given their lives for others, thousands of names, soldiers, nurses, unidentified victims and children.
Very impressive… may they rest in peace.
After three nights we move on to our next destination, Pangandaran. We have ordered traintickets to Sidareja on Tiket.com and paid Rp200.000 (€ 12.75) per person. The trains tend to be fully booked at the last moment so we buy our ticket a few days in advance. Our train leaves at 7:20 am…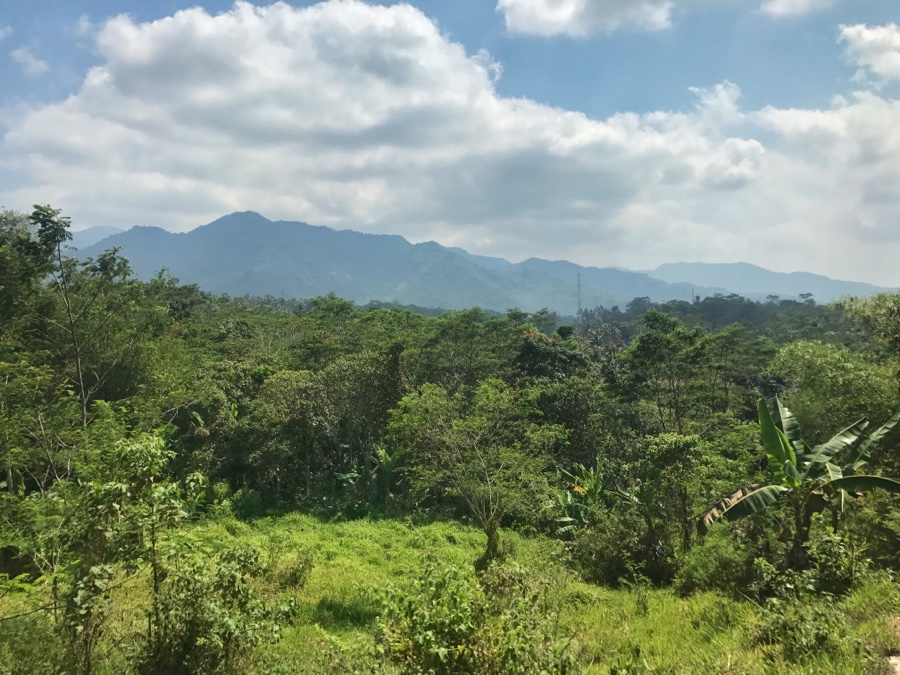 From Bandung take the train to Banjar or Sidareja. Our train leaves Bandung trainstation at 7:20 am and after we got our boarding card from the machine in the hall we arrive at the track at 7:15.
This time we have a clear view through the window so we can enjoy to scenery to the fullest. Our seats are on the right side of the train but the left appears to be better. Ah well, at least we can see through the window this time…
After a while the view gets much better on our right side and we enjoy the beautiful Java! I'd suggest lift side the next time.
Bus from Sidareja to Pangandaran
When you exit the trainstation first ignore the drivers who want to take you to the busstation for too much money. Then take the first but that comes along to the west, that is to the left from the station. It stops by the roadside in front of the station.
The bus to Pangandaran leaves from the bus terminal about 2 kilometers west of the station at every whole hour. We arrived at the station at ten to 12 and let the first bus pass us by. That made us miss the 12 am bus to Pangandaran. The bus terminal is small and has some food and drink stalls.
The bus cost us 50K / € 3.25 per person but we immediately have our doubts about if that is the regular price.
The ride takes two hours and isn't that bad, the roads are pretty good and the view is amazing. You'll have to get to town from the bus terminal of Pangandaran. We started walking, it's just a 1.5 km, but got stopped by a rickshaw who brought us to our guesthouse for Rp20.000. Ahh that's a relieve. Probably overpaid…
Mini Tiga Homestay, where we stay for three nights is beautiful and has a great ambiance. As soon as we've dropped our things we go out for some food. The beach is just two minutes walking and we find a lot of nice bars.
Pangandaran beach has grayish powder sand, brown when it's wet. Swimming is not the first thing that comes to mind when we see it.
The beach is dirty, litter everywhere and the seawater is a little smelly. We planned to learn to surf but the total picture doesn't look very inviting. So we decide not to go surfing, we'll get other opportunities. The disappointment is present.
On the beach we buy a young coconut for Rp10.000 (€ 0.65), very ok price. When we sit there to enjoy our drink we see an elk walking on the beach. This is weird. It appears to be common here, locals nod as if they say, there are elks on every beach in the world, what's the big deal? Right…
The village is a little more towards the peninsula and looks nice. Friendly people welcome us and it doesn't take long before the first surfdude presents himself. It's a touristic town, prices are high and quality of food is hard to find, but at least they sell beer here 😉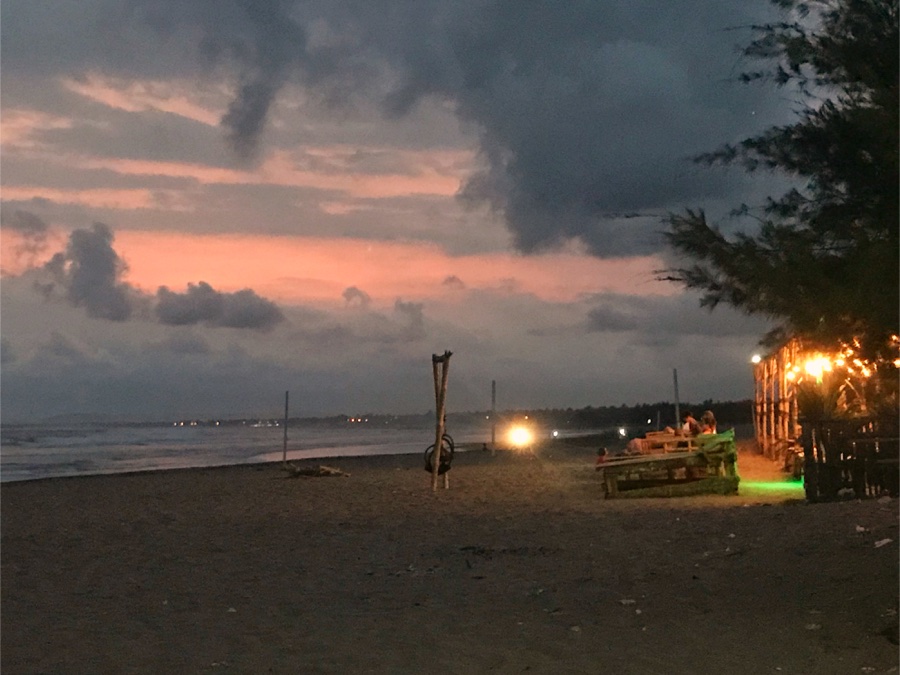 We are glad to have come all this way but we're not convinced this is the great place we expected it to be. When we go to sleep the music is so loud we are more annoyed about this town than before. It continues until deep in the night and to make matters worse we wake up at 6 am with BOOMBOOM part II. They've all lost their minds here. IDIOTS!
After three days we are very happy to get out of this disappointing town. We walk the 1.5 kilometers to the terminal and I have my don't mess with me head on. At the bus we pay the bus guy Rp50.000 and before he can even think we are already in the bus and now paid half of what we paid the first time. Ha!
The bus leaves at 8:30 but we think the go every half hour. At the terminal in Sidareja the same bus continues to the direction of Sidareja Trainstation where we wait for the train to Yogyakarta. Two hours early but at least we are out of that horrible town.
After our three days in Pangandaran we take the train from Sidareja to Yogyakarta. We've booked two Business class seats for Rp170.000 per person on the left side of the train. Eventhough we expected a much better view we are still pleased with what we see out there.
The wagon is quite busy, multiple bambino running around screaming and now and then form a choir of crying little monsters. Not fantastic.
After three and a half hours we arrive at Yogya station where we arrange a Grab. Outside the trainstation there are a few taxi's with nothing to do. When they see us looking at our phone they make clear to us what they think of Grab. We cross the road in front of the station and exit the station premises. Our Grab is waiting there but due to the heavy traffic it takes us 15 minutes to get away from the station area.
We have spoiled ourselves rotten and booked an amazing hotel in a great neighbourhood. Adhisthana Hotel looks like a picture from a magazine, the rooms are luxurious and the beautiful pool in the middle calls for us. The hotel on Jalan Prawirojaman II, is in the Mergangsan area, where you can find many great cafes and restaurants.
The history of Yogyakarta is complex and very interesting. Of course there is so much more to it, but in short it all started with the sultanate of Prince Mangkoeboemi. He would not yield to the Dutch and won the battle. The mighty and influential sultanate is still known for the resistance to the VOC and therefore kept it's special monarchic status with it's own laws and responsibilities.
Out of historical interest we visit the sultans palace and the water palace. The entrance prices are low but we've seen better.
We are really enjoying this city. This student town has so much to offer. Is the different area in the city you can find different public. Expensive hotels and malls in the north east, cafes and guesthouses in the south. From the trainstation down you can find Malioboro, the street that has it all.
We have chosen to stay in the Mergangsan area, where we find ViaVia restaurant the best ever. Fantastic salads and amazing other western dishes which we strongly recommend.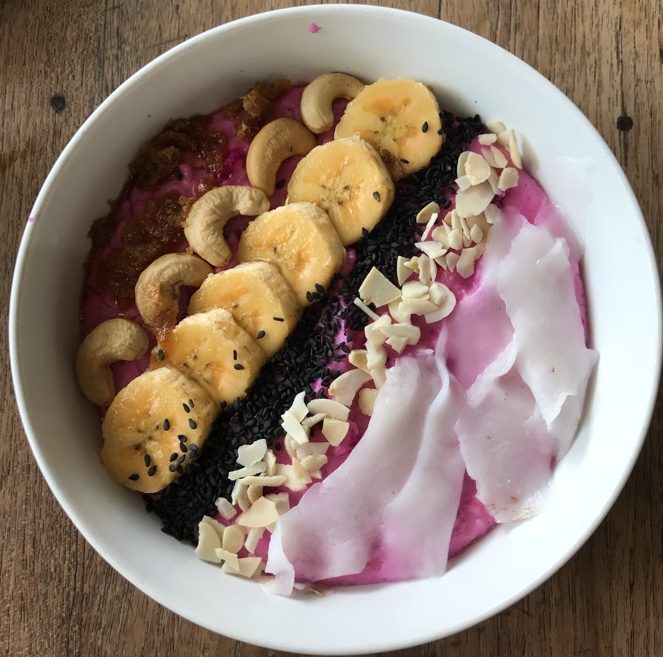 Besides going to ViaVia we have a beer at the Spark cafe in the same street where we sit amongst betelnut chewing coolguys. The place has a mafia vibe and the eventhough they barely speak English their smile says enough. Tourists probably skip this place for the obvious reasons, so we are the center of attention.
We need to extend our 60 day culture visa we got in Malaysia. This was something we thought we would do in two or three days, but eventually it took us five days.
Driving back and forth between the hotel and the immigration office just outside of town, taking a good 45 minutes per ride. You can read our visa extension drama here.
We have to change hotels. Because of the visa extension we have to stay longer then we planned but our Adhisthana hotel is fully booked.
We choose a hotel in the same area, on the other end of our street. We stay in the Greenhost Boutique Hotel for one night. The hotel is like a huge old prison, with an industrial greenhouse look. It's a very cool place but up close it's not worth the money. If we would come back to Yogyakarta we would definitely choose Adhisthana Hotel again.
We booked a ticket to Surabaya in Executive class this time. The ride is five and a half hours and a little cheaper than between Bandung and Yogya. We book the tickets for Rp225.000 per person. 
After a week in Yogya, we leave by train on Saturday. Entering the train we notice the seat numbers are the other way around so instead of sitting on the right side, we are on the left. Shit. No volcano-view for us…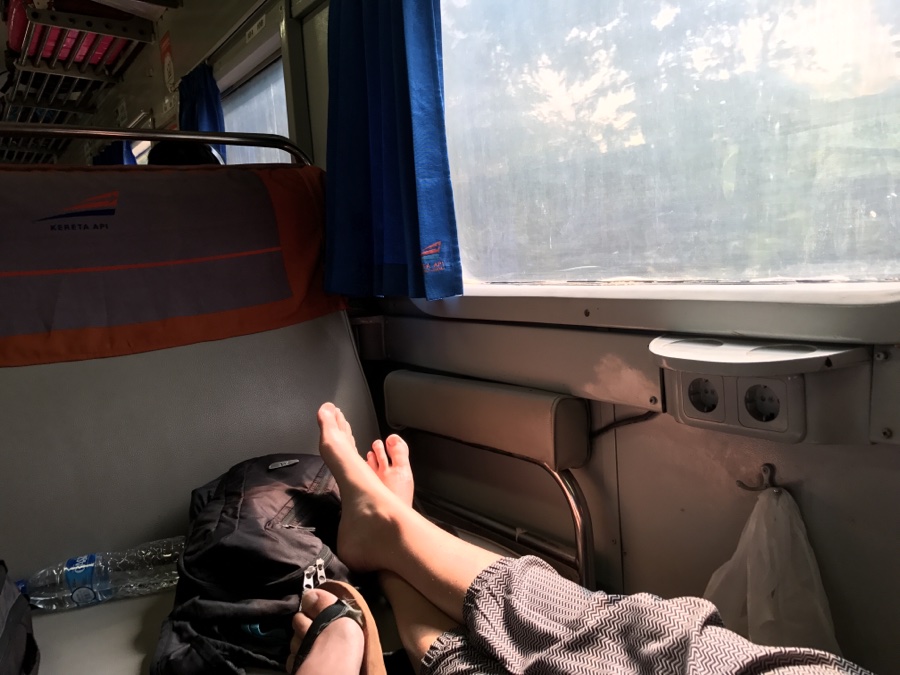 Executive Class was not that great. It was hot, the seats were lousy, there were people yelling and it wasn't easy looking through the small window with the two of us. The only thing great was that the seats can be pulled al the way back until you're almost flat. Great for traveling at night. But there's always a downside: so can the seats in front of you, which leaves you with very little space.
Unfortunately the view wasn't as impressive as we expected but well, traveling by train is just so easy. No cramped minivan filled with loud music and smoke. But next time we'll go back to Business, good enough for us.
On arrival in Surabaya we order a Grab to get to our hotel.
It's only 1.5 kilometre walk but the Grab costs only € 0.60 and it's incredibly hot so the choice is easy.
Our hotel Neo Gubeng is quite new and modern. Eventhough the room is somewhat smelly (probably some kind of cockroach spray) it's a nice place with a great bed.
We go out for dinner, but the first place we had in mind, Our Bar just across the river, is very expensive so we decide to take a Grab to the big shopping mall Junjungan Plaza. It's huge and there's a food court on the highest floor.
After a great sleep and an ok breakfast we are off. We walk through the city towards Sampoerna Kretek cigarette factory. As non-smokers we are still interested in this part of history and it's worth the visit. Free entry but no workers. It's Sunday so eventhough the museum is open, there is no activity in the factory. Too bad. Want to see the ladies roll 4000 cigarettes each per day? Visit Sampoerna from Monday to Friday from 8 to 11 am.
Back on the street we walk past the Kalisosok Prison which has a horrendous history during the Bersiap period at the end of WWII. (Un)fortunately it has closed so we move on to the Javaanse Bank (Javanese Bank) a little further down the street.
We would have loved to take a look inside, but it's Sunday so there is nobody there. We have no idea if this building is otherwise open to the public.
We walk towards the south through Jalan Jembatan Merah, of which Lonely Planet says it a grungy replica of Amsterdam, but we cannot relate to that. It's interesting anyway, huge historical buildings decorating the streets of Surabaya. The colonial structures build to show off during the Dutch possession are mostly well maintained too. This walk through the city passing these heritages gives us a good impression of Surabaya.
After a long hot day we're eating at The Goods Diner close to our hotel. A very Instagramable restaurant with a nice terrace. I order the black bean – quinoa burger, incredibly yummy. Jos has a slightly disappointing sandwich Brie with roasted veggies. The prices are rediculous like anywhere else in the city but we have to celebrate that we are traveling for six months! Yay!
We've had a great two days in Surabaya, the restaurant and hotel prices are high but we see this visit as an important part of our journey through Java.
Choosing our next destination we stumble upon a terrible dilemma; to Bromo or not to Bromo, that is the question.
We don't feel much for overspending on the tour while surrounded by hundreds or even thousands of tourists, so we consider skipping mount Bromo.
Sigh… of course we will regret this immensely, so we decide to go to Probolinggo and see from there. This is on the way east so we'll pass this town anyway.
At the trainstation we book two tickets for this afternoon to Probolinggo in Economy class. We'll probably regret it because there is NO airco in Economy and it's already hot as ****. But eh, it's only two hours and saves us € 10.00 per person! We'll survive…
Once we've decided we do want to go to mount Bromo we consider the possibilities. There are a few different starting points. If you want to do a tour you can arrange a transfer from Yogyakarta, Surabaya, Malang and Probolinggo amongst other places, towards Cemara Lawang, the town nearest to Bromo.  you can also arrange your own tour without having to depend on any agency by arranging transportation from any town mentioned above or go by minibus from Probolinggo bus terminal to Cemara Lawang for about Rp45.000.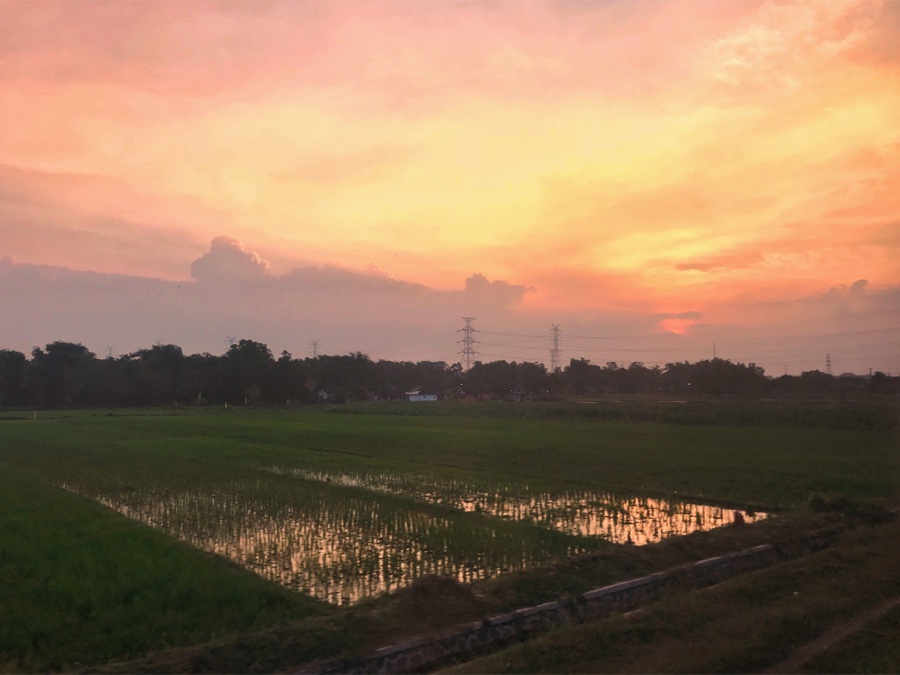 We choose Probolinggo to be our starting point and decide what to do when we get there. We take the train from Surabaya and book a nice homestay there for two nights.
Traveling by train in Economy is more relaxed than we expected. People around us are quiet and there is, opposite to what we expected, air conditioning! The views from the train are very nice, we sit on the right side (the volcano side) this time, on a two seater bench and there is a lot to see. From little village to Impressive volcanoes and as the sun slowly sets the colors turn softer and our mood turns into happy.
Clover Homestay is 2 kilometers from the trainstation so we take a becak. The guesthouse is nice, with twin rooms and private bathroom. There is a communal area where you can relax and dine.
They offer to arrange a car with driver who brings us to the volcano for Rp660.000 (€ 41.50) it's a car that fits six people and there are four German girls that also want to go. So for Rp110.000 (€ 6.90) per person we have our own transportation.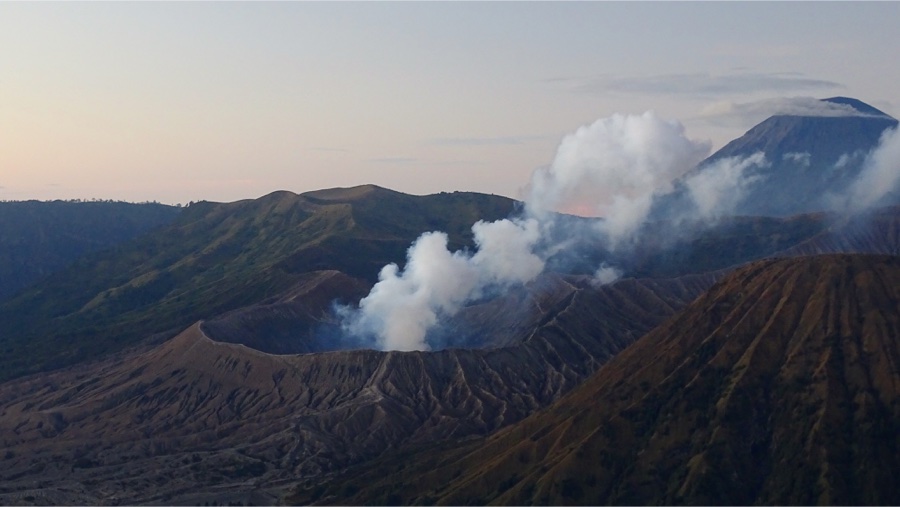 At 2 am we get up and a little later we are on our way to Cemara Lawang, the village nearest to Bromo. We pay a 10.000R entry fee for the village.
First we're going to the viewpoint where we can see the sunrise. The car parks 'only 20 minutes' away from Seruni viewpoint. But it's a steep hike up and we have to stop every few minutes to catch our breath. The humidity and the height weights heavily on our lungs.
It's not as crowded up at the viewpoint as we expected so we decide not to walk to the King Kong viewpoint, which is supposed to be less crowded but at least 30 minutes further.
The sunrise is gorgeous but the volcanoes appearing from the dark are truly magnificent. We've never seen anything like this before… only a big dash of white smoke from the volcano fills the clear blue sky.
After most people have left we walk back down to the car and drive back to town. We wanted to walk through the sea of sands, the dusty area in between the viewpoint and the volcano, but the entrance is 250.000R (€ 16.00) when you walk but 150.000R by car. At least that's what our driver tells us. They are double checking the small paths where you can get into the area without paying, they say. Shit.
Ok, we'll go by car. We pay the jeep driver each the 150.000R together with the four German girls and drive towards the volcano. It's such an impressive landscape, like we're on the moon.
We haven't seen the driver pay anyone and we didn't see any checkpoints or people making sure you pay so we feel a little scammed. It is so annoying when they do that!
The driver says we have to be back at the car at 8, so we only have 1.5 hours. We are thinking, we will take longer so you'll just have to wait, asshole.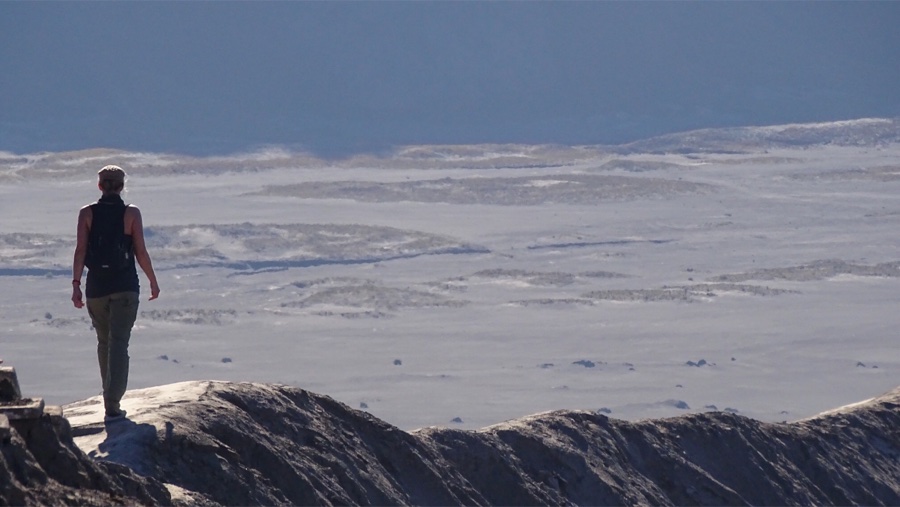 As soon as we walk towards the crater we immediately know where the crowd is… a never ending stream of people walking up the steps to get to the rim.
There are poor emaciated pony's with ropes around their mouths who will bring you halfway to the rim for € 2.50. This is bad. Sometimes the people riding them weigh more than the horse itself. An upsetting view.
Up on the rim we have to find a place in between the crowd to be able to look into impressive the sulphur smoking roaring hole.
The sounds are loud and the smell is rotten. Once we get a little further along the rim there are not as many people and when I follow a small path along the rim I'm up there almost alone. There is one other guy with the same idea, we walk together to the highest point to enjoy the spectacular panoramic view to the max. Two strangers sharing a short but incredible moment.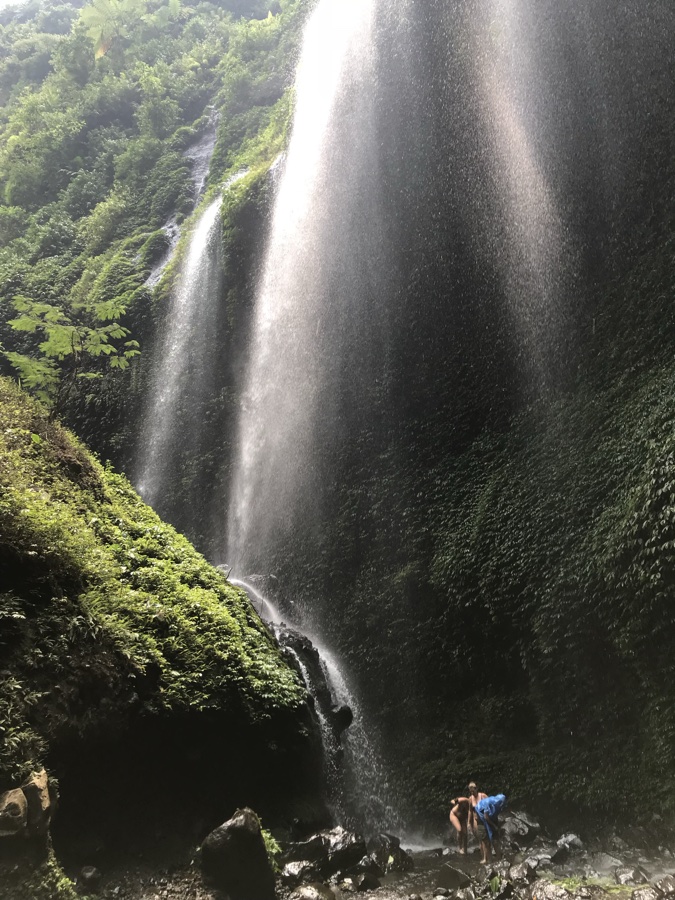 As soon as we are back down at the jeep we drive an hour to the Madakaripura waterfalls.
Tired from our early morning adventures we let a motorcycle bring us to the entrance from where we pay Rp40.000 (€ 1.35 pp) and walk for a kilometer to the waterfalls. They offer us flip flops, ponchos and plastic phone bags but we don't need anything.
When we get to the actual waterfalls our first thought is OHHHHH… and then, we might get very very wet here. There are some people coming that give us their ponchos in exchange for a selfie with them. Good deal!
Our journey through Java keeps getting better and better. Just when we thought we've seen the best… something even more impressive comes along. The waterfalls are really gorgeous, we haven't seen anything like them before and we've seen A LOT of waterfalls. There is a bright blue lake in which we can swim but it's freezing so we skip that part.
On our way back everybody's quiet in the car, exhausted from all the impressions this day brought us.
After our unforgettable day around Mount Bromo and the waterfalls we take the train to Kalibaru just south of Mount Raung and Ijen. It's a three hour ride and we discover Economy Class gets really uncomfortable after two hours. Our backs are sore and we don't know how to sit anymore.
Fortunately our accommodation in Kalibaru will pick us up from the train station so as soon as we are there we have nothing to worry about.
We've booked three nights at Kendi Resort, a charming and relaxing place with 10 fancy bungalows, a big pool and a spa which unfortunately will be finished in two weeks. We are the only guests, so we have the big pool in front of our bungalow all for ourselves…
We pay the low season price of Rp325.000 (€ 21.00) per night including a personalised breakfast by Yanti, the sweetest hostess we've ever met. We finally find the silence we've been longing for and have the time of our lives, swim, read, write, relax, eat, sleep, repeat.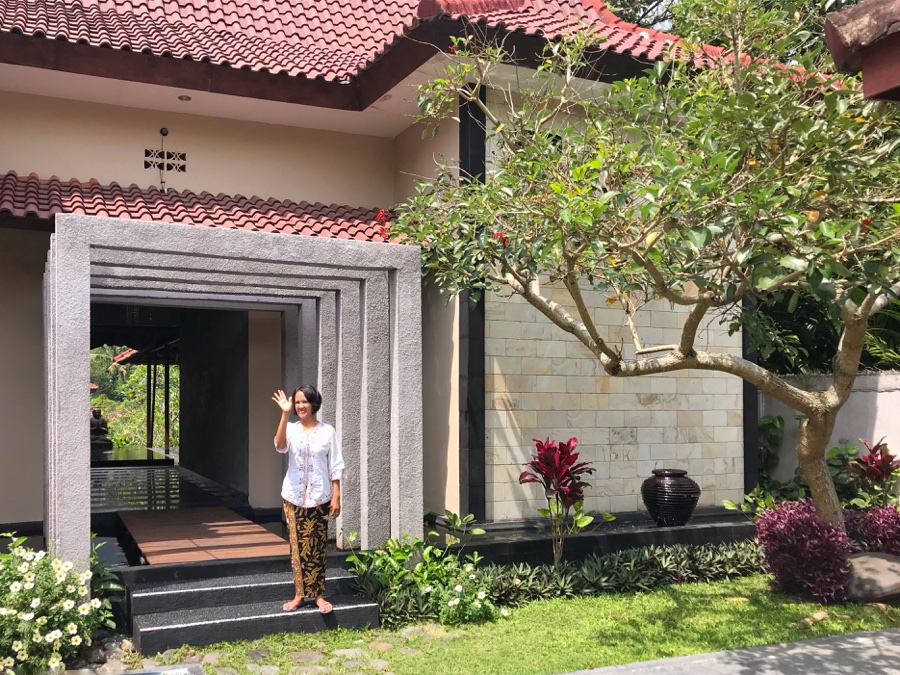 We forget all about the small lorry train we wanted to take from Kalibaru to Garahan and we don't even go into town. Unfortunately Jos must have picked up a flu because he has a terrible cold. We decide to skip Mount Ijen, but that will give us a good reason to come back to Villa Kendi… what more do we need than this amazing resort. We love you Yanti!
After relaxing in the pool and by the fireplace for three days we leave Kalibaru and take the train to Banyuwangi for Rp20.000 (€ 1.50) per person. The train stops a few hundred metres from the jetty where we'll take the hourly ferry to Bali for Rp6.000 (€ 0.50) per person. We are leaving Java after three amazing weeks.
In Java there are many forms of transport. Airplane, train, coach, public bus, mini bus, taxi, bechak and (horse) rickshaw.
There is an island wide railway network which is not only comfortable the trains follow their schedule to the minute. Booking a train ticket is easily done online, just go to tiket.com select your seat and buy your ticket. At the trainstation you scan your ticket and print your boarding pass and you are ready to go.
Traveling with a coach is cheaper than going by train. Two examples of bus companies are Budiman or Damri. They are comfortable although the loud music can be a problem.
In the cities there are many green mini buses that all have their own route. Usually you can find the start and destination on the back of the van. Costs are something around € 1.00 for a trip around town. Sometimes you'll even have a guitarist coming along to provide some music. 2.000 or 5.000 IR would be a nice gesture.
Rickshaws and bechaks (small tuktuk) can be found in many towns, for just a small amount you can travel short distances through town. Be careful, agree on the price before you get in and don't pay the first price they ask. Locals tend to have their special price for anyone who is white or doesn't speak Indonesian. € 1.00 for a five minute ride would be more than enough.
Our personal favorite is Grab or Go-Jek, easy, cheap and safe. For those not familiar with Grab or Go-Jek (or Über which is not available in Indonesia), check out our explanation on the Indonesia page.
Currency: 10.000 Indonesian Rupiah = € 0.64
In these 21 days we've spend:
Transportation: € 203.00
Accommodations: € 251.00
Food and drinks: € 420.00
Entrance fees: € 43.00
Other: € 55.00 (30 day Visa extension and data top-up)
That brings us to a daily budget of: € 46.27 for two persons including everything, except international flights.
On Java we spoiled ourselves, we've stayed in luxurious cottages and double rooms with private bathroom, pool and including breakfast.
We've noticed that the prices are much higher on Java than on Sumatra. Besides that, we've visited a lot of cities and it's always more expensive in the city.
Here are some examples of products and prices in Euro:
White bread in supermarket: € 1.00
Coffee latte in a lunchroom: € 1.60
Beer (650 ml) in a cafe: € 3.15
Beer (650 ml) supermarket: € 1.50
Coca Cola in restaurant: € 1.00
Fresh fruit salad in restaurant: € 2.50
Fried noodles in restaurant: € 2.50
Top-up data 3 gb internet: € 3.50