The first island on our list, and immediately on our favorites list too! The small island of Raiatea lies between Bora Bora and Huahine and is together with the smaller island Tahaa surrounded by a gorgeous reef. Although Raiatea does not have a lot of beaches (two small ones) the sand on the bottom of the lagoon is white which results in amazing azure blue waters. 
This inviting aquarium isn't the only thing that makes Raiatea a paradise… there is green! Not just a plant here and there no sir! Rainforests full of lush green trees, colorful bushes filled with juicy fruits. All for free! 
Awesome hikes around the island and the cutest authentic villages possible. Well? Sounds perfect right? We would go back in a flash!
The flight from Tahiti where we stayed for our first two nights was short and nothing but great views over the Polynesian Islands. Air Tahiti is a relaxed company, on board we get a little drink and the stewardesses look very tropical. 
Happy to see our luggage has arrived as well.
There is a taxi waiting for us at the small airport, the accommodation where we will stay for two nights has arranged this for us. We're happy they did because this isn't the kind of airport where you'll just see how you get there. It's more the question whén you're going to get there… so our accommodation arranged for Taxi Tommy to pick us up. A lovable young man with a big fancy car. 
The ten minute ride costs us 1000 Franc, which appears to be quite normal here.
Vila U'upa guesthouse in the hills is beautiful and quiet. We have a room upstairs in the mezzanine and it has only curtains, no door. Hmm… zero privacy. The guesthouse has only two other rooms so we'll be fine. Outside there is a large terrace and a pool. The view from the terrace over the coral reef and the island Tahaa is amazing. 
We get some groceries at the Champion, a mini Carrefour. The town is two kilometres away but another guest of the house gives us a ride. The town of Uturoa is not very big but it's got everything you need. At the harbour in town we see the ferry coming back from Tahaa.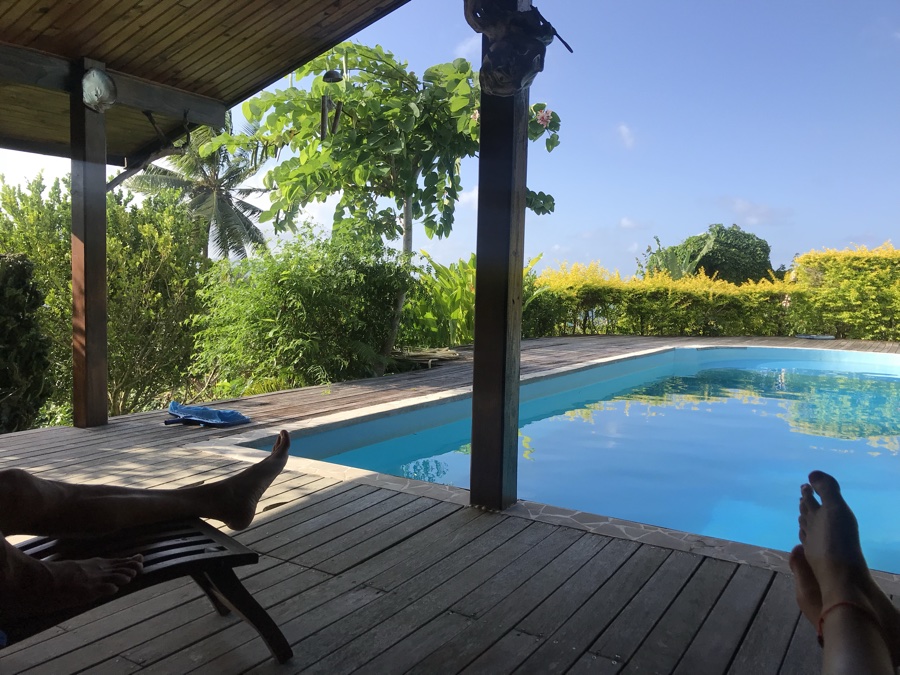 The ferry to Tahaa leaves two times a day at 7 and 10. There are different stops  as it circles around the island of Tahaa and it's ready to return to Raiatea at 15:30 and 17:00. The price of a ticket is 700 Franc. Interesting, we might do that in the next few days!
Now we go back to our villa and vegetate by the pool… because… we… can… 🙂
The night was quite sweaty so we did not sleep very well but today is Jos his birthday (HAPPY BIRTHDAY!!) and we are going to cool off in the big blue sea… we have booked two dives with Hemisphere Sub today and they pick us up at 7:30.
Our first dive is a slow drift dive in Miri Miri, a site north west of the island. The corals are incredible and we see two large Napoleon fish and lots of sharks. One is coming towards me while I'm filming, so close I almost get a bit nervous. I could have kissed it… This is so cool, this is so cool, this is sooooo cool!!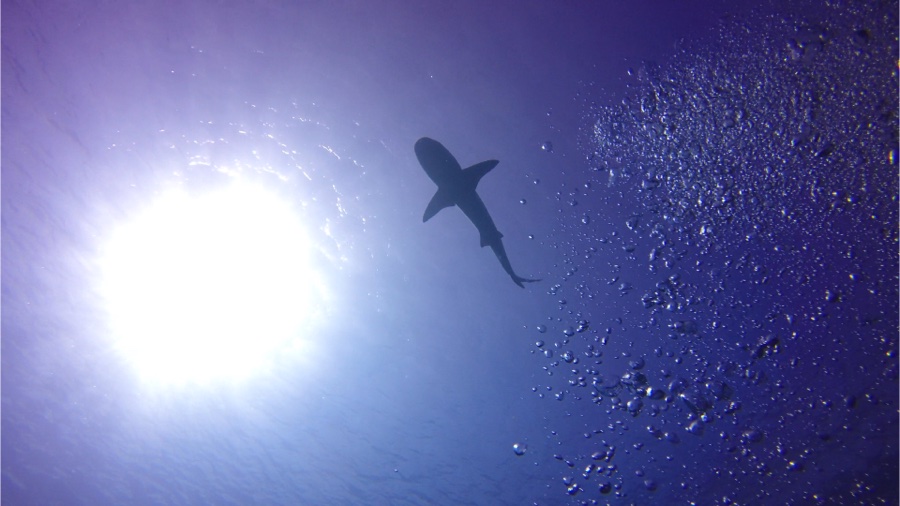 I take out my mouthpiece and sing happy birthday for Jos, quite difficult to sing underwater but his big smile says the message arrived. We dive together with three other divers, they are from the US and afterwards when we tell them we will visit their country too they invite us to come meet them in Washington D.C. So we exchange phone numbers as we wait for our second dive. 
The planned site for the second dive on the east coast of the island is a no go. The current is too strong so we change our plan and go to see a shipwreck just in front of the Uturoa coast.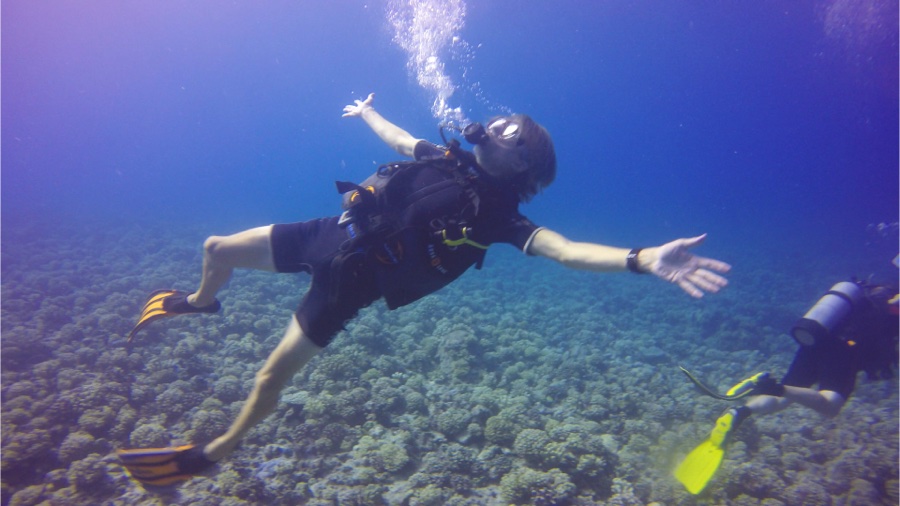 The sailing vessel has sunk just 30 years ago but it is already dilapidated like it has been there forever. The visibility is close to zero and there aren't any fish but we do see some cute Nudi branches. 
Another good thing is, we can go inside. We fly through the ship like floating through space until we reach an air bubble deep inside. At twenty meters we can stick our heads above the water and look around. The air is dead so we cannot breathe but still, pretty cool experience. 
Inside, the fish swim upside down which is even weirder… they sucked up too much air like a goldfish or are they confused?!
Our guide Farid takes us back to our guesthouse where we first order a nice pizza for lunch at TonTon burger. We choose one big Vegetariana for 2000 francs, it's an oh my god 50 centimetres large pizza from heaven… lunch ánd dinner then!
On the patio of our villa we hear singing, it's far away but the wind brings us the tropical Polynesian sounds and they are magical. Ahhh what a life. 
We enjoy our time at the pool while we enjoy the amazing view over the reef in the distance. In the garden there are some chickens walking around. They live in the trees and at night they find their safe branch there. Weird chicks…
Our hosts Gilles and Christine are great people, we talk all night about our worldtrip ánd theirs. They have been sailing around the world for many years before they settled down here on Raiatea. Incroyable, Gilles favorite word… Incroyable!
The next morning Gilles takes us to the harbor to show us his boat. He is a carpenter and has built the entire inside of the 11 meter long vessel. A boat, that must be fantastic… sailing around the world by boat… Incroyable!
It can be quite difficult to get around the island. There is no public bus and taxis are expensive. So we've decided to rent a car for two days, this way we can do our own tour and stay at an accommodation on the other side of the island. 
Raiatea Locations bring us the car at Villa U'upa and we are on our way. We've rented the car from noon for two days so we have to return it after our two night stay at noon again.
We get some groceries at Champion because in Opoa where we are going there is nothing but nature.
We slowly drive towards the south and we're instantly convinced we did the right thing renting a car.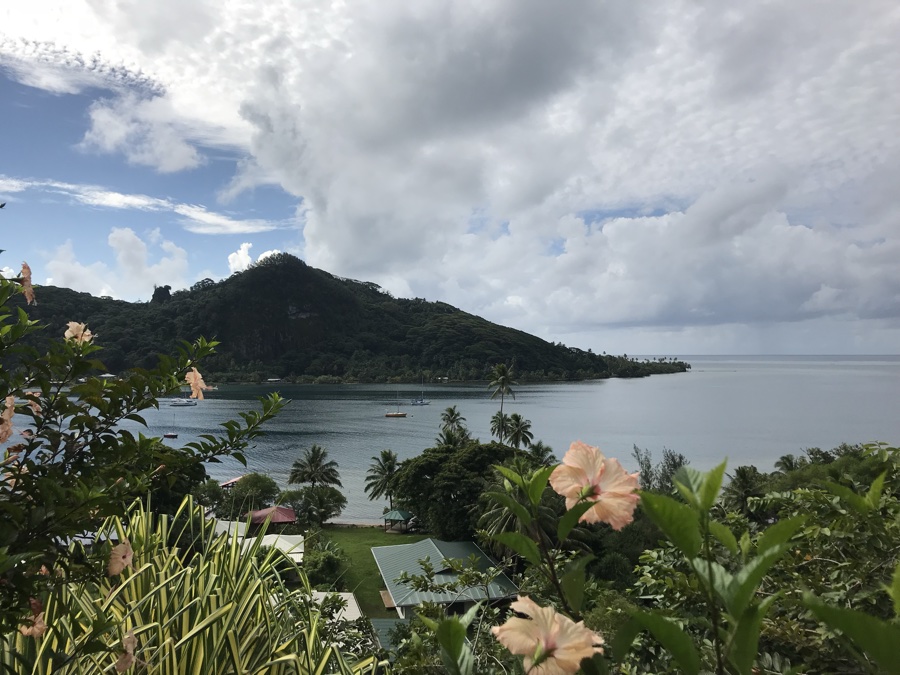 Eventhough it costs us about €55 per day…
We've booked two nights at Fare Oviri Lodge, a deserted paradise in the south east with… oh yes, a small beach! 
Our hostess Louise is the sweetest, she spoils us with fresh fruit and love. 
When we see our huge bungalow with it's ballroom size bathroom we are lost for words. The bed can fit a whole family and Louise has put flowers everywhere, it looks like a honeymoon suite! We have a great patio in front with view over the garden, this is going to be a fantastic stay!
We can use the kitchen so we prepare a nice pasta for two days. Dessert: fresh fruit a la Louise.
Yesterday we've already seen a part of the island as we drove this way, but today we are going to drive around the entire island. We slept absolutely fabulous in our emperor size bed and after a healthy brekkie we are refilled with energy. Our little red car glides over the glowing hills while we try not to miss anything of what we see. There is so much… the colours, the mountains. It's just gorgeous here! 
We feel crazy and drive into a small road towards those inviting mountains. The road isn't leading anywhere but we don't care, off the beaten track is our motto 😉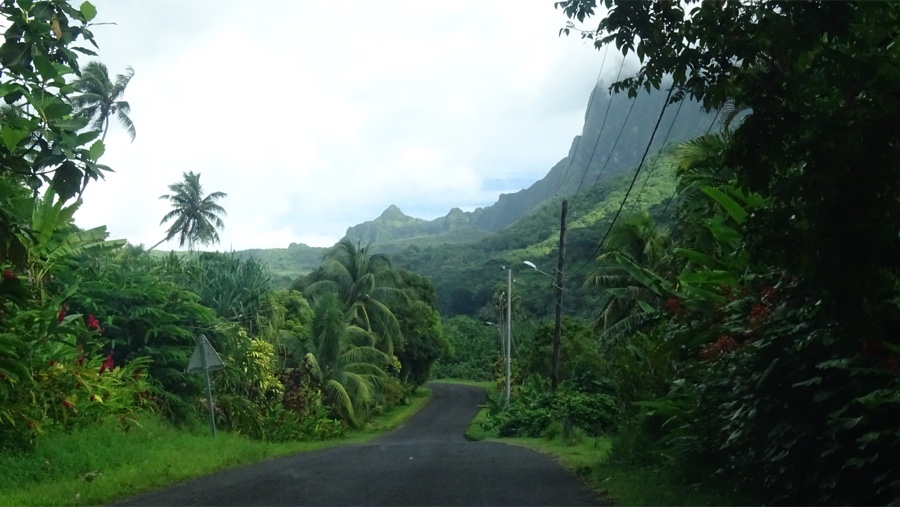 We can't enjoy our adventure for too long, we have to turn before we get stuck in the mud with our small Fiat Punto.
On our way back we see a nice yellow papaya. It's on the other side of a small river but I volunteer to go get it. Yup. Everything went ok until I stepped into a huge nest of red ants underneath the papaya tree. Luckily there was water nearby and I drowned every single one of the nasty buggers. KILL KILL KILL!
When I get back to the car, suddenly there's a man next to our car.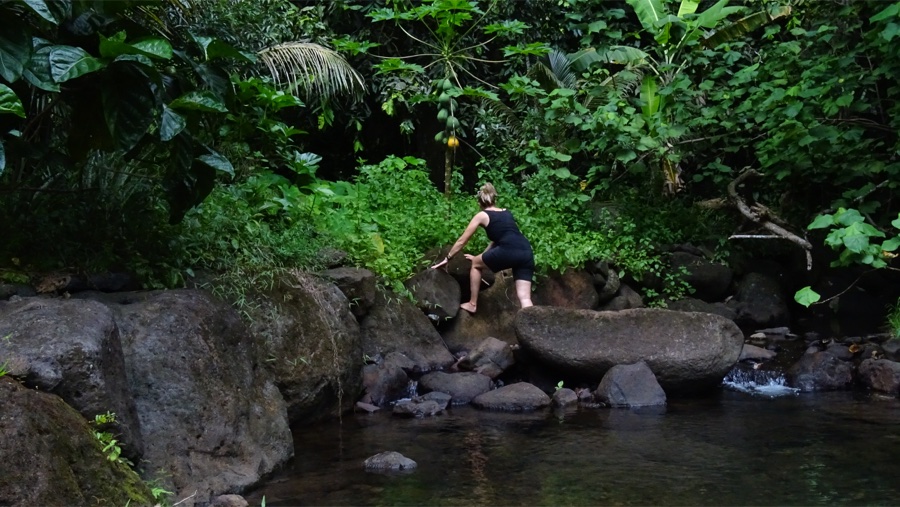 Now where did he come from? The wild looking bushman with long hair and a beaded beard gives us a big bunch of bananas. My mouth is open. He smiles (my mouth still open) and before we know it he's gone. Jos, did you see that (mouth still open) please tell me you took a picture!! 
Nope. 
We are both flabbergasted…
Continuing our exciting roadtrip we see something new on every corner.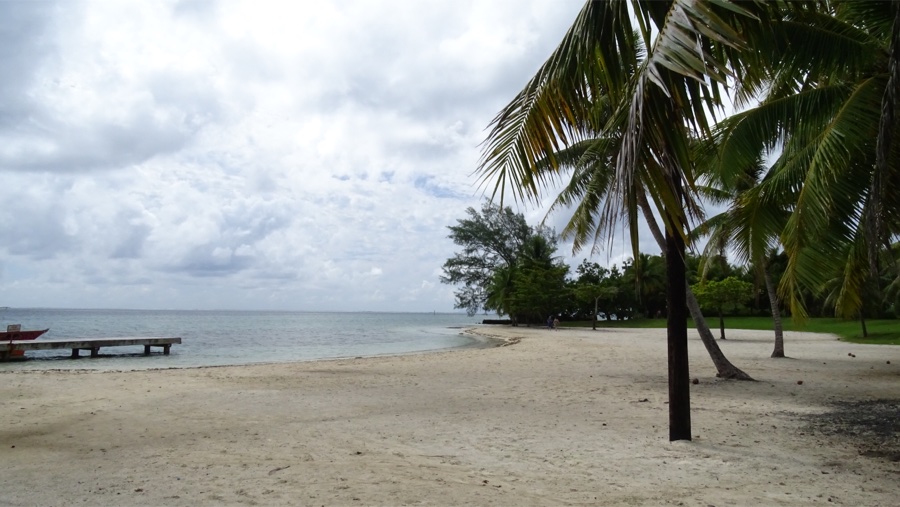 A WHITE BEACH, the only one on the entire island… this we must see. Yep, real beach. This island hás got it all!
And then, after driving some more, we discover a few trees full of pomelo's! We love the pamplemousse… very much. So here she goes again, through the mud, climbing up a rocky wall… the result: 3 yummy pomelo's for the next few days! 
This island is absolutely gorgeous. Supergreen mountains on one side and turquoise water on the other. Colourful flowers and bushes along the road all the way around the island make it even more attractive. There are some small beaches on this island and the coral reefs close to the coast are stunning enough to complete the paradise feeling.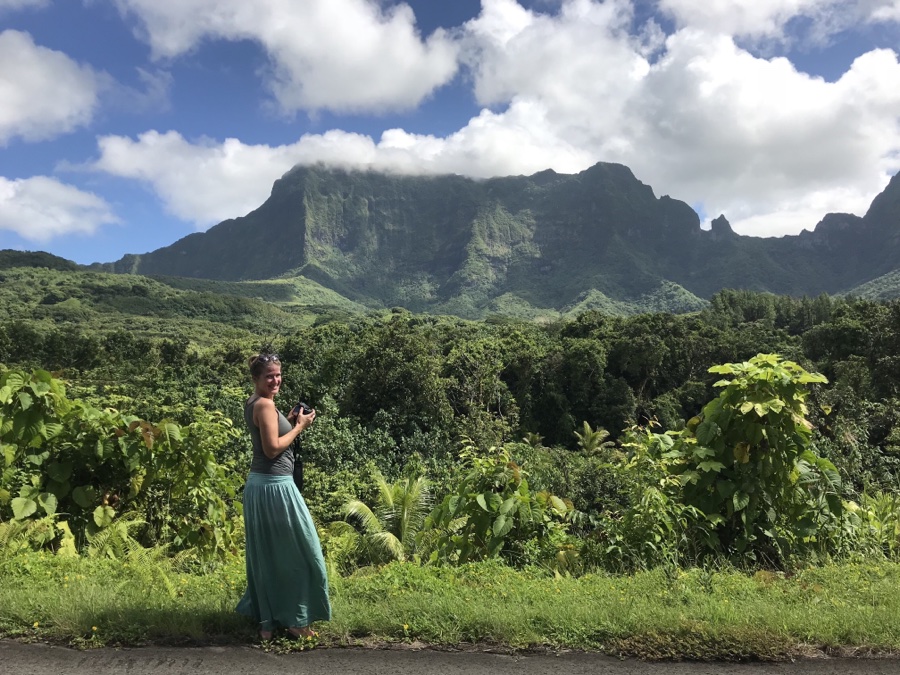 The rest of our stay in our awesome bungalow at the Fare Oviri Lodge is peaceful and relaxed. The beach isn't great but the sunset is. 
In French Polynesia there are a lot of mosquitoes, everywhere, and here on the beach there are a lot of sandflies too. We have a big bottle of OFF, the best mosquito repellent there is, in this part of the world. We bought it in Australia but here we actually need to use it. 
Unfortunately the mosquitoes ignore the stuff completely and stick to our skin like magnets.
We have two days left. It's clear that eventhough we absolutely adore this island, a stay of four nights would have been enough. It's not that we don't want to be here anymore, it's just very difficult to get an accommodation that is not fully booked. So booking in advance is highly recommended. There aren't that many accommodations on the island, actually during our whole stay in this country we had to settle with 'the leftovers'. 
Our last two nights we were lucky though, Gilles and Christine have one room available so we are going back to Villa U'upa. This time we have a room by the pool, with private bathroom! So much better…
Christine and Gilles are as enthusiastic as before. When Gilles is talking to a neighbor we hear him say …incroyable… wahaha yes we are back!
We've decided to do a third dive with Hemisphere Sub. The diving was incredible and the centre is very relaxed. We do one dive in the morning to the Teavepiti Pass, a drift dive in a wild wavy area. On the boat we get a little seasick from the waves but usually as soon as we are in the water this will pass. 
Unfortunately it doesn't and I feel a bit uncomfortable and nauseous the whole dive. Too bad, this is such a fantastic spot! Big fish and great corals… the visibility is a bit blurry because of the current but wow, shark heaven!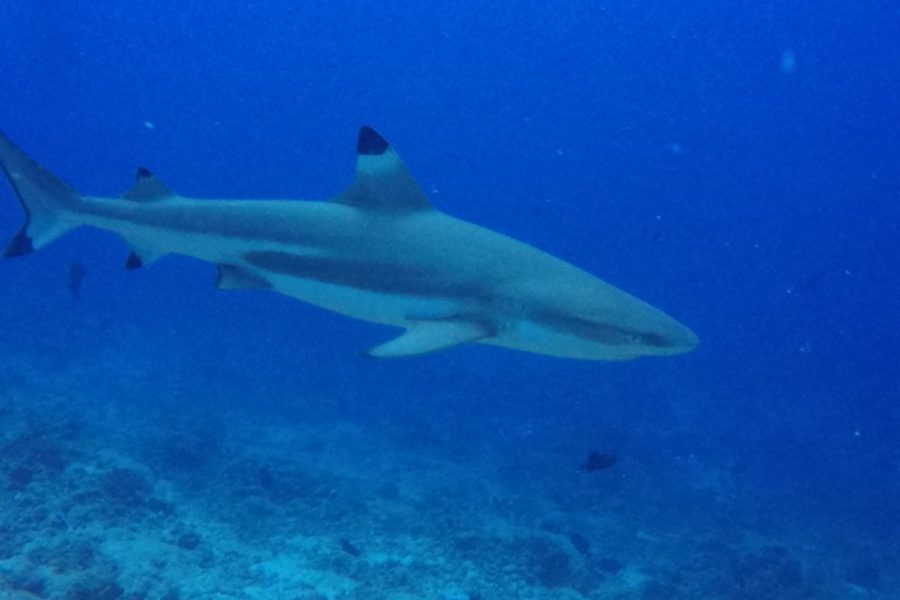 Taxi Tommy takes us to the airport again.
We thought being there an hour in advance would be ok, but after checking in (5 mins) we have nothing to do at the small airport. It's like waiting for a bus, being there ten minutes before would have probably worked too… 
Air Tahiti requires you are there an hour in advance. 
When we are finally aboard our aircraft to Huahine we can look at Raiatea one last time from the sky. What a breathtaking island! 
Raiatea was in one word INCROYABLE!