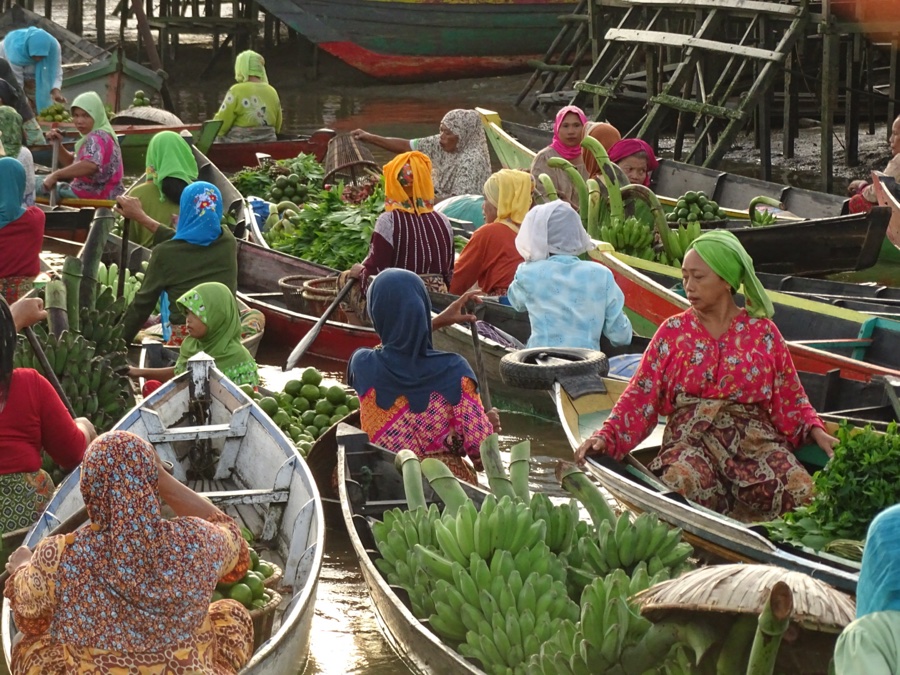 During our holiday in Indonesia we also spend some time on the Kalimantan, the Indonesian part of the big island of Borneo. Our first idea was there to spend our entire trip there, but that didn't seem to work out. So in a moment of temporary insanity we decide to fly to Kalimantan from Lombok.
Via Surabaya we fly to Banjarmasin where we want to visit the floating market. This area is so pure that we immediately notice that we are stared at by everyone. Especially our white skin and blue eyes draw a lot of attention. Indonesia is a predominantly Muslim country, all women wear a headscarf and too much bare skin is not in place.
I have unfortunately only very short shorts and one long pants with me so the trousers it is. They're not very used to tourists here so I'll adapt as much as possible.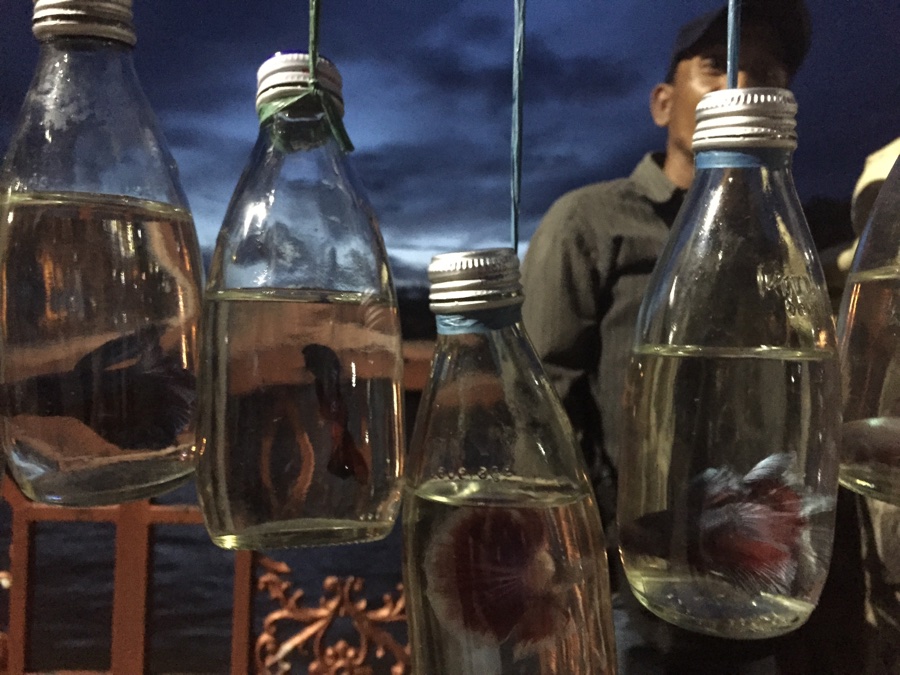 The city of Banjarmasin is very big. There is no towncenter, just streets with an awful lot of traffic. The taxi driver who takes us to the hotel drives like a retarded idiot with a death wish. So we arrive at our hotel pretty sweaty. We haven't been able to discover anything beautiful here…
In the afternoon we decide to walk around. Everywhere we look we see the same… crowds, traffic, buildings. No restaurants, shops, bars. A mini-market with some food and a big ugly shopping center with grey clothing stores and a phone accessories shop, that's it. These people don't eat?
We walk to the river where we end up in a kind of reptile show.
People walk around showing their weird lizards and snakes, hedgehogs and mouse-like creatures.
We immediately draw attention, so before I know it I get a huge yellow snake around my neck and I can hold a verano on a leash. Everyone stands around us it's madness. They've seldomly seen a giant man like Jos and that white skin, blue eyes… everyone wants to shake our hand and the cameras flash around like disco lights. We can hold the strangest animals. Jos even gets a baby pushed in his arms for the photo. We feel like superstars.
When we go away again, we are off and we have to make a hundred selfies before we are let go.
Still in shock, we walk to the other side of the river where we see some food stalls. Again, we are superstars while we try to get some food into our bodies. Back in our bed we just can not believe this weird experience.
In the morning we get up at 4. Through the hotel we arranged a trip to the floating market and we are being picked up in the dark and brought to some vague boathouse in the middle of nowhere. Behind the boathouse is a small boat where we have to wait. No one here speaks English here, so all goes with hand gestures. Off we go, in total silence and darkness we enjoy the slowly lightening sky.
Astonished we look at the houses on stilts along the long river where everyone is waking up.
We see someone going to the toilet above the water and in the next house the neighbor brushes his teeth in the same water. The houses are build on poles and are very different in construction.
Even houses that are half collapsed and walk in the water are still occupied.
The sun rises slowly and while the sky turns into different colors we see the first boats of the market in the distance. The silhouettes are breathtaking against the red colored sky. We float our boat around between the marketboats with fruits. The ladies in brightly colored clothes sell us some delicious snacks and go on with their trade. A bunch of bananas are exchanged for some bread and a fresh fish against some fried snacks. Meanwhile the latest gossip is spread and more and more boats join them.
Eventhough we can hardly get enough, after a few hours we need to get back.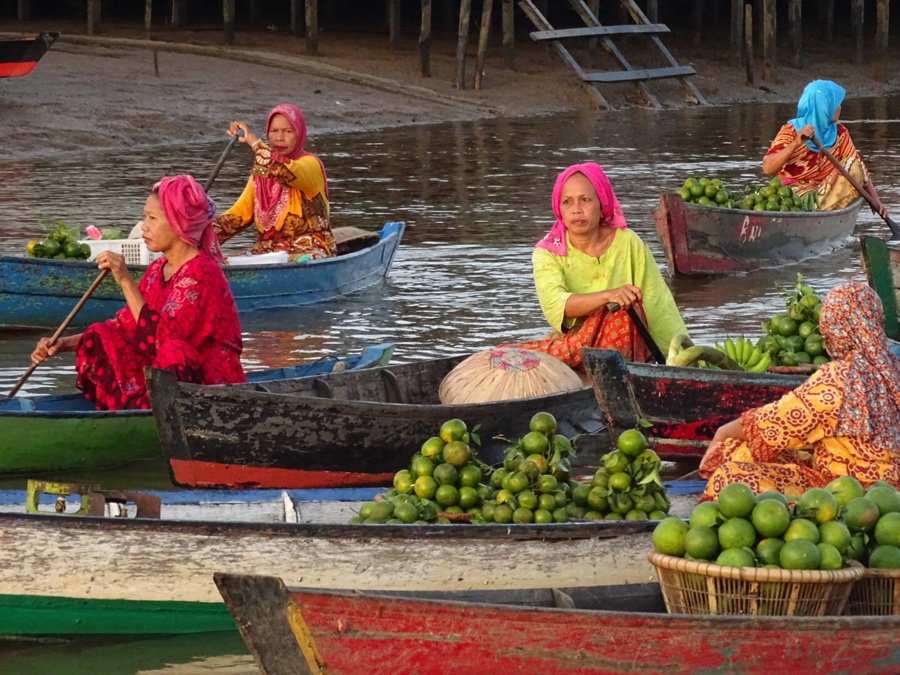 Completely satisfied we return while we pass the houses on the riverside again. Now that it's daylight we can finally give them a good look. There is so much to see… This is probably the most interesting experience EVER! We would love to see so much more of Kalimantan but we realize that we have too little time. It is be quite difficult to get around on this island, no one speaks English and for the guides that do you'll pay the price… so if we want to get anywhere it will take a lot of time which we don't have… we must come back!