Shanghai, where to begin…
This awesome city should be on everyone's list. Shanghai is the largest city in the world, its thousands of huge concrete apartment buildings give home to over 24 million people and still you can find peace inside this enormous metropolis on China's east coast.
Enormous businesstowers, huge shoppingcenters of all flavors, nightclubs and bars, peaceful parks and men playing card games in the street. This covers about what we expected, but dang it's so much more! This city instantly raised to first place.
But… there's this language issue.
Getting in contact with the Chinese locals can be difficult, many people don't speak English or are afraid to try. Fortunately there are a few that do speak some English and this immediately adds to the good vibe. Chinese are incredibly funny. At least we think they are, because they laugh loudly at their own jokes, which we don't understand. 
The language can be quite annoying, supermarkets sell all kinds of food if which you have no idea what is in it. A plastic wrap around a colorful probably sugarful substance. Or is it cleaning chemical?!
Checking your receipt after paying, no way!
From French Polynesia we have chosen to go Japan with a long stop in Shanghai. The cheapest way to get to Sapporo and the most comfortable itinerary and certainly the most interesting route.
Our flight from Auckland was long but quite relaxing. We love Air New Zealand, comfortable chairs, free drinks (great Kiwi wines!!) and a very good entertainment system. 
We are in the plane together with the Tongan rugby team, big men in traditional skirts. They are loud and energetic, but lucky for us they need their sleep too and all is quiet when the lights go down.
The plane departs an hour too late because of technical difficulties, yaikes… not good… At midnight we finally take off and start our twelve hour long journey to China. Luckily we manage to get a few hours of sleep and arrive in China reasonably relaxed.
We will enter China on a transit visa upon arrival. This visa allows us to stay up to 144 hours (six days), as long as we arrive in one of the bigger cities and have an onward flight to another country than we came from. We have booked our flight to Japan so we're good.
A search through the long hallways a 5 kilometer walk until we get to the right counter. Phew complicated.
Blue arrival card in hand, we join a dozen other people waiting in line. It doesn't look like anything is happening, it takes forever. We are not bored, because we meet a few other Dutchies on their way back to Holland. Not us, nope! We have some awesome plans before we return home 🙂
When it is finally our turn at the customs counter, the officers are very friendly. We show them our onward ticket but we have to explain where Sapporo is before we get a stamp. Ehh a sticker actually. And we are in! Who ever thought is was so easy to get into China. 
At the metro we buy a ticket to the city for 14 Yuan, that's about 95 eurocents. 
We could have taken the amazing Maglev (super duper fast train) but well, a long flight like that changes the way you think. So, we are in the cheaper metro and we'll probably take the Maglev when we go back to the airport.
The metro can be very crowded in rush hours, but we are leaving the airport at 9am so the worst is over. The metro is very clean and anonymous, everybody has their eyes on their smartphone and nobody looks where they're going, which is quite annoying because we have flip flops and don't need our toes to get stepped on.
There are two popular areas to stay in Shanghai, the Bund, a business district by the river with cool clubs, big stores and trendy restaurants.
And there is the Former French Concession, where you can find small beautifully designed cafe in every tree filled street.
We have booked a great loft through Airbnb for five nights in the Former French Concession, away from the crowd, in the middle of the most photogenic part of town where ambiance isn't just a word…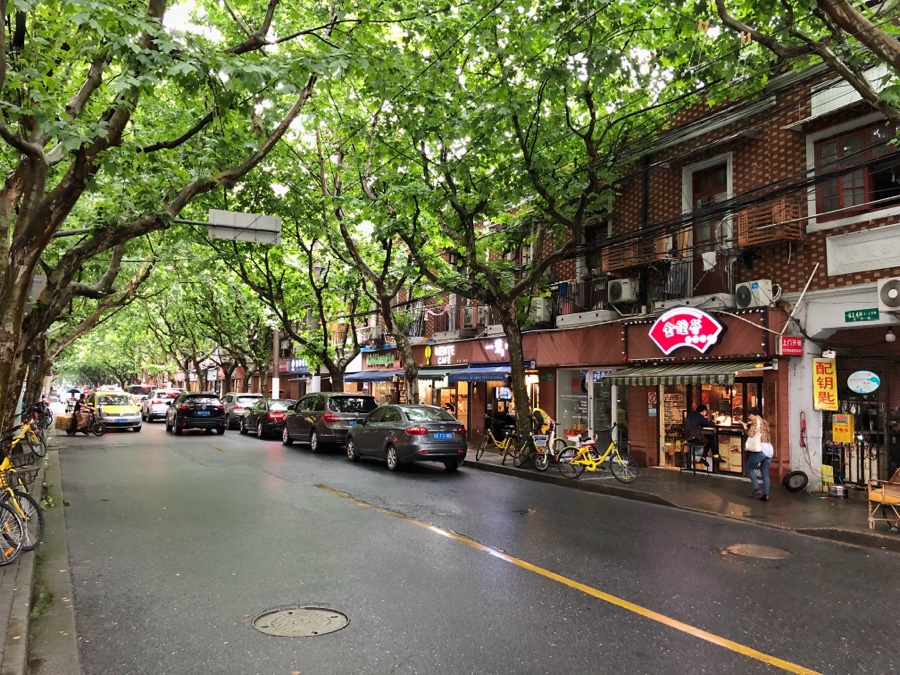 The choice was a hard one because renting out a beautifully decorated loft is a trend in Shanghai. There are so many to choose from and one is even prettier than the other. Whether you go for modern design, colourful candy sweet or bohemian romantic interior there is a charming tiny house for everyone. We set our search in the center of the FFC from € 50 to € 70 per night. The choice is endless. After we've looked at 200 places we finally pick one that is on the right location ánd has a bar in front of the window, where we hope to enjoy our breakfast in the morning.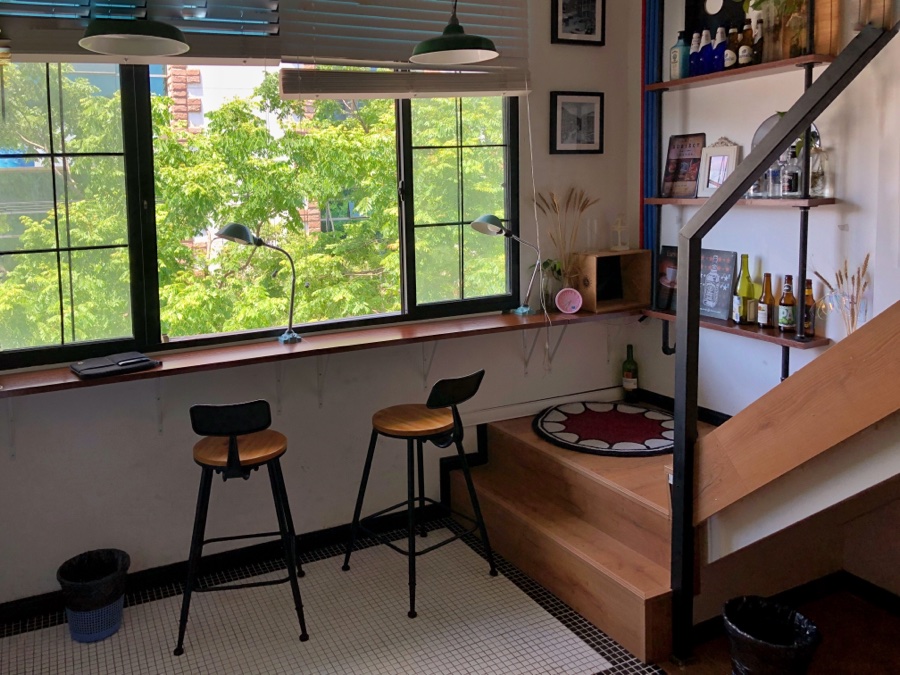 Our reserved apartment 'Shanghai 1949' has a vintage interior, a cool retro loft and a small kitchen which might come in handy because Shanghai is not cheap.
There is a small alley and there at the end of a small shabby street, we enter the door and have to walk through some hallways with steep stairs and low ceilings to get to our loft. This would be utterly annoying if it wasn't so incredibly cool.
We drop our stuff and do for a coffee at the boulangerie Pain Chaud just downstairs in the street. They have fresh bread to die for and those croissants… OH…
Our apartment is located just behind the formerly famous barstreet Yong Kang Road where up to last year loud parties were annoying the whole area. Thing got from bad to worse until locals started to throw down buckets of water and attacking club owners. The local government had enough of it and closed every single bar in the street. The locals claimed their victory!
After a few months and only a couple of bars could reopen their doors, others turned their club into a coffee house or a bakery. The streets are kept clean by locals and peace has returned.
The atmosphere is obviously better than before and locals look satisfied when they see you're not a party goer.
There isn't much traffic in this part of town and most cars hybrid so you can hardly hear them. This means the noise in the city is reduced and gives it a much relaxer ambiance.
We absolutely love this part of town. It has a fantastic vibe… tree filled streets, beautifully decorated little coffee-shops and a comfortable mix of cultures without losing its authenticity. 
The FFC has many secret little streets and hidden courtyards. Unfortunately small streets go together hand in hand with fishy smells and undefinable puddles, easily overlooked when on flip flops… yes YUCK!
After a nice evening walk (except for that puddle…) through the area we pick out one of the many cafes to toast to our new awesome discovery. The cafe has happy hour, 4 beers for 100 Yuan, still not cheap but this means a 50% discount… so hey, we only live once.
We have such a great view. With our own bar in our windowsill looking out on the street we watch how people move from A to B. How the locals thoroughly sweep the street clean and how guy from next door tries to get as much cardboard boxes on his scooter as possible. Entertaining is an understatement 😉
Our street has many great little coffee cafes and just underneath us is a French Bakery. The smell of fresh bread drags us down and yeah… when we're there that coffee smells so good too! 
Each day, morning and night there is a lady walking her dog. She stops right in front of our building and ties the dog to a pole.
Then she just stands there and watches people, just like us. In the evening she adds some music and does some exercises too. There in the middle of the sidewalk. While her dog is patiently waiting.
Can't imagine doing that in the Netherlands in the middle of Amsterdam… ehhh well, actually I can…
Did I tell you we love this place?
Right next to the entrance of our alley, there is a small cake shop. In all the days we were there we did not see a single soul, while the place looks so gorgeous…
Too bad, you'd think places like this are a guaranteed success. The cakes are incredibly sweet by the way.
A bit further down the street we find a small local noodle restaurant where we dine for €3,- each, including a drink. Unfortunately we were unable to recover the whereabouts of this place the next day… it was somewhere here, wasn't it? No, i think it was in the other end of the street. While I was sure the restaurant was opposite to a shisha place it appears to be vaporized the next day…
Not to worry, there are many many more restaurants in this street. We finish our day by eating a taco at a Mexican place where they have a big sign on the wall that says 'Mexican food so authentic that Trump would deport it' WAHAHAHA, our kind of restaurant! We enjoy the rest of our evening drinking tiny too expensive beers at the taco place.
The green subway line takes us to the Pearl tower. We get off at Lujiazui station and immediately we are in the middle of business district where high office buildings fill the sky, There is quite some smog today so by the time we've reached the tower we are exhausted. Going up to the tower could give us a beautiful view over the city.
The entrance fee is 220 Yuan per person (about €29), so we decide to skip this adventure because we won't be able to see a thing up there with this smog. Too bad!
Fortunately there's much more to do here. Passed the tower there are many shopping centers, HUGE shopping centers! We walk on the sky bridge over an enormous roundabout where the view is pretty cool too, this is worth it to visit.
A 360 degree panorama filled with high towers and of course a huge Disney store!
The shopping centers offer any kind of store from expensive design to cheap Chinese stuff ánd air-conditioning 😉

The Bund is a large business district between Huangpu river and People's Square. Business district? Boooooringgg… no way! Here you can find the biggest and busiest shopping street in the Bund, Nanjing road. Here you can find almost any store possible. The smaller side streets offer nice small shops and cheaper restaurants and bars. From the riverside on the east you can follow this street all the way to People's Square and much further. 
Nanjing road itself is car free but just a block further you'll see that trafficlights and zebra crossings have absolutely no meaning in Shanghai. Red light: no go, green light: no guarantee you'll live… 
We've had enough of the crowd on Nanjing Road and after a super expensive coffee we drop out and spend the rest of our afternoon in People's Square.
Peoples Square is a fantastic big park with beautiful gardens and quiet little paths along ponds with swans and water lilies. It forms the green center of Shanghai. There is always something to do and see. Watching people do their gymnastics, dance lessons, music playing or enjoying the peace and quiet and reading a book.
On Saturdays it is also the place where you can find the Singles market. Worried about the future desperate moms and dads offer their unwed adult offspring to any other desperate parent. They sit there all day with a description on an umbrella, and sometimes they exchange information when someone is interested. These sons and daughters probably aren't as worried as their folks and just lead their modern singles life.
The market covers a big part of the park, there must be a couple of hundred people with umbrellas. It attracts a crowd which we were actually looking to dodge. So we leave to see another part of the park where older people are dancing in beautiful colourful dresses and suits.
We walk along the pond where a man plays his banjo and an older man spontaneously started to sing along. What a fantastic day this is! We sit down on a rock beside the water and enjoy the traditional singing. Others nod and smile, happy to see tourists enjoying their culture.
There is just so much to do and see here, a bit further there is a band playing and when we walk through the gardens we see more men doing Tai Chi and people reading in peace. This is what we're looking for.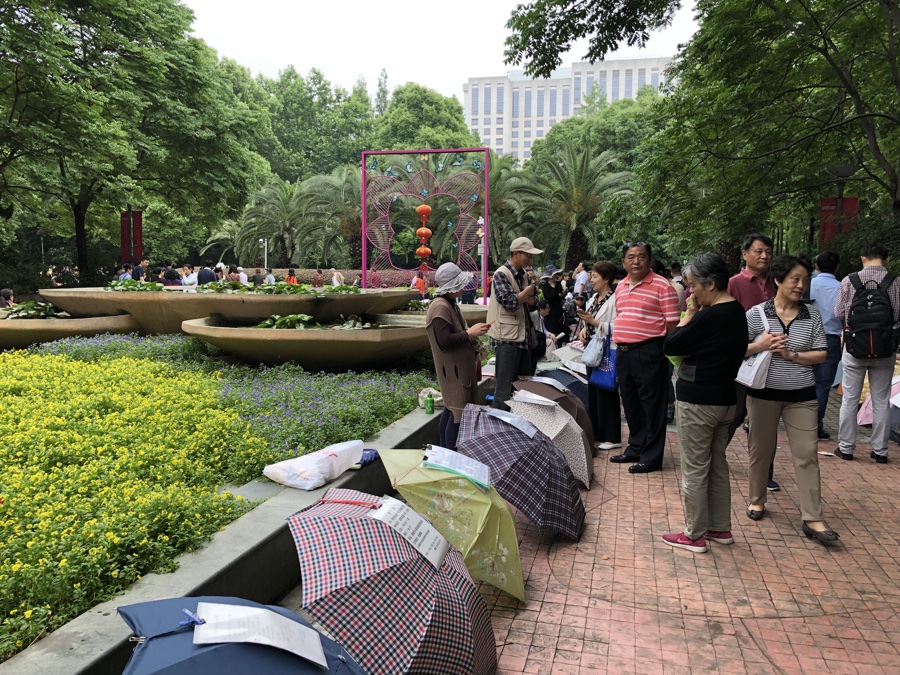 We find a nice bench and sit down. So much impressions today, we need to rearrange our thoughts.
These days in Shanghai were awesome, but we could have done so much more… we should have done so much more! This city, eventhough its bigger than we could ever imagine, the smog is a real eyeopener and the prices are mostly ridiculous… this city, we could stay here for a while… I understand why people would want to work or study here. I would too.
When we finally say goodbye to Shanghai the airport personnel traditionally waves us off. A safe journey…
Next destination: Japan!