Extend an Indonesian 60 day visa
This is our experience:
Monday
We read online about what we need and gather all documents. Copies of our passports and visa, a printed (fake) ticket and we would fill in the form upon arrival.
At the hotel we think about changing our (not to short) shorts into long trousers but, ahh this city doesn't come across as very Islamic. So with shorts and sandals we go to the immigration office by Grab.
Upon arrival at the office we receive a form to fill in and a pink folder. After waiting for a while we can go to counter  11 where the woman with NO written al over her face just asks us if we have a sponsor. She doesn't explain anything, so we are confused. She sends us away and says, 'wear long pants and closed shoes, this is no beach' with a face of a demon. Ahh… hmmm… rrrright.
With mixed emotions we go back to the hotel to check how this sponsorship works. Our hotel manager calls with the immigration office which explains we don't need a sponsor. Totally relieved we change our clothes and immediately jump into a taxi and return to the immigration office.
Monday afternoon
We arrive there exactly at noon, but they have a lunch break from twelve to one so we are not being helped. Miss NO just yells 'you need sponsor!' Shhhh demon!
We decide to wait until after the break. But while we check the sponsorship again on internet we discover that we indeed do need a sponsor. Shit. Back to the hotel again.
We consider going out of the country for two days and get a free 30 day visa when we return, but the tickets are quite expensive to any location and we don't have a lot of time left. The downside of the free 30 day visa is that we'll have no guarantee that we receive it ánd we'll have to go back out of the country again after 30 days because we can't extend the free tourist visa. Thus, we have to try to find a sponsor.
A sponsor is a person or company that needs to live in the same area you are applying for your visa extension. The sponsor has to sign a declaration to guarantee his responsibility for you during your stay in Indonesia. If anything happens to you or if you misbehave, the sponsor is responsible and is the first contact point for the Indonesian authorities.
The hotel manager is kind enough to be our sponsor and we find some information about what letters we should have for the visa application. The hotel rewrites the example letters we find on internet on hotel paper, makes them look official by stamping and signing them and makes a copy of the managers ID card.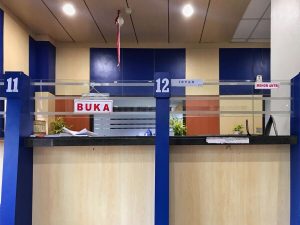 Tuesday
As soon as we have everything we go back to the immigration office the next morning. We sit in the waiting area at counter 11 for three and a half hours before our number is being called. Miss NO looks at our file and we can only hear her say, no… no… no. Every document is wrong. Wrong size, wrong colour, wrong layout. After waiting the whole morning we feel shitty but try to remain friendly and patient to Miss NO (hard I tell you, very hard…). Why don't they just give us a list with what you exactly need…
We manage to produce a smile and she says we can come back after 1 pm but before 2 o'clock to hand in the right documents. Yaiks, we better get moving it's already a quarter to 12. Downstairs at the immigration office there's a small copyshop. We recopy our passports in the right size and we get the idea they regularly help tourists out with their visa extension, because they where very creative with copying the back of the hotel managers ID card which we didn't have.
In the taxi back to the hotel we imagine the people from the copyshop probably do sponsorship as well. Could have been useful…
The hotel manager really makes an effort to get the documents ready and in the right template quickly. We feel guilty asking for more of his time but he doesn't seem to mind as he's probably embarrassed by the country's bureaucracy.
Tuesday afternoon
Back at the immigration office we rush in just in time and sit at counter 11 while Miss NO takes her time to check every document. We have to rewrite a form because it's in blue, but other than that it's ok. We hear some stamping and receive a receipt for our passports. She accepted it? YES!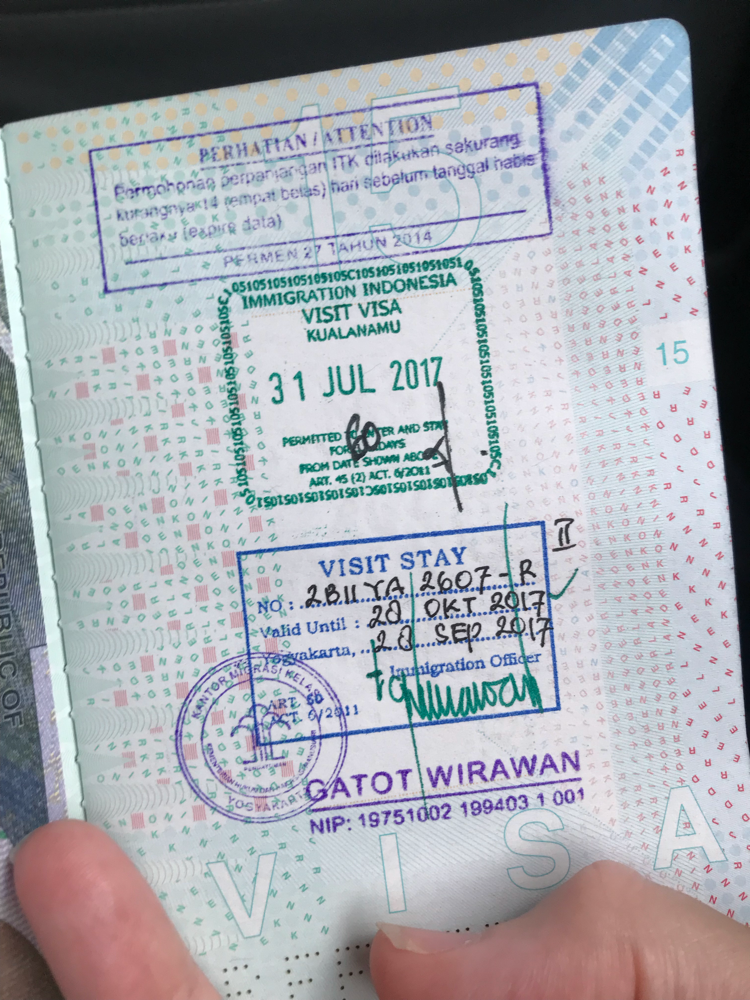 Thursday
After two days we have to go back to the office early in the morning for photos and fingerprints and we have to pay for the extension. We give our receipt to Miss NO and wait to get called in the office to have our pictures and thumbprints taken. After five minutes we are ready. On the other side of the immigration office we need to pay for the visa and then we go back to counter 11 to give the whole file to Miss NO. Did we just see a little smile on her face?
Friday
The day after that we can pick up our passports at 1 pm. We are there early so we won't have to wait in line if it's busy. Miss NO is not here today… but her replacement looks just as happy. As soon as the counter opens she says, 'picking up passports' in general and we're the first at the counter to hand in our receipt. After five minutes she calls our names and we sign for the passports. Yay, we have 30 more days!
Next time at least we know how this works…
What do you need?
A copy of your passport, visa and entrance stamp, each on a A4 white paper printed in real size, black and white.
A filled in form you'll receive at the immigration office, written in black ink.
A copy of the sponsors passport or ID card, back and front on the same page, A4 white paper printed in real size, black and white.
A printed airline ticket out of the country for a date before your visa extension will expire. I took an old email of a ticket confirmation and send it to myself. This way you can change the dates and all. Do check online if the flight number and times really exist, just in case and don't forget to alter the subject line.
A letter of request to the sponsor and a letter of guarantee from the sponsor, of which you can get a copy at the immigration office, just to make sure you have the right one.
Bring cash Rupiahs for paying the extension. In 2017 this fee was 350,000 per person.
Keep in mind:
Wear long pants, closed shoes and no sleeveless shirt. Even in a t-shirt you can be refused.
Don't take pictures inside the building.
Behave properly. You know… don't talk loud and don't get angry… 😉