Applying for a 60 day visa Indonesia
Because our stay in Indonesia will be longer than the regular 30 days for which you get a visa upon arrival, we need to apply for a 60 day visa in advance. This Social Cultural (Budaya) Visa can later be extended at any immigration office in Indonesia for about € 25.00. When we get to the Consulate of Indonesia in Kuching on Borneo the office is very crowded. The long queue at the reception takes about 20 minutes where we get a application form and a number. We can sit down and fill in the form. We've brought our printed (fake) ticket from Jakarta to Amsterdam and US Dollars to pay for the fee. When our number comes along we've only been there for five minutes so we are very surprised. The waiting area is totally full with people so they must be waiting for something else. We sit at the desk of a consulate employee and tell him we want to apply for a 60 day Social Cultural Visa. We hand him over the form and the copied documents and wait while he checks everything. We need to show him the plane ticket into Indonesia as well. Fortunately we have one, we already booked a flight from Kuala Lumpur to Banda Aceh in Sumatra. I send him the e-mail with the ticket so that he can print it. No problem at all. He wants to see a statement of our creditcard to check if we have the funds to pay for the trip. We send him a screenshot which he prints. We add a passphoto to the documents and need to pay the fee at his colleagues desk, 205MR per person (about € 41.50). We say we brought US Dollars, but we can only pay with Ringgit so we need to find an ATM quickly. Jos walks all the way to a nearby petrolstation where there is supposed to be a bank, but when he gets there, there's no ATM. So he has to walk the 1.5 kilometres back again empty handed. As soon as I tell the clerk we didn't get the money she says it's also no problem, we can pay the small amount we do have now and the rest when we pick up the passports. Phew… We can pick up the passports after 4 o'clock the same day. Easypiecy I'd say!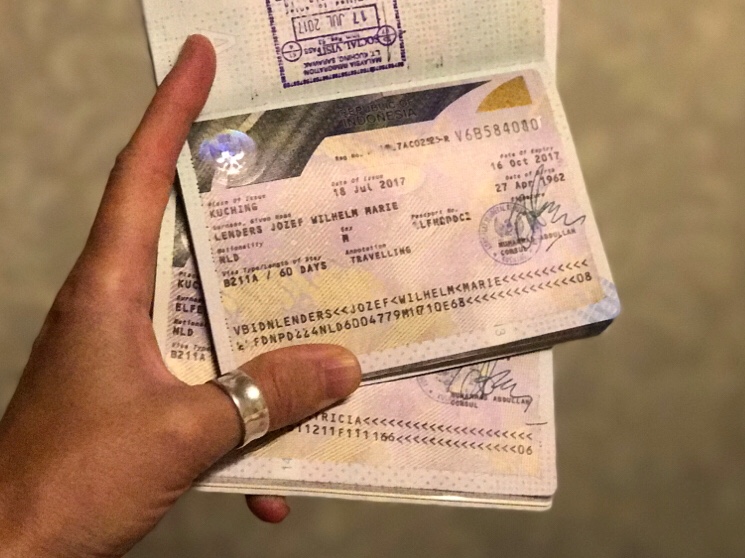 What exactly do you need?
• A copy of your passport • A passphoto • A filled in form you'll receive at the Consulate • A copy of your bank or creditcard statement • A printed ticket into Indonesia • A printed ticket out of Indonesia
Keep in mind:
• Wear long pants, no flipflops • Don't take pictures inside the building • Behave properly 🙂