In the terminal of Kuala Lumpur we buy a trainticket for 55 Ringet pp and we meet a man that is more than happy to show us the way to the train. He travels in the same direction so when we arrive at KL Sentral he shows us the way to the Monorel and tells us where to get of.
The Monorel is a lot cheaper, 4 Ringit pp, and looks like a Amsterdam metro. Traffic in KL is the worst and because we arrived around 18:00 there was no way we could have taken a taxi.
We need to get off at Raja Chulan and walk in five minutes to the hotel, an enormous thing with a nice pool and good reviews. Can't wait!
In KL they don't use the number 4 in floors, so we are on floor 13A. The appartment is huge, it has a big living, a kitchen with evertything in it, a bedroom you can dance in and a very large bathroom with toilet and separate toilet. Oh AND a balcony with a view to the KL tower! Not baaadddd…
After expressing our astonishment for a hundred times we find a nice bar just outside the hotel where we order some beer and pizza's.
We have two whole days here so the next day we immediately explore the city. In about an hour walking there's a birdpark and a butterflygarden. Taxi drivers in KL aren't trust-able so we'll walk. It's cloudy and not too hot yet so, a nice opportunity to have a good look at the city.
The birdpark is really worth while. We pay €10,- to enter and immediately are surrounded by peacocks, storks and ibises. The park is big and green, it has a nice landscape and there's a high net over the whole park.
The birds have relatively much space to fly and are quite used to people so you can look at them from really close by. We don't really like anything with locked up animals but this is acceptable.
After two hours we walk a bit further towards the butterfly garden. The entrance is €6,- so we'll take a look inside.
The jungle-like oases has butterflies is all colors and sizes. After an hour or so, we've had enough and walk back to the hotel in another route.
Just a few hours left to enjoy by the pool 🙂
A few days ago I bought two tickets for the skybridge between the Petronas towers. There is a walking bridge that takes you from one part of the city to another and after an half hour walk we arrive underneath the twin towers. So easy.
We quickly go outside to make some photos, because it's starting to rain. With a group of 20 we take the elevator to the 42th floor to see the skybridge, which is about 170 meters above the ground.
The man leading the tour tells us about the bridge, on every side it can move about 22 centimeters in and out. You can feel the floor moving, really scary.
Unfortunately our planned magic sunset is screwed up by a lot of rain, so we almost can't see anything. We can still see the lights, the traffic and the many huge buildings in the skyline.
Then we get up to the 86th floor, there is an observation deck from where we can see the other tower really well. The rain has only gotten worse so there's a loud clatter against the glass on all sides. Very unfortunate for the €20,- pp we paid for the tickets but it was a special experience anyway. Once we're on the ground floor again we defy the rain to make some new pictures of the towers while it's dark and walk out of the business area through the walking bridge.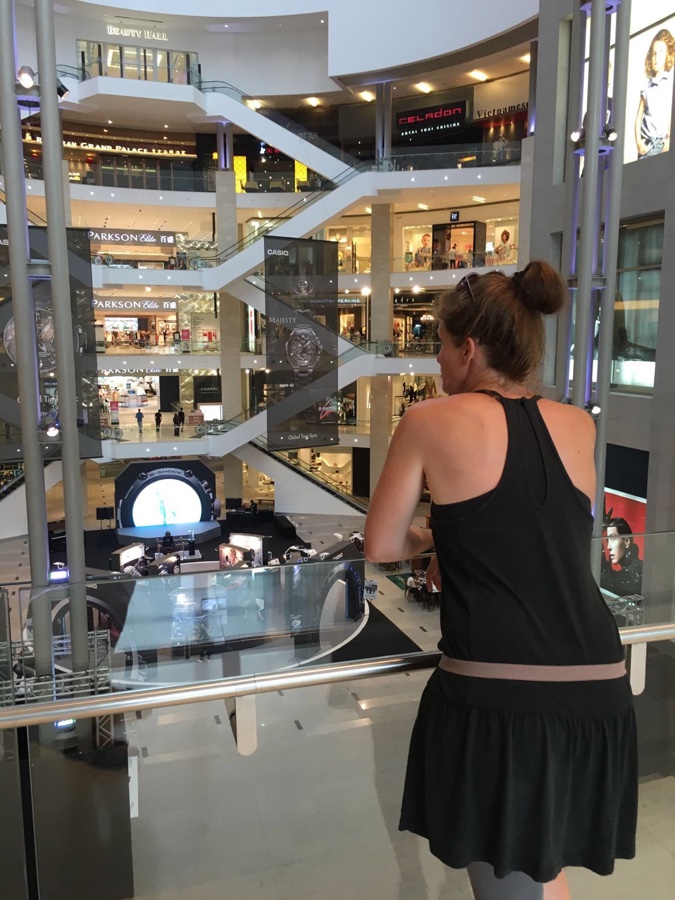 Bukit Bintang is a district with lots of shops and restaurants. We pass a big shopping mall and stop for a great pasta meal. After a great evening we stroll back to the hotel. Somewhere I bump my foot and chop off the top of my big toe. Hurts like hell, bleeds like crazy. In the hotel I empty my bottle of iodine and bind the top firmly to my toe, hoping this will all be miraculously healed tomorrow morning.
We slowly stroll around the shopping mall and in the afternoon we hang around the pool. 
For dinner we visit the Havana bar. In the beginning of our relationship we had some dates in a 'Havana bar' so ever since we visit one when we see one 🙂 We order the Havana burger which is super and after a few beers we call it a night and saunter back to the hotel.
The concierges of the hotel are very kind and helpful. The following morning they arrange a trust-able taxi for 110 Ringit which is cheaper and faster than the train, and we arrive at the airport in 45 minutes.
With the saddest feeling we say goodbye to Asia and board our plane.
During the first flight I'm in the middle of a row next to a motion disturbed Egyptian. He's restless, talks a lot (to himself?), drinks too much and keeps on touching me ' by accident'. He's hanging over the armrest, invading my space and when he has his shoe over his knee he pokes me in my leg with it. The whole flight I feel terribly uncomfortable but I try to ignore him until I break. After warning him the whole flight I get really angry and when I yell at him a guy on the other side of the isle helps me by explaining the whole story to a stewardess.
She offers me another seat and when I tell the crew what happened I feel really supported. They tell me this kind of behavior is definitely not accepted. They ask me if I want to press charges when we arrive in Dubai, but I tell them that won't me necessary. When we exit the plane fellow passengers give me a compassionate look.
Pffff… now first some coffee on Dubai airport.
More luck in the second flight, I'm again in the middle sitting next to a young man from South Africa, we have an instant click and talk almost the whole 7-hour flight. I give him some tips for his visit to Europe and with a pocket filled with advice for visiting the Capetown area myself we connect on Facebook and say goodbye.
We arrive round 22:00 in our rentalhouse and after a drink we visit dreamland. When we wake up on Pentecost, we have nothing of food in our new home and all the stores are closed until noon. We decide to stay in bed and eat the pack of dried mango I brought from the Philippines. Feels a little like holiday…