Perhaps the most discussed topic in Casa di TravelDNA before we left: what will we take with us?
During a vacation of two or three weeks, we usually carry a backpack of about 6 kilos. For our worldtrip this is not realistic, so we will travel with about 10 kilos per person. Unfortunately, this means we can't always take our luggage as carry on.
Traveling lightweight has it's pros and cons. Apart from saving a lot of check-in fees with cheap airlines, it's very relaxed, your whole body is grateful and that minimalistic life does something to your brain. And yes, there is a downside. You'll have to make strict choices what you can and cannot bring.
Your laptop, a range of Lonely Planets and that extra pair of shoes… choices choices. Well-considered and unanimous, we decided to bring only the basics. Experience teaches us that once you're there you'll realise you did bring far too much. If we miss anything crucially, no doubt we can buy it somewhere. We chose light and multifunctional and we expect this will take us a long way… haha on to the other side of the world indeed 😉
The backpack
Once you have decided what items are coming you with you, you have to choose a good backpack. Which one is suitable for you and your trip?
We knew what size we were looking for and which requirements they had to meet in order for us to be able to maintain the carry on size.
Choosing a backpack is very difficult, there are so many types and sizes. It helps to think about what kind of a traveler you are, are you a minimalist or do you usually need a lot of clothes and stuff? Where are you going, what kind of climate will you be in? Do you plan to walk a lot with your backpack and last but not least, are you planning to bring camping gear?
Of course it is important that it looks good too, but the most important thing is the weight. If you won't carry a heavy load you'll see that everything fits better on your back.
If you're going to fit a pack in the store, we can definitely recommend you to fill the bag with the weight you think of bringing.
And don't forget: you'll only learn by trying. So buy, experience and maybe sell again.
After testing different packs we chose a 46 liter backpack. We have of course prepacked to make sure everything will fit. Below you will find the winners who will join us on our adventure:
The Jos pack
Brand: Osprey
Model: Porter 46 liter
Year: 2015
Weight: 1400 gram
Dimensions: 57 x 36 x 24 cm
Color: Anthracite
Pro's: this bag is multifunctional, it has a lot of little pockets, firm zippers and a big main space. There is a softly lined pocket for your laptop or tablet. This bag will be accepted with most airlines as carry-on. The shoulder straps can be stored behind a zipper in the back.
Cons: the sides of this bag are hard and stiff, so this bag isn't as flexible as we would like it to be. When the bag is not full you'll need to really pull the straps tight.
The hipbelt is narrow and light which is not a drama when you pack light. There are no mesh pockets.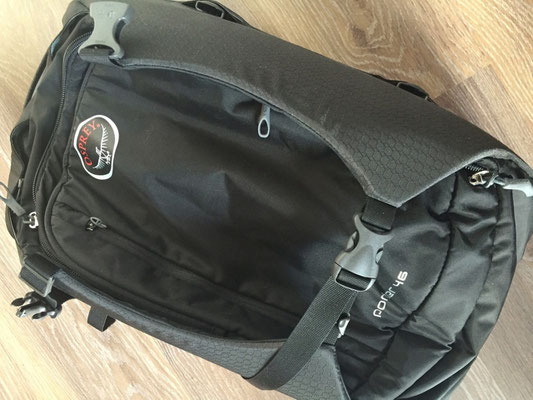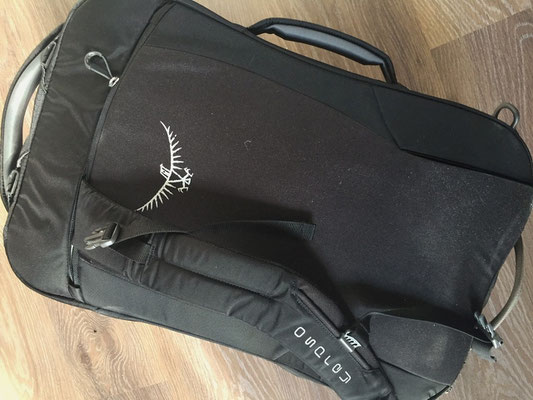 What's in the bag?
Clothing
Hiking shoes, sandals and flipflops
2 pairs of socks
Microfleece vest
1 merino longsleeve
Raincoat / windstopper
1 zip-off, 1 long pants and 2 shorts
4 t-shirts
3 merino underwear
Swimwear
Hat and sunglasses
Electronics
IPad with charger and cabel
GoPro
Powerbank
Car charger
Head light
World plug
Other
Light daypack 10L
Moneybelt
Safeman wirelock
Waterfilter
Waterproof bag
Silk sleepliner
Microfiber towel
Goggles and snorkel
Playing cards
Pen
Toiletries: shampoo, toothpaste & brush, floss, nail clipper, sun protection and mosquito repellent
Health: malaria tablets, disinfectant, tweezers
Important: Passport, vaccination passport, extra passport photos, creditcards, bankcards
Love to take with me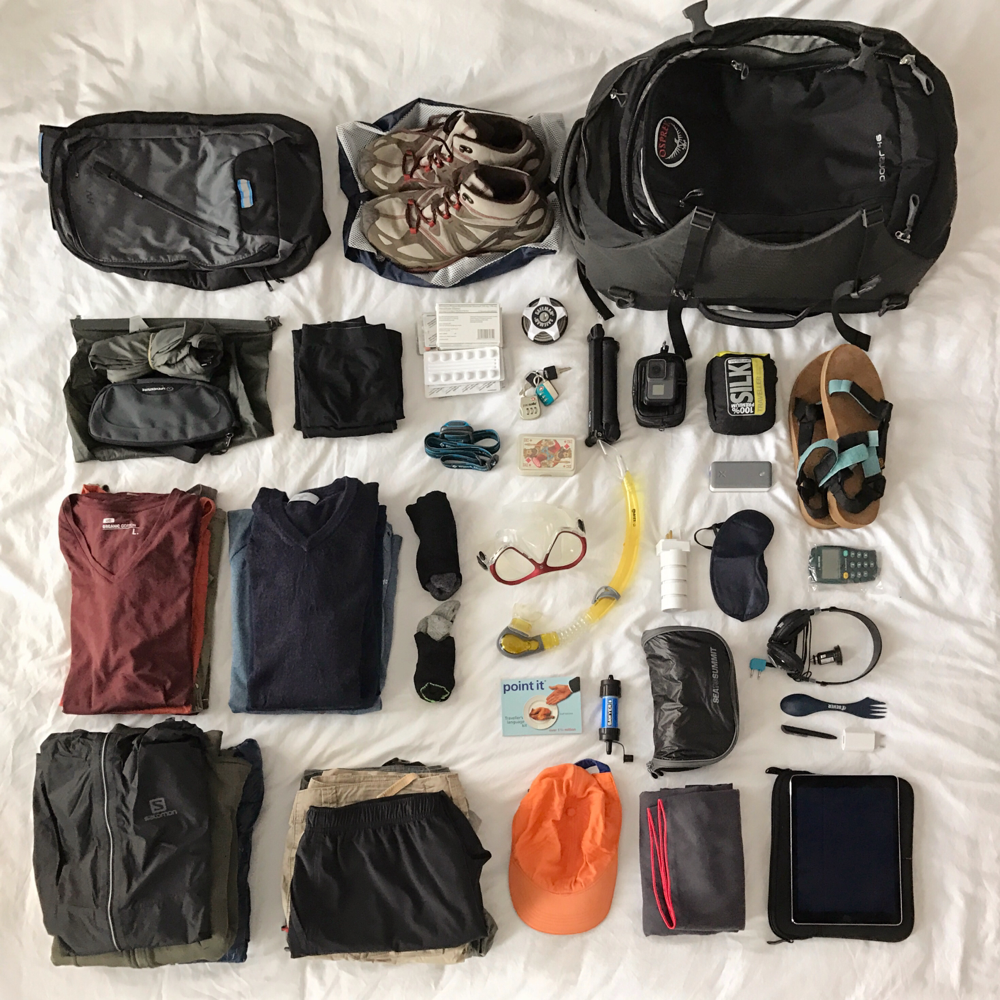 ---
The Patries Pack
Brand: Osprey
Model: Porter 46 liters
Year: 2016
Weight: 1400 grams
Dimensions: 57 x 36 x 24 cm
Color: Hoodoo Red
Pro's: the backpack is multifunctional with many handy pockets and zippers and a large main compartment with two side pockets.
The bag is light and the size is suitable as carry on with almost every airline.
Cons: the sides of the bag are quite stiff, making it very sturdy but not flexible. Because of that, the straps on the front should be tightened if your bag is not full. The hard side panels can be taken out, but for the moment we leave them in.
There are no mesh pockets on the outside, which would be useful to quickly store a water bottle or your wet clothes.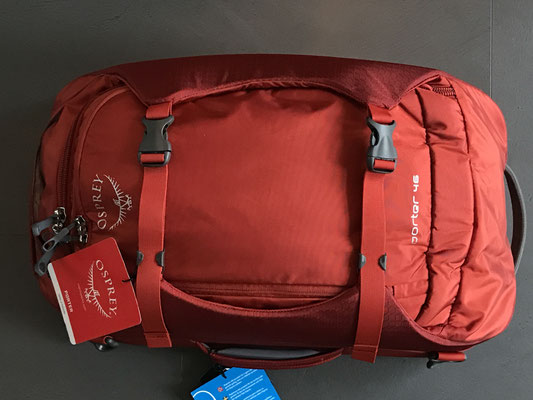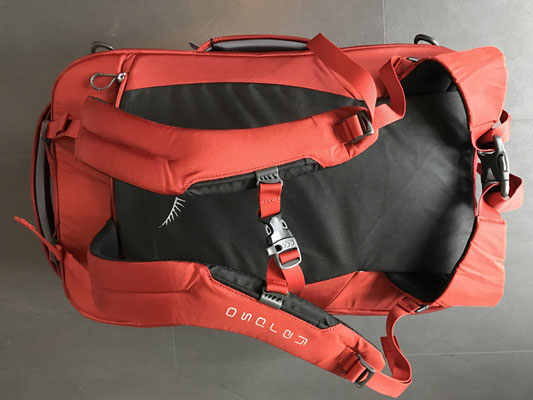 What's in that bag?
Clothing
Hikingshoes, sandals and flipflops
2 pairs of socks
Microfleece vest
2 merino longsleeves
Raincoat / windstopper
2 shorts, 1 long pants, 1 legging
1 dress
4 t-shirts / shirts
3 pair sports underwear
Bikini
Hat, sunglasses and scarf
Electronics
Cable for iPhone
E-Reader with cable
Camera with cable
Powerbank
Headphones
Mini speaker
Head light
World plug
Other stuff
Light daypack 10L
Safeman wirelock
Waterproof bag
Silk sleepliner
Goggles and snorkel
Earphones and eye mask
Pen
Toiletries: shampoo, toothpaste & brush, floss, hairbrush, sun protection, mosquito repellent
Health: malaria tablets, paracetamol, travel sickness tablets and diarrhea pills
Important: Passport, vaccination passport, extra passport photos, creditcards, bankcards
Love to take as well
My own pillow
Cheeeeeeese!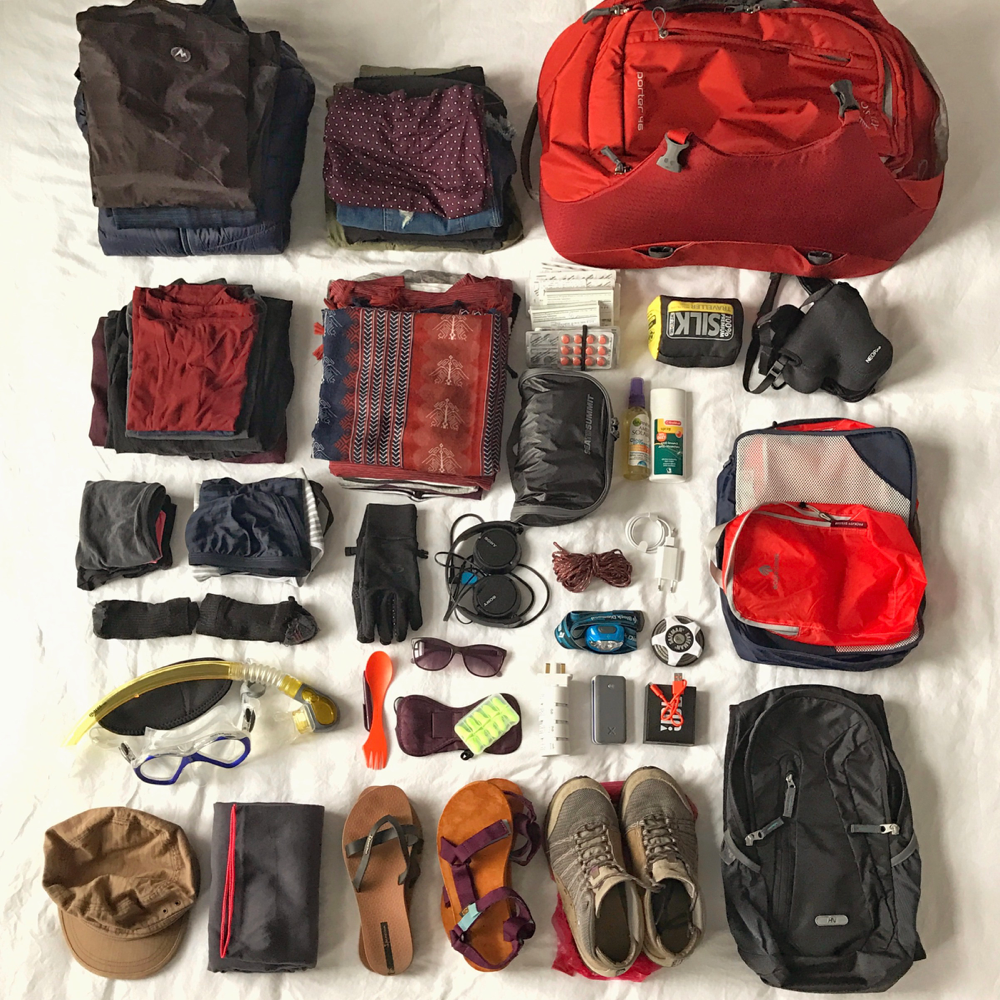 We find it important that on departure everything fits in our bag, so no extra bag in front and no tied hikingboots hanging on the back. Everything needs to fit, including the clothes and shoes we'll wear on departure and even our daypack fits in. Then we know that whatever happens, everything fits, so even if we travel in our thinnest clothes and flipflops and when we need to pack our bag in a hurry, it will always fit easily.
We will leave our mosquitonet at home, where you really need one, there is always one above the bed.
We have never experienced otherwise. And if not, that little lost mosquito is not worth carrying that thing around every day.
We've decided not to bring any camping gear and therefore also no survival gear, except a Swiss pocketknife.
How on earth did we manage to get all this stuff into our bag?! Here's the most important clue: put it in a bag!
Packingbags or packingcubes make life of a backpacker lot easier. No matter how disorganised you are, you'll always know where to find anything with these cubes in your backpack. It also helps to pack your clothes nice and tight so you'll need a smaller backpack 😉
Roll up your clothes, then you can easily get them out of the bag. You can also use it to gather all your little stuff, such as cables, clothesline and a worldplug.
The packingcubes also give you a good limitation, you cannot bring any more t-shirts than you can fit into the cube 😉
We use the packingcubes of ikea which are cheap and also the Eagle Creek quarter size bags.